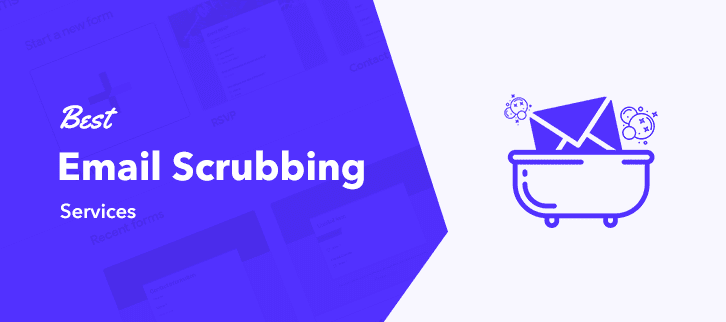 Many small and large-scale businesses use email marketing to reach out to their customers these days. It is a cheap and fast way of forming interpersonal relationships with your customers. If your email list has more subscribers, your business is surely going to benefit from it. But, the size of the list is not the only thing that matters. For your email marketing campaign to be successful, you need to maintain the quality of your list. Sometimes your email list will contain blocked and suspended emails that should be removed as soon as possible so that you don't waste your valuable time sending emails to these addresses. Email scrubbing services offer an easy solution to this problem.
When you have a clean email list, you can enhance your deliverability rate, as the ISPs do not send your mails to the spam box. Many third parties offer email list cleaning services that help you maintain a reliable list of contacts. These software options check your email list to verify whether each address is valid or not. However, choosing the best email verification service might be a bit of a challenge, since there are so many products to choose from. As such, you should study the features and prices of multiple products before choosing one.
Comparison Chart of the 5 Best Email Scrubbing Services 2022
| | | | | |
| --- | --- | --- | --- | --- |
| Services | Basic Plan 1000 Verifications | Greylisting Verification | Duplicate Email Remover | Manual List Cleaning |
| Pabbly Email Verification | $5/mo | Yes | Yes | Yes |
| | $10/mo | Yes | Yes | No |
| Hunter | $49/mo | No | No | No |
| | $39/mo | No | Yes | No |
| Clearout | $5/mo | Yes | Yes | No |
While on the lookout for free bulk email verification tools, you will find many products with attractive features. But, not all of them would have the features you are looking for specifically. Some businesses have specific needs and for that, you need some key features in your software of choice. To help you arrive at your decision, we have compiled a list of the 5 best email scrubbing services.
"Pabbly Email Verification is the only software in the market that cleans your entire email list manually, leading to greater accuracy. Also, unlike other products, it offers all its features with its basic plan."
 If you're looking for the top email verification software, then Pabbly Email Verification should be your software of choice. This software verifies every email for deliverability, removing duplicate and invalid addresses. This way, you can dramatically reduce your bounce rate. Pabbly Email Verification uses Message Transfer Agents (MTAs) to validate your entire email list, checking whether the addresses have valid MX records or not. It is far more accurate than the other products, because of its manual cleaning feature.
With Pabbly Email Verification, you will never have your ID getting blocked by ISPs as it has an anti-greylisting feature that protects your email list from spammers. This software executes TLD and keywords scans using a high-risk address that helps you detect those addresses with invalid syntax. These addresses are then removed from your list with immediate effect.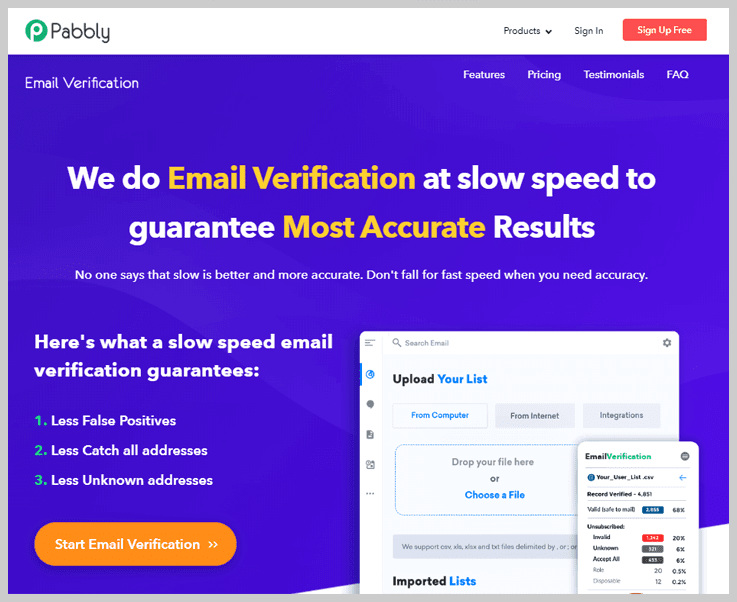 Features
Minimize Bouncing – This software does not immediately discard the email addresses that it could not verify accurately. Instead, it sends untraceable verification emails to these addresses to determine their authenticity.
Domain Confirmation – Pabbly Email Verification checks every email in the list for parked, invalid, and inactive domains. It maintains email list hygiene by removing these addresses from the list.
Email Deduplication – Your mailing list might sometimes contain duplicate addresses, and as a result, the emails you send to these addresses might be considered as spam. Pabbly Email Verification automatically removes all the duplicate addresses from your list.
Complaints Removed – Pabbly Email Verification maintains a database of email addresses where users submit complaints against spam addresses. If any of the addresses in your list matches an entry in the complaints list, they are removed.
Spam-trap Removal – This software has spam-trap indicators that intelligently detect spam and removes them. This prevents your emails from landing in the spam folders and ensures higher deliverability rates.
 Pricing
You can clean 1000 emails by spending $5 per month. Cleaning 5000 emails would cost you $15, cleaning 10,000 emails will cost you $25 and so on. These are one time payments and no monthly plans are available.
Debounce is a highly reliable email verification software that uploads a list of email addresses and validates them quickly and efficiently. With this software, you can reduce the number of spam traps and hard bounces, and consequently improve your sender reputation. Debounce scans your entire list for addresses with invalid syntax and eliminates them. Moreover, it performs an SMTP check to detect hard bounce and invalid email addresses, and eliminates them.
Debounce checks the addresses in your email list to see if anyone of them have invalid domains and removes them immediately. It also has a list of high-risk keywords that it uses for the risk-validation check, and if any address contains these keywords, they are removed. Along with this, Debounce also checks to see if any of the addresses are associated with a disposable email provider. It also has an anti-greylisting feature that lets you simulate an email engine to remove unknown spam addresses from your list.
Features
Catch-All Domain Checker – Catch-all domains cannot be verified traditionally. This software has a special catch-all domain checker to identify such domains and check their deliverability rates.
MTA Validation – Email addresses that do not have valid MX records are usually invalid or spam addresses that need to be eliminated. Debounce performs an MTA validation on your list to check for MX records.
Email Verification API – Debounce uses API to check whether the email addresses on your list exist and whether they can receive emails. This is a REST Web Service based on JSON using which you can verify your addresses instantly.
Domain Confirmation – Hard bounce and invalid email addresses often belong to invalid and inactive domains. Debounce checks the domains for every email address in your list and removes the ones that have invalid domains.
Team Account – A single Debounce account can be shared between multiple team members. This is extremely convenient because you do not have to pay extra money for creating multiple accounts.
Pricing
Debounce has no monthly plans. The starting pricing is $10, for which you can clean 5000 emails. You need to pay $15 for 10,000 verifications and so on. The price per verification is inversely proportional to the number of emails.
Hunter is one of the top free bulk email verification tools available in the market currently. With this software, you just need to upload a list of email addresses for bulk verification. Hunter's bulk email verifier then tests the servers for a reply. Moreover, it tests other factors such as email address format, type, and online public sources.
Some emails fall into the "accept all" category and these are hard to verify. Most servers accept email addresses if they belong to the same domain, without checking for its existence first. Hunter provides you with a confidence score for each address, from which you can determine whether they are authentic or not.
Hunter collects information from millions of sites and uses this data to verify the addresses on your list. Furthermore, it checks the addresses to see if any of them is using a temporary domain.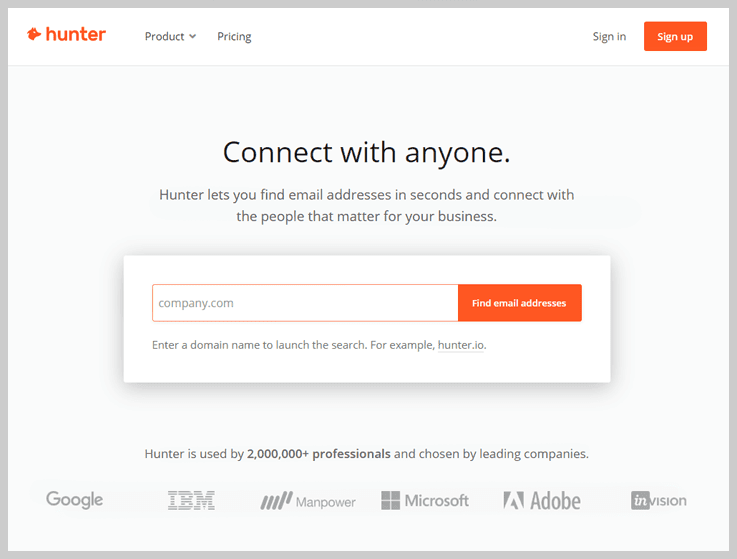 Features
SMTP Check – Hunter checks each address to see if a connection with the SMTP server is possible. For this, it checks the MX records for each address. Even without sending an email, it can check whether an email address will bounce or not.
Email Verifier API – Using an API call, Hunter can check the validity of each email address. You can use the dashboard to generate your confidential API key. This key can then be pasted along with the address to check for its authenticity.
MX Records – The presence of an MX record is usually considered as a sign of genuineness. Hunter checks the domain of each of the addresses for MX records. If it is not able to find an MX record for a particular address, then that address cannot receive any more emails.
Format Checker – Hunter checks the format of each email address to see if they have an incoherent format. Valid email addresses generally follow a standard format, and such invalid addresses are removed by the software.
Webmail Email Addresses – Addresses that use Webmails like Yahoo or Gmail are usually valid and authentic. Hunter checks all the addresses and those belonging to the Webmail addresses are marked safe for email delivery.
Pricing
Free – You can clean 50 emails per month for free.
Starter – You can clean 1000 emails by paying $49 per month.
Growth – By paying $99 per month, you can clean 5000 emails.
Pro – By paying $199 per month, you can clean $199 per month.
 Enterprise – This plan lets you clean 50,000 emails by spending $399 per month.
Snov.io is a cheap email verification software that lets you clean a large volume of emails within a few minutes. This software checks each email to make sure they follow a standard format. Emails that have a gibberish format, or contain a lot of unusual symbols are removed from the list. Moreover, Snov.io provides you with more details regarding the verified email addresses. It shows you whether the email is marked as valid or invalid if it is in a gibberish format or if it belongs to a disposable domain and whether it's a freemail.
Snov.io cleans your email list at a greater speed compared to other products. With most verifiers, you need to visit the platform to validate the emails. But with Sovio, it can be done just by clicking on the extension. This software also has the API feature which lets you generate a secret API token, which you can paste along with the email address you wish to verify and get the results.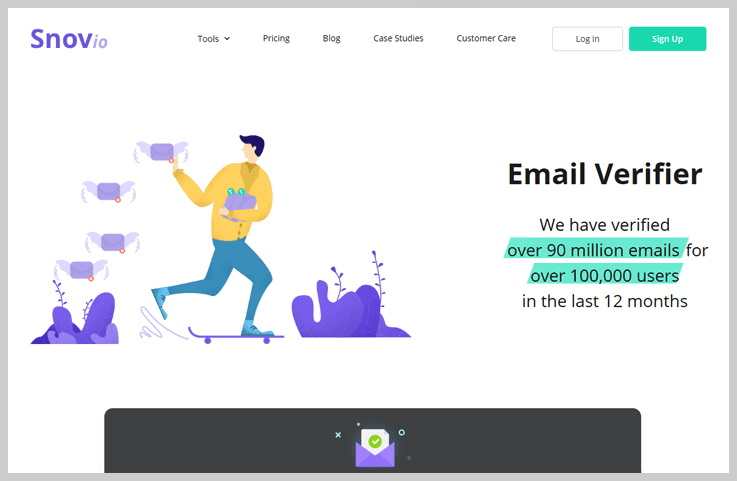 Features
SMTP Check – This feature allows you to verify your email addresses more accurately. It sends a ping to the email server, waiting for a response. Depending on the response, it tags the address as invalid or valid.
Domain Verification – Snov.io checks each email address to verify if they belong to a valid domain. Addresses belonging to inactive and invalid domains are discarded.
ByPercent – One of most populars coupon code service
Duplicate Removal – Invalid and hard bounce email addresses often have duplicate entries in your list. Snov.io detects these duplicate addresses and eliminates them to keep your list clean.
Flexible List Export – This feature allows you to export the list of verified emails in Google Sheets, XLSX, and CSV formats. You can choose which data fields you want to export. This helps you maintain a comprehensive list of verified emails.
API Integration – Using the Snov.io API, you can integrate email verification into your Customer Relationship Manager(CRM) tool or another app. This makes it easier for you to clean your email list without visiting the platform.
Pricing
Small – By spending $39 per month, you can clean over 2000 email addresses.
Medium – This plan costs $69 and lets you clean over 10,000 email addresses.
Large – You can clean over 40,000 email addresses by spending $129 per month.
Extra Large – You can clean over 100,000 email addresses by spending $199 per month.
Clearout is one of the best free bulk email tester and email validation tools that guarantee 98%+ accuracy in the results. Clearout offers a real-time email verification service and protects your sender reputation in email marketing. This reliable list cleaning platform has an accelerated turnaround time to detect known abuse, spam traps, temporary addresses, invalid, syntax errors, toxic and catch-all domains too. This in-turn enhances email deliverability by reducing the bounce rate. It is an affordable platform that minimizes manual efforts by supporting API on a real-time basis. The tool's advanced algorithm removes all duplicate email ids and identifies catch-type addresses to avoid emailing to improve email deliverability hygiene.
Clearout checks against known DNSBLs and URI DNSBLs to stay a step away from the honeypots. It also performs mailbox error verification by verifying all types of mailbox errors without sending any payload to the given email address. The 20+ validation checks performed by the platform ensures the optimum level of accuracy in the results.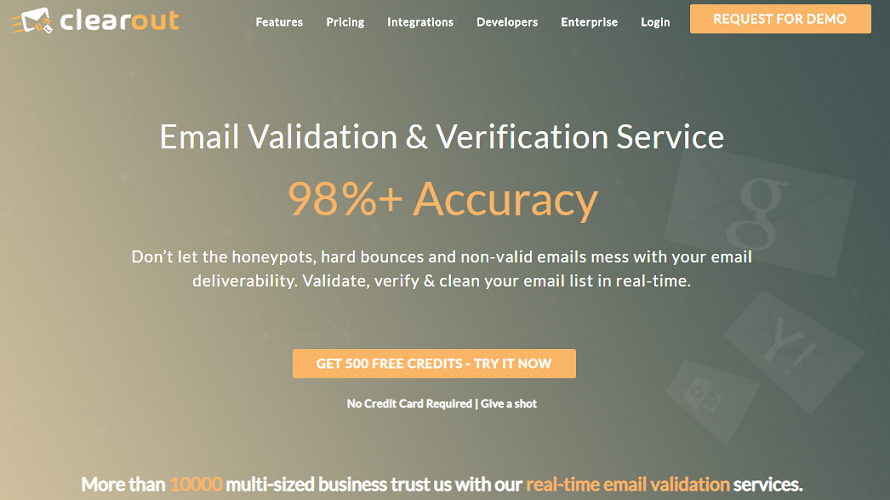 Features
Instant or Quick Email Verification – Take the guesswork out & verify the email address quickly! This process is a quick way of verifying email addresses in real-time without waiting in the queue. Just copy & paste the email addresses directly from your list to clean them quickly.
Bulk Email List Verification/Validation – Unlock your prospective customer's email addresses from your list, on a single click! This bulk email tester enables you to upload the email list & clean up your database with just a single click.
Email verification API setup – Clearout's Advanced Email Validation Service is available through a simple REST API to verify millions of email addresses in a real-time basis. Both Instant or Bulk verification allows you to get a clean database of email addresses with 98%+ accuracy.
Team Account – A single Clearout account can be shared between multiple team members. This is extremely convenient because you are not required to pay that extra money for creating multiple accounts.
WordPress plugin – Clearout email verification plugin is seamlessly integrated with all major forms to validate the user given email address in real-time. The plugin will perform 20+ refined real-time validation checks to determine the current status of the email address.
Google Sheets Add-on – Clearout email verification add-on for Google Sheets allows you to verify and validate email addresses directly on Google sheets. Integrate your Google Sheets with Clearout to run the verifications at your convenience. With this feature, you can manage your database better by avoiding multiple uploads, downloads, and running between the lists.
Pricing
Plan 1 – You can clean 5000 emails monthly by spending $20 per month.
Plan 2 – Cleaning 10,000 emails/month would cost you $36 in a monthly subscription plan,
Plan 3 – Cleaning 100,000 emails/month will cost you $280 in a monthly subscription plan and so on.
Pay as you Go Plan – There is one-time payment & yearly subscription options available as well.
MailboxValidator is a cheaper email verification software that cleans and verifies your email list. This software connects to every mail server and verifies the existence of the mailbox. It is a reliable MailGet list cleaning software that comes at a good price. It gives a detailed report on the verified emails and rids the list of invalid addresses. Moreover, it is a fast email list cleaner that can verify and clean 100,000 email addresses in a single day.
Using MailboxValidator, you can integrate with email service providers such as MailChimp, Campaign Monitor, SendGrid, and Mailgun. Moreover, it uses the greylisting feature to reject emails from invalid sources. It also maintains a 'do not mail' list which contains a hard bounce and invalid email addresses. Hence, if any of the addresses match an entry in the list, they are removed immediately. MailboxValidator API provides real-time verification and is available in Java, PHP, Python, C#, and VB.NET.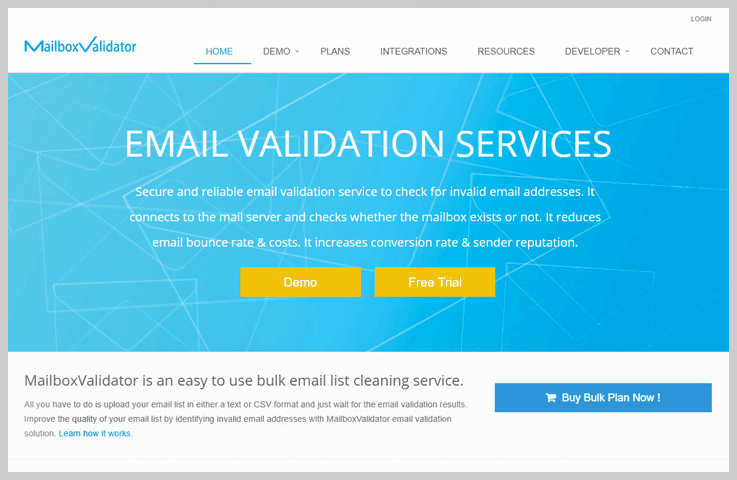 Features
Role Email Checker – Some email addresses have roles assigned to them, such as support, sales, admin, or webmaster. This software checks for these roles in your email list, and addresses containing these roles are marked as genuine.
Disposable Email Provider Checker – Spammers often send you mails via a disposable email provider such as Mailinator. MailboxValidator checks for the source of each address, and if they are found to have been sent from such an email service provider, they are discarded immediately.
MX Record Checker – This software checks the DNS for the presence of MX Records. MX Records reference mail servers, and also contain the TTL and preference values. If an address doesn't have an MX record, it is removed from the list.
Email Syntax Checker – Valid email addresses usually follow a standard format, while spam addresses are often found to be gibberish and random. MailboxValidator checks each address to see if they follow the standard format or not.
Catch-All Detection – A catch-all email address accepts all emails sent to the domain, not checking whether the address exists or not. Sending a mail to a catch-all address might lead to your mail bouncing or ending up in the trash folder. This software detects and removes catch-all addresses from your list.
Pricing
Bulk-Trial – This plan lets you clean 100 emails per month for free.
Bulk-1 – You can clean 1000 emails by paying $19.95 per month.
Bulk-5 – By spending $39.95, you can clean 5000 emails.
Bulk-10 – You can clean 10,000 emails by spending $59.95 per month
Bulk-50 – Clean 50,000 emails by spending $149.95 per month.
Bulk-100 – Clean 100,000 emails by paying $199.95 per month.
Bulk-500 – This plan lets you clean 500,000 emails by paying $399.95 per month.
Bulk-1000 – For $699.95, you can clean 1,000,000 emails.
Conclusion
Whether you are a large business owner or the owner of a small start-up, you need to maintain a comprehensive list of emails for your marketing purposes. You want this list to be clean and free from invalid and spam email addresses. For this purpose, you can choose the best email scrubbing service according to your needs.
After going through the above list of products, you have a sound idea regarding the features and pricing plans for email scrubbing services. Some of these products offer advanced features at attractive prices, but you need to make your choice based on your business needs.
You May Also Like To Read: