---
Searching for the best Jewelry WordPress themes that perfectly suits your Jewelry eStore & ornament showrooms?
Well, today we have listed here Top 10 Online Jewelry eStore & Jewelry Shop WordPress themes which let you develop a professional website for your ornament store, showrooms, and pearl shops.
Some of the jewelry WordPress themes are eCommerce in nature so that you can excellently flourish your ornaments business by revealing your store jewelry items like gold, silver & platinum ornaments, engagement rings, wedding rings, fashionable bracelets, necklaces, earrings & all jewelry.
So, speed up your sales conversion with these powerful Jewelry WordPress themes and boost your trinket business up to the level of success.
Its high-quality designs & user-friendly feature provides a hassle-free shopping experience to your regular clients.
You can simplify online transactions, adjust your page to multiple devices and intensify every single aspect of your site's layout with these premium templates.
Some other recommended blog posts are-
---
Let's have a look at all WordPress themes one by one –
1.Colorway – Free WordPress Theme
Colorway is a premium WordPress theme using which you can create a website for your jewelry store.
This WP theme is fully Elementor based. Moreover, it is the most lightweight and fastest theme available ion the marketplace. Colorway has a performance grade of 96 and page load speed of 545 ms which makes it different from other available themes.
It offers you with 35+ templates to its users. All these given templates are fully customizable and allow you to create a website as per your requirement.
Colorway is a freemium theme as it offers thousands of features to its users but still is free to use. You can download it and enjoy all its excellent features for free.

Look at some of its prominent features:
SEO friendly
Easy to use, user-friendly layout
Unlimited styling options available
Sticky Navigator option
WooCommerce integration
Cross-browser compatible
Slider to showcase images, video, testimonials and so on included
Responsive in nature and adapts itself as per the device of usage of user
Appointeup addon to attach booking and reminder facilities included.
LeadUp addon helps you to add attractive forms to your website.
Carousel option available to help you showcase your products in an appealing manner.
Tons of typography options such as font size, color, font family and other available
Download This Free One Page Theme Now!
Theme DemoTheme Info + Download
2. JewelryShop – Handmade Jewelry Store WordPress Theme
JewelryShop WordPress theme is specially created for showcasing your available different handmade jewelry in a very stylish way. This particular available theme will provide you with an amazing look which will feature Gold, Ruby, Pearl, Malachite, silver as well as Diamond jewelry.
Handmade Jewelry Store is well-matched with WooCommerce plugin which will provide you an e-commerce platform for selling metallic accessories and other handmade ornaments directly from the web.
Using this Jewelry template you can also make online transactions with PayPal gateway mode. So that, your clients will love to buy any jewelry from your site and feel secure during transactions.
JewelryShop WordPress theme is available with product area on homepage feature which allows categorizing all your innovative jewelry brand's, ongoing beauty products, gold and marvelous stone materials on the homepage of your business site.
Some of its key elements-
Reactive design based on twitter bootstrap
Well-suited with latest WordPress version
Different customization services included
WordPress multi-site tested as well as approved
Full-width slider with available buttons and text area
Cross-browser compatibility: Chrome, Firefox, and Safari
Built with CSS3 and HTML
Brilliantly designed custom widgets & sidebars
Well ordered commented and clean code
Contact form integrated
Feature boxes ( 3 column )
Enormous SEO based layout
No coding information required
Price – $79
Theme DemoTheme Info + Download
---
3. FineSandra's – Jewelry Seller & Distributor WordPress Theme
If you are a Silversmith, Goldsmith or Jeweler & searching for a platform to draft your different jewelry store items online then, FineSandra's is ideally developed for you.
Its elegant layout will make you the center of the crowd and allow them to purchase jewelry products directly from your portal. This jewelry shop WordPress is integrated with several e-commerce functions by which shopping all your gold planters, diamond jewelry, solitaire jewelry became very convenient to users. Also, the theme includes Shop page template to display all your store collection with its appropriate product pricing and filter options.
With inbuilt registration module of the theme, your regular customers can easily create login portal in your site & track online orders of their purchased product. Besides, the add to cart functionality give a hassle-free shopping environment to online customers. Beautifully layered slider with animations let you feature top brands of ornaments and fashion items with a short description and call to action button to target the right audience which ultimately increases high sales.
Have a look at its technical aspects-
Google map to set the location of your store
Prevailing Admin Panel
Well-designed 7 color schemes
Customization services included
Social sharing icons
Based on Twitter Bootstrap Framework
Multiple footer widget areas
Fully WPML compatible
Full-width slider section
Retina ready screen
Valid HTML5 & CSS3 code
Separate mobile header
No coding knowledge required
One clicks installation process
Support all major browser
Passed by W3C validation
Custom logo And favicon uploader
Custom footer copyright text
Price – $79
Theme DemoTheme Info + Download
---
4. FusionBead – Bead Making WooCommerce WordPress Theme
FusionBead WordPress theme is a stunning online platform for ear wires retailers, clasps merchants or beads distributor. The accessible option panel of this template gives powerful control mechanism to your business website so that you can freely showcase all your beading services, jewelry ideas or diamond cutting in an efficient way.
Feature great selection of fine stringing materials such as marble stone, wooden buttons, craft wire, crimp covers, crimp, etc in the shop section and set a different kind of e-commerce widgets in its right featured area. You can fix price filter, top rated product widget, client's reviews, etc on Shop page featured area. 
By showing real comments of visitors you can easily win the trust of your customers and convince them to get shop from your bead making a website.

Let's see it's key features-
Unlimited drop-down menus
PayPal incorporation
Add to cart functionality
Ajax based admin panel
One clicks installation process
CSS and HTML files enabled
Latest browsers supportive icons
Multiple sliders supportive area
Modified services included
Retina ready icons
Video advertisement support
SEO ready
100% Responsive layout
Grid style blog layout
jQuery enhanced
Built-In contact form
homepage featured boxes
Price – $79
Theme DemoTheme Info + Download
---
5. GoldSmith – Gold And Silver Ornament Manufacturer WordPress Theme –
If you are looking for a WordPress theme, with the help of which you can showcase all your latest designs of jewelry then GoldSmith is perfect for you. GoldSmith WordPress theme is specifically designed for the goldsmith, silversmith, metalworkers, ear & nose rings sellers who are focused on making expensive metals and gold.
This particular theme will surely help you to showcase your collection of silver and gold items such as earrings, necklace, goblet, platter, ceremonial or religious. Let your visitors look at a large number of different gold ornaments online with boxed style slide section. By using GoldPress theme sliders you can easily showcase different trendy available designs of ornaments & also demonstrate your services or skills as well.
This Gold & Silver ornament manufacturer website template has an amazing eye-catching blog section integrated by nice sliding animation. This effect is only visible in its descriptive area, also having attractive sections separators on the homepage. With this premium blog posts, you allow your visitors to know more about latest stories of jewelry designing, rare diamond collection etc. 

Key features of the theme-
Supports WordPress Version 4.5 +
Prompt support always
Seven elegant color scheme
Accessible Layout
Twitter Bootstrap framework
9 Column gallery listing
Powerful theme option panel
Built With CSS3 and HTML5
Conversion Ready With PO/MO Files
Social sharing functionalities
Multiple footer widget areas
Easy setup With default content
Custom footer copyright
Custom logo and favicon uploader
Support all essential browser
3 Column feature boxes
Retina ready icons
SEO optimization
Price – $79
Theme DemoTheme Info + Download
---
6. BlueDiamond – Diamond Shop Store e-Commerce WordPress Theme –
BlueDiamond is one of the best corporate as well as eCommerce template which will be used for online fine Jewelry stores for selling the precious collection of blue or black diamonds, gemstone jewelry, earrings, pendants, etc.
This particular WordPress theme is fully supported with e-commerce functionality which will provide you a great opportunity for selling & representing your jewelry products online. You can feature all your jewelry box valuable metals in the product section, along with price tag and unique labels. Add to cart system gives an ease to the customer to shop online. PayPal service is also incorporated into this theme for making online payments. It will also help you to manage different orders placed by users.
BlueDimond shop e-Commerce theme includes with an attractive image slider where you can showcase your clearance selection of fine Jewelry with a short description & target customers towards your website's landing pages. 

BlueDiamond WordPress theme also includes-
Latest WordPress version compatible
Well-matched reactive Layout
WooCommerce plugin integrated
Full-width image slider
On time support always
WPML Translation ready
Add to cart option available
Easy check-out process through PayPal
3-Column featured area
Integrated social sharing links
Blog section on the homepage
Highly customizable in nature
Footer and widgetized sidebar
Ultra high-resolution graphics
Quick view for products
Favicon upload and custom logo
Latest browser compatible
Price – $79
Theme DemoTheme Info + Download
---
7. JigoShop Jewelry WordPress Theme – 
Metalworkers who are focused on making expensive metals and gold jewelry, JigoShop WordPress theme is available for the theme. It is fully combined with outstanding design layout, professional photography, custom layouts, easy to use, cherry plugin & cherry based framework.
JigoShop template manages both physical and digital products with WP centric & intuitive easily to showcase your collection of silver and gold items such as earrings, necklace, goblet, platter, ceremonial or religious.
It also offers different marketing options such as post formats to share latest tips, feature client's testimonials, 80+ comfy shortcodes for ease of embedding media and other content, data management to quickly update the framework at the backend.

See other amazing factors of the theme-
100% Responsive layout
Custom post types and post Formats
Different shortcodes are available
Simple importing and exporting
Simple installation process
Data management options
Additional option for available theme shop
WPML ready
Multiple additional page templates
Easy payment and shipping options
Theme DemoTheme Info + Download
---
8. OnePage
OnePage is a fantastic and dynamic WordPress theme which can be downloaded free so that you can build a single page website of your jewelry & ornaments store at free of cost.
OnePage theme has an inbuilt price listing section on the homepage to flourish your services along with price, manifest your services with relevant Google font awesome icons in a four-column feature area. An advanced team member section assists in introducing experts goldsmith and silversmith.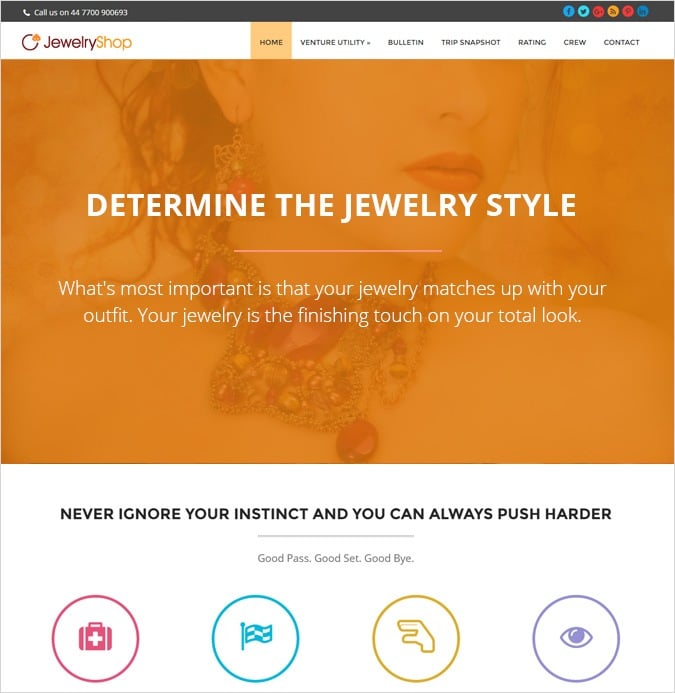 ---
Outstanding Features –
One page layout.

Full-width slider.

Back-to-top button.

Butter scrolling function.

Built on Twitter Bootstrap framework.
Download This Free One Page Theme Now!
Live DemoDownload NowClick Here To Know More
---
9. GoldenRing WordPress Theme –
GoldenRing is perfect WordPress theme available for gold, silver or diamond ring retailers who are thinking to establish an online store for their ring shop. It is entirely compatible with WooCommerce plugin that allows for selling different valuable stone, bone or gemstone rings directly from their business site.
Making use of this particular theme you can easily feature varieties of ring designs such as engagement, cameo, signet, wedding, thumb etc on shop page template. GoldenRing also provides cart as well as a checkout option to your potential clients which make their shopping very convenient.
This WordPress theme is classy and modern with its rich and versatile layouts. Silversmith, Goldsmith, Retailers, ring seller, distributors as well as manufacturers can also pick this amazing WordPress theme to build their own online jewelry Website with ease.

Some of its premium qualities-
WooCommerce plugin installed
Homepage boxed slider
Integral shop page template
Prompt support always
Different blog templates
Powerful theme option panel
Fully WPML compatible
Clean and boxed layout
Pretty photo for images
Valid HTML5 & CSS3 code
Multiple footer widget area
Support all major browser
Unlimited drop-down menus
Retina prepared icons
Well organized and clean code
Custom logo and favicon uploader
Coded with SEO in mind
Custom footer text uploader
One clicks installation process
Price – $79
Theme DemoTheme Info + Download
---
10. Regal – Pictures Frame Responsive WordPress Theme – 
If you need an attractive online template to draft your vibrant store then you don't need to go anywhere because Regal WordPress theme is ideally built for you. It is one of the best Jewelry Showroom WordPress theme bundled with several attractive features to give a classic frame effect to your business site.
The theme consists effectual portfolio template with a grand look to showcase your jewelry collection like pendants, gold rings, bracelets, watches, diamonds, earrings etc. Through this wonderful section, you will definitely hold your visitors when they visit your particular site.Regal – pictures frame responsive WordPress theme will give a boost to your business by letting you create a website which can be used by Distributor, Silversmiths, Retailer, Jewelry Seller and Goldsmiths.
Regal – pictures frame responsive WordPress theme boost your business by letting you create a website for Distributor, Silversmiths, Retailer, Jewelry Seller and Goldsmiths. You can also make use of Regal WordPress theme for corporate health, fashion, beauty, photography etc.
Feature all your designer skills, ideas, manufacturing factors and other outfit guides in front of online visitors with unique service section. This unique section gives you an ability to set all services in multiple variations i.e one column, two, three, four, 2-3 column to 3 column last, or clear rows.

Amazing look of its astonishing aspects-
Spontaneous with all portable devices like- Mobiles, iPads, Tablets etc
Multiple slides support with descriptive area
8-built-in color schemes
Fully retina ready icons
Contact Us/ Gallery Page template
Background images bonus
AJAX based options panel
Access to members area
Limitless drop-down menu
Support all essential Browsers
Fantastic responsive layout
Price – $59
Theme DemoTheme Info + Download
---
11. Diamond – Jewellery WordPress Theme –
Diamond WordPress theme is specifically used to highlight your luxurious jewelry products on the web. This jewelry template is compatible with multiple functional elements by which you can attract different users towards your Jewelry website.
Showcase a wide selection of fashion jewelry, classic jewelry and much more with featured slider section. A slider is the key tool for every kind of online platform that helps to boost your sales direct from the site. Feature different types of fashion collection like – classic, traditional, floral, designer, contemporary, fashion designs, etc with this amazing sliders.
Here you can also find amazing portfolio area with product zoom functions that lets you mention different diamond and jewelery designs like – costume, fashion, junk, trinkets, etc. Nurture your client about trendy jewels in the market, fashion styling options to carry out ornaments, etc by posting articles in the blog section.
Else, the theme also offers full control over every available part of the theme with easy to use admin panel.

Some of Diamond's key features–
Create a front page for displaying your available product.
Available full-page slider with particular statement text area.
Portfolio, prebuilt blog, service as well as gallery template.
In six different formats show your blog posts.
Available portfolio templates with different categorized options.
Gallery section and jewelry catalog for enhancing the design.
In all devices fully responsive work.
Availability of contact page with Google maps.
Available option panel for Ajax base theme.
Create unlimited menu.
SEO compatible and optimized with all essential browsers.
Available custom Widgetized sidebar.
Perfect for ornament and jewelry shop.
Price – $79
Theme DemoTheme Info + Download
---
12. GeoCraft
GeoCraft is an outstanding and highly appealing WordPress theme which can be used to elaborate a free directory website of jewelry stores, ornaments shops, goldsmiths or silversmiths.
GeoCraft template has an inbuilt email notification feature which can be used to notify advertisers about their ads approval or expiration, a sign in/ sign up module allows site visitors to create their account on your website so that they can place their ads easily.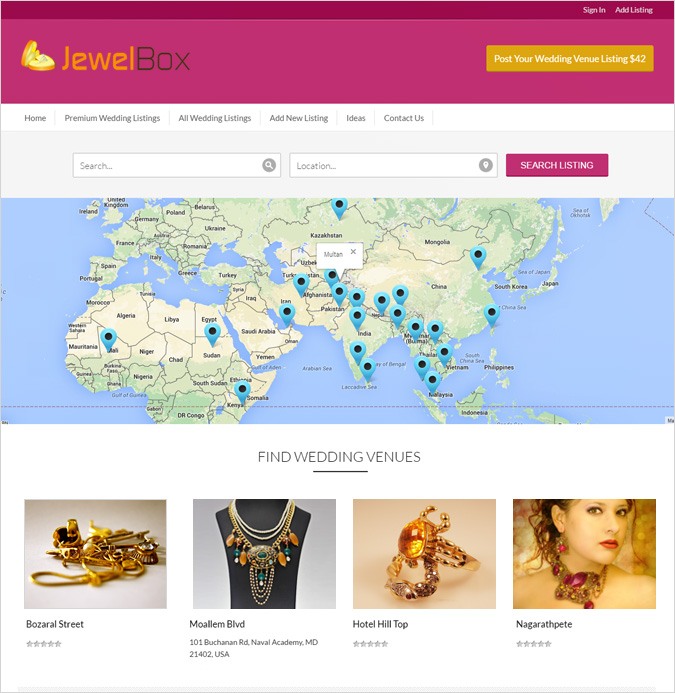 ---
Prime Features –
Search by name & location option.

Ad banner spaces.

Ad claim listing feature.

Lead capture form with premium ads.

Integrated Geolocation map.
Grab The Golden Opportunity & Download This Free Directory Theme Now!
Live DemoDownload NowClick Here To Know More
---
13. Jewelry WordPress Theme –
Searching for the amazing WordPress platform to showcase your all latest designs online. Then, Jewelry WordPress theme is perfect for you.By making use of this theme, you can easily win the trust of your customers, show your different beautiful designs and services and much more.
By using this template, you can easily win the trust of your customers by showing your different beautiful designs, manufacturing methods, tools, services and much more.
Jewelry WordPress theme is a perfect WooCommerce bead template which will help you in showcasing different beading patterns, tutorials, beaded necklace tutorial, ideas for jewelry, photos etc in a well-organized way.
This particular theme is available with different special advantages such as easy two simple steps installation, availability of different color options, Filterable Portfolio etc.

Stunning factors of the theme-
Build with cherry framework
Latest WordPress compatible
Animation of HTML & JS
Bootstrap version 2.3.1
Customize typography
Amazing sliders
SEO ready & advanced backup
Easy two-step installation
Availability of multiple color option
Free updated for lifetime
Availability of custom widgets
Available built-in theme customizer
Supports blog functionality
Attached set up instructions
Availability of 2 layouts
Software's needed are Adobe Photoshop CS+, Apache Server, WordPress 3.6.x
Price – $75
Theme DemoTheme Info + Download
---
Conclusion –
Now you are well aware of all these jewelry WordPress themes and their functionality. So, chose a perfect theme and start expressing your creativity online.
Do let me know which theme you have chosen for your jewelry business and share your thoughts in the comments section below.
You may also aware about other popular posts from the same niche –