The demand for grocery products is growing each day. The rising demand has triggered many firms and individuals to focus their attention towards grocery business. Who knows? You might be one of them or even purposing to venture into grocery storing soon.
We have a solution to make the online presence for your grocery store…

InkThemes is here with it's best grocery store WordPress themes to make sure that your long conceived dream is safely delivered and grows to become a big recognized brand.
After doing a maverick in the WordPress themes for the other various departments and sectors, we saw it worthwhile developing some beautiful WordPress themes for the grocery store for effectiveness.
---
The Colorway is a feature-rich, highly responsive Elementor WordPress theme that lets you present the website just the way you want to. It comes with WooCommerce compatibility that provides an exclusive product presentation to setup your grocery store.
Whether fruit & vegetables, food cultivation & planting, grocery products many more what you are selling, you can show your business online perfectly with this theme.
Furthermore, if you want to craft any other business website then our theme will provide you 35+ templates that suit your needs.
---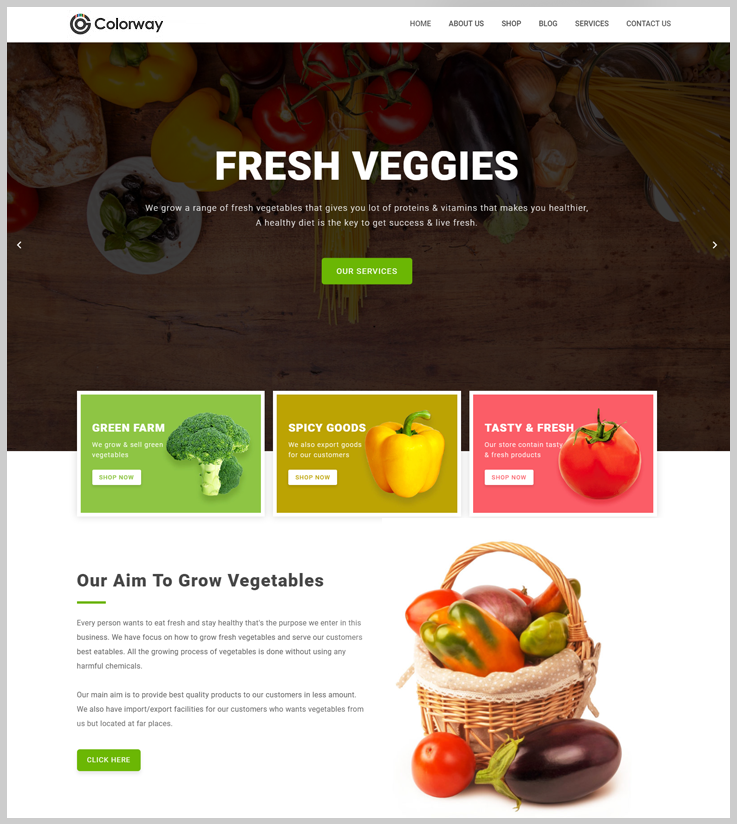 ---
Key Traits Of Colorway Fresh Veggies WordPress Theme:
Product Slider: With this feature, you can display your products like fresh fruits, vegetables, groceries, etc. with prices & complete description about them in an impressive manner. Additionally, you get sturdy sliders that are column, text, advanced and much more to feature products with other information.
Supreme Navigation: Users can navigate the website quickly, so users can explore your grocery store without any difficulty & purchase your products.
Portfolio Gallery: You can display & highlight photos of your grocery store with this feature in a pretty way.
Leadup Addon: By using this theme, you can build appealing lead capture forms in the website to generate leads in a few clicks.
Built-in Contact Form: It includes a readymade contact form that helps your users for getting touch with you.
Extremely Customizable: The Colorway gives powerful customization options like coloring, fonts, styling, etc. to customize your website with impeccable ease.
SEO Optimized: It is fully optimized for SEO that will help your store website to rank perfectly in popular search engines.
Theme Info + DownloadLive Demo
---
EasyFresh – Grocery Store WordPress Theme
EasyFresh is crafted for use in grocery stores, grocery shops, food marts, retail food stores, supermarkets, distributors, manufacturers, online retailers, wholesalers and all the other types of grocery shopping centers.
Online supermarket business has earned popularity as a large population prefers online grocery shopping. Probably because of the ever tight and busy lifestyle schedules.
Our Grocery Store WordPress theme enables you to create a beautiful website for your online basket and grocery business and distribution to your clients.
---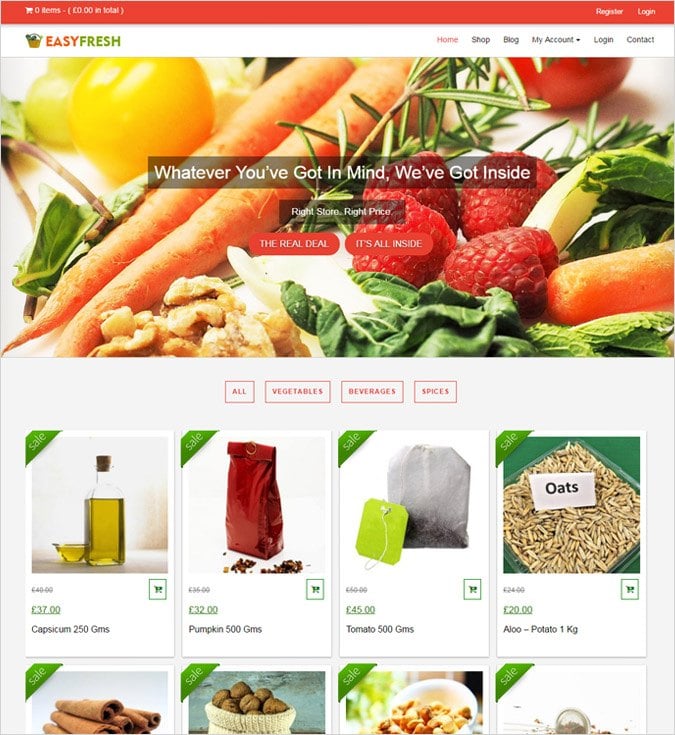 ---
Outstanding Highlights Of The EasyFresh WordPress Template
Movable slider

:  this feature permits you to list the various products you have in stock such as meat, grocery & staples, branded food, fruits & vegetables and much more. 

Along with the listed products, you can also indicate the prices and some brief descriptions.
Add to cart feature

: this feature enables the online client to add to the wishlist the selected and shop it later upon wish by checking out.

Service area

: you can display the various services your firm offers through this section.

Blog section

: this feature allows you to post beneficial tips on this section; this will in return keep your clients up to date.

Contact Form

: you can provide your contact details through these feature through which your online clients can easily reach you.
Theme Info + DownloadLive Demo
---
StoreCheck – Grocery Checkout Efficiency Consultancy WordPress Theme
Rapid trading processes are as a result of proper checkout operations. The Grocery Checkout Efficiency Consultancy WP theme is a perfect option for you if you are running an agency that offers inventory analysis to food products org and you would like to have it launched on a website.
This WordPress theme is best suited for Grocery retailers, supermarkets, mini-marts, food chains, large confectionary shops, and other firms venturing into household and food items. There are multiple food WordPress templates that are available on the inkthemes.
---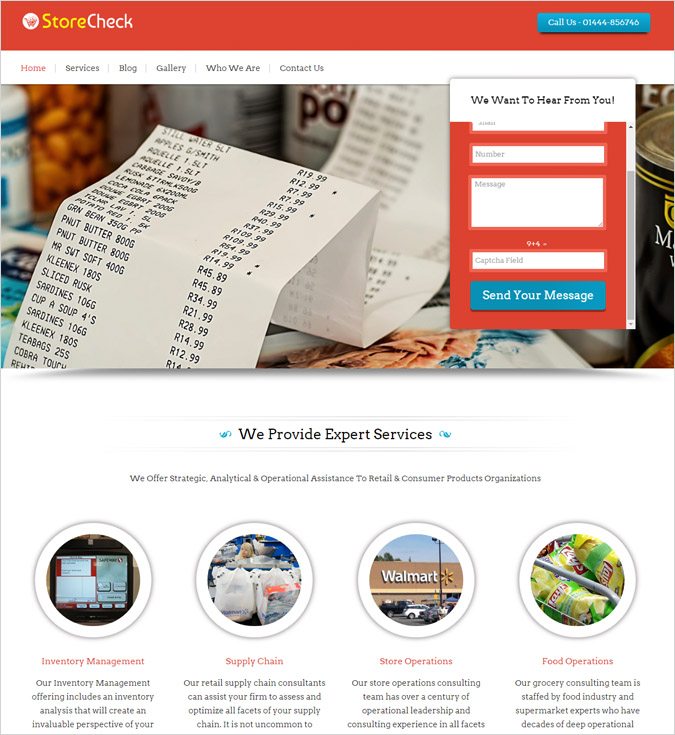 ---
These Highlights Make The StoreCheck WordPress Template Perfect
Lead Capture Pro Plugin: You can capture the leads of your customers efficiently through this lead capture form.
Video section:

this feature helps you to depict visual representations of your grocery products.

Marvelous eye-catching display:

you can market your grocery shop with unlimited images in this section.

Customer Testimonials:

happy clients are able to display their reviews on this section. Good customer review and comments can boost the credibility of your online platform receives.

4 column service area:

this WP theme permits you to display the various skills you acquired such as store evaluation, and stock management.

Full coverage Slider:

through this feature, you can upload unlimited grocery store photos sliders to your web page; the photos will attract huge traffic to your web.
Theme Info + DownloadLive Demo
---
Grocery Bid – Grocery Auction Site WordPress Theme
This fully functional WordPress theme is suitable for online auctions, bidding organizations, grocery wholesalers, supermarkets, auction grocery stores, and other bulk food bargain retailers.
Grocery bidding is one of the best events. Here, everybody is a participant in eating. Frozen and dry goods are mainly sold items.
Our finest food premium template, Grocery Auction Site WP theme is the tool you should use to brand your online business internationally.
---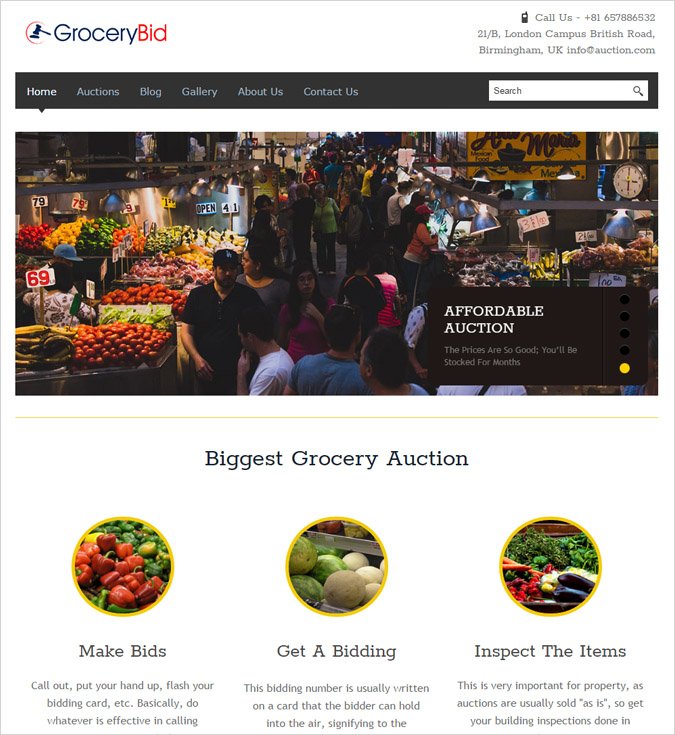 ---
These Excellent Features Define The Grocery Bid WordPress Template
Slider Section

: you can showcase the images of your past projects in the embedded slider area with a heading & proper description. This will give your clients sufficient bidding information.

Testimonial section:

display your customer's ratings, reviews, and comments about the services you offer. Through this, your confidence is most likely to rise.

Blog Template

: Good blogs are always attractive. You need to display your top online journal so that you can increase the number of visitors to your grocery auction website. Our WP theme is best blog template.

3 column feature area: through this section, you can briefly describe your web page to your clients. You can state which devices and browsers it is friendly with and the extra services it can offer to them.

Subscription Box

:  this feature will allow your visitors to make a subscription to your grocery bidding website through a newsletter.

Service section

: this featured 3 column feature section presents your aid with a summary text with a heading for easy understanding. Through this, you can gain the trust of your online visitors and increase confidence.
Theme Info + DownloadLive Demo
---
Supermarket – Groceries Product Selling & Delivery WordPress Theme
This piece of work is designed bearing in mind the innovative retail concepts. This gives a lasting solution for your grocery business.
The Supermarket WordPress theme is a product made for vegetable traders, Household item sellers, distributors, food supermarkets, retailers and other various suppliers.
This theme will help you to supply groceries and other items directly to the client's doorstep.
---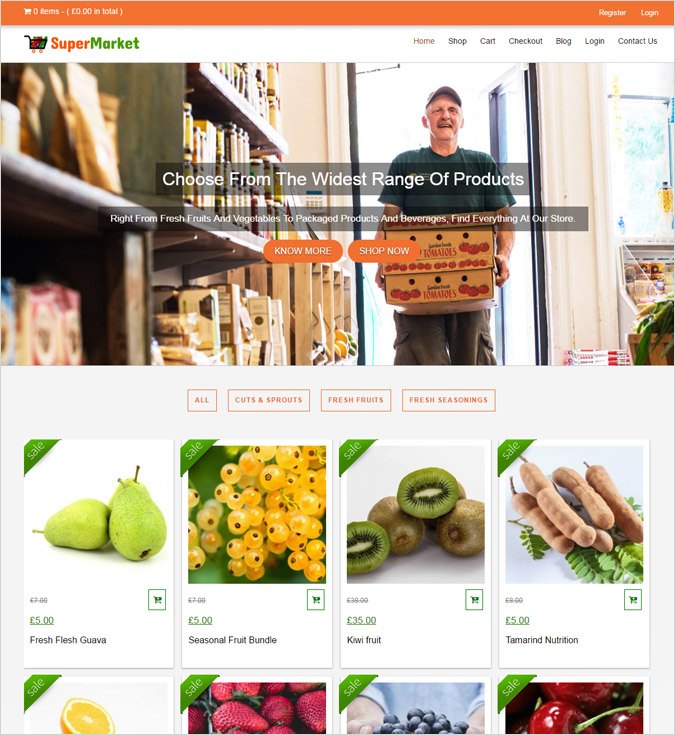 ---
The Features Of  Supermarket WordPress Template Include
Business logo section:

your business identity is safe if you choose our WP theme for your business, the logo section allows you to incorporate your business logo along with your title for easy identification.

Feature service section

: make your brand public in a unique way to your online visitors. You also upload images related to your business in the columns and write brief descriptions.

User account login:

you don't need to worry about the security of your online shop, you just log in with a highly secure procedure.

Contact form

: this theme comes with an inbuilt contact form. This form will allow your clients to directly send short messages related to your business with an instant notification on your dashboard.

WooCommerce

: this feature allows you to build an online shop. You can flaunt your groceries on the shop page with the prices and some brief description of their operation.
Theme Info + DownloadLive Demo
---
Mobileshop – Mobile Supermarket E-commerce WordPress Theme
This theme is best suited for smartphone stores, mobile supermarkets. Mobile phone dealers, vendors, retailers, distributors, and suppliers can also make great use of this theme.
Do you want to build an e-commerce website? Work got easy, just choose this mobile supermarket WP theme and you will have something to smile about.
---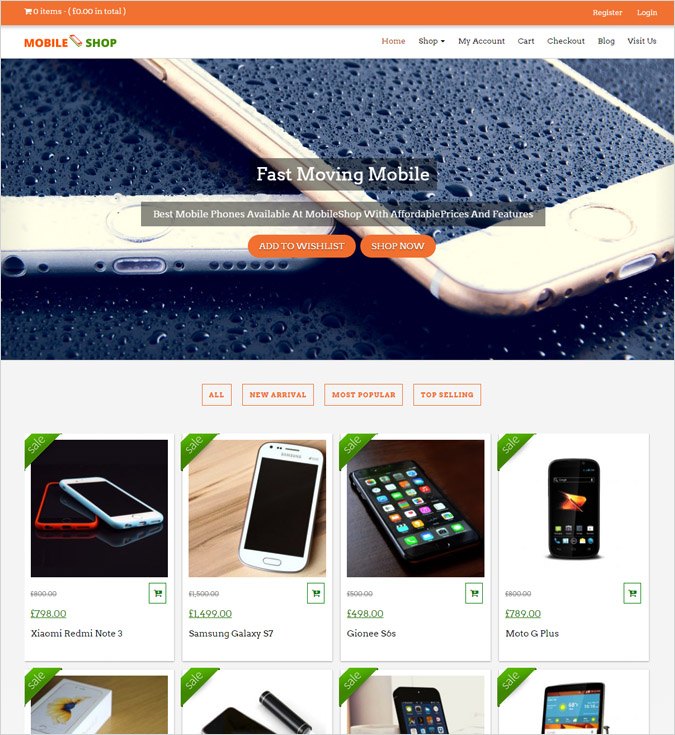 ---
Outstanding Features Of The Mobileshop WordPress Template 
Compatible

: your clients can access and order from your site using any devices the theme is devices friendly and much responsive.

The HTML5 & CSS3 codes incorporated into the theme gives amazing animation and transition

Testimonial section

: you can display the happiness with which the clients are receiving your services with. This will work to the best of building confidence in the new visitors to your site.

Woo Commerce:

the theme is well integrated with the Woo Commerce plugin which enables you to build an efficient online shop.

Feature section

: this feature has a flip display that will allow you to send notifications to customers about the various types products in your grocery store.
Theme Info + DownloadLive Demo
---
Nutrolife – Nutrition Store WordPress Theme
You are a local dealer, retailer, merchant? Do you want to expand your business online? Then here is your solution. Our Nutrolife WP theme is all you need.
The theme is crafted to meet the needs of nutritionists, dieticians, nutrition treatments centers, nutrition consultants and agency and other local shops that sell nutritional supplements.
---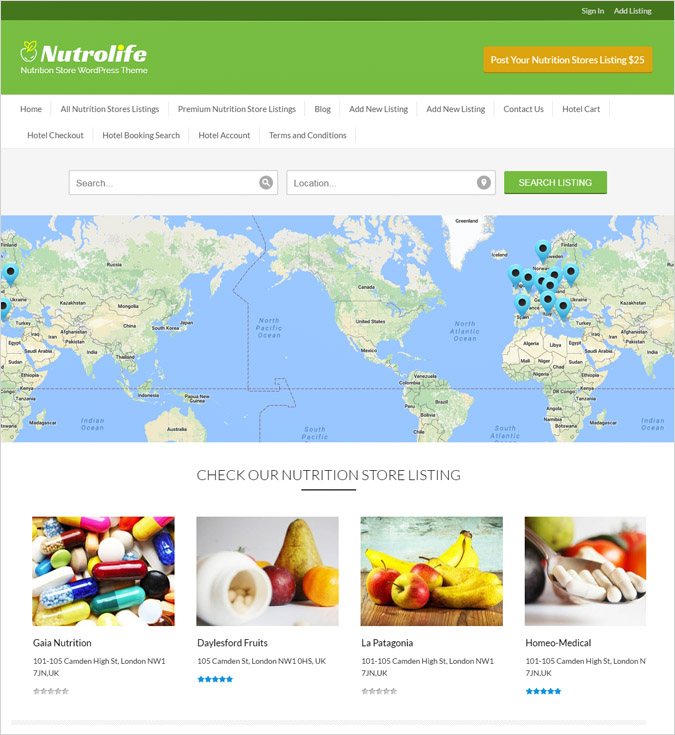 ---
Features Of Nutrolife WordPress Template Include
Geo-location search feature:

this feature helps you to connect with the user's locations by just clicking a location. A user can easily get the address of the nutrition dealer within his/her locality, where he/she can connect with the supplier

.
Blog section:

you can share posts, and journals related to the services your business offer.

Price listing

: you can display the price listing information with the nutritional supplements on the listing page. Through the contact form, the users can connect directly with the suppliers.

Fully responsive

: this product is designed in such a way that it is very responsive and compatible with most devices.
Theme Info + DownloadLive Demo
---
Varietystore – Dollar Store WordPress Theme
The present-day world is being run by digital trends, laziness is gradually developing as a lifestyle and almost everyone wants to buy from the comfort of their home.
The Dollar Store WordPress Theme is a well-crafted dedication for supermarkets, modern retailers, grocery shops, general stores and wholesale dealers.
---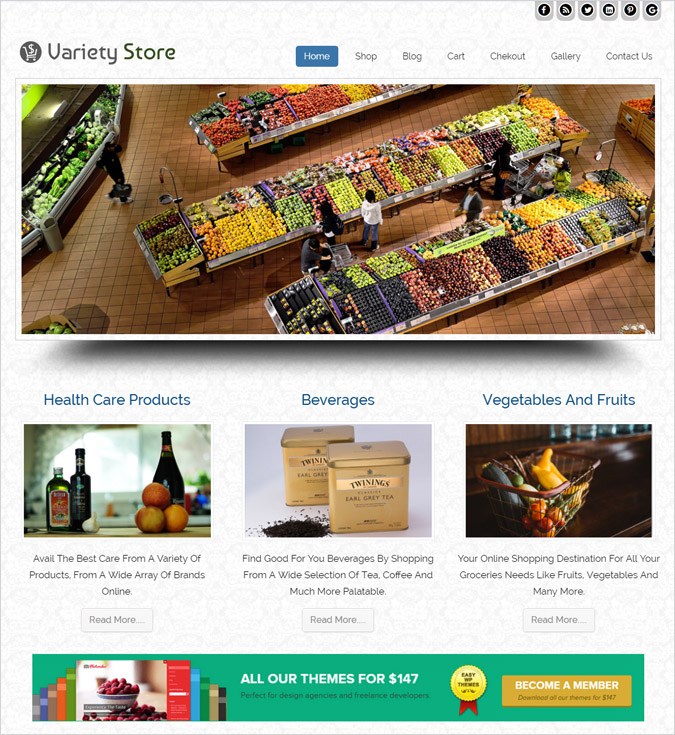 ---
Outstanding Highlights For VarietyStore WordPress Template-
Lead capture

: you can capture the details of your web visitors through this feature. You can use the information captured to send the clients valuable information which will keep them updated.

Service function

: display the various services and the offers along with pictures. This will catch the attention of your customers to contacting you.

Homepage Blog Area

: advertise, post articles, and updates on the latest grocery stocks by posting in the blog section.

Fully responsive

: The template is device friendly and much compatible with various devices and browsers
Theme Info + DownloadLive Demo
---
Rustic Fruits – Fresh Fruits Sale WordPress Theme
Fresh food is lovable, no one likes bad food, and health is an issue worth discussing. Due to this, you might have ventured into fresh fruit selling and you will really like to have it popular online.  Then make use of this product. It will surely promote your online venture.
This fresh fruits sale WordPress theme best suits supermarkets, fresh fruit sellers, grocery stores, fresh fruit packaging companies and other health departments.
---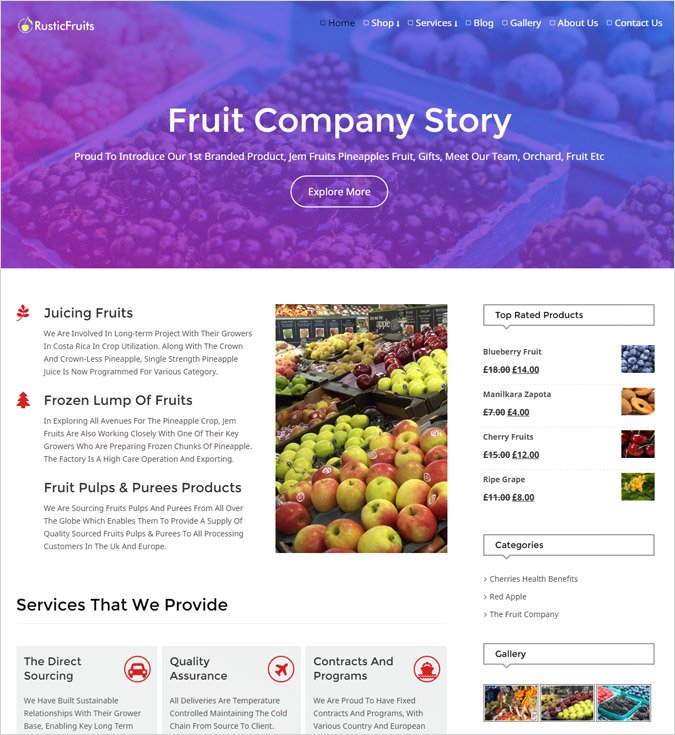 ---
These Are Some Of  The Rustic Fruits WordPress Template's Highlights.
Business logo

: have a smooth transitioning from your face to face business to a more digitalized business without losing your business logo identity

.
Full-Width Slider:

you can showcase refreshing images of your fruit shops in this section. Upload quality images in the slider and promote your firm. Give a proper description along with the pictures.

Wide color collection

– choose from a variety of inbuilt customized colors offered for theme skin.

Blog Template

: This theme features a separate blog template which allows you to maintain content about how to keep your fruits fresh for long and so many other topics related to it. With good and interesting online article, you can even increase traffic to your website.
Theme Info + DownloadLive Demo
---
Select Direct – Direct Sales Company WordPress Theme
Are you wondering whether you can really earn a living working in direct sales? Worry no more, WordPress is here, with us, you can sell grocery items to financial schemes without involving middlemen or retailers.
This direct sales company WordPress theme is suitable for wholesale retailer firms, direct sales & marketing groups. Face-to-face marketing firms and door-to-door sales agencies.
---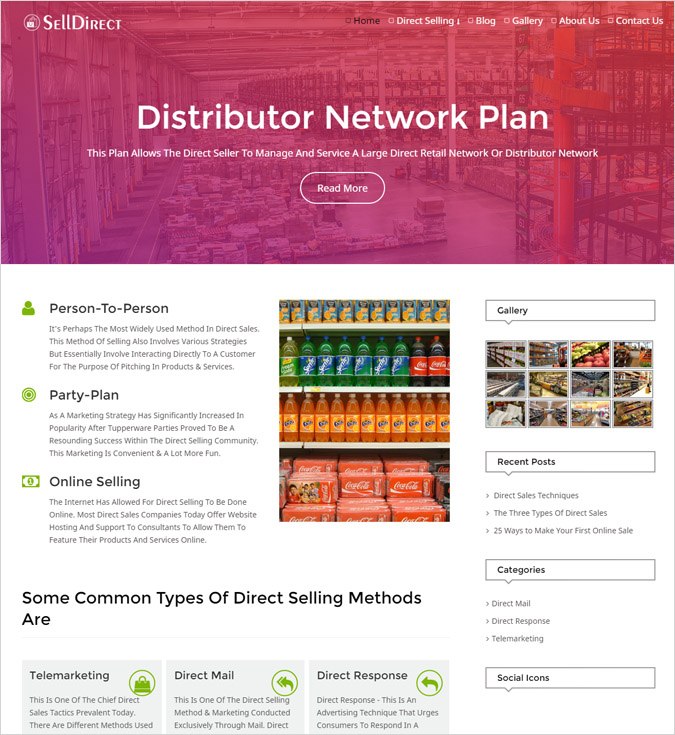 ---
These Are Some Of The Best Highlights Of The Direct Sales Company WordPress Template
Direct Sales Techniques

: The Blog section allows you to compose an information-rich article on your website. This feature can help you drive a huge traffic to visit your site

Display Your Sales Campaign

: With this feature, you can flaunt your sales campaign on the global level.

Fully responsive:

enjoy a responsive design compatible with all browsers and devices with this theme. This will surely reduce your cost of operation

.

Widget feature area:

 access more potential leads of website traffic via social media icons. You can promote your campaign or products worldwide through this theme.
Theme Info + DownloadLive Demo
---
Ground Meat – Mince Meat WordPress Theme
Minced meat is a chief ingredient in non-veg pies and meat which are much popular with a large population. The Mincemeat WordPress theme is what to choose when you really want to promote your business online in a competitive global market.
The mincemeat WordPress theme is specifically made for meat traders, beef flesh sellers, meat sellers, meat supermarkets, grocery stores and many others.
---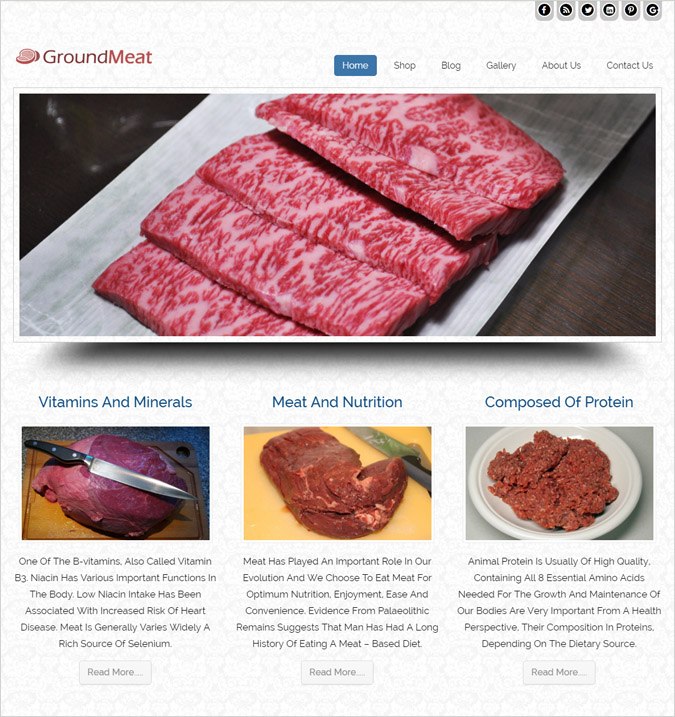 ---
These Are The Mince Meat WordPress Template's Best-highlighted Features.
WooCommerce plugin

: This gives you and your customers an online platform for buying and selling, your customers can add to cart and checkout to order for grocery products from your online store.

Ad Banner Space

: – The Mince Meat WP Theme features a dedicated banner area which acts as an advertisement source the theme. You can display ads and promotional offers for your business here.

Blog section

: you can advertise, post news and updates on latest tool stocks by posting the custom blogs in the blog section.

Testimonial section:

 you can flaunt your customer's feedback and comments through this feature; it serves as a remark area for visitors to your site.
Theme Info + DownloadLive Demo
---
Conclusion
We hope you have enjoyed each and every aspect of this article and the themes as well. Stay tuned for more of the same if maybe we have not yet discussed the products we have with your specific department. More is coming.
Also check out our another article on:-