Have you ever wondered…
Why your site has mere user visits even though you post quality written content?
Well, the answer is simple -Dull Images or no images at all.
The secret mantra to attract a lot of users is to post eye-catching images along with good textual content.
This article is going to help you find millions of nice and accurate images in a fraction of second by just adding an image search plugin.
Have a look at following articles for more options of plugin choices:
10 Best Image Optimization WordPress Plugins
But as we know, there are thousands of plugins for WordPress and heading to use any one of them will only make your site slow. So, to ease things out for you, we are bringing you a list of 10 best image search WordPress plugins.
1. Imageshow
Spending hours to find the apt picture for your blog can be tiring. You also have to ensure that you don't have to face any hassles regarding the copyright. So, you surely want a plugin which meets all your requirements and gives you high-quality images. Your wait is now over! Imageshow, the image search WordPress plugin is here to give you access to more than 7 million free to use images of all categories. It's quick, convenient and simple usage will surely make it the image search plugin of your choice.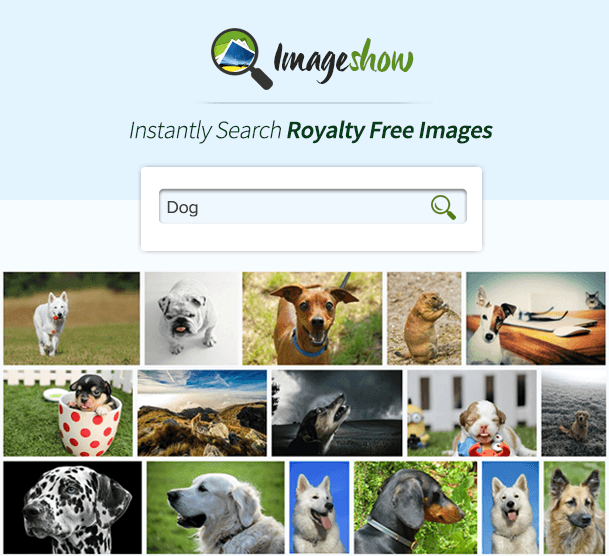 Key Features
Easy and quick search: An image search field will be added to your dashboard within the WordPress admin. So you can easily search through hundreds of image libraries from within your dashboard.
Reasonable: You simply have to pay a one-time amount of $99 and you can access millions of images through the plugin.
Image editor: You can crop the image, add effects, change the orientation, add borders and do much more with the editor.
You can make a perfect landing page & make images search engine optimized by adding titles and captions.
All the images are legal and have a creative commons license.
You will surely have a great experience with Imageshow once you have installed it. Your contents will look more attractive and appealing with the high quality images.
---
2.Google Images Search and Insert
This is one of a hassle free plugin to find countless number of images from Google servers, at just a single click. Once you find the suitable image, you can easily post it to your content. Apart from the ease of finding and posting the picture, the best thing here is that we can adjust the height and width of the images in pixels. Also, this plugin has received good satisfactory reviews from the users.

Key Features
Featured Images -You can set any of the resulted Images as a thumbnail (Featured Image) for the site.
Title- Give your own titles to the Images.
Captions – Add personalized captions to the selected pictures.
Easily change the link of Images & advertise to a large level.
Insert- You can insert the Images directly to the desired field of the content.
Updates – This plugin is updated routinely so you don't have to worry about any Cyber hacks (SQL injections etc.).
A piece of cake to use.
Google Images Search And Insert provides all the necessary and powerful tools to the users to work with pictures. It's worth to check it out for once.
---
3. WP Inject
With just 3 clicks, you can conveniently post the picture of your choice with WP Inject. That's not all; you can search from amongst millions of creative commons images of Flickr, choose the perfect image and post it. You can search with any keyword of your choice and find the right image. It is an absolutely hassle free and easy to use plugin. So, it's surely worth giving it a try.

Key Features
Search through millions of creative commons images and choose the right one for you in just 3 simple clicks.
You can easily set the featured image for your posts & related articles.
There are a host of settings, which you can easily adjust to modify the plugin the way you like.
You can select from various image sizes very easily.
You can also insert multiple images and create galleries.
All the images are automatically saved in your server and added to the WordPress media library.
The plugin is updated regularly.
The plugin is very easy to install. You can also take help of the step by step tutorial and learn how to use it.
You can compare results after searching different keywords.
Convenient in-post search: You will always be in the flow while writing and won't have to leave the WordPress admin to find the images for your content. Thus, you don't have to open many browser tabs to search.
Easier search engine optimization: You can use and insert your focus keyword set in WordPress SEO by Yoast.
The essential attribution links are automatically added and thus saves your time.
WP Inject supports Pixabay and Flickr at present, but more image sources are sure to be added eventually. In the future, you will even be able to post videos, ads and news to your posts with WP Inject.
---
4. Pixabay Images
This is a very nice and convenient WordPress plugin which connects to Pixabay.com and allows you to choose from CC0 public domain pictures. You can easily insert pictures anywhere on your blog with just a simple click. You can choose from the wide collection of images of Pixabay.com. The plugin is also very safe to use. Pixabay allows you to include attribution links; however, it is not required for Pixabay images.

Key Features
You can select your required image very easily by simply clicking on the Add Media button inside the editor. You can click on that button and choose the image and the size which you want.
Search both photos and clipart: You can search for either photos or clipart or for both of them. You can also filter your search according to the orientation of the images i.e., horizontal/vertical.
Once the image is chosen its size and placement can be easily adjusted according to your requirements.
You can add captions of your choice to the chosen images. You can even add a short description for the image.
The image will be automatically downloaded to your server.
The search results will appear in a sequential paginated order. You can also preview the images which appear in paginated search results.
Settings: There aren't a host of settings, but you can still use them for all the control you require while uploading.
The images will be automatically uploaded to the WordPress media library.
You'll surely love Pixabay Images for its ease of use and great features. Just use it once and you'll certainly be hooked on to it.
---
5. Compfight
If you don't want to waste much of your time searching for that perfect image to post in your blog, then Compfight is just the right plugin for you. Simple and convenient search and insert options and the advanced search settings are the major plus points of this plugin. You can easily get access to a host of Flickr images at the simple click of a button and insert them.

Key Features
Searching the Flickr images is very easy with this plugin. You simply have to type the keyword or the several keywords and various images will be displayed on the page.
You can easily get the dimensions of the image by simply taking the mouse near the blue bar which appears at the bottom of the image.
You will get an embed code for proper attribution to the photographer or source.
Since it's a Flickr image search tool you will certainly not have to worry about copyrights.
The Creative Commons feature will allow you to search licensable photos. You can also turn on the safe search option.
The photos are more artistic and look more HD.
You can also go for an all text search and look through the titles and descriptions of photos to find your keyword.
The downside of this plugin is that it does not offer a spell check or show other terms that may give similar results. However, all in all it's a great plugin to use and it'll be surely worth it.
---
6. Getty Images
Getty Images is among the most popular and leading distributors of still photos, videos and every other type of media which you are looking for. The work of their top class photographers can be often seen in leading dailies and magazines. This plugin unites effortlessly with the WordPress 3.5+ Media Manager and you get top quality photos and illustrations to include in your blogs. You can search through millions of images once you have installed the plugin.

Key Features
You can search images not only with the keyword, but also with the theme, color word, category, image type, color or black and white.
You will get high quality artistic illustrations and images through this plugin.
You can search over 50 million images and get access to the best photos and illustrations.
The preview image can be used before posting the image.
You can insert images of any size based on your agreement with Getty Images.
The Media library will save all the licensed images for future use.
You can also filter and clarify your searches.
You can post your photos or illustrations easily without having to leave the WordPress site.
Thus, getting access to top class photos and illustrations for your blogs will no longer be a problem if you have successfully installed the Getty Images plugin. In case you still haven't got it installed; what are you waiting for Download it right away!
---
7. YAY Images
If you are a regular blogger or a very busy professional, you will definitely need access to some high-quality photos & also a perfect advertising management. Now-a-days work also involves a lot of mobility. You often work on your laptop or iPad. So you often need a good quality image on the go. In such cases a good image plugin is very essential. YAY Images is here to cater to all such needs. You can search millions of images, find, edit and upload them in minutes. You'll get high resolution, professional and legal images through this plugin.

Key Features
Exhaustive search: You can quickly search over 5 million images and find the perfect image which will suit your requirements.
There is also a unique color based search through which you can find images in which certain colors are present or missing.
The in- built image editor comes very handy. You can crop, resize and customize the photos according to your needs. You can also add filters and texts within WordPress.
The in app purchase mechanism is another great feature of this plugin. Through this feature you can buy credits to download 1, 5, 10 or 25 images directly.
All the images come with a Royalty Free licensing.
Another convenient feature is the advanced project folder with which you can manage and arrange the images.
The plugin is SEO friendly. The relevant keywords are placed in the link.
This plugin will certainly be a great choice. You simply have to install the plugin and register as a user. You'll also be given five free images of your choice. At an affordable price of $9.90 a month you can get unlimited access to high quality online images.
---
8. Free Stock Photos – Add Images to Blog Posts
Quick, convenient and smooth access to millions of high-quality images is something which this plugin promises. You no longer have to go hunting through various places for that perfect image for your blog post. You can easily search millions of images, edit, preview and upload them without too much of a hassle. Thus, adding images to your blog posts will now seem to be a cakewalk with this plugin.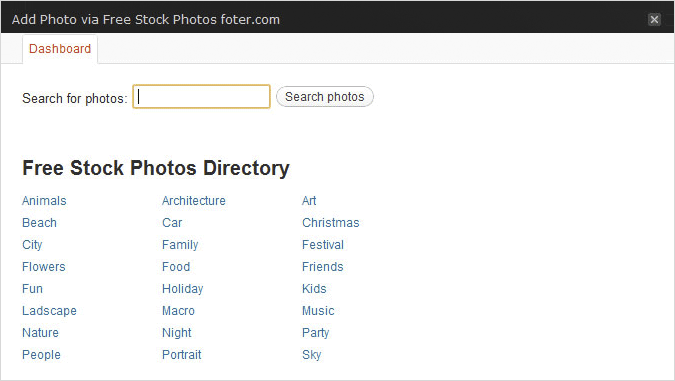 Key Features
Searching for images is very simple through this plugin. You have to enter the keyword or add the tag and millions of images from many online sources will be at your disposal.
You can add photos with a Creative Commons license. Hence, you no longer have to worry about hassles regarding copyrights.
The plugin searches for images at a very high speed; thus saving a lot of your time.
Image editing can be done very conveniently. You can crop, resize and use various other editing tools to edit the images.
Adding attribution information couldn't have been easier. You no longer have to add it manually. It will be automatically added to the image.
Inserting the images to your blog posts is very easy with this plugin. You simply have to take the embed shortcode and insert it in your blog.
This plugin is simply great to use and all its users will vouch for the fact. Thus, installing this plugin is surely a necessity if you are looking for good quality stock images.
---
9. PhotoDropper
This plugin gives you access to good quality images from its collection of more than 243 million images. You don't have to worry about the quality of images once you have installed this plugin. The images are of good quality and resolution. The plugin is very easy to use and inserting pictures in your blog posts will no longer take much time.

Main features:
Searching images is very simple with this plugin.
Bring up the PhotoDropper plugin by clicking on the hot air balloon icon.
Simply search for an image once the PhotoDropper interface has been brought up.
When you find an image you like click on it to view it larger.
If you are satisfied with the image click "Insert into post."
PhotoDropper will handle the creative commons attribution.
The only thing which you have to remember while using this plugin is to check the license of the images and whether they can be used for the website where the image is going to be added. Once you have that sorted, this plugin will surely help you find the best and top quality images for your blogs.
---
10. Flickr- Pick a Picture
Flickr- Pick a Picture is one of the best and most popularly used image plugins. Apart from it being a quick and convenient to use plugin; it has some unique features which have made this plugin a favorite of many. You can choose from millions of good quality legal images of Flickr and they will surely suit your purpose. The plugin used the WordPress 3.4 feature with which you can embed html in image captions. It also goes well with the older version of WordPress.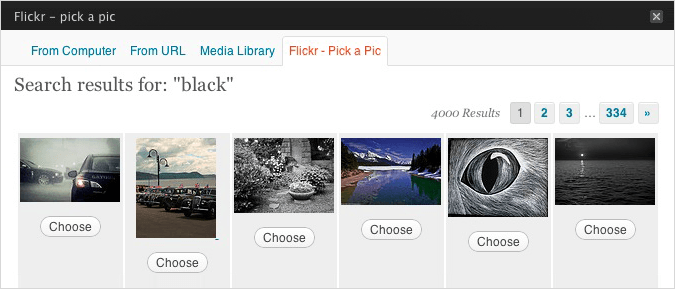 Key Features
You can easily search from thousands of Flickr images by tag and choose the right one for you.
This plugin allows you to choose from a host of Creative Commons licensed images.
You can refine your search and also set the order in which you want the search results to appear.
You can preview the image.
Another great feature lets you automatically add captions which will credit the original Flickr owner.
This plugin gives you more control over the image. The selected image is first placed in the standard WordPress image editing application before being pasted in the blog.
The superb editing tools prove immensely beneficial. You can change the alignment of the image, crop it, flip it, rotate it or even resize it. You can add ALT tags and also mention the dimensions of your preferred image.
The images are automatically saved to your own server & you can exit the whole process easily.
An easy to use plugin with such great features will make this one the ideal plugin for your needs. Insert great images in your blogs easily and quickly with just a simple download and installation.
---
Summing Up:
Now that you have got all the necessary information about the best image plugins, choosing the right one should no longer be a problem. All these image plugins are great to use and will give you superb results. They have their own set of features and functionality and work well. Choose the right plugin which best suits your needs and get access to hassle-free image searching and posting.
Have a look at some amazing WordPress plugins that can help you automate your task –