You are familiar with the fact that visitors on your website hardly stay more than 2 minutes. It's a big question that how your website can attract the user's attention in this time slot ?? Is your website capable to capture the visitors' lead ??
If you think it is NOT! Then you will be glad to know that I have come up with the solution. I am going to share with you the amazing features of the Ink Lead Capture plugin that will raise the traffic on your website simply by capturing the leads.

"Capture Leads and Followup Them Properly to Get Better Results"
You never know whether the users will visit your website next time or not. So for the instant when visitors visit your website, try to establish an everlasting bond which encourages them to come back to your website again or you can suggest them a route which will ultimately redirects them towards you. If you make your website successful to do so then no doubt your business reaches to the superior level and achieve a reputed status in the market.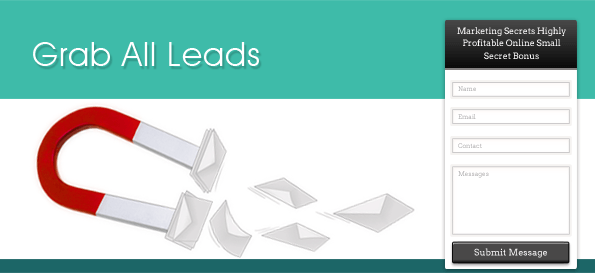 Remember "Any Business Website Becomes Highly Profitable If It Is Able To Explore Its Product & Services To Supreme Level"
How you can make your website more user interactive?
There is a need of every business website to keep its visitor's lead so that to inform them about its latest product and services. The same case is for you also, to do so you can use this wonderful plugin on your website in order to trap leads of maximum visitors .
Ink Lead Capture plugin is one of the most profitable plugin which gives your website a special functionality to grab every visitor's lead. Once you capture the visitors lead, you can fire them emails about your upcoming product and services.
But you may question How this plugin makes it possible to capture every lead of visitors ?? Let me answer you in this way.
With Ink Lead Capture plugin, you can create a Lead Capture Form which can be customized according to your requirements. It allows you to set a respective email address to accept the leads. A CSV file can be made in which you can store all your visitor's lead including Name, Email, Number, Address fields so that you can keep your user's records for future.
How to Install Ink Lead Capture Plugin ?
Step#1 Go to your Dashboard, select Add New plugin from the Plugins option display on  your Dashboard and click on Upload button.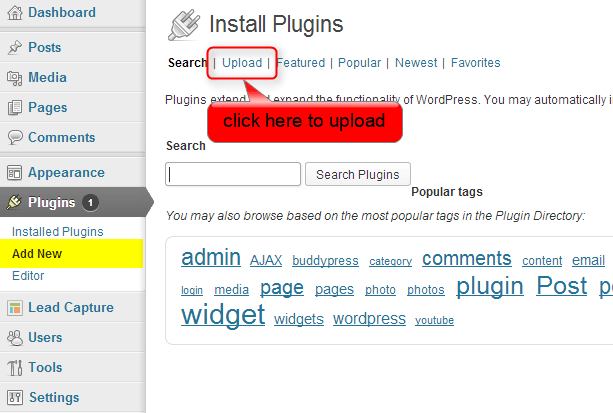 Step#2 Now you can select the zip file of the downloaded plugin from your machine and click on Install Now option.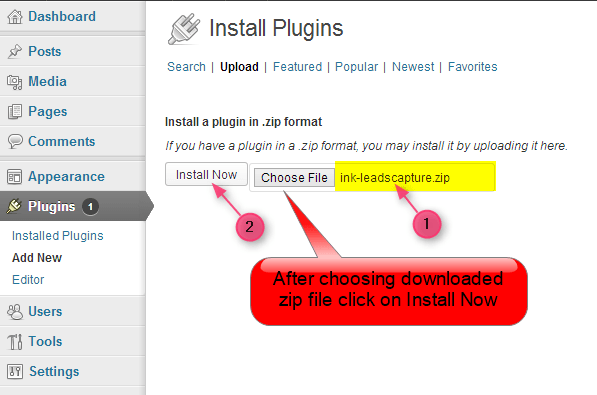 Step#3 Open your Dashboard, select the Installed Plugins option and click on the Activate option in order to activate the Ink Lead Capture Plugin.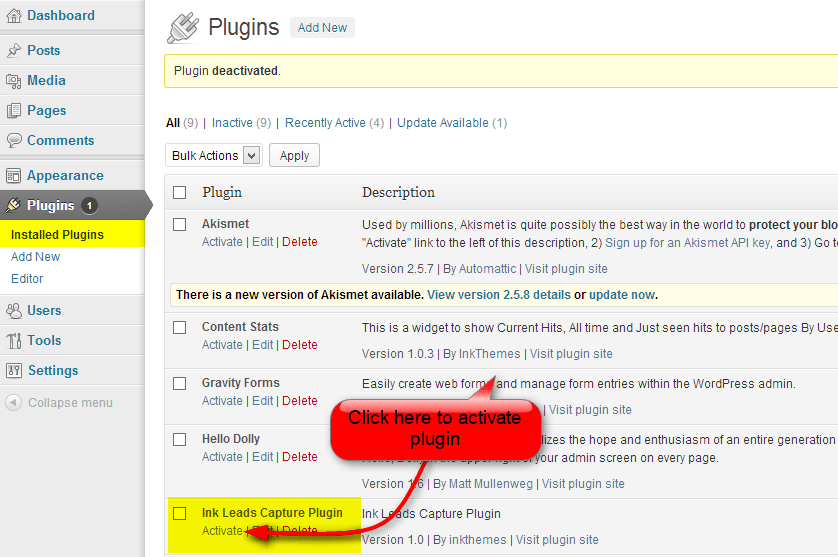 Once the plugin is activated, the Lead Capture option is displayed on your Dashboard and now you can configure it.
How to Use Ink Leads Capture Plugin?
Step#1 Under the Dashboard click on the Lead Capture option, Create Custom Lead Capture Form opens in which you can create a Lead Capture Form. You can give a field name of your choice in the Enter Field Name option and can choose the field type from the available option for your field and then click on the Add Field button.

Step#2  Now the new field is added in the Lead Capture Form as you can see in the image given below.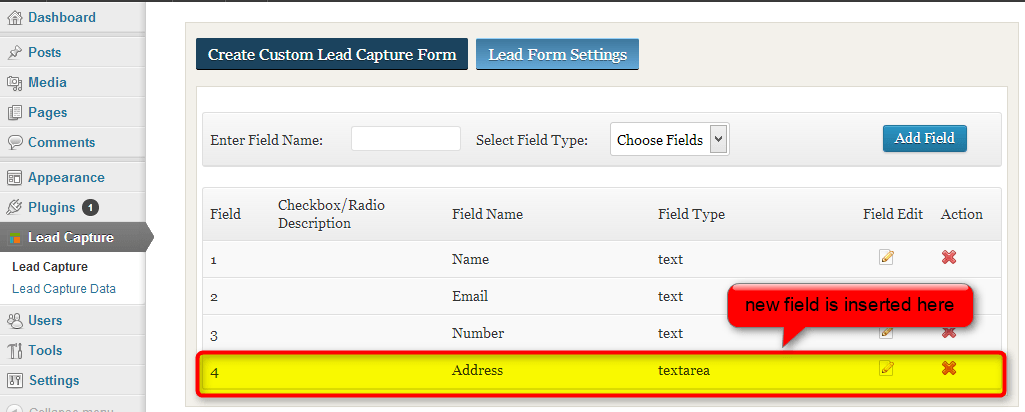 You can further edit/delete the field by just click on icons under Field Edit and Action option.
Step#3 In the next step, you can click on Lead Form Settings to manage it. Enter suitable Lead Capture Form Heading so that it catches the user attention very well and give valid email id to receive mails from Lead Capture Form. You can give multiple email ids also by just adding a comma with space in between them. By default the Captcha is activated, you can deactivate it by putting it off and then click on save option.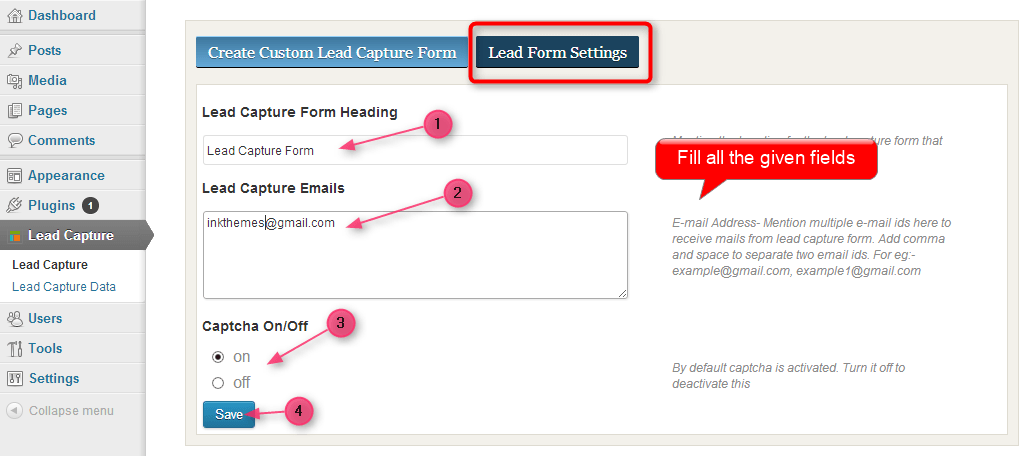 Step#4 Lead Capture Form is now created and you can include it into any page of your website. Go to some page say Users Contact Page of your website and click on the Lead Capture shortcode icon.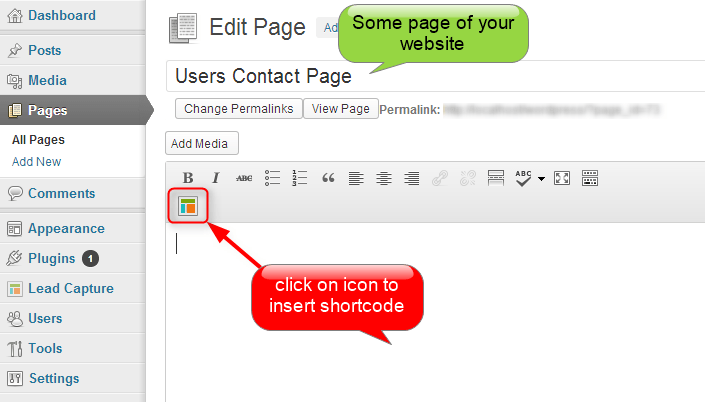 InkThemes Lead Capture Shortcode will appear on the screen and you need to include it into your page by just click on the Insert button.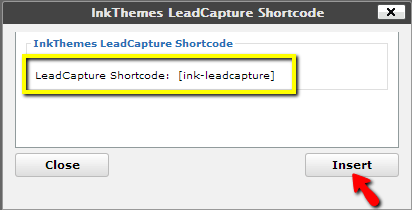 The shortcode is now inserted in your page as you can see in the figure given below.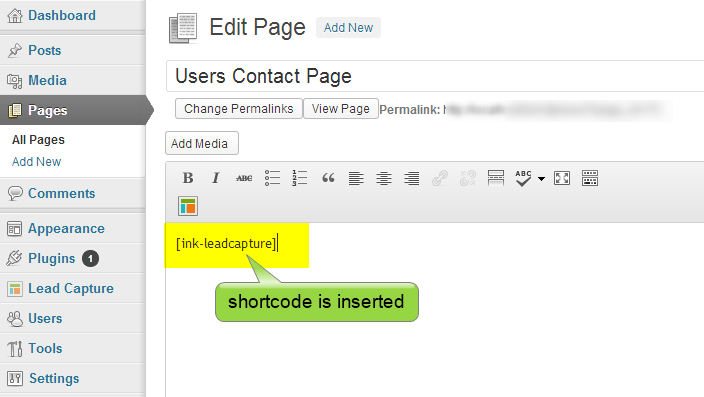 Now publish the Lead Capture Form into your page by just click on Update option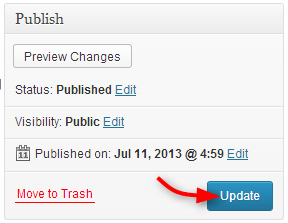 As you can see in the figure shown below, at front end the Lead Capture Form appears like this  in the Users Contact page of your website.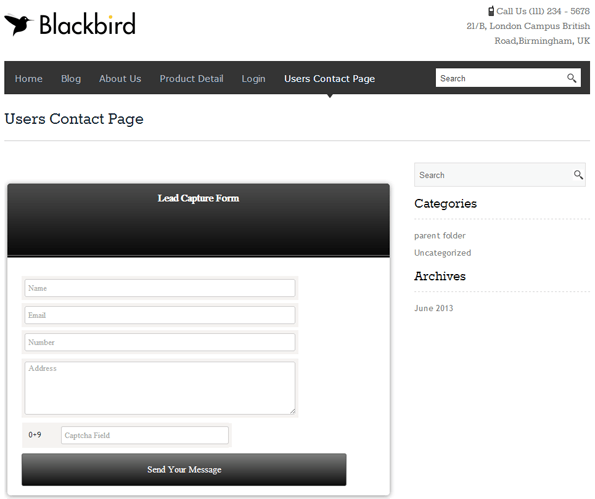 You can also include Lead Capture Form in the sidebar of your website so that it is visible on every page. You have many options to manage it through widget area, just like I used in Blackbird theme. You need to follow simple steps to include it into the sidebar of your website.
Step#5 Go to Appearance option of your Dashboard and select the Widget from it. As you can see in the screen shot Lead Capture Widget appears in the Available Widgets, you just need to drag it from here.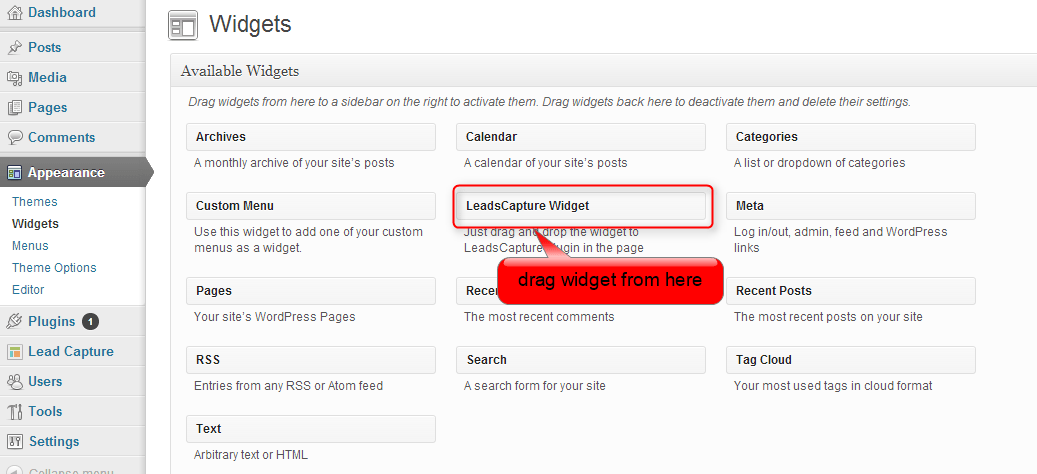 And drop it into Primary Widget Area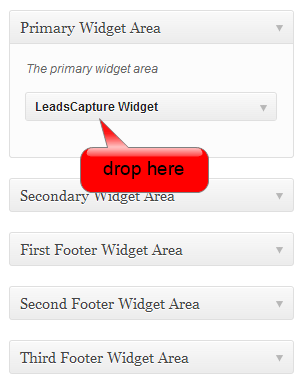 As you can see in the figure shown below, at front end the Lead Capture Form appears like this in the Users Contact page of your website.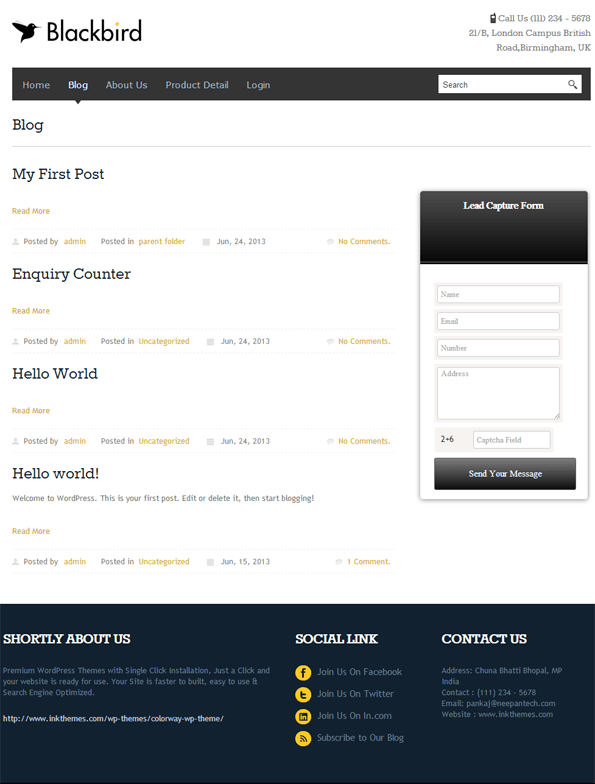 You can also place the widget in the footer area, it will appear like this in the front end.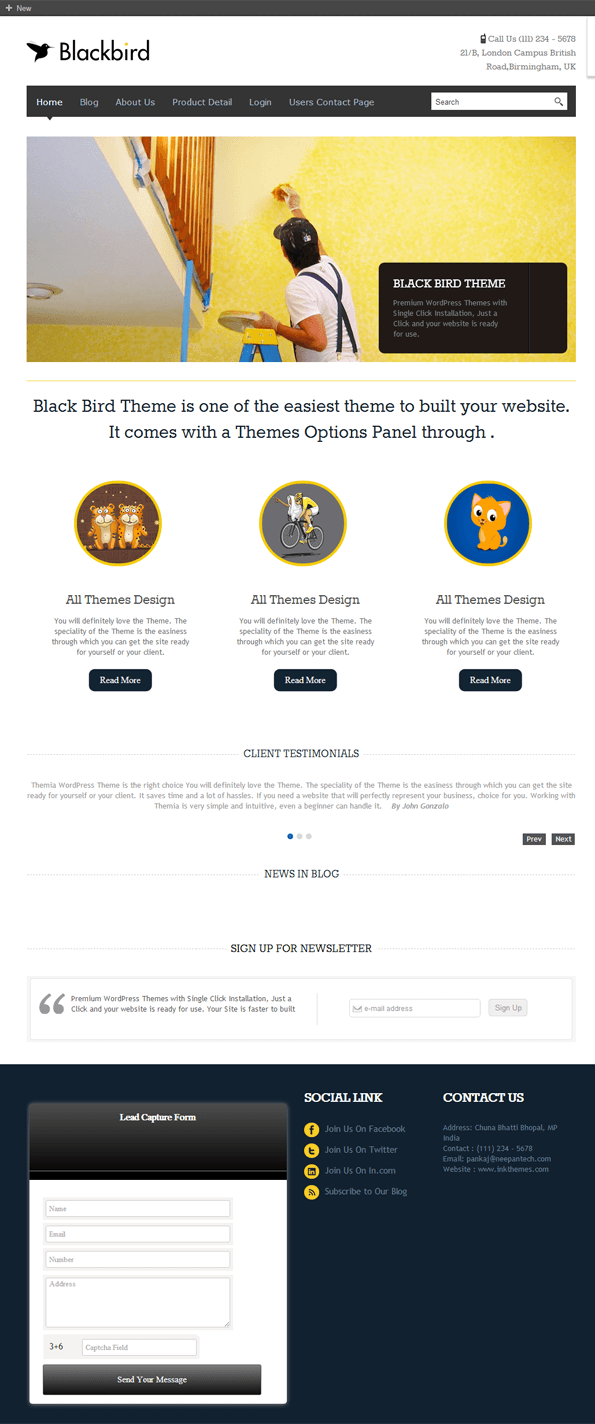 Try Custom Lead Generation Form Maker WordPress Plugin
---
Conclusion
You should have the capability to explore your latest product details among the maximum audience so that large traffic gets attracted towards your brand and approach you to get benefited from your product and services.
The more you get the more you grow. You can easily use this plugin on your website and grab all the leads with the useful information that you can use further to shoot emails.
So, Quickly Get This Premium Plugin By Clicking HERE
I hope this post will guide you in the best way and gives you the idea of how this plugin can so useful for a business website. Do let me know what you think about this useful plugin. You can share your comments below.
You might also be interested in: