Have a look at some of the topmost video themes available in the WordPress ecosystem.
Though all are the top most beautiful themes composed of modern features, there are marginal differences, which you can find out in their features. Here you can easily choose the most suitable theme for you.
These themes are assured best for your video blog, video sharing website, or a user generated/video submission website of your own just like YouTube or Dailymotion.
---

---
For more information, you can go to below link-
---
Video Member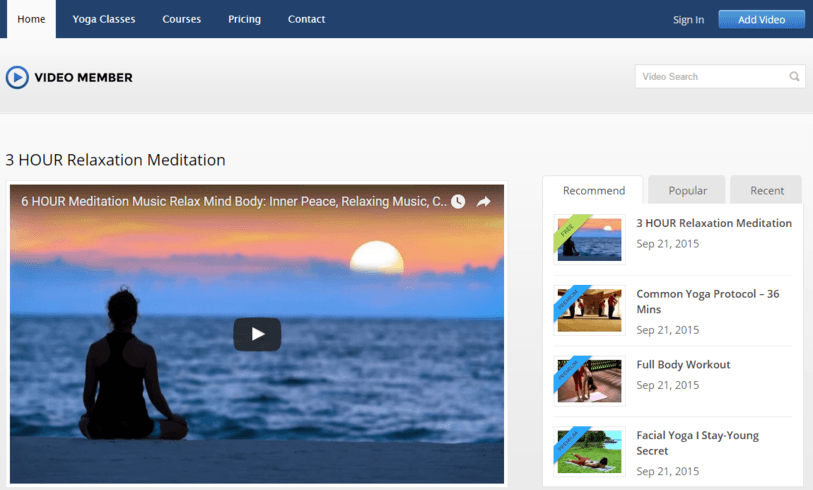 Video Member is the flawless, perfect for the video membership WordPress Theme. It gives you an ease to sell videos online. Through your website, you can share numerous varieties of videos and categorise them accordingly.
The supremacy of this theme is it helps you hook n numbers of users, as developing a video website offers a personal touch and videos are entertaining, it is cost effective marketing tactics and much more.
Let's take you to its exclusive benefits like you can sell membership subscription monthly or yearly, video embedding option where you can import videos to your website, integrated Ad module let you build brand recognition, target effective audience and earn daily collections.
Some of its features which will add an effect to your website are multiple pricing modules, auto tagging of free or premium video contents, integrated with PayPal payment system as it is the best-accepted method, inbuilt registration module converts your user into customers, user comments and rating section etc.
---
One Page
One Page is an amazing multipurpose WordPress theme which is built upon single page layout. You can definitely go with this theme for creating your video associated website.
Loaded with a bunch of features and customization tools, you can create a website that looks fabulous and cut downs visitors from leaving your website. Various segments you will find within the theme, where you can place different information such as for updating about new videos released, testimonial sections for displaying clients experiences, spectacular gallery section for placing all your videos and likewise several elements you'll find with this theme.
Altogether, you can say that the theme consists of all the resources and features, that will make up developing and administrating your video websites an easygoing task.
Responsive and retina ready structure.
Section color changer system enables you to modify the color of different sections.
Advanced theme customization panel also available.
Simple & easy theme installation procedure.
---
VideoCraft

It's the one and only unique theme ever created for individual video websites.
Just like YouTube, you can set up a user video submission website with this theme that will have an integrated user registration module.
It has a responsive and appealing design, all set to create your own fabulous video website and easily post and share videos. No tough codes to use, and no required efforts.
It also provides a complete money making source in form of ample ad space, Banner space, and dedicated homepage to display categories of videos on your site.
Powerful theme settings panel allows you to change or customize features on your site.
Instant Style Customization
Customize widgets, sidebar, footer.
Elegant Video listing, easy navigation system
Fast and easy to upload and host videos
---
Subcribely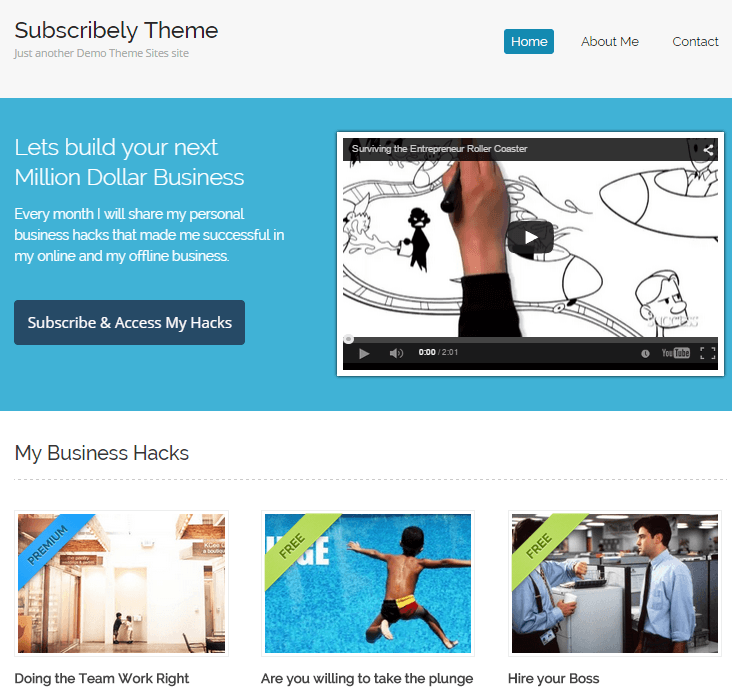 Subscribely is a great theme to monetize your video stuff. It comes with a comprehensive system that enables you to manage a visitor's access to your content. You can protect your video/audio/images/content from free access and ask a user to become your paid member.
You might have seen such sites that give a glimpse of their content which is sometimes a guide, a video, or that may be anything, and then ask you to opt for their paid membership to get access to the whole content. And they offer various type of subscription packages such as monthly/weekly/yearly or lifetime.
Now you can create a video membership site and add paid subscribers to your users base. The ink member plugin which comes integrated with the theme lets you manage premium access of users on monthly, weekly, quarterly basis, etc. or you can just use it to collect leads of visitors and offer them limited time access in exchange.
---
Oshine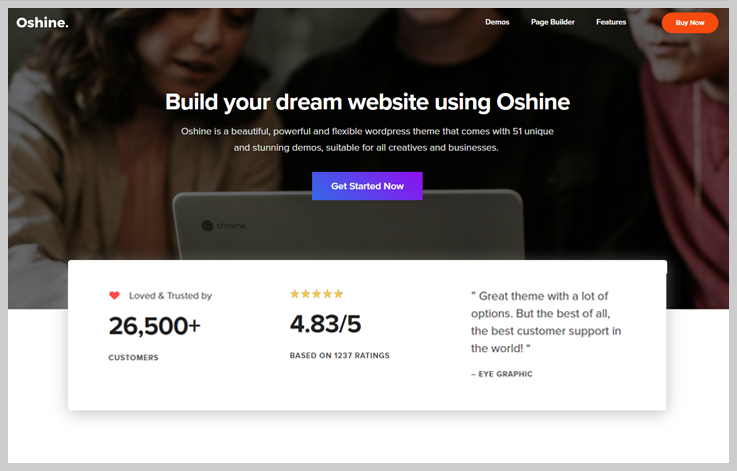 Another exquisite responsive video blogging theme with enrich and easy customizable features.
You can easily create amazingly responsive and beautiful video sites without touching any code.
Will surely fit on every mobile screen.
Easy to use powerful Theme Option Panel.
Ad management in the sidebar.
Search Engine Optimized.
Various custom page templates.
Multiple Browser compatible (Firefox, Safari or Internet Explorer).
Theme available in multiple languages.
Multiple WordPress version compatible.
---
Video Lab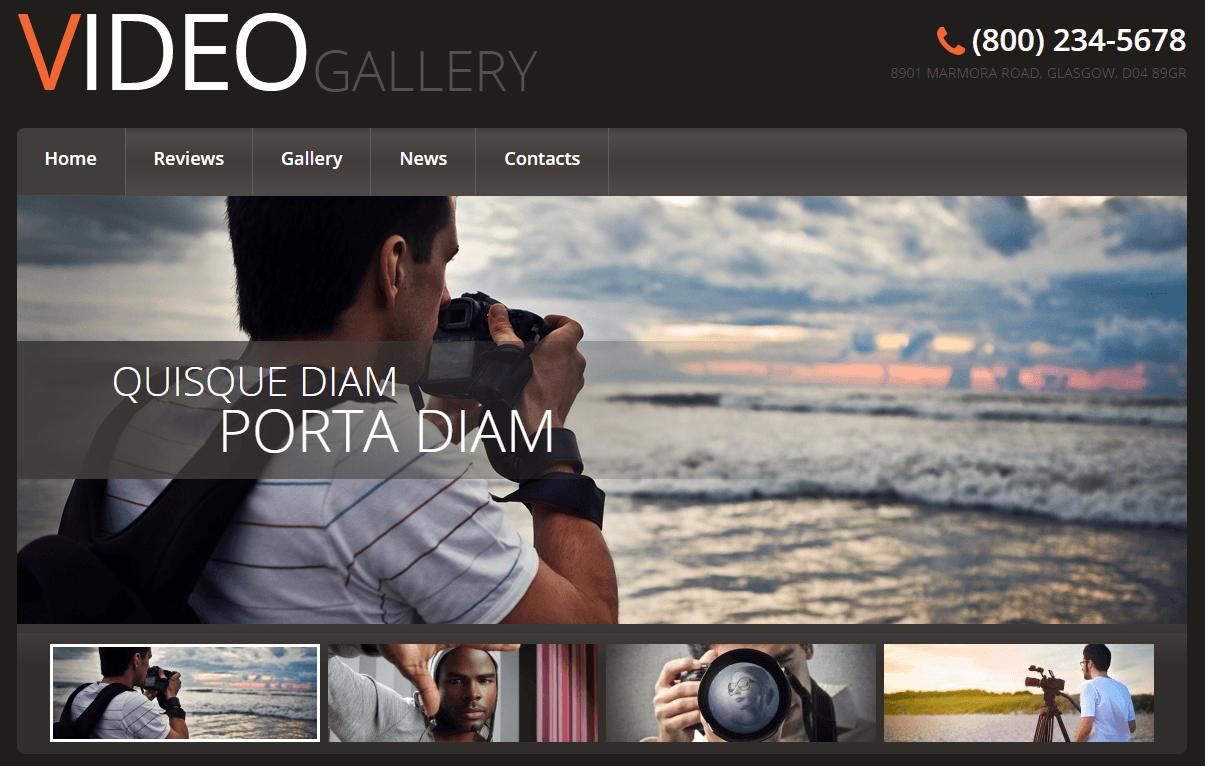 Create an amazing video gallery world online with Video Lab WordPress theme.
Fully editable, 100% responsive, Multi-lingual ready (official wpml certification). Embed multiple video clips with ease.
It has inbuilt 80 WordPress Shortcodes with the help of which you can put various amazing feature on your website like Videos, Audios, Tabs, Table, Google Map, Lists, 2-3-4 column feature area. You can customize theme in various colors and Typography.
Quick to Install and configure
600+ Google Font Options
Seo Optimizable
Filterable Portfolio
Advance Backup
Build fit for every mobile device
---

---
Video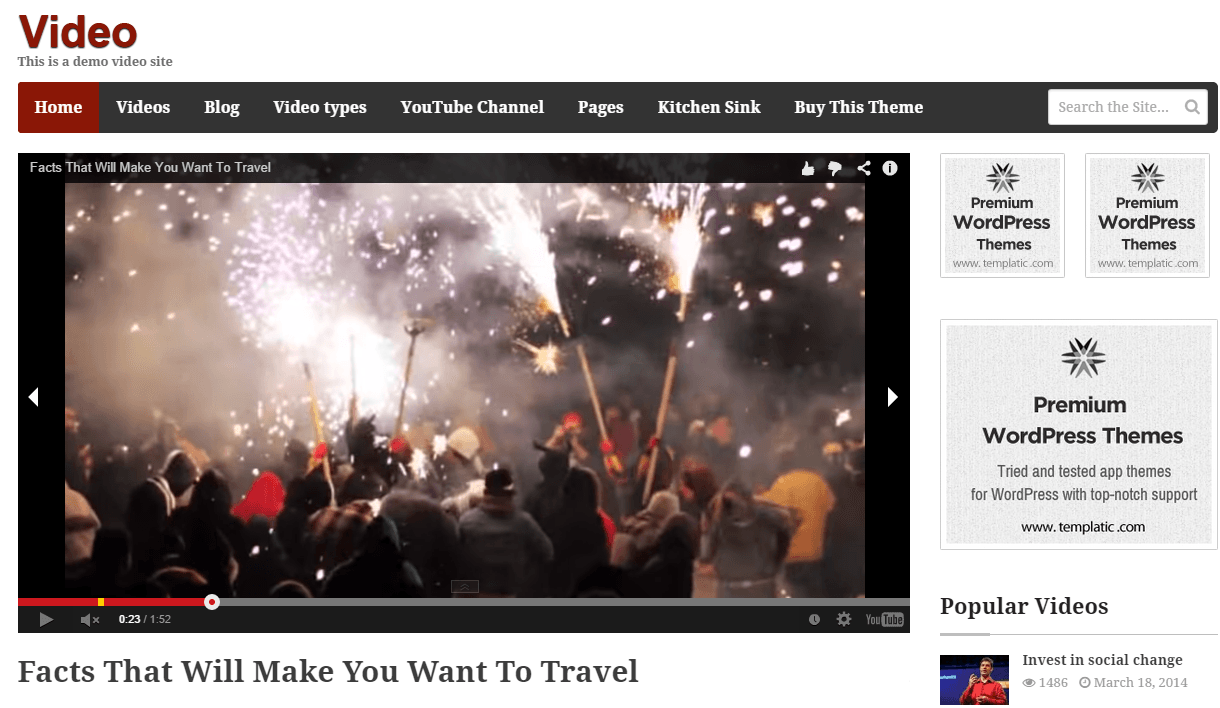 Video is a wonderful premium WordPress Theme to create video websites and feature videos of different categories.
You can create a well-arranged video directory or a gallery nice to display and feature videos in a perfect web world.
One can publish videos with multiple parent and child category.
Easy look and style customizable.
Customize footer/sidebar widgets.
Wonderful video sliders.
Inbuilt Social Media Icons.
Features Most Popular, Recently added, Most Engaging Videos distinctly.
Inbuilt Contact Forms
WPML Certification
Using YouTube Channel Gallery Plugin display video Gallery in a single click.
Integrated SEO Optimized Plugin
Responsive
Gives a great look to all your videos
---
Vidiho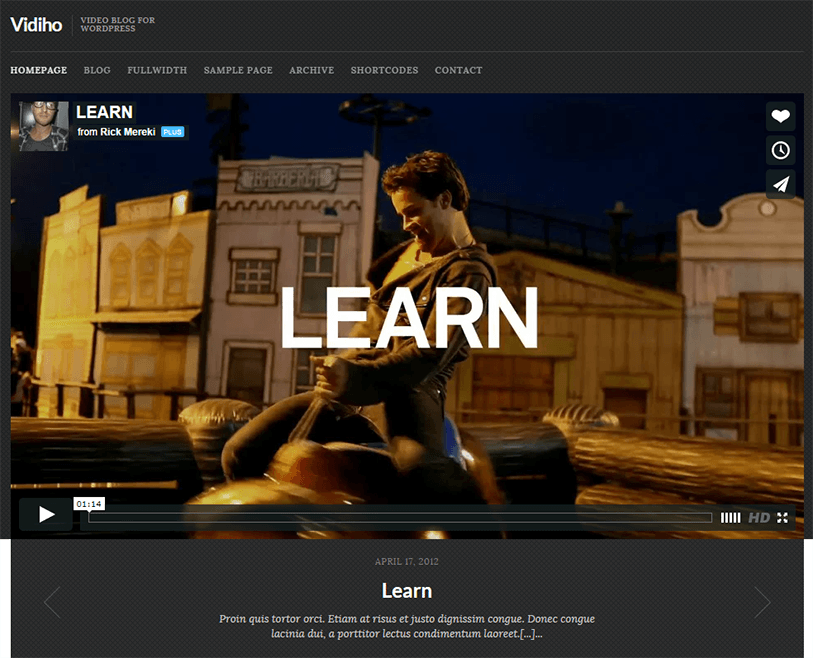 A video WordPress Multipurpose Theme that makes embedding video really easy.
Easy to share videos with the world through Facebook, Twitter, Pinterest, StumbleUpon.
The theme is enabled with lightbox preview listing. One can view the video in the lightbox from the video listing page.
The site is superbly featured to host your videos on slider section too. It totally creates a perfect video web world.
100% responsive
Manage navigation system with custom menus
Compatible with various browsers
ShortCode plugin integrated to display various features like buttons, dividers, columns instantly
Powerful theme option panel to customize and edit things instantly
Inbuilt translation file to create your site in your own language
---
VideoPro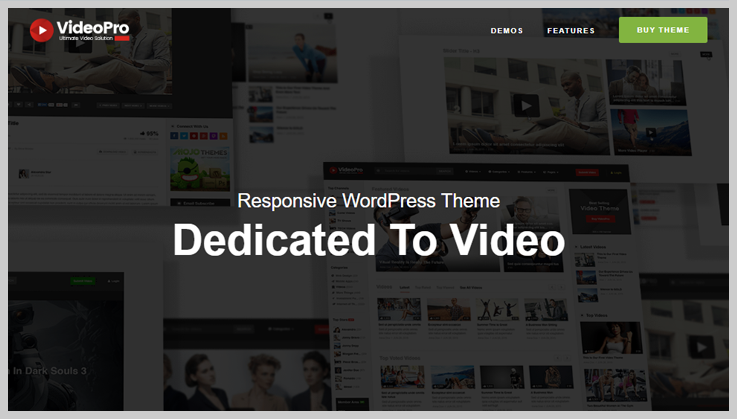 VideoPro is a Video WordPress Theme designed for video site, video blog and video Portal.
A Full-screen premium responsive video theme. Your videos will look great on large size screen. It really gives you a theater fun. Your videos will look great and amazing. It's a mega stunning video featuring portal great to showcase and share videos and make perfect web world online.
Easy to post videos
Customize Background colors
Adding Logos – For branding you can add your own logo.
Mobile – Ready
Multi-links – It allows us to upload the video to several servers so users can choose where to watch faster.
Live Video supported – Catch the future of live videos without any hassle.
---
Betube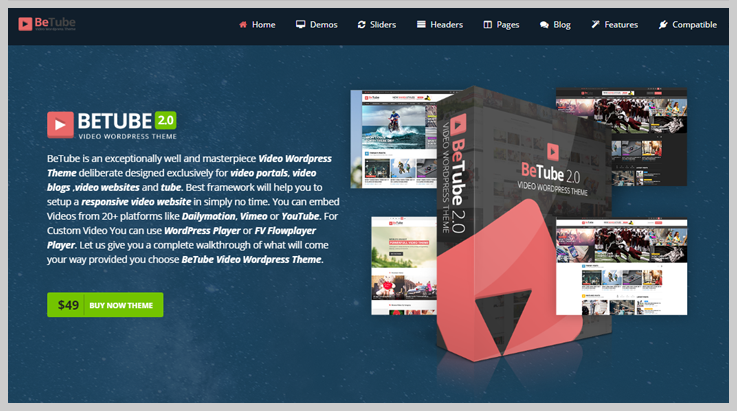 A Fantastic premium Video WordPress Theme to feature Full-screen Slideshow Video.
It provides a clean rich layout to post. Your video site will look amazing with a huge video web online world.
Look fantastic on various mobile devices.
Home Page multiple moving Sliders
Advanced Theme Options Panel
8 Custom Widgets
It effectively showcases your work
Various Full-Screen Home Page Template
Various color customization
Mobile-Ready, Cross-browser compatibility
---
VideoTube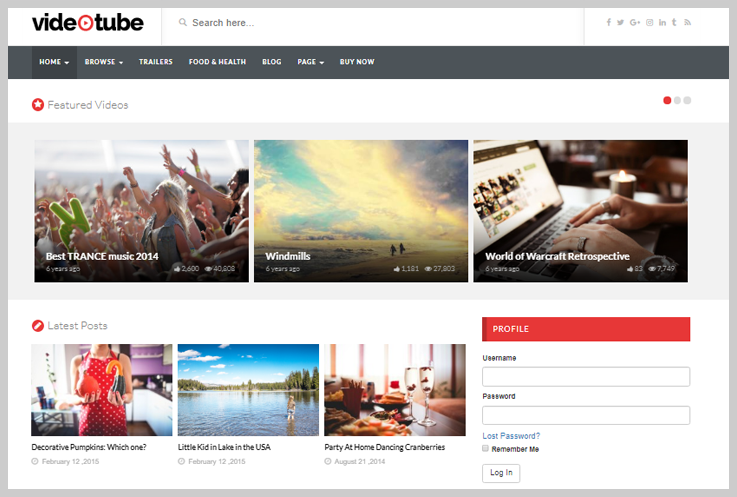 It's a premium WordPress video theme that gives fabulous look to all your video frames.
It also has a responsive design. You can easily style themes and provides grid-based multiple feature videos.
Easy custom logo integration
Wonderful easy navigation
Support all native WordPress versions
Various useful page templates
 It is a translation-ready theme
You can easily change the colors of the site
Automatic video thumbnails & upload your own videos
---
True Mag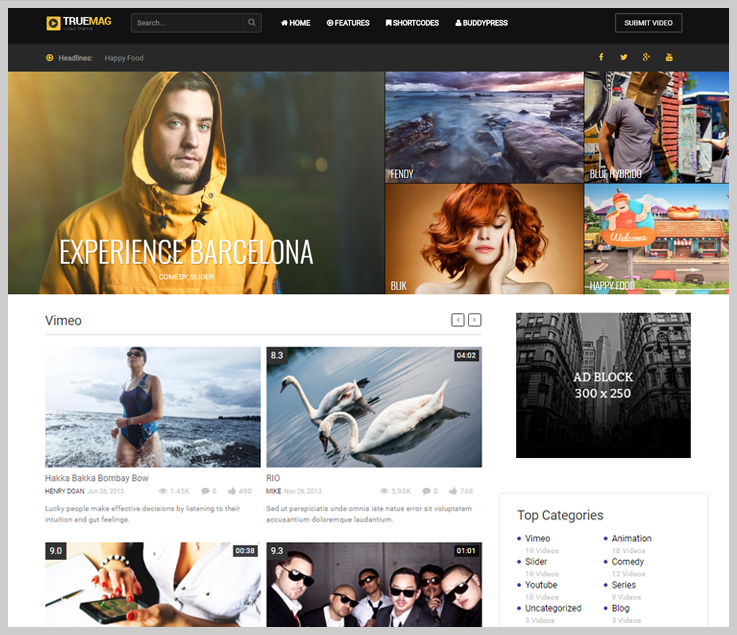 A responsive design video WordPress Theme to feature all your videos super-nicely and nicely creates an awesome web world online.
The theme has a fantastic layout that features multiple videos to grab the audience's attention.
Fast, responsive, adaptive contents
Customized Footer/Sidebar widgets
Various styling option
Translation-ready
Seo structure
Search-optimized HTML5JS code architecture
Installation manual and documentation
Its clean design focusing on easy content navigation
---
VideoZoom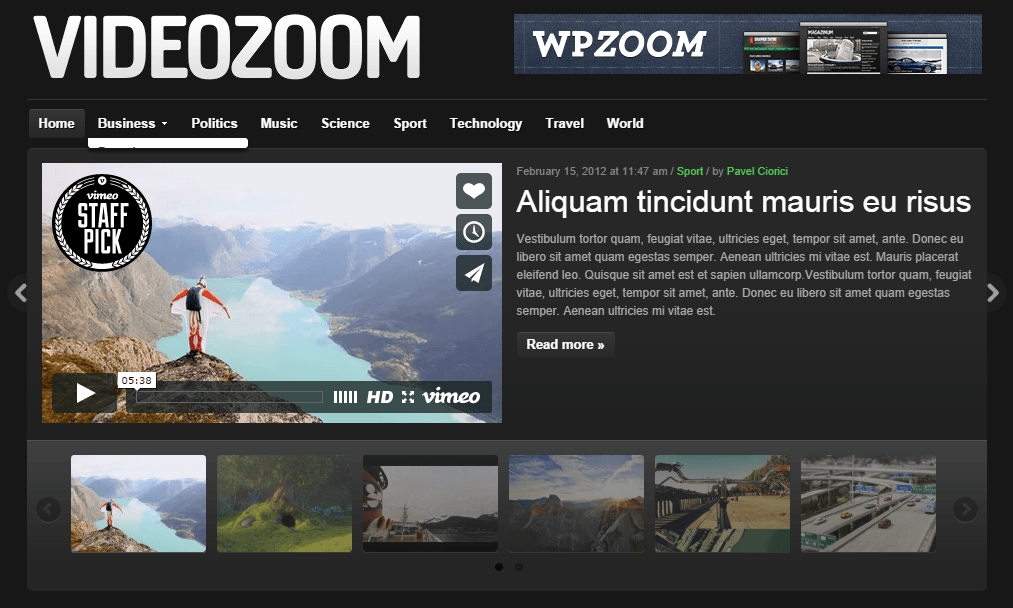 Videozoom is an elegant Video WordPress theme beautifully designed with a neat featured video slider, ready to play any videos you want to embed into your posts.
Theme has JW Player integration in which you can even play your self-hosted videos.
In all, you can elegantly feature multiple videos in a very nice grid format. Easy to customize various theme features and style website according to your own requirement.
Custom Menu/Widgets/Posts option
Multiple Posts Layout
Custom Post Options
Easily configurable video sliders.
---
Vlog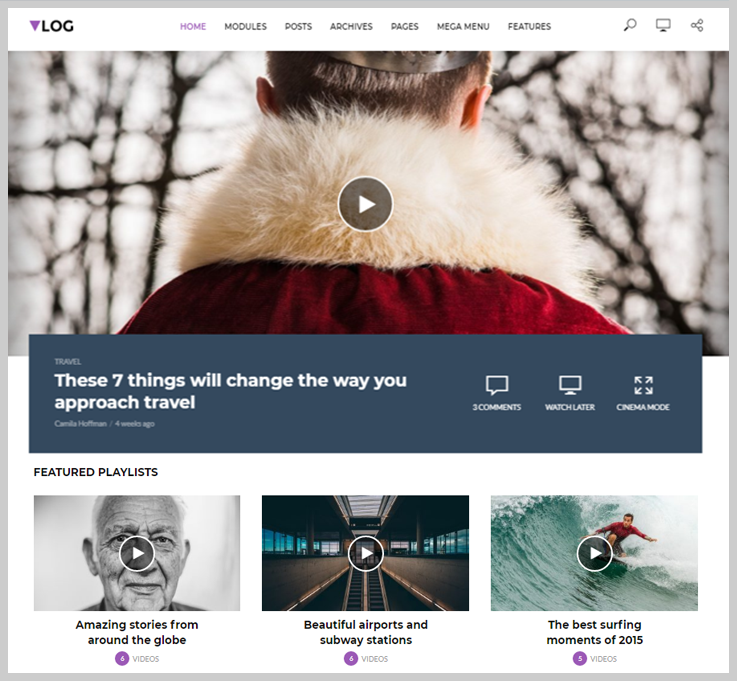 It is a beautiful elegant video template to build video gallery in an effective manner. You can add amazing style post/pages/widgets amazingly.
Post various stand-out formats such as videos, images, galleries, audio, quotes, links.
Custom Menus/Pages/Posts
Various page templates
Custom Backgrounds
Translation ready
Powerful Theme Option panel
Custom widgets, Menus, Sidebar, Footer
The theme adapts all your content very nicely. Helps to showcase all your work effectively.
---
ParaGlider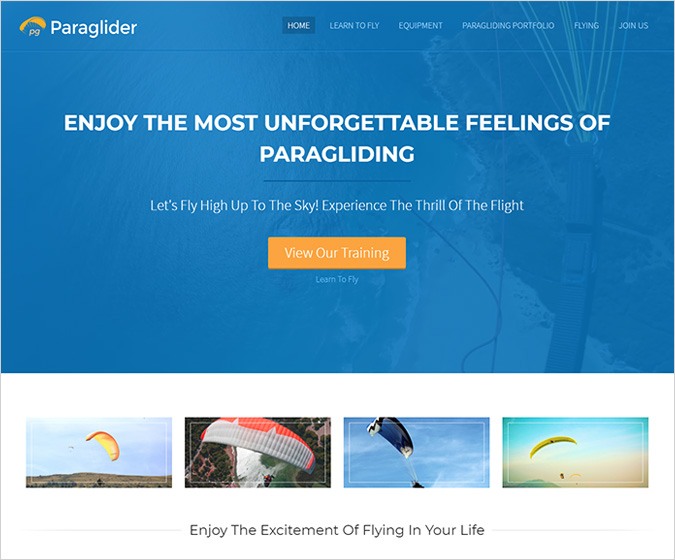 A reliable video feature WordPress theme to make full screen image and video background websites.
Consists of elegant responsive design to feature and post videos online.
It's Highly customizable and fully responsive and provides multiple color schemes to present websites in various colors.
Consists of 11 templates to style and feature video website.
It includes Gallery, Home Page, Portfolio Templates. You can create a perfect appealing Video/Photo portfolio and present your content gorgeously.
Full-screen video/Audio Background
Styling pattern, textures skin colors
Powerful features edit panel
Responsive, Mobile-ready
Custom menus/widgets/post/pages
Content adaptive design
Custom Google font
Navigation control, effective Thumbnails features
Shortcodes to generate various features in one click
Custom social sites widget support
HTML5 tags and CSS3 effects
---
SocialPlay MediaPlay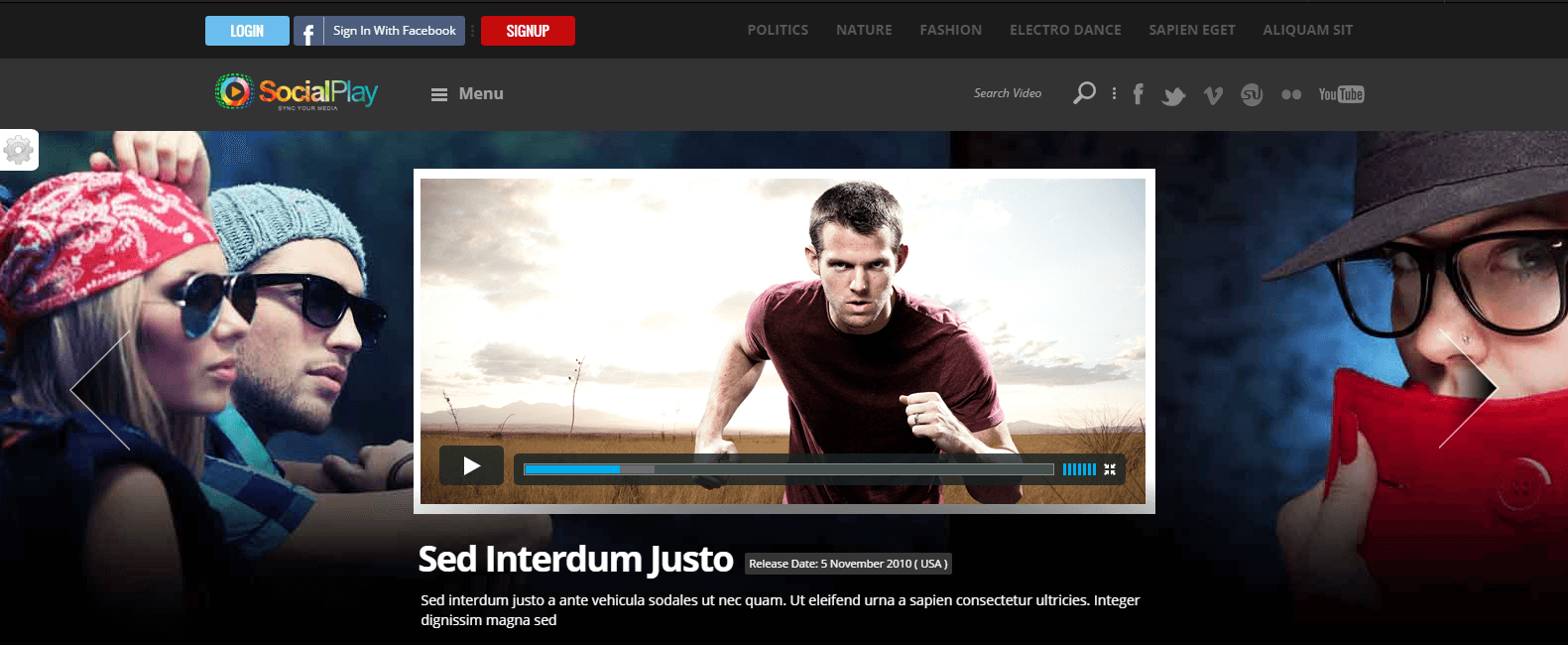 A powerful media sharing WordPress Theme to provide perfect responsive environment for video bloging.
With the help of this theme, you can sync your YouTube, Vimeo, DailyMotion, uStream, Metacafe, Blip.tv, Soundcloud videos directly onto your site. It gonna give you the fabulous display of video.
Fullwidth slider view
Powerful Theme Option Setting Panel
Easy audio video management channel
Sync playlists for videos or audios
Powerful Theme Option Panel
Beautiful Background patterns, Typography, Layout
Custom Sidebars/Widgets
Advance Seo Optimized
---
VideoGrapher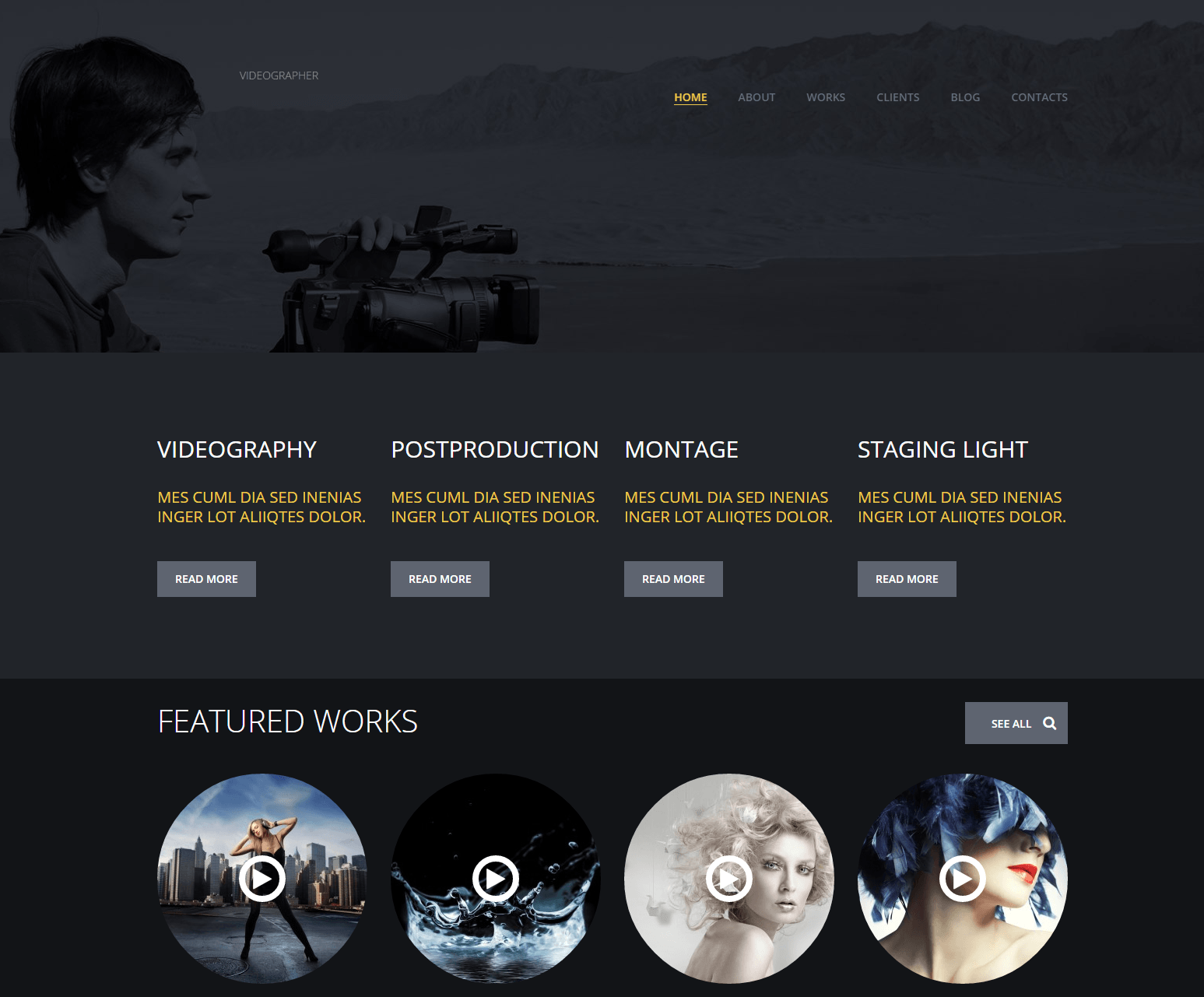 VideoGrapher is a portfolio WordPress theme for professional Video-Graphers and Photographers. It gives great scope to present your camera work.
Lots of inbuilt shortcodes and easy customization will get your website on top of beauty.
Parallax background effects and various transitions and hover effects present a good example of advancement. The about section comes in a unique template style.
A super-easy interface to post videos from smart phones too and create perfect online video channel. It has a full-width video display section, and text free video thumbnails provide a very clean look to your website.
You get ready to customize Post/Pages, and easy options to customize footer and sidebar widgets.
Full Responsive.
Fast styling customization.
WordPress Custom Widgets/Menus/Post/Pages.
Stylish Interface.
---
Gigawatt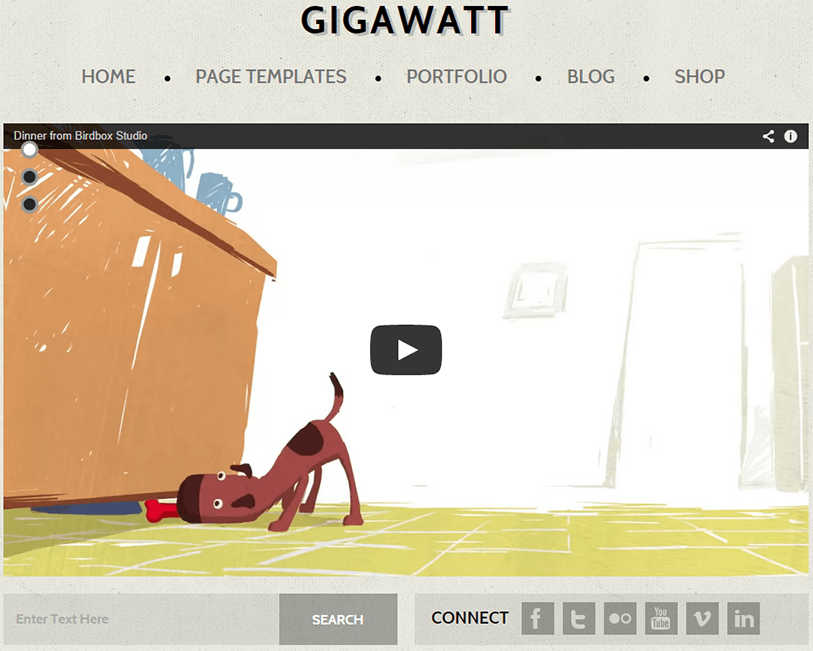 An ace video blogging WordPress E-commerce theme to feature your perfect videos and also to sell your tangible and physical products on a single effective platform.
It's integrated with WordPress Woocommerce plugin.
With the theme, it's easy to set up online shop full-featured with videos, audios, products.
Looks wonderful on different size screen
8 different website templates yo show off your content work
Wonderful portfolio section
Custom Google Fonts
Different color and styling option
Responsive will fit on all size screen
Search Engine Optimized
Easy video hosting and uploading
Custom sidebar, footer options
Amazing powerful slider display
Multi-language ready (WPML Plugin integrated)
Various Color Options styling
Easy theme installation and configuration
Easy host videos on site
---
Zeus
A valuable premium theme for companies, photographers, designers to efficiently display your creative work without any complications.
You can give a perfect Video/Photo background without any clutter.
Mobile-ready will fit in every screen size.
Provides Full-screen video view
40+ Cufon Font support
30 Shortcodes to display amazing site features instantly
Custom Widgets/Posts Support
Google Map integration
Portfolio & Slider support
Multiple Language Support
---
SmartTV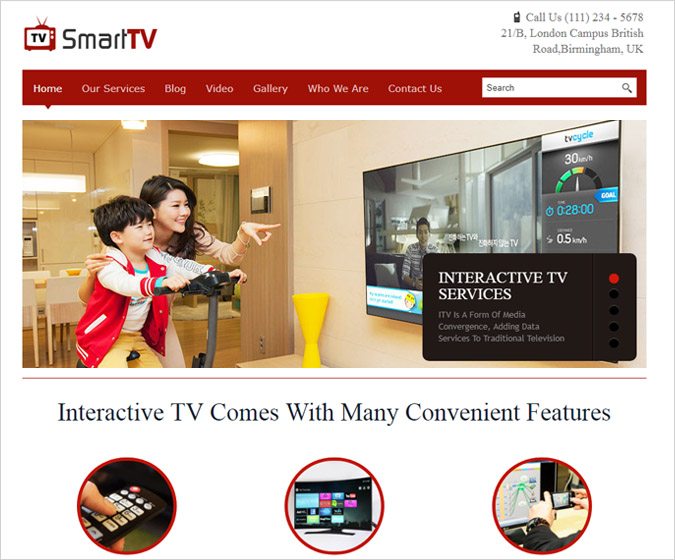 The Fabulous WordPress Video Featuring Theme with aesthetic background color.
Equipped with nice responsive layout and design and hosting multiple videos in a clean form.
It features classy video sliders.
You have got to easily customize and style your own corporate or personal video website.
100% responsive. Will fit on small or large screen
Custom Post/Pages/Widgets/Menus
Create video live website without any coding skill
Multiple color skin
Create beautiful video galleries. Inbuilt video gallery template.
---
OnPlay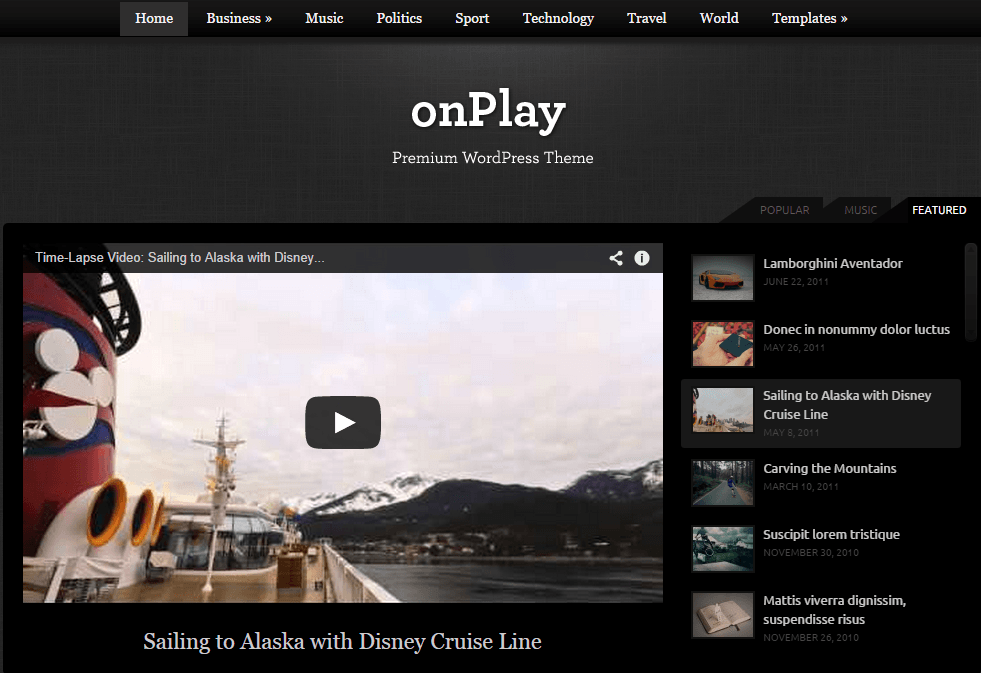 It's a superb video WordPress Theme that features spectrum of videos web world online in a clean list form.
Video list appears in a way that helps users to access videos back to back instantly.
There is a very beautiful color background stick behind the videos.
You can add as many categories of videos on the Home Page. Add on, video sliders give unique look at your videos and your users love to view it again and again.
Responsive, as easily can fit on any screen size
Easy to create pages, post, menus, and widgets
Easy to style site with different amazing colors
Fast to customize and style
---
VidoRev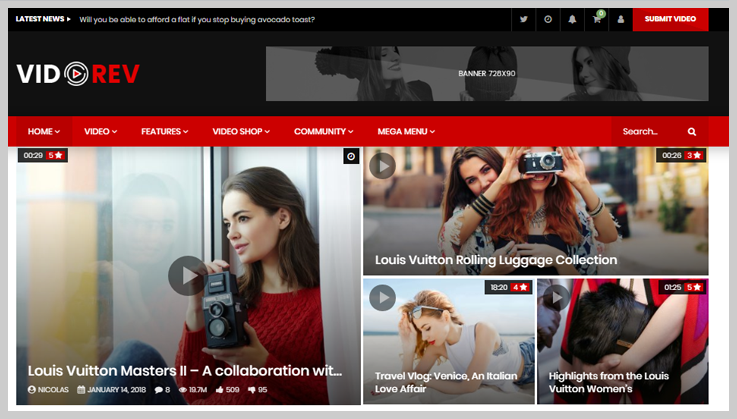 A super-awesome WordPress Video-Audio Theme ideally designed for bloggers. It provides unlimited color and styling schemes.
Easy to customize using easy theme settings and make an awesome web world online.
Absolute WordPress featured Design to frame your ideas and thoughts as per your requirement
Responsive to all mobile devices
Easy customizable styling
It can fetch the video from Youtube and other platforms.
---
Evid

An efficient video blogging theme that has the potential to host videos from videos channel such as You Tube, Vimeo, Metcafe in a go. Also you can host your self hosted personal videos.
Multiple Videos presentation on amazing sliders.Video slider slide-show.
Unlimited beautiful background colors
Easy to use inbuilt Shortcodes for various features
Inbuilt Social Media and Flickr widgets
4-unique navigation styles
Custom hover icons on portfolio items
Videos or photography compatible
Powerful Theme Option Panel to customize and edit theme features
Make your amazing glorious video web world online.
---
Solar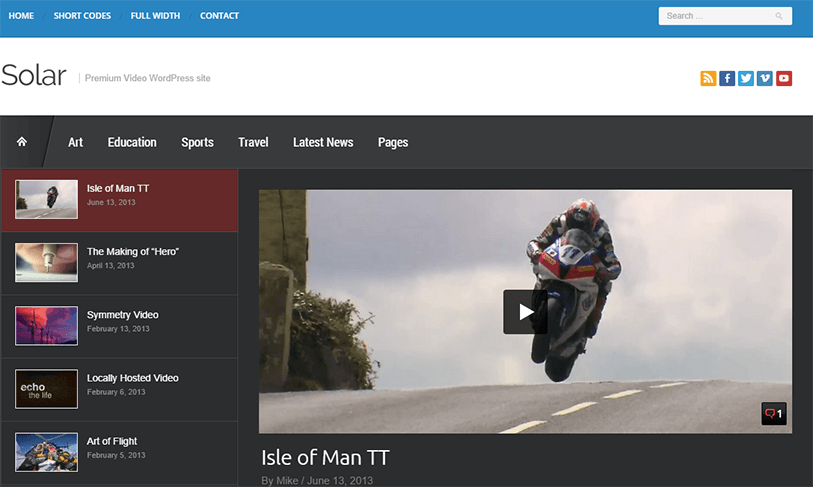 A premium video WordPress Theme that comes with video hosted sliders with the integrated RoyalSlider Plugin.
Responsive layout
Powerful Theme Option Panel to customize theme instantly
Easy Customizable Theme editor
Social icons widgets inbuilt
Multiple languages ready
Unlimited color schemes
HTML 5 Build up
---
Motion Pictures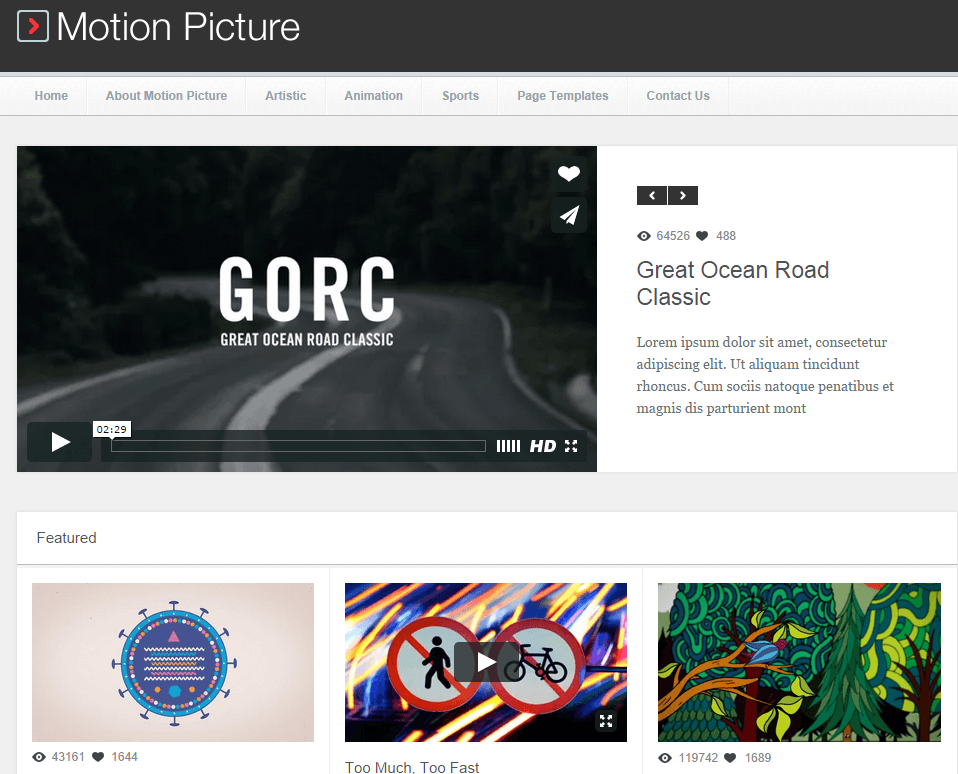 A very effective video WordPress theme to feature and host videos centered right in front of your audience.
It has a very clean layout to feature video play-list grid-wise nicely. Directly host videos from video channel or self-host your videos. Your audience will love to interact with your videos. Create a fabulous online video world.
Mobile-ready
Fast to custom Menu/Post/Pages
Amazing Wide centered featured video sliders
Presents a great amalgam of post and videos
Featured Posts/Pages in a clean effective layout
Integrated image resizer for video image resizing
Direct video hosting from YouTube, Vimeo or other popular sites.
Multiple font-custom options
Effective Header Custom Settings
Custom Navigation hover
Endless custom color options for the custom link, borders, containers, background.
Various Google Font. Custom font size and color.
---
Video Touch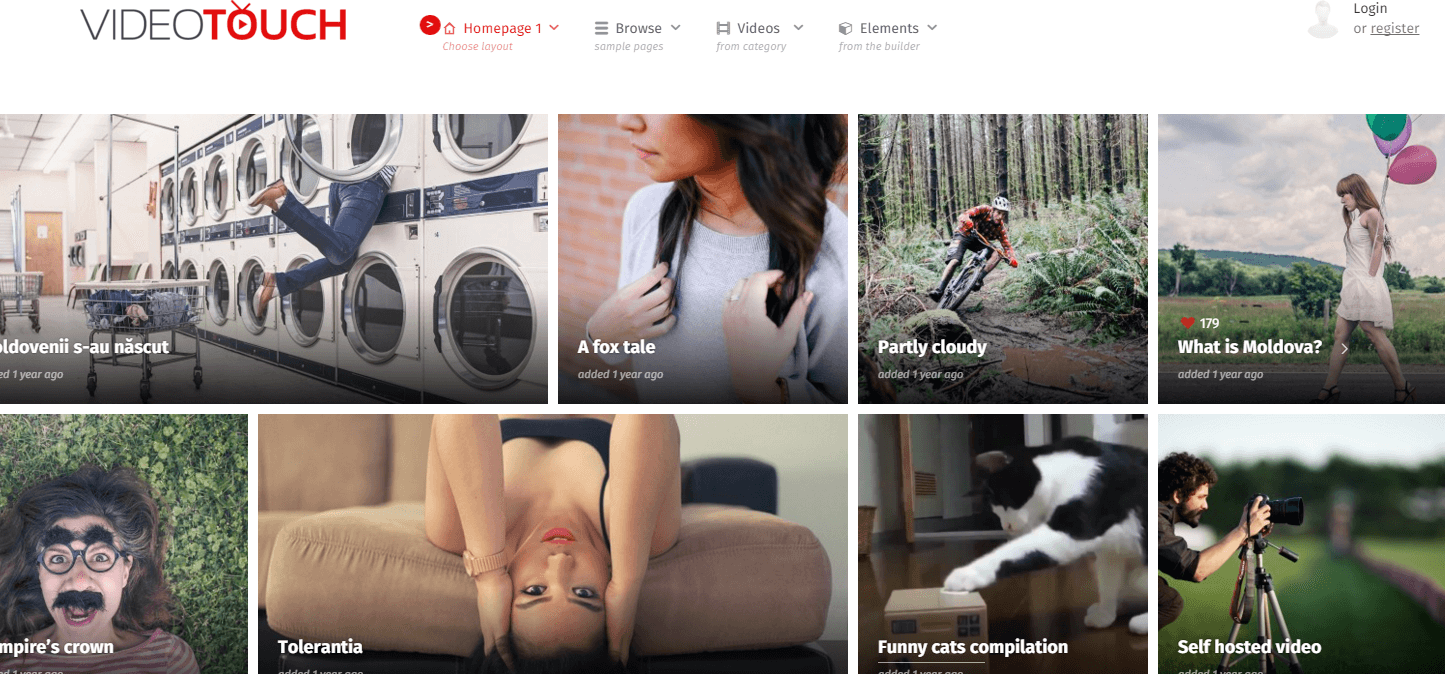 Video Touch is a very neat structure video WordPress Theme to aesthetically show off your videos and even your post-videos combination.
Provides perfect video-photo-blogging environment.
Easy design widget options
Neat grid-based video listing
Social powerful features like social link icon display, twitter stream features and more.
Mobile-ready. Will fit on all screen devices.
Fast website settings.
Custom borders, background, Headers, Footer's colors.
Color customizer to edit font size and colors
Custom widgets to feature advertisements, social icons and more
Sidebar Thumbnail Slider to feature posts and videos
Customize and turn into anything without tough codes.
---
GuitarPlayer
A super powerful Agency/Business WordPress video oriented Theme.
It provides multiple posts formats including self-hosted videos, posts, pages, Galleries, widgets etc. It is full-featured and empowered with beautiful interesting looks and easy to customize premium theme features. It beautifully creates a perfect web world.
Portfolio that supports videos, audios, and images
Multiple WordPress versions compatible
Flickr, Twitter, video, Portfolio, Blog custom widget
Mobile-ready that elegantly acquires every screen view
ShortCodes Generator to instantly display Columns, Buttons, Toggles, Tabs, Alerts
Various effective page templates to show off your website features