Well, in this era of online marketing, forms are of great use. In order to create these forms, you need software that serves you with an easy user interface & responsive design.
Before reading any further, I want you to quickly have a glance at the comparison table. It will help in better understanding & selection of a Web Form Builder software. And, you can also decide whether you want to read any further or bounce back.
---
---
Here, we will cut-short your efforts by providing you the top 6+ software which helps you in creating simple as well as logical forms for any niche like payment forms, registration forms, etc.
And you know what the best part is?
Using these web-based form builder is plain sailing!
All you gotta do is simply drag & drop the fields like name, email address, etc. & your form is ready. Not only this, you can also add several functionalities like form validation, file uploads, and much more.
Moreover, you can embed these forms on other websites as well.
Besides, some of these form builder tools also help you in tracking the stats of the forms embedded on sites. So, you have the complete knowledge of the number of people filled the forms, stayed on the forms, how long they stayed.
Apart from this, let us find few another relevant story we have chosen for you:
smart drag & drop editor.  at a very low-cost.
Now, let's have a look at the software listed below to find out the best one
---
1. FormGet: For Hassle-Free Online Form Building
FormGet is a SaaS-based form creator software. With this, you can create multi-lingual web forms to which you can add unlimited fields like uploading files, adding media, etc by using a smart drag & drop editor at a very low-cost.
Are you too busy to sit back and design the forms?
No worries! FormGet has got your back as it offers you more than 500 pre-designed templates for various crannies like contact forms, online booking forms, feedback forms, and a lot more.
The forms created are self-hosted, so you can copy the link & embed the forms on any website or share it on social networking sites.
---

---
Some Of The Highlighting Features Of FormGet:
By using FormGet, you can effortlessly create forms with conditional logic. With this feature, you can create dynamic forms by using a certain logic that adds branching to your form.
Let's say: You want to ask your users about the type of product they want by providing two options to choose from like electronics/non-electronics. Thereby, the length of the form is also reduced and form will further display the things related to the selected option.
You can integrate your payment forms with the payment gateways like Stripe & PayPal. Hence, collect one-time & recurring payments without any trouble.
With the user tracking feature, you can actually track IP Address, country, web browser & devices used by the user while filling the forms.
It also provides you with a feature for form management. This feature lets you give access of your forms to other members. So, now they manage the forms assigned to them which will ensure efficiency.
Pricing Plan:
Its plans come in 4 different plans on the monthly basis:-
Also, FormGet offers you a free trial for 2 weeks where you can get unlimited access to the features. So, you can test drive the software with all its features & select the appropriate one which suits your requirement.
Starters Plan
This plan will cost you $5 per month and allows 1 user to create a form. You will also get 1200 forms submissions/month, 3 google analytics account integration, an option to embed 10 domains with storage up to 20 MB.
Rookie Plan
Its cost is $35 per month for 5 users which lets them create 25 forms. Plus, it also accepts 25k form submissions, you can embed the forms up to 35 domains with 2 GB file uploads  & much more.
Pro Plan
Pro plan of FormGet will charge you $79 per month. With this plan, you get seamless benefits like unlimited form creation by 10 users, 60k form submissions/month, embed to 75 domains with storage 7 GB, etc.
Advance Plan
If you wanna get access to advanced features of this service, you gotta pay $99 per month.
And, along with all the basic features mentioned in the previous plans, you can also unlock all the functionalities such as unlimited users, forms, submissions, agents/clients dashboard and a lot more.
---
2. Pabbly Forms: Online Web Form Builder
Pabbly Forms is a premium software used for creating forms online. It provides you with exemplary features like form validation, multi-language translator, and much more.
You can also create sliding/popup, logical forms & embed them on any website. With Pabbly Forms, you can provide data security through form reCAPTCHA, email validation, limit input to specific information etc.
In addition to all this, you can also collect one-time & recurring payments by integrating the forms with Stripe & PayPal payment gateways.
---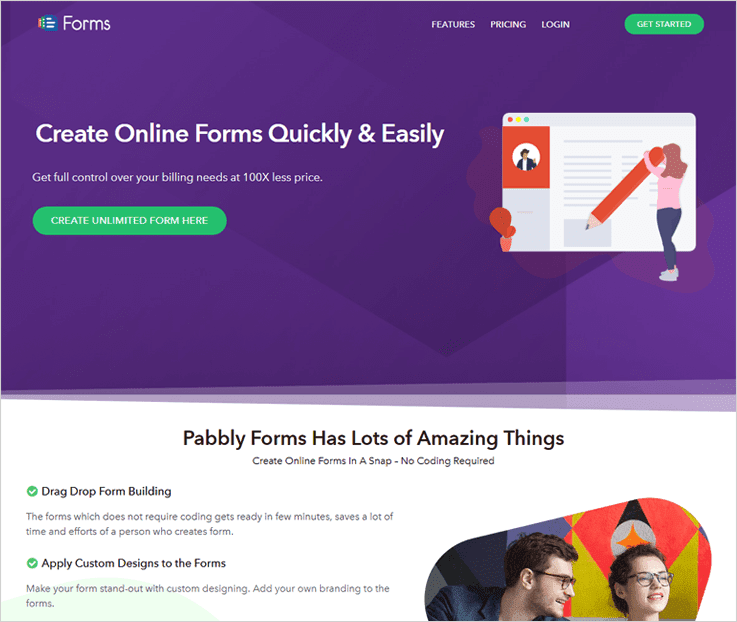 ---
Other Prominent Features of Pabbly Form Builder:
Pabbly Forms provide you with autoresponder via which you can send automated emails to the user. These emails are triggered by diverse actions such as: when the user fills the form.
It allows you to add a redirect link to the submit button of the form. So, as soon as the visitor clicks the button, he will be redirected to a webpage of your choice.
Plus, you can also activate email notifications. By using this feature, the user & the admin, both receive the automated emails on events like form received/form submitted, payment sent/payment received, etc.
You can also add custom branding to the form by adding logos, customizing the colors, adding fields, links, header, etc.
Pricing:
Starters Plan
It charges $5/Month. You get access to features like:-
1 User
1 Form
1200 Submissions / Month
PayPal & Stripe Integration
Rookie Plan 
For this plan, you will have to pay $35/Month with features:-
5 Users
25 Forms
25K Submissions / Month
5 Payment Accounts
Pro Plan
By paying $79/M for Pro plan, you will get the pro features of Pabbly form builder:-
10 Users
Unlimited Forms
60K Submissions / Month
Embed to 75 Domains
Advance Plan
By paying $99 on every month you get access to advanced features like:-
---
3. 123FormBuilder: Online HTML Form Creator
123FormBuilder is great software for creating contact forms & lead generation forms. It easily creates a form for your website and captures customer or clients details and you can effortlessly morph the already created form into any form you want ( whether it is for surveys, quizzes, rego, etc).
---

---
Other Useful Features of 123FormBuilder:
You can create tons of forms with the help of its drag & drop option in real time.
Provides complete graphical analytic to track your online form performance.
You can publish the form anywhere online because it doesn't require coding skills.
123FormBuilder is certified by SSL security protocol for establishing encrypted links between a web server and a browser in an online communication.
The software is integrated with other online services like SalesForce, MailChimp, Google Drive etc.
Pricing:
Basic Plan
This plan is completely Free in which the user will get an option to create 5 forms and 10 fields for forms.
Gold Plan
In this plan, the user will have to pay $24.99/M in order to get unlimited fields for 20 forms, 5,000 submissions per month with 500MB storage & free live Chat Support.
Platinum Plan
The user will be charged $44.99/M for this plan and get unlimited fields for unlimited forms, 2GB storage for uploads, Payment integration, SSL encryption and more.
---
4. Formbakery Forms: Online Form Creator
Formbakery is a simple form builder software and the forms created via this software you can easily host on your own site. I can say that it is one of the faster form builder software in comparison to other form apps.
You can simply drag & drop one of five elements for your form, and insert short or long text, bullets, drop down menus etc on your form. Once all these processes get done then you can preview the HTML, PHP, CSS & JavaScript for your form that is autogenerated by Formbakery.
---

---
Features That Make Formbakery Perfect:
It provides a setting option while creating a form in order to make changes or else.
You will get a delete button on the left side of the form builder section to delete unusual things.
By using this software you will get a preview and download button as well to preview the form after a creation then you can download that.
After the creation of form, you can also add some useful or relevant info on the form.
Pricing:
The Formbakery software comes in 2 different stages:-
Personal Plan
At $9 you will get unlimited form creation option, email support, royalty-free license and valid forever.
Professional Plan
This plan comes at $19/M which you can use for a single commercial site.
---
5. Zoho Forms: Online Survey Form
Zoho Forms is an online form builder for every business that backs up data on the cloud. It provides a drag & drop option that makes your work easier in creating a form for your website.
Just create a form and share online across the world, receive email alerts, and get your team involved to manage your data. With the help of Zoho form software, you can create many forms such as forms for support management, forms for task assignment, forms for workflows and various more.
---

---
Other Prominent Features of Zoho:
With Zoho form builder you can create the forms & customize them any time effortlessly.
You can configure email notifications.
It allows you to integrate the forms with CRM, Campaigns, and DesK application.
The software supports Google sheets where you can simply view the data.
Zoho provides complete statistics where you can see the performance of your forms such as error scores, conversion rates etc.
Pricing:
Basic Plan at $10/M
This is a highly affordable plan which allows you to create unlimited forms, offers 500 MB storage & 10,000 form submissions/month.
Standard Plan at $25/M
With this plan, you will get access to build unlimited forms, collect online payments, unlimited reports, 2GB data storage, approvals etc.
Professional Plan at $50/M
By getting this package you will be able to create unlimited forms for 25 users, get 75,000 form submissions/month, unlimited reports, custom themes etc.
Premium Plan at $100/M
Create unlimited forms with multiple fields and handle 150,000 form entries. Get 100 user access, 10 GB Storage and various more.
---
6. FormSite Forms: Create Forms in HTML
FormSite is a good alternative to consider if you're using your form to not only to collect user's information but payments too. Just use its drag & drop option to easily create your own online forms or survey. It provides 100 customizable templates to create registration, customer surveys, order forms & lead forms.
---

---
Other Useful Features of FormSite Web Form Builder :
It allows the complete payment transactions through PayPal & Authorize.net or alternative via credit card & checks.
Provides email notification which helps you to connect with your customer.
You can easily check your forms performances & functions via graph and tables in analytic.
Option to export/import your data for external processing.
It contains PDF reports for portability, designs and in order to save the storage of hard drive.
Pricing:
Free Plan at $0:
5 form
10 results perform
50MB file space
Secure forms.
Delux Plan at $14.95/M or $149.95/Y:
5 forms
500 results perform
500MB file space
Secure forms
Pro 1 Plan at 24.95/M or $249.95/Y:
10 forms
1,000 results perform
1GB file space
Pro 2 Plan at $49.95/M or $499.95/Y:
25 forms
2,500 results perform
5 Sub-users
Unlimited PDF
Unlimited Workflow
Pro 3 Plan at $99.95/M or $999.95/Y:
100 forms
4GB file space
Secure forms
20 Sub-users
Unlimited Results PDFs
Unlimited Workflows
Security compliant
---
7. PaperForm: Form Generator Software
PaperForm is designed to create a form that looks more like a blog post or magazine page. You can create forms by simply typing free-text, adding questions with logic, by uploading pictures, and adding payment/donation fields.
This web form builder allows you to upload pictures, embed videos, spread colors, fonts etc. PaperForm form builder is simple in use with which you can sell your products online, take payments via Stripe, PayPal & Braintree gateways and increase your subscription.
---

---
Other Prominent Features:
You can send a personalized email response to your customer regarding form submission via attachment and or you can use conditional logic.
The software is integrated with Zapier service with which you can connect your forms with over 750 apps without writing any single line of code.
It provides a multitude of templates for the gallery so you can add advanced images and video directly to your form.
Option to embed your forms with WordPress, Squarespace and other sites.
Pricing:
Essential Plan
To buy this plan you need to pay $15/month. Also, you can create unlimited forms for 1 user, 1K subs/month, 1 Payment Account, Analytics Support and more.
Pro Plan
This plan will cost you only $39/ for every month where you will be getting unlimited forms creation option for 1 user, multiple payment accounts, 1GB file uploads space, E-Signature Support etc.
Agency Plan
At $99/M you will get its features like multiple forms for multiple users, custom domains, unlimited embedding, custom HTML + CSS support etc.
---
Final Takeaway:
Consequently, we have listed the best 'Web Form Builder'. These are veritably the best tools which make it easy for you to create forms online & embedding them on the websites.
Further, we also scrutinized the features and functionalities of the form creator software which not only helps you in creating forms but also provides you with pre-designed templates.
We hope that you are able to select the ideal software for form creation which fits in the box of your requirement.