Online Form Builders are the professional tool that creates various kinds of forms like payment, surveys, and feedback.
These forms are used on the website to collect data in a systematic way that are submitted by the users.
Form creation becomes super fast with these form builders. Since these form builders reduce redundancy of creating forms for different purposes, form builders further ensure the users to provide different design templates to create forms of multiple types.
Following I have mentioned a comparison table of 5 best online form builder software. Have a quick glance at it –
Best Online Form Builder Comparison Table
The forms created using these online form builders can be easily embedded and shared on other websites.
Form Builders also provide immediate email notification feature to admin & users on every form submission. This facility allows the admin to start processing the provided data through the forms.
Some prominent features are – drag & drop form builder, Google analytics, form validation option, conditional logic, add-ons for email marketing tools & CRM, spam protection and a lot more.
Few more relevant articles for you to read –
---
1. FormGet – Leading Online Form Builder
You can create an online form from scratch. After adding the required fields, you can also add a logo, brand image, include links and write a custom message to the form. This creates an easy and effective way of the custom branding of your product/services. In short, you can generate more leads by targeting your web audience through these web forms.
Form builder lets you create forms using drag and drop with multiple design templates.
The form uses conditional logic to branch out the fields based on the category a user have chosen. The user will get only relevant fields in their form since conditional logic show/hide the fields. This will shorten the form length & makes it an easy-to-fill form for the users.
---

---
Pricing
1. Free Trial at $0 – FormGet offers a free trial to create unlimited forms using all the premium functionalities. You can get access to various features like Social Sharing, Mobile forms, Weekly reports, etc all by signing up for free.
2. Starters Plan at $5 per month for 1 user – You will get 1200 submissions/month, 3 Google Analytics account integration, 12k form views per month in the starter plan.
3. Rookie Plan at $35 per month for 5 users – This pricing plan lets you avail 25k submissions/month, unlimited Google Analytics account integration,  100k form views per month.
4. Pro Plan at $75 per month for 10 users – You will get 60k submissions/month, 15 payment account,  250k form views per month with this pricing plan.
5. Advance Plan at $99 per month for unlimited users – Find unlimited submissions, unlimited payment account,  unlimited form views per month and a lot more in advance plan.
Features
Point of contact usage will let you know the referral path (i.e. which specific page the user has referred to reach your forms) via URL tracking.
It also allows you to create and embed the multilingual forms (sliding form, contact form etc.) as a tabbed widget or any position on the web page. You can embed them on multiple websites and manage them from one place.
Use prebuilt canned response template to notify the users on their form submission through an auto-generated message.
Integrate the forms to various email marketing applications like MailGet, MailChimp, AWeber etc to collect leads. This is because these forms can also boost-up your online sales extensively.
---
2. Pabbly Forms – Popular Form Builder Tool
Creating a professional and attractive forms does not require any external tool, as the builder provides a designing panel. With this option, you get design templates, form colors (for button, background, border etc.) and footer settings to add company's profile, link to social networks, email id etc.
You can add 'insert file upload' field on the form. Further, it supports various file formats to upload. (jpg, gif, png, zip, pdf, mp3, mp4 etc.). It also redirects the user automatically to another page after form submission.
Pabbly forms let you create multilanguage forms. You can create and translate forms in languages like German, Spanish, Chinese, English, etc.
---

---
Pricing
1. Free Trial at $0 – Pabbly Forms offers a Free trial to create unlimited forms with access to all the premium features. This plan is available for every user who signs up with Pabbly forms.
2. Starters Plan at $5 per month for 1 user – Get 1 form with 20mb file uploads & embed forms to 10 domains.
3. Rookie Plan at $35 per month for 5 users – You can avail 5 form with 2 GB file uploads, live chat option & embed forms to 35 domains.
4. Pro Plan at $79 per month for 10 users – This plan provides you unlimited forms with 7 GB file uploads, canned replies etc. Also, you can embed forms into 75 domains.
5. Advance Plan at $99 per month for unlimited users – You can use unlimited forms with 10 GB file uploads,  lifetime upload storage option & embed forms to unlimited domains.
Features
It allows creating self-hosted forms with a unique URL. This means your form will act as a website in itself.
Pabbly has inbuilt form validator to collect and manage accurate and valid entries via submitted forms. The validator performs email validation, limit characters in the input fields, mark field as required etc.
The form builder provides a public/internal note feature. Admin can reply to the customers and interact with your team members via notes.
You can provide secure payment gateways (PayPal and Stripe) to the users. Also, offer them a single and recurring payment option.
---
3. Ninja Forms – Online Form Maker Software
With WordPress integration, you can affix Ninja form to any content on your site with a widget, shortcode, template function. It also allows front-end posting of various posts and pages to the users on the WordPress website. This is important because you don't have to provide access to the WordPress admin dashboard.
You can create PDF copies of submitted form data & share that data with customers or team members. Moreover, you can use WebMerge extension to collect & populate the PDF or data from excel spreadsheets, word docs etc. to export the details automatically.
---

---
Pricing
1. Personal License at $99/year for 1 site – You will get fast support with 1 year of updates.
2. Professional License at $199/year for 20 sites – Avail file upload, layouts, and styles option, conditional logic and a lot more.
3. Agency License at $499/year for unlimited sites – This pricing plan gives you PayPal payment option, various CRMs & newsletter integration, PDF form submissions and fastest support.
Features
It allows a user to save the incomplete form and continue filling it anytime in the future with saving progress feature.
You can create unlimited sign-up forms that support auto subscription via CleverReach newsletter subscription. Some other email newsletter integrations are – Sendy, Constant Contact, Emma etc.
The form builder uses various famous CRM options which are capable enough to convert inquiries into sales like Zoho CRM, Capsule CRM, Pipeline deals, Insightly, OnePage, and Highrise.
Start collecting payments with mostly used PayPal express. Few more easy and secure credit card payment modes are integrated like Elavon and stripe.
---
4. Formidable Forms- Professional Web Form Creator
This form builder lets you create web forms quickly with the form templates of a contact form, subscription form, payment form, etc. Further, you can embed the forms in blog posts, pages, sidebar widgets, footer, etc. very easily.
Formidable includes various add-ons, few are listed below:

PayPal and Stripe integration – For collecting payments, donations, and online orders.
Form submission is possible in offline mode as well. The user's form data is saved and submitted when their internet connection is restored.
The admin can even know about device's physical location of the users by tracking their geolocation data.
---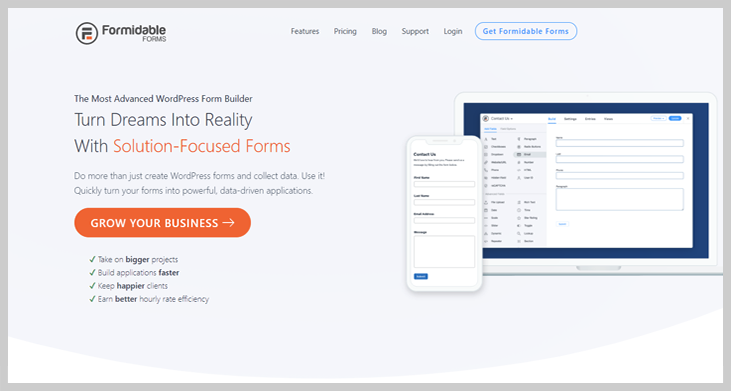 ---
Pricing
1. Basic Plan at $99/year  – You can use unlimited forms, unlimited entries, multi-page forms and much more.
2. Business Plan at $199/year  – In this plan, you will get Zapier integration, Formidable Forms API, Datepicker Options, Quiz Maker, etc.
3. Elite Plan at $399/year – Get WordPress multisite,  all form templates and a lot more.
Features
It allows creating surveys and polls forms and further analyzes the collected data to generate interactive reports. This feature becomes more powerful as you can allow the users to sign the forms with a mouse or touchscreen.
This form builder provides you an option to split a long-form into multi-page forms for a superior user experience.
The user is facilitated to add custom questions and math captcha to prevent bots.
---
5. Gravity Forms – Best Web Form Creator
You can easily construct a WordPress form through the visual form editor and various configuration option provided by Gravity Forms. For example, it provides 30+ form fields that enable to create forms of any purpose.
This form provides coupons add-on for low budget users. You can implement coupons on flat rates or percentage discount and can be applied on generic or on specific forms.
The form builder uses conditional logic to configure your form fields, sections, pages, submit button etc. So, you can decide what information to take from the users by structuring the form of your choice.
---

---
Pricing
1. Basic license at $59/year for 1 site – Get unlimited forms and entries, conditional logic etc.
2. Pro license at $159/year for 3 sites – This pricing plan gives you WordPress multisite and automatic update option with file upload option.
3. Elite license at $259/year for unlimited sites – You will avail multipage &  unlimited forms along with file upload option and priority support.
Features
It allows limiting the number of form entries. And schedule the form submission by the users as per your convenience to accept the data.
You can allow users to submit documents and photos in their forms through file upload field. These document files are secured & saved to the web server.
Further, it provides Twilio add-on to generate text message notifications. Send a customizable SMS text message on form submission, or when a payment is received from an order form.
Gravity Forms lets you perform advanced calculations on the submitted form field values as well.
---
6. Formbakery – Web Form Generator
FormBakery is a quick and simple form building solution with high popularity in the market. You can create any type of professional form in minutes with this form builder.
This is because you do not need to write even a single line of code to generate the form. Just drag and drop the required fields of your form and you are good to go.
---

---
Pricing
1. Personal Plan at $9/year – This personal use license lets you unlock HTML, PHP, CSS & JavaScript form code.
2. Professional Plan at $19/year – The license for commercial use gives royalty-free license for the lifetime.
3. 5 Form Pack Plan at $49/year – This pricing plan is for 5 commercial licenses. You can unlock PHP, CSS, HTML, & JavaScript form code along with genuine email support.
Features
User does not need to login on the website to create forms. It can be done directly by accessing the dashboard with a single click.
The 5 elements of the form are single line text box, a multi-line text box, a drop-down box, radio buttons, and checkboxes. You can place them in the form and do the customization to design your form.
After completing the form creation, you can preview and download the form.
Admin will get notified through email on every form submission. A verified email address will be provided on the form for users.
---
Conclusion
These are one of the best and commonly used form builders. Since they use various key features like multiple form templates, instant email notification, newsletter subscription, coupon add-ons and a lot more.
Since all of them are ready-to-use, just go through these highly recommended form builders and choose which one you want to adapt.
Feel free to post your comments and queries in the below section.
Thanks and regards!