Online presence matters a lot when you are looking forward to expanding your business's horizon. So, here I am going to show you some latest and best Three Column WordPress Themes which will give a completely new look to your website which might be helpful to boost your business more.
WordPress themes have taken the business to a new level as these have changed the entire market scenario into a digital one. Everyone can easily showcase their work now via a website because of the amazing customization services available on WordPress.
Different themes offer different ways to showcase your business & skills. Nowadays, three & four column WordPress themes are in high demands as they offer multiple ways to reveal your offering & services.
Here is a collection of best WordPress themes with three & four sections that can be used for any type of business niches.
How Three & Four Column WordPress Themes Draws The Spotlight On Your Business Features?
Different sidebars on both sides of the website making them special among others & displays more than one thing at a time.
Symmetric & balanced design of the website makes it more appealing & highly captivating.
Such themes are highly practical as they offer huge content on a single page which can be more engaging for users.
All these are packed with top-class elements like appointment booking module, lead capture form, etc. that will help to expand your customer base & hence, enlarge your brand.
Also, have a look at our other list post articles that can help you find a relevant WordPress theme:
Full-Screen Slider WordPress Themes
Free & Paid Local Business WordPress Themes
---
MediYoga – Yoga WordPress Theme
The MediYoga WordPress Theme has made it easy to build up a website for yoga tutors, fitness clubs & all parallel health centers. The amazingly professional theme for meditation & yoga incorporates a large number of features to show your clients about the importance of yoga & the training you are offering along with all the details.
The yoga classes WordPress theme is embedded with a free appointment booking form, that appears right forth on the homepage sliders. You can change the fields of this form according to your needs & allow the clients to book their yoga sessions any time round the clock.
---

---
Amazing Features Offered By MediYoga Template:
The navigation menu to help customers easily browse amazing features of the site.
Contact number & address in the header to help new prospects easily locate you.
Social icons integration is available with MediYoga template.
Business location is shown with the help of Google map.
Blog post layout offered to share useful information.
Full-width slider to display pictures of yoga classes.

Add your business logo & favicon on the website.
Customization & WordPress Compatibility:
Front page customizer is available.

Custom CSS to make the changes very easily.

SEO optimized to increase search engine visibility.

Runs on major browsers & has compatibility with the latest version of WordPress.
Theme Info + DownloadLive Demo
---
BlackRiders – WordPress Lead Generation Theme
Among the list of amazing WordPress themes offering lead generation, BlackRiders is on top because of its amazing look and easy build-up of the website. It allows users to display their services and products in a completely different way.
This business & corporate WordPress theme is suitable for any trade niche because of its attractive & informative outline. It is quite simple to install & helps in lead generation of potential clients via the integrated Ink Lead Capture form.
---

---
Striking Features Offered By BlackRiders Template:
Call to action button on the header so that the clients can easily contact you as and when needed.

Column feature area & a widgetized sidebar to flaunt striking features offered by the theme.
Full-width slider available for display of business services and products.

Different color schemes are available with BalckRiders template.

Share your recent thoughts with help of blog posts.
Customization & WordPress Compatibility:
Retina-ready graphics & social icons available.
Simple & quite easy to use theme admin panel.
Cross-browser support with separate mobile header styling.

Highly responsive design that fits on all screens & in all devices.
Theme Info + DownloadLive Demo
---
RoadFighter – Multipurpose Full Width Slider WordPress Theme
RoadFighter WordPress theme is perfect for multiple purpose businesses as it showcases a variety of services of your trade on full-screen sliders in order to grab eyeballs of customers. It is one of the most unique & cool templates among all multipurpose WordPress themes because of the panoramic sliders which has made it much worthy.
It not only works as a full-width image, rather it acts as a frame to show all your services in a pictorial manner. The various column elements on the homepage like the feature areas, latest blog post section, call to action buttons are the perfect ways to promote your pursuit.
---

---
Additional Features Of RoadFighter Template:
Different full-width & default page layouts available with RoadFighter template.

The CTA button provides a quick display of services you are offering.

Contact page available so that your customers can easily reach you.
Testimonial area available to show clients' experiences.

Custom menu with a drop-down feature.

Nice & clean transition effects.
WordPress Version & Customization:
Adaptable with the latest version of WordPress.

Very accessible & easy to use theme admin panel.

Easy customization & supports multiple browsers.

Completely responsive on all other devices whether mobile, tablet or iPad.

12 different color skins available to make your choice according to your business type.
Theme Info + DownloadLive Demo
---
Cloriato – Charity WordPress Theme
The amazing Cloriato theme has been designed especially for the awareness about the charity organizations all around the world. The Non-Profit & charity WordPress theme is a highly SEO optimized theme that is solely designed for NGO firms with amazingly unique features.
The unique attributes of the framework have made it easy to showcase the charitable work or other services to other people. It has been crafted for charity organizations, churches, fundraisers & online crowd funding agencies with the help of which they can create a website & start collecting online donations as well using the Donation plugin.
---

---
Unique Features Of Cloriato WordPress Template:
Flexible column elements of the template to showcase different charity works.

A widgetized banner area with email subscription bar & social icons.
Animated blog post section to showcase your thoughts.
Advanced footer & sidebar styling options.
Advanced slider images with text & CTA.

Boxed area for testimonials & videos.
WordPress Compatibility & Theme Customization:
Translation ready & button shortcodes.

Works efficiently on all major browsers.
Powerful & easy to use theme admin panel.
A highly responsive theme to all mobiles & tablets.
Compatibility with the up-to-date version of WordPress.
Theme Info + DownloadLive Demo
---
Themia – Unique & Simple WordPress Theme
Themia is a simple yet classic WordPress theme designed for spa salons, cosmetics stores, designers or any other entrepreneur who want to start online trading of their business products. It is one among the most premium shopping WodPress templates, that is integrated with WooCommerce functionality enabling you to set up an online market for items.
Its minimal design has unique features that make the template suitable for any business niche. The light background highlights all the business features & you can share videos, flaunt banners of your sponsors, display client feedbacks, etc. using the multiple column elements.
---

---
Amazing Features Of Themia WordPress Template:
Blog page, contact & gallery page layouts available with Themia WordPress theme.
Customized testimonial section which you can drag to right or left of the page.
Exhibit the product section right away on the homepage of the template.
Use shortcodes for the addition of unlimited feature boxes.
Shop page, cart & checkout options are pre-built.
Easy Customization:
Highly compatible with all latest browsers.

Compatible with the latest version of WordPress.

100% responsive on all mobile phones and tablets.

Add the links of your social site with the social icons.
Easy customization by simply adding content & images.
Theme Info + DownloadLive Demo
---
Compass – WordPress Theme With Featured Content Sliders
Among the amazing WordPress themes, Compass has gained attention because it not only offers three column features but it also has featured content sliders which make it distinct to the others. Its professional layout impresses the visitors with the animation effect & also illustrates all your business services effectively.
The all-purpose & versatile WordPress theme has different page layouts like full-width, single blog page, default page, portfolio page, etc which can be utilized to educate your customers about the different business skills you cater.
---

---
Features Of Compass Template That Add More To Your Business:
Different formats for blogs are available to share valuable thoughts with your followers.
Displaying testimonials of customers can add more to your business.

You can now easily showcase your video on your business website.

Contact page available to facilitate your customers when needed.
Seven widgets are available to show features of your business.
Boxed sliders with sliding text area.
WordPress Version & Customization:
Custom CSS & RTL compatible.
Compatible with the latest version of WordPress.
Easy customization with the theme admin panel.
Different skin colors available to select the one that matches your needs.
Theme Info + DownloadLive Demo
---
ButterBelly – Corporate Business Craft WordPress Theme
ButterBelly theme has been crafted to promote your business & highlight the services offered by your business with the help of a website. A completely elegant & responsive business WordPress theme is designed for corporate agencies and business that are related to any niche.
Moreover, the corporate craft theme is simple, easy to use and it only takes few minutes for its installation. It has come up with amazing features to showcase your business skills to everyone who is visiting your website.
---

---
Features That Can Glam Up Your Business:
Full-width slider showcase your features & services to your customers very uniquely.
A contact form on the homepage to allow users to communicate with you.
Social icons are available too so that you can share your business online.
Footer widget area is highly customizable to glam up your brand.
Google map option is available to locate your site of business.
Easy To Customize & WordPress Version:
Advanced options panel available.
Highly compatible with WordPress Plugins.
SEO optimization is available to make your website search engine friendly.

Custom CSS option available to make it completely according to your business.
Theme Info + DownloadLive Demo
---
Golden Eagle – Church Responsive WordPress Theme
Golden Eagle, a perfect religious theme, is highly responsive to all devices is created especially for official websites of the church to offer philanthropy regarding church institutes. The premium religious & multicultural service WordPress theme offers a flat design with a wide layout that is highly responsive to any screen size.
There are no special skills needed to operate the theme as it is easy to handle theme that can be used by any type of religious organization. Use the different page formats to notify your clients about the devotional activities, prayers & other services you offer
---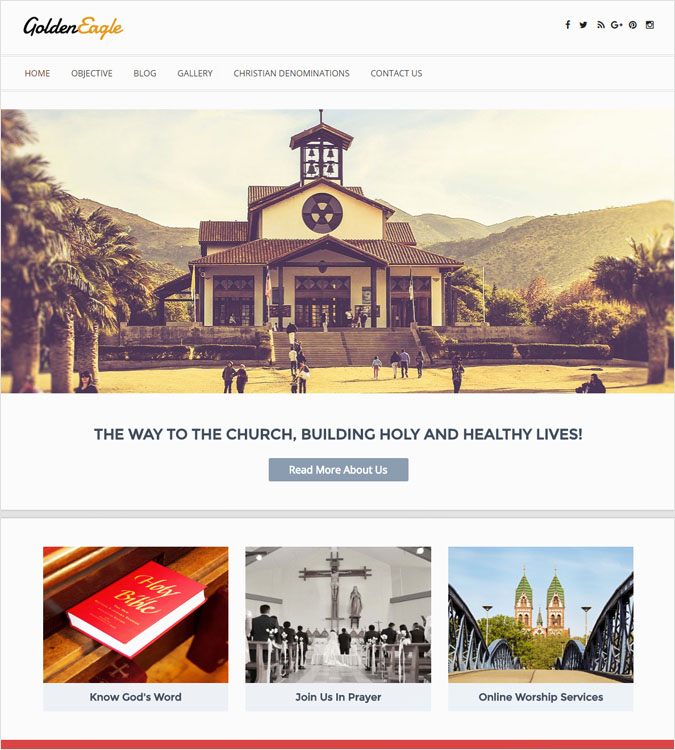 ---
Unique Features Offered By Golden Eagle Template:
A newly styled blog page is available that is modified with two options for the addition of feature image.

Different widgets are available such as recent post widget, gallery, and many others.

Unique footer styling is available to flaunt features of your service.

Advanced slider options are available in Golden Eagle template.
WordPress Version & Customization:
Bootstrap in place of the grid structure.

Highly compatible with the latest version of WordPress.

Translation function & customization is also available.
Different color schemes are available to change the website aesthetic appeal.
Theme Info + DownloadLive Demo
---
BlackHorse – Equestrian Responsive WordPress Theme
As the name indicates, the BlackHorse WordPress theme has been designed for horse riding associations, equestrians, schools, clubs, riding stables, horse care ranches.
BlackHorse offers an amazing place for all horse lovers to share each and everything regarding horse business. The homepage of the website makes an immense impact with its home page as it has different elements like column service section, well-categorized blog area, etc.
---

---
Ancillary Features Of BlackHorse Template:
Exhibit the highlights of riding club with slider description box of BlackHorse template.
Share testimonials & success stories on the main page & seek the attention of a large number of customers.
Its feature section allows you to share ancillary features of horse racing courses, training tips & career.
A membership button to allow clients to take your horse riding firm's membership.
Inbuilt contact form, gallery portfolio, blog page, etc.
Easy To Customize & WordPress Compatibility:
Compatibility with updated version of WordPress.
PayPal integration options available on the homepage.
Fluid & responsive in nature that fits into every device.
Multiple color schemes provide an easy to customize method.
SEO optimization makes it easy to navigate your business on search engines.
Theme Info + DownloadLive Demo
---
Foogo Pro – Responsive WordPress Business Theme
The Foogo Pro WordPress theme is working best because of the simplicity it has offered to business owners. The layout makes a website unique in the world of bloggers & professional business owners.
Packed with functionalities that allow you to share videos, logos of your sponsors, parallax effects, etc. the responsive WordPress business theme is the first choice of businesses.
---

---
Here Are Amazing Features Of Foogo Pro Template:
Business tagline & website welcome note on the template's homepage picture.
Guide your customers easily with help of easy contact us option available.

Full-width slider available to showcase your business perfectly.

8 beautiful color schemes & front end color customizer.
Sliding blog post's thumbnail images.
Customization & WordPress Version:
Cross-browser support & advanced theme layout.
Compatible with all latest devices including mobiles, tablets, and iPhones.
Compressed CSS available to prevent excessive time wasted in the loading of the page.
Offers a high level of optimization which makes it easy to navigate your business through search engines.
Theme Info + DownloadLive Demo
---
BlackBird – WordPress Unique Responsive Theme
BlackBird is one of the highly unique WordPress themes that have come up with newsletter subscription bar on home page. The responsive frame-up has been made completely amazing so that it can grab the attention of all visitors coming to your website.
The highly unique BlackBird theme is easy to set up & it only takes few minutes to install it. Whatever is your business, whether it is related to fashion, beauty, restaurants, hotels or a corporate agency, anyone can use the multipurpose WordPress theme that can stun all your visitors.
---

---
Exclusive Features Of BlackBird Template:
Circular designed features box is available to showcase exclusive business services to your clients.
You can add videos & pictures in the slider section of the homepage with BalckBird template.

Contact details allow your customers to contact you directly in case of any query.

Upload your unique business logo & favicon on the website.
Client testimonials can also be added on the homepage.
WordPress Version & Easy Customization:
Adapt to the latest version of WordPress.
Multi-color schemes for the theme is available.
Ajax based admin panel & easy to use admin panel.
Highly responsive towards all mobiles, tablets, iPads, etc.
Theme Info + DownloadLive Demo
---
Colorway V3 – Responsive Business WordPress Theme
Colorway V3 WordPress theme has gained importance in business market because of its easy installation and responsive behavior with every device & browser. The homepage has column features section & testimonial segment to highlight the business traits in the most obvious manner.
The multipurpose business theme can be used for a large number of business types whether it is a salon, restaurant, pet's clinic or any corporate agency. The layout does not distract the guests from the content, which is vital for a site devoted to business & blogging.
---

---
Prime Features Of Colorway V3 Template:
Multiple sliders can be displayed on the homepage of Colorway template.
A clean & modern layout that only shows the major details of the trade.
Upload videos, pictures in the gallery portfolio page of the website.
Column service section to flaunt prime features of your business.
Customization & WordPress Compatibility:
Clean codes & search engine optimized.
Simple & accessible theme admin panel.
High-resolution graphics & social links integration.
Compatible with the most upgraded version of WordPress.
Supports all major browsers with separate mobile header styling.
Theme Info + DownloadLive Demo
---
Conclusion:
Any kind of business niche can gain customer attention by displaying each and every aspect of business with help of these 3 & 4 Column WordPress themes. They are highly attractive as they quickly provide all information to customers visiting the website.