It feels amazing when you are able to keep the momentum going, considering all the basic requirements of the customers and accordingly executing plans and making effective products.
Subscribely, the new upcoming theme for selling content is another example of simplicity. Subscribely is well designed for selling membership content like videos, blogs etc using the InkMember plugin. You can do wonders with this new WordPress theme and earn passive income at the same time. Let's have a look how the idea came to our mind to build Subscribely.
What motivated us to build Subscribely
Recently, one of our users from New Zealand told us that she is running a yoga class and she has made video tutorials for her different Yoga Lessons. She told us about her requirements that she wants to create a video website where she can compile all her video content and offer online subscription to her users for accessing them and make passive income selling online subscription for her videos.
So basically whenever any visitor wants to access and watch her yoga videos, the user first have to purchase the subscription make payment via PayPal and then can access website's content.
We liked the idea and we thought why shouldn't we design such a theme for selling and accessing online content like blogs, videos or just about any other content type. As a result, we decided to implement the complete logic in the Subscribely.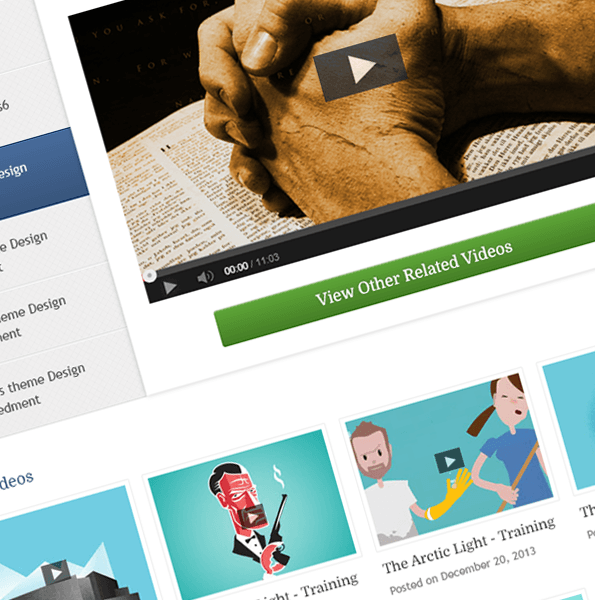 Now you can make your own video website and decide which all videos or content you want to protect. Whenever any user visits the protected video or content, it will be displayed as blocked. As soon as the user signup for membership to access your videos or content and make payment via PayPal, he will be able to access the content.
Subscribely uses the fully integrated Ink-Member plugin which allows you to create membership and set payments for your different content products. Once the user subscribes to your membership and make payment the user will be able to access the videos. This will help you to share your experience with the audience as well as monetize your website at the same time.
Try Subscribely – WordPress Membership Theme
Note:- This is to notify all the readers that the Subscribely theme has been released now. You can see the live preview of the theme by visiting the following links

1. https://www.inkthemesdemo.com/wptheme/subscribely-music/

2. https://www.inkthemesdemo.com/wptheme/subscribely-education/
How you can make passive income from your website
If you have a keen interest in blogging, cooking, music, education, designing, etc. and you want to create a video website for any of the desired niches then you can use Subscribely to fulfill your objective. The theme will allow you to upload your own videos on the website which you want to share with the audience so that they can also learn the art of your profession. The theme will also help you to earn a passive income from your website and it is very simple. You just need to upload your own videos on the website and make them protected. The time user wish to watch the video, he will have to make the payment first, subscribe to your membership and then he will be able to watch the videos.
It depends on your choice whether you want to publish the video as free or paid. Moreover, you can use the shortcode to block the content on the website.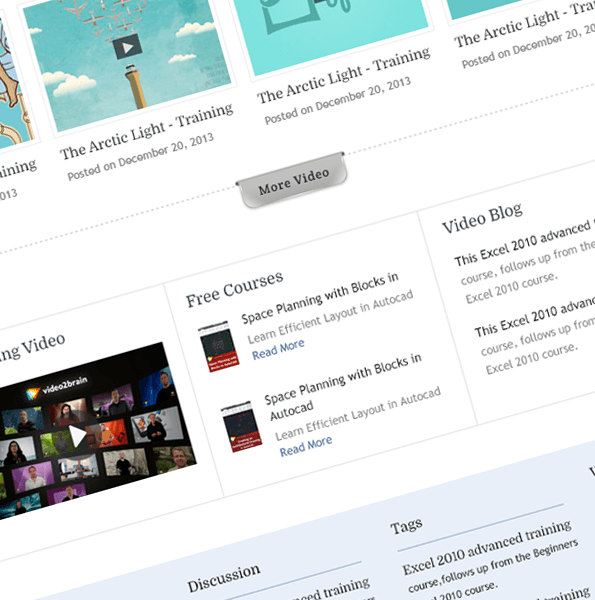 How to use InkMember plugin
InkMember plugin is well integrated with the Subscribely. Once you will install the theme you can easily activate the plugin on your website. By using the plugin you will be able to do the following.
You will be able to add new products.
You will be able to set the billing option whether as a one time purchase or recurring subscription.
You will be able to select the currency mode as per your requirement.
You will be able to set the product price.
You will be able to set the subscription period whether in days, weeks, and months, years or lifetime.
You will be able to set your PayPal email on which you want to receive the payment from your users.
You will be able to see the transaction details of your users as well.
The InkMember plugin has covered all the basic features that you will need for creating a membership. If you wish you can create multiple memberships. Moreover, the plugin is well compatible with any of the InkThemes.
How Subscribely can be used for different purposes
Subscribely is designed for multiple business purposes. For e.g. if you are a blogger, then you can protect your blog posts. Once the users sign up for the subscription and make payment, they will be able to read your blogs.
This is how your content page will be displayed for the first time to the visitor.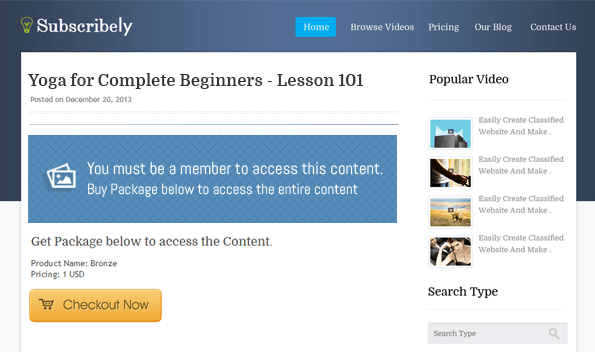 And once the user make the payment and go for the subscription, the user will be able to access the videos. This is how the page will display after the payment.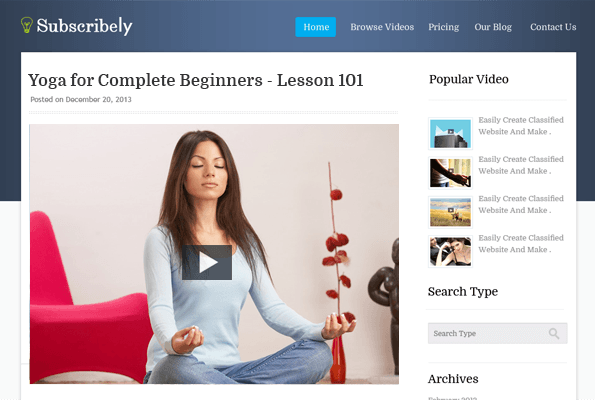 Moreover, if you are running a guitar class and have video tutorials for guitar lessons, then you can create a website for that will contain all the basic videos for learning a guitar. You will just need to upload your videos and the rest process will be the same.
Similarly, you can use Subscribely for making a website related to cooking, designing, marketing ideas or any other content.
Features of Subscribely
Besides being implemented with the Inkmember plugin, the theme has various features. Let's have a look.
You will able to show your recent videos on the home page.
Various templates are given in the theme.
3 column feature area to showcase your services.
Widgetized footer area.
Various styling options.
Gallery feature.
I am sure after knowing the features and functionality of the theme you will be keen to use this theme.
Conclusion
Everyone has a hobby that can be converted into profession. Subscribely is designed for those people who want to convert their interest into real business. If you want to share your learning and experience with the audience so that it can be useful for them to learn, you can simply make a website by purchasing the Subscribely theme. The theme is very simple and easy to use and it will hardly take a few minutes to make your website.
Although the theme is about to release, but I am sure you will get a clear picture after reading this post i.e. how you can use this theme for your business and can make a good income from your website.
Feel free to share your comments and thoughts below. I will appreciate your response.
You May Also Like:-