Colorful is always beautiful and here we have made a list of colorful Kindergarten WordPress Themes with which creating a website for your kindergarten, playschool, or your nanny business will become as easy as ABC.
These Kindergarten WordPress Themes are a godsend for kindergartens on a tight budget as creating a website will neither be a technical hassle nor an expensive matter at all.
These themes are beautifully designed and have got a joyous retina ready appearance that will keep your every visitor engrossed. You also get ecommerce support so you can promote your business online and can sell kids related stuff too!
Go through the list that we have specially prepared keeping all your needs in mind. Dig in and we are sure that you will end up finding a theme that will suit all your need in your budget.
And the best that we want to give is only possible when opportunity meets the preparation, and with that, you will be able to bang the bull's eye! We have prepared our latest Kid's WordPress Theme and you have the chance to grab that opportunity.
Also, you can have a look at our below mention blog on child care-
Here is the list of top 10 premium Kindergarten WordPress Themes that enhance your childcare work and lets you create a website by simply installing your favorite theme.
---
1. DayCamp – Daycare WordPress Template
Children need care and attention that your business will help them to have in most efficient ways, and WordPress has one such theme to take care of all your child care business.
If you are looking for a WordPress Theme that is user-friendly, bright, and colorful and designed with the sole purpose of attracting attention and making the visitor feels welcome, then The DayCamp – Daycare WordPress Theme is just perfect for you.
The DayCamp – Daycare WordPress Theme is designed especially for websites for day care centres, kindergartens and playschools. Parents checking out these websites will have all the information that they require at their fingertips.
Show All Your Programs in Different Age Ranges –
Some of the main features include instant product access with regular updates, custom templates, ten great colors and a feature section that has three columns, allowing you to show all the programs that are for different age groups of children. From here it is easy to guide visitors to more detailed information about the programs.
Give Advice in the Blog and Comments Sections –
There is a default blog template and a contact page that can be integrated with Google maps. This theme also comes with SEO options that are built into the theme options panel.
In the comments section you can display all the comments from your, hopefully satisfied clients! In the portfolio section you can advertise all the latest events at your establishment and keep everyone up to date with what is going on there.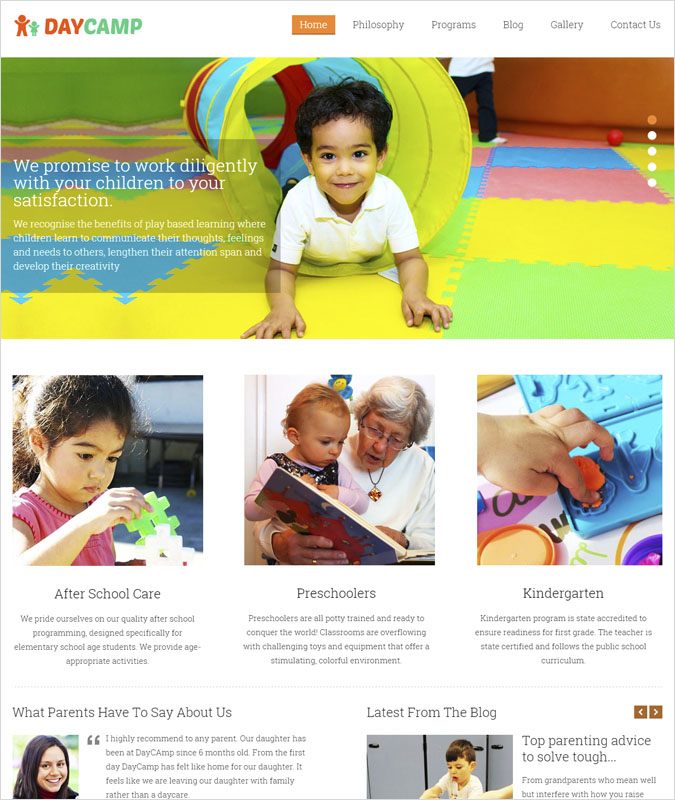 ---
Salient Features –
Portfolio gallery
8 different colors in styling option
NextGen plugin to manage gallery album
Background image section in general setting
Front On/off feature
Browser Compatibility
The DayCamp – DayCare WordPress Theme is just the thing for you to get your center, group, or kindagarten well and truly on the map!
Live DemoMore Info/Download Now
---
2. ButterBelly
ButterBelly is a clean and flexible WordPress theme that can be used to elaborate a responsive website for pre-nursery or kidz care school. The template proliferates and encourages all your business facets.
In a three column feature area of the skin, you can exhibit your kids care services along with the image, update your site visitors about your upcoming programs or other such events via blog posts, you can add your business icon through custom logo uploader.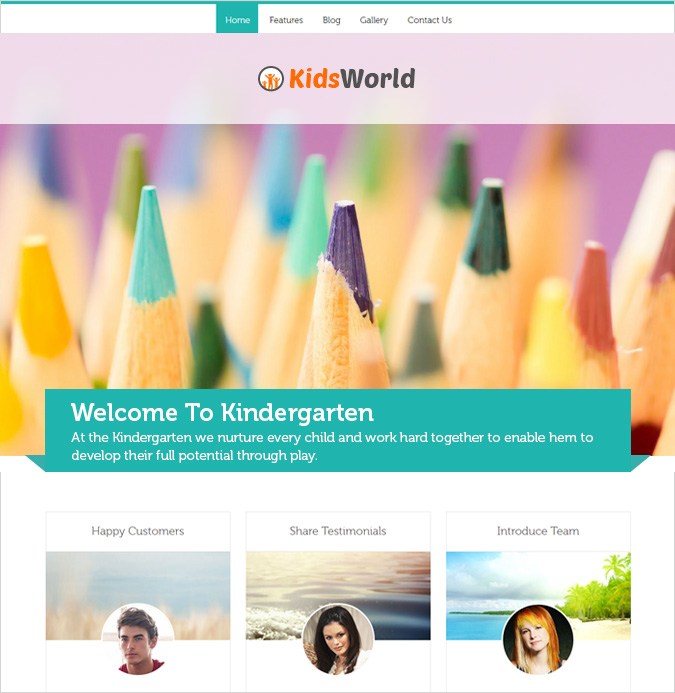 ---
Marvelous Features –
Integrated marketing form.
Inbuilt gallery page template.
Full width slider to depict images.
Recent blog section on the homepage.
Widgetized footer to display your business aspects.
Grab The Prime Chance To Download Free Theme
Download NowLive DemoClick Here To Know More
---
3. KidsLife – Kids Art School & Academy WordPress Skin
Making kids to learn new things is one of the phenomenal job but what  you need to do is to make their parents believe in you, this can only be possible when you have extreme advanced domain skin for your website.
If you run a children art school, whether it focuses on art such as drawing and painting or even more technical subjects such as graphic design or photography, then KidsLife , the Kids Art School & Academy WordPress Theme is for you!
User-Friendly One Page Layout –
This one-page layout theme allows you to display and organize different events and programs with an easy to use interface.
Great Slider to Show off Your School –
The KidsLife theme features include a member's area, instant product access with regular updates, custom templates and a fantastic slider. This slider section can show your school and website as well as showing off all your artwork. On the homepage there is a unique gallery section on which you can mount pictures and photos of artwork as well as of students and staff if you so wish.
Contact Section and Blog –
There is a contact section and facility for a blog where you can post and receive comments about your work and the school and, of course, share tips and advice.
There is also built-in SEO so that, by adding certain keywords, you can easily direct people to your site.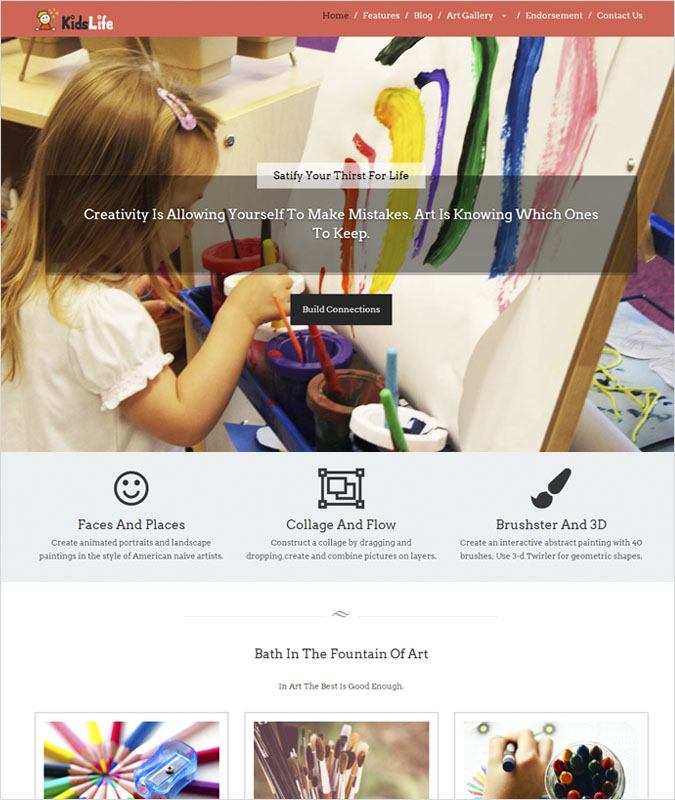 ---
Great Features –
Social sharing icons
Slider video option
3 column feature area with title link description
Homepage blog area
Gallery with parallex background
KidsLife – Kids Art School & Academy WordPress Theme is currently available for just $79.
This is the perfect WordPress theme for your art school to truly showcase it and get things going the way you want.
Live DemoMore Info/Download Now
---
4. KiddiDays – Child Care WordPress Theme 
Kids always wander from one place to another unless they get what they want, and if you have the same approach towards yoir playschool business than KiddiDays is the theme you we get settled for.
KiddiDays is the WordPress theme that you need if you are running a child care facility, nursery, children pre-school or you are a children party organizer.
KiddiDays is a theme specifically designed keeping you in mind if you wish to showcase your childcare facilities.
Great Color Schemes to Showcase Your Site –
This Child Care WordPress Theme is fantastic to look at with great color schemes and is very much oriented to education for small children. Some of the features included are a great full-screen slider, instant product access with regular updates, browser compatibility, and custom templates. There is a three column section for you to show off the facilities and services that you can provide. These will probably include daycare for toddlers, child minding, tution and babysitting.
Build Trust with Your Clients with the Reference Section –
Bearing in mind the sort of business that you are in, then it is important that parents know that they can trust you implicitly and provide a professional service with fully trained and competent members of staff. For this reason there is a section where you can show testimonials and references from other clients on your website. The blog section can be useful for this as well and there is a great gallery section where you can display photos of your facility at work as well as of the children at work and play with your members of staff.
User Friendly Adimin Panel –
The KiddiDays WordPress theme is very user-friendly and has an easily accessible admin panel from which you can control everything on the site.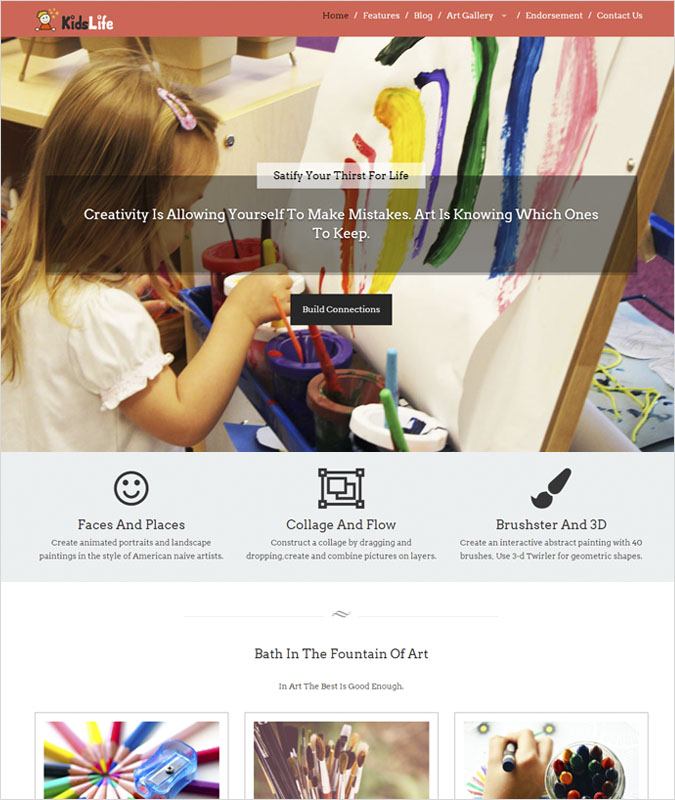 ---
Prominent Features 
Front page on/off option
Call to action button enabled
Image slideshow with link to redirect
Homepage bottom tagline
Contact page map
Child Care WordPress Theme – KiddiDays……everything you need for your childcare website.
Live DemoMore Info/Download Now
---
5. LittleFlower – Pre- School WordPress Template
Children are like little flowers and to nourish them properly is a big responsibility, and if you have decided to take job on your shoulders, so its the time to pull up your socks and make an impact in the market.
LittleFlower is the perfect theme for your website if you are in the pre-school business of childcare. It combines the colorful appeal that gets across the playful nature of your business with the professionalism that needs to be shown while you are caring for people's children.
One Page Theme but Many Features –
LittleFlower is a one-page theme but is loaded with many features so that you can showcase your business to its utmost potential.
These features include instant product access with regular updates, a member area, slider, a blog section, contact form and custom templates.
Three Column Showcase for Your Main Programs –
The three column service allows you to show off your main programs where you can add informative and interesting text. You can guide your clients to each particular section with the easily managed admin panel.
Blog Section for Comments and Advice –
With the blog, you can exchange comments and advice, while at the same time keeping everyone updated with what is happening in your school or kindergarten. There is also a section for feedback and references from satisfied clients and a gallery for you to show off all the latest photos of the school.
Contact Section –
At the bottom of the homepage is the specially integrated contact form so that potential clients can send by e-mail all inquiries regarding admission, programs and fees and anything else that they wish to know.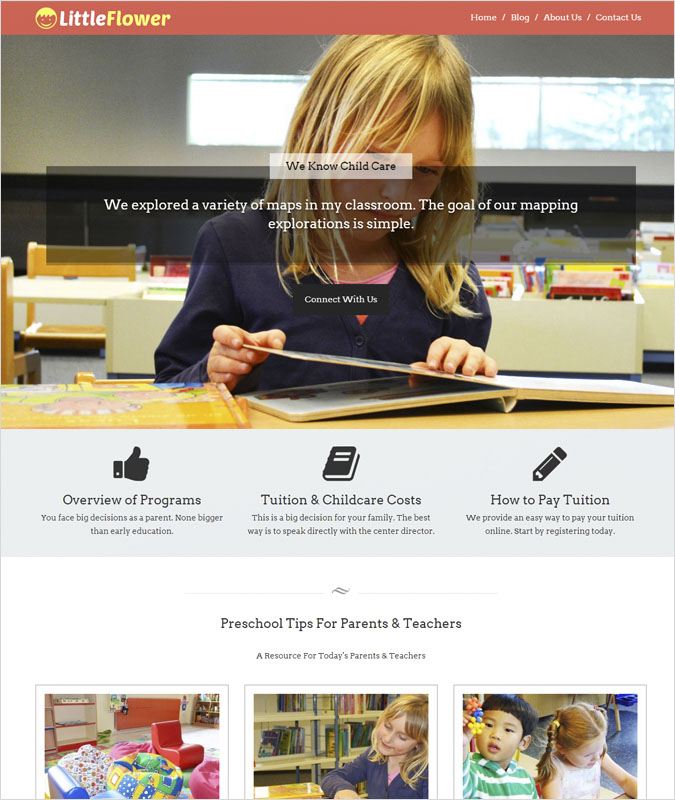 ---
Dynamic Features –
Button text and link
Extensible blog post limit with style
Add testimonial
Vibrant 9 colors in theme style sheet
Custom CSS
LittleFlower – Pre- School WordPress Theme……the perfect solution for your pre-school website.
Live DemoMore Info/Download Now
---
6. KidsWorld – Kindergarten WordPress Skin
When it comes to kids they have to be dealt with care and patience and if your business allows you to do so then to advertise your kindergarten services that kids can avail and attract customers to your playschool.
The KidsWorld Kindergarten WordPress Theme is just what you need if you run a kindergarten or have some other sort of childcare center or pre-school.
The KidsWorld theme gets the message across via your website that your premises are the sort of fun place your children will love to be while at the same time getting the opportunity to learn and prepare themselves for school.
Colorful Theme with Integrated Payment Facility –
Through the KidsWorld theme your website will inform and entertain both children and parents with a host of interesting, colorful and exciting features. These features include a great slider, instant product access with regular updates, a user-friendly admin panel and custom templates. There is also a built-in secure payment facility via PayPal for you to accept payments.
Features Section to Showcase Your Site –
You can showcase your facilities with the features section which gives clients and prospective clients the chance to view all your facilities and programs.
Blog and Gallery Sections for Exchanging Comments and Posting Pictures –
With the blog section you can have a blog just for the children as well as a blog for staff and parents. Here you and the children can post comments and also exchange ideas and advice about different projects.
The gallery section lets you post photos, pictures and other things that you are involved with. It is, again, great for clients and prospective clients to see what is happening.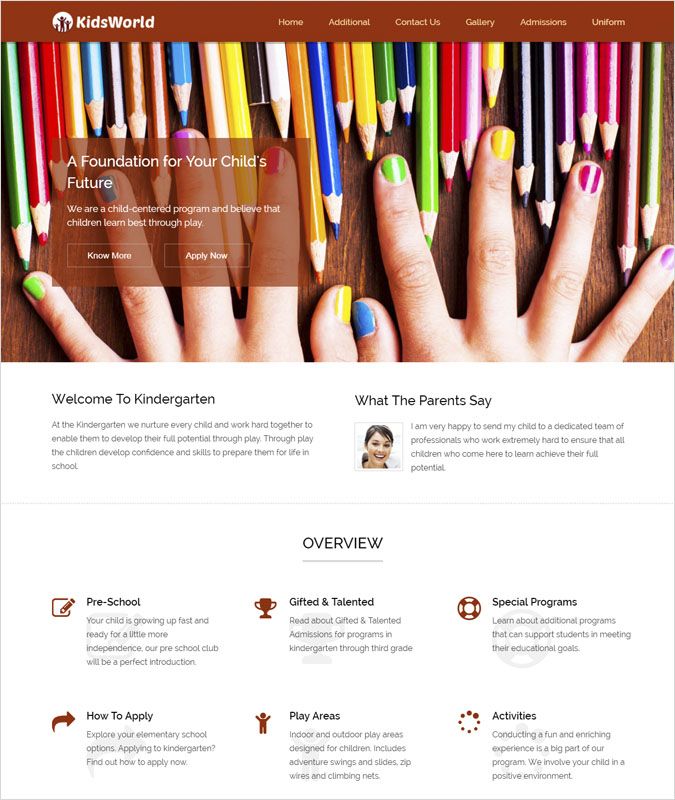 ---
Distinguished  Features –
Custom favicon and logo
Theme loader option for your own GIF image format
Home page slider option
Default
Full width slider
Homepage two columns
Right
Left
Extensible feature section
Full column periphery for gallery description
So there we have KidsWorld – Kindergarten WordPress Theme. We are sure you will not be disappointed if you choose this theme.
Live DemoMore Info/Download Now
---
 7. Open Books – Book Selling WordPress Theme
Although not specifically geared for children, the Open Books theme covers all aspects of book-selling, including children books and is an ideal platform for your online bookstore.
Books are the best friend of the man and same follows for the kids also, they are the best learning source and if you have such a store we have the platform for you to offer your services online. and that is OpenBooks WordPress theme.
WooCommerce Functionality and Integrated Payment Facility –
It comes with many features including instant product access with regular product updates, custom templates and a fantastic slider and also comes with eight different colors. There is full WooCommerce functionality and a secure payment gateway via PayPal. Open Books has a very nice homepage where you can show off all your products in a lovely display. There is a 'Myaccount' template which comes with a shopping cart and checkout facility.
Gallery Feature to Showcase Your Products –
The built-in gallery of the Open Books theme also allows you to show your top and best-selling books with images and text. You can also put all your products into categories, one of these obviously being children books! With the contact template, your current clients can always stay in touch and it, of course, gives new contacts the opportunity to contact you.
Testimonial Area for Showing Off  Your Good Reviews –
There is an area for customer testimonials and a blog section where you and your clients can post and exchange information on subjects such as new book releases and reviews of books.
---
Amazing Features –
Homepage slider on/off
Product plugin
Homepage testimonial feature
8 astonishing colors for theme style
Custom CSS support
We hope that you like what you see with the OpenBooks book-selling WordPress Theme.
Live DemoMore Info/Download Now
---
8. OnePage
OnePage WordPress theme is the jewel of single page WP template, it's an ideal skin for creating a website of any kindergarten or nursery school. A single page layout of the template allows you to manifest all your childcare school activities on the homepage.
A full-width slider of the skin where you can depict images of the school campus, classes, etc. Also, you can introduce your faculties or staff members in a separate section along with name and social profile link.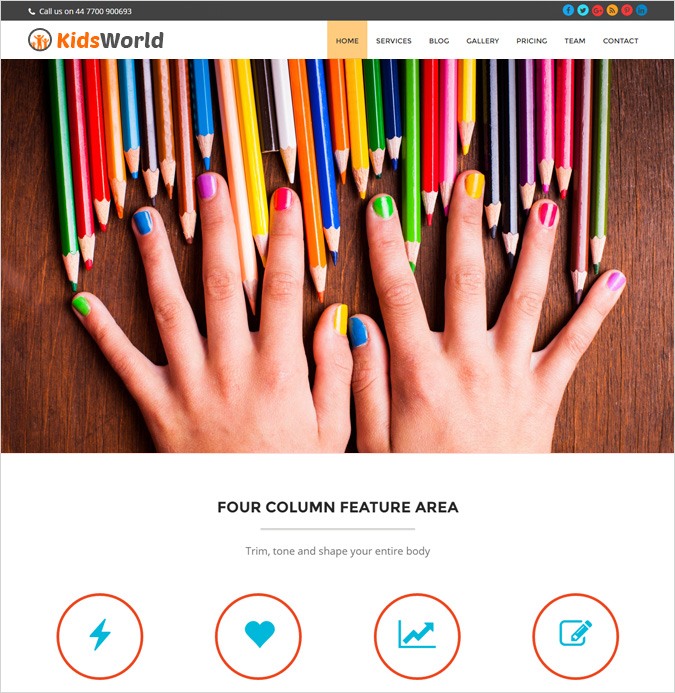 ---
Astounding Features –
Price listing feature.
Unlimited number of color.
Video section.
Gallery with categorization.
Recent blog section.
Don't Miss The Opportunity To Download Free Theme
Download NowLive DemoClick Here To Know More
---
9. BookHouse – Library WordPress Template
Books library are the places in the world where everyone feels good and calm, you are in the company of your best friend and they will tech, enlight you and keep you informed about the things you have never known.
The BookHouse Library WordPress Theme is another theme that is not specifically for children but there is also plenty for them here. This theme is a very nicely designed, responsive theme with a powerful admin panel and comes with eight attractive colors. Whether your library is large or small, if you want to give your library some online presence, then this is the theme for you.
Great 4-Column Area –
The main features are a four column area for displaying all the features of your library, a video feature so that you can show your library offline, instant product access with regular updates, slider and custom templates.
Testimonial Section for Customer Reviews –
With the testimonial section, clients can give views and reviews both about your website and the library and its contents. In the blog section people can also post comments with ideas and advice and also review books and exchange information. The built-in contact section gives a contact form, not just for contacting you but also for submitting queries about books and other services.
24/365 Service!
Obviously, because your library is online, people can visit any time of the day or night, every day of the year!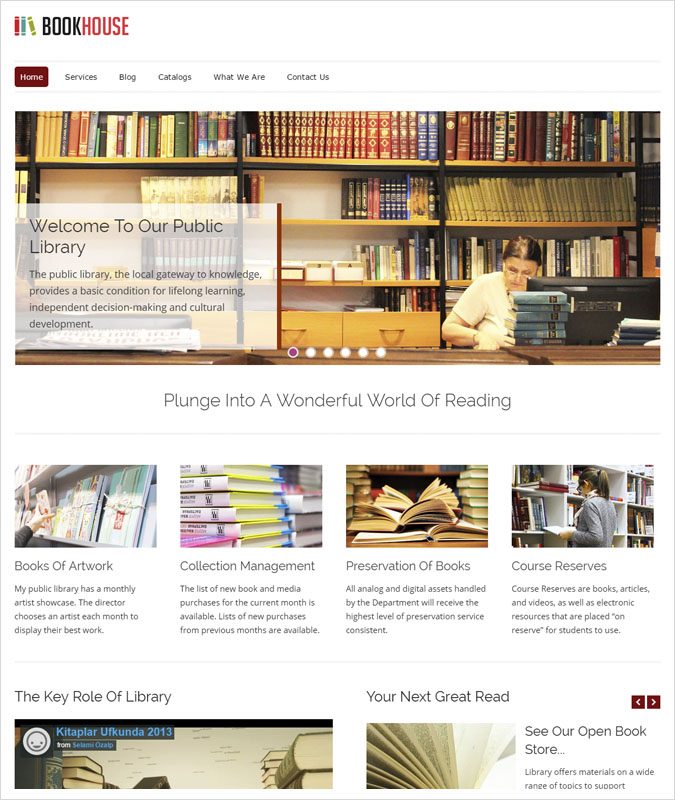 ---
Attractive Features –
Tap to call feature
WooCommerce plugin enabled
3 column feature with heading
Homepage blog structure left or right alignment
Theme language switching
For all your online library needs, try BookHouse – Library WordPress Theme
Live DemoMore Info/Download Now
---
10. ReviewExpert – Book Reviews WordPress Skin
Once again, the ReviewExpert WordPress theme is not specifically aimed at children but also, once again, there is a place for them here where they can review all their favorite books.
Blog Section Where Reviewers Can Exchange Comments and Ideas –
This is another highly responsive theme that is ideal if you wish to have a website for reviewing books. The blog section would probably be one of the busiest parts of this website where people exchange views and ideas. There is also an area for featured reviews.
Great Slider for Showing Most Popular Books –
Apart from these features, there are many others including a slider section for showing the most popular books, a built-in rating feature, a gallery for images of books under review in their different sections, including children books, a member area and custom templates. There are also the usual instant product access with regular updates and browser compatibility.
Built-in SEO Optimization –
The theme is SEO optimized, has plug in compatibility and no coding knowledge is needed to set it up. You can easily change the theme with the Custom CSS option. Everything is easily accessed from the user-friendly admin panel.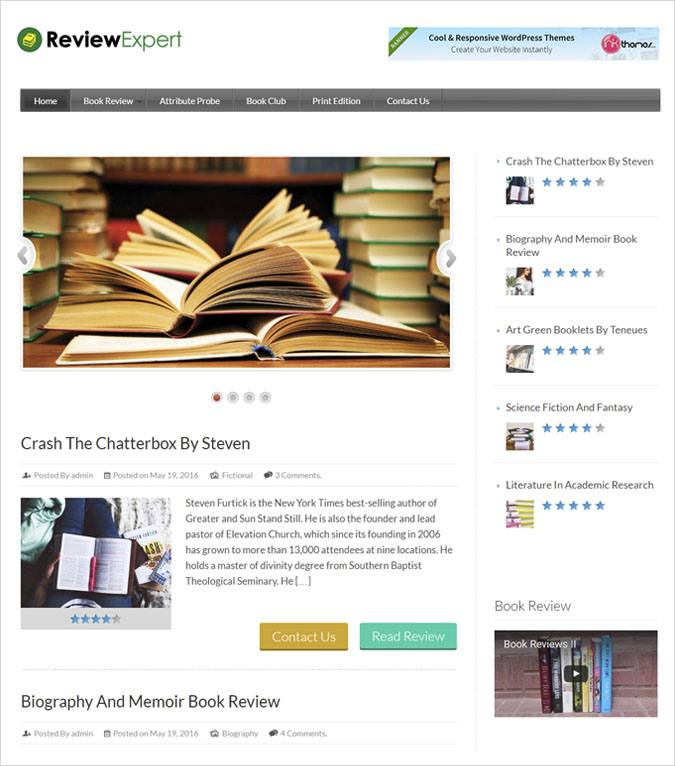 ---
Remarkable Features –
Products plugin
Head banner image on top right
Bitly API setting
Search Engine optimization options
Multiple social links with icons
The Review Expert theme is a great choice if you wish for a book reviewing presence online.
---
11. GeoCraft
GeoCraft is a bedazzle WordPress theme which is perfect for creating a directory website of your Kids art school where other kindergarten owners can place their ad list.
The homepage of GeoCraft theme has a full-width slider with an integrated Google map that cover all the location of kindergarten or kids care school.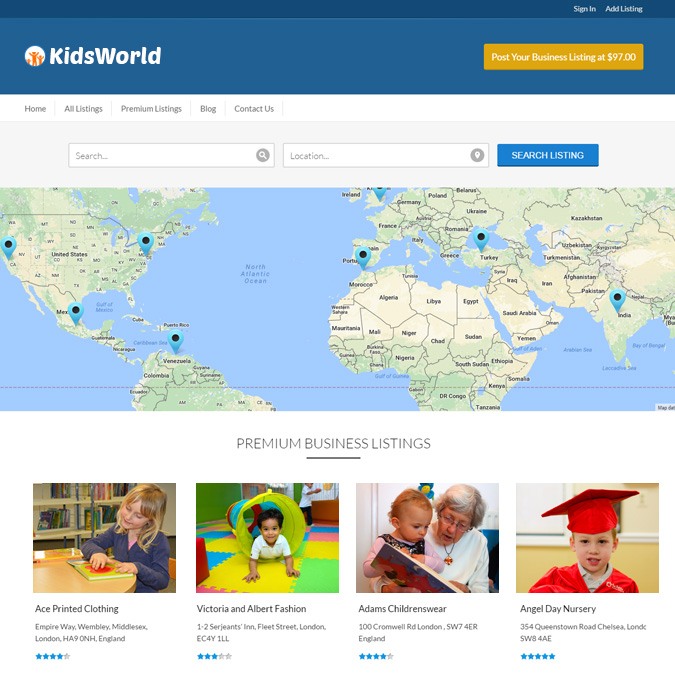 ---
Superlative Features –
PayPal payment gateway integrated.
Ad claim option.
Free & Premium listing.
Ad banner space.
Ability to set the Listing expiry.
Get This Directory Theme For Free
Download NowLive DemoClick Here To Know More
---
12. KiddoTurf – Kids WordPress Theme
We know that its really tough for one to handle kids with care and on top of that domain concern is also one importanat thing to fix. So,we ensure you to get free from web chaos by adopting our 'KiddoTurf' kids WordPress Template.
Kiddo Turf, a kids WordPress theme is great for either a kindergarten website or a children blog where they can post and discuss among themselves a whole variety of children activities and topics.
It is extremely user-friendly with an admin portal where you can easily change many of the themes such as colors and backgrounds.
One Integrated Slider –
The features include a slider, theme updates, and domain license and layered Photoshop files. Although there is only one slider, this is perfectly adequate for all your needs as it is integrated with the illustrations from the rest of the theme. The images, text, icons and graphics are perfectly crisp for a viewing experience out of this world!
User Friendly Admin with a Fuse Framework –
When you set up your website, you will find that the back end is very easily manageable with a lot of modules, making your life so much easier. There is a Fuse Framework which has many settings and features from where you can control the whole look of your website.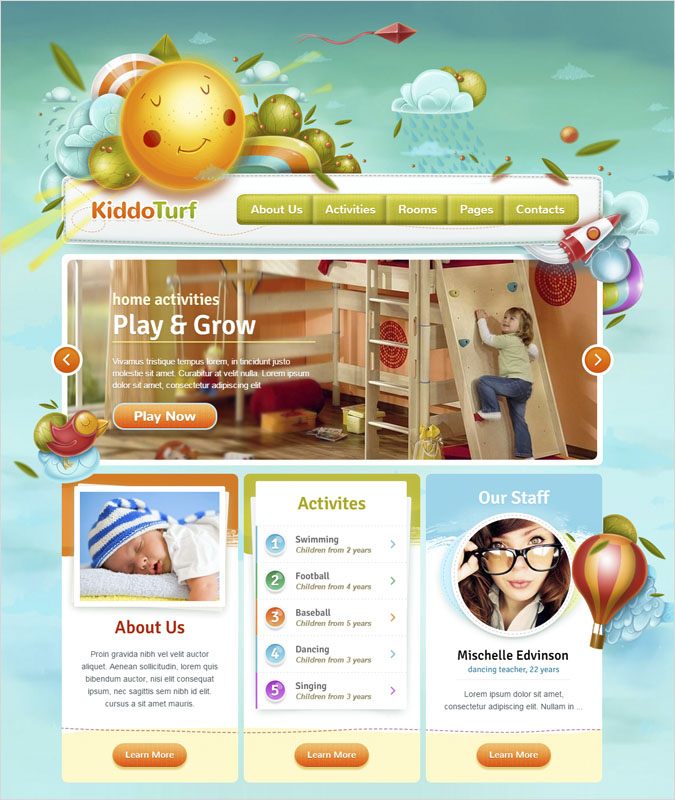 ---
Core Features –
HTML5 animated slider
Powerful custom form module
Unlimited sidebars
Built in advance SEO option
White label ready
See what you think of the Kiddo Turf theme for a children themed website.
Live DemoMore Info/Download Now
---
13. BooksParadise – Children Books Store WordPress Theme
Books and kids have a very deep connection and to connect them and behave as an interface, we have this wonderful theme to offer your infants some intresting story and learning books, let them discover all you have to fetch your best accessories and commodities.
BooksParadise – Children Books Store WordPress Theme is perfect for those who need the ideal template for promoting their children book-selling business online. It is a very attractive, colorful template and very user-friendly.
Let Your Customers View Your Collection 
It has a Full Width slider theme through which your customers can view your whole collection of books and related products. There is a log in template including an ''add to cart system'' and checkout. Other features include a PayPal gateway for secure online transactions, a product category page, product quick view and unlimited sidebars.
Share Advice and Comment in the Blog Section
There is also a blog section so that you and your customers can share tips and advice on which books are hot and which are not at the moment. You can also advertize special offers and keep people up to date with the latest releases, here.
WooCommerce Integrated
BooksParadise is fully integrated with the WooCommerce plugin thus giving authors, publishers and booksellers the means to speedily upload their products through the product feature.
This WordPress theme is compatible with valid CSS3 and HTML5 files and comes fully optimized. It is easily customized and managed through the admin panel.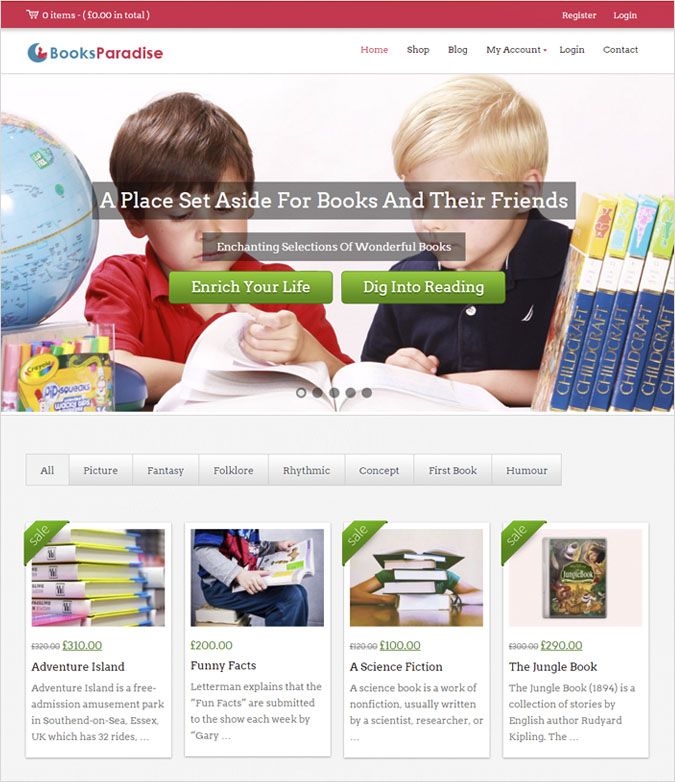 ---
 Key Features –
Captcha on the registration page
Buy/Sell button on every slider
Woo-commerce category list
3 column feature on home page
Social icons with URL
Meta Keyword and description
BooksParadise – Children Books Store WordPress Theme is a must if you want to attract and keep attracting customers to your online bookstore.
Live DemoMore Info/Download Now
---
Conclusion
All these colorful and joyful WordPress themes are specially crafted for kids website.
Each WordPress theme is uniquely designed and all your theme and technical requirements are met, and if you need any customization services than we would be happier to help you.
All the WordPress themes are responsive and compatible that fulfills all your business needs, so don't think much and grab your Kid WordPress theme right now !!!!!
Look out our exclusive range of themes on kids –
AngelWears – Baby & Kids Products Online Store WordPress Theme