Gone are the days when you had to distribute paper sheets to collect data from your customers, students, clients, friends etc.
After every seminar/workshop/events/meetings I attended, I was given a feedback sheet and I always tried to fill it as soon as possible to save my time.
Most of the time I submitted half filled forms. It would have been better if I was allowed to take that sheet home and fill it in my free time but then who would come to collect that sheet?
Things have been changed now.
With the easy accessibility of Internet it's time to go Paperless.
Now I am able to collect feedback from someone who is living miles away with the help of Forms.
If I say the word "Form" which word hits your mind first?
I guess it's the word "Contact Form".
Forms can be of different types few of them are contact form, registration form, survey forms, feedback forms.
So if you want to do survey just create a form online and share the form with the world and start collecting data for your survey.
Users can fill the form whenever they have time, so most probably you will get genuine responses because no one filled it in hurry.
But it's too much headache to create forms and handle the data in database.
I would suggest you to Google it and you will get amazing online form builder. You can create forms with few clicks and see the data in well organized manner.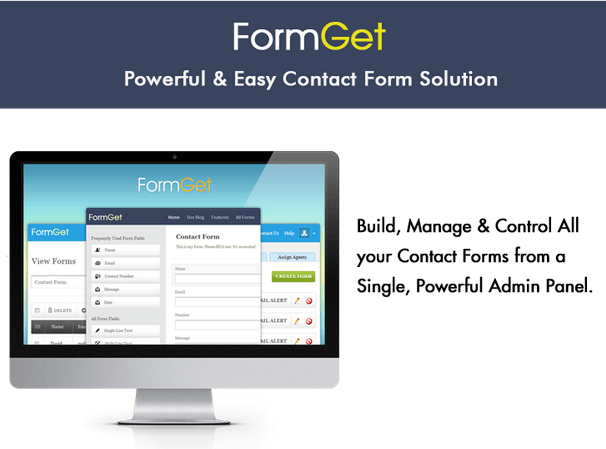 Few of the top online form builders are FormGet, Google Forms , Wufoo Forms, Formstack etc. I will help you choose best one out of all these.
In this post I will compare FormGet with Google Forms and you can select the best one as per your requirements.
FormGet is developed by keeping only one thing in mind "Make Communication Simpler and Paperless" and it's doing that pretty well.
Google Forms is just another product from Google to make form creation easy and free. Google Form is mainly developed for Data Collection needs (Survey forms etc).
The reason of its popularity is its free of cost and it is a service from Google. Now let's start the comparison:
1. Ease of Form creation:
Just get a FormGet account (It's free), and you will be amazed with the ease you can create forms.
It's really easy and simple.  You don't have to spend too much time on think which field will be suitable and what should you name it?
FormGet does that for you. Although you can change field name if you want.
If I talk about Google Forms then I am sure it gonna take 4-5 times more 'time' to create a similar form.
E.g. If you create a professional looking survey form with FormGet then hardly you will take 2 minutes to create and start collecting data.
But with Google Forms you would take 8 to 10 minutes. You have to think everything in order to create a Google Form.
2.  Interface:
How important the Interface of a web form is?
Ask any web designer and you will get to know.
It's really important to have well designed form interface.
With FormGet you get that power. You feel like a professional designer when you are creating forms with FormGet.
You can get your company Logo placed in form, customized color of form to match your company's theme.
You also get power of customizing fonts which is really good to make your form stand out of others. As a professional smart company you will love it for sure.
You will notice this problem with Google Forms. It's good to create Google forms but you can't customize the look. Google Forms offer approx 20 template for your forms but still not so professional.
3. More options and validations:
FormGet gives you more options and proper validations. Need to create email input field, Large text box, Drop down, check box, file upload option, captcha field?
FormGet allows you to create these all with a single click. You can customize these fields with ease.
All input types are validated properly so users will see a validation error if they enter anything wrong. Moreover, FormGet forms are completely responsive and looks cool on other devices..
When it comes to Google Forms input field validation is difficult to implement. If you use Google apps then you can validate using app scripts but still it's not that easy.
4.  Payment Option:
Have you ever thought of receiving Payment using a form which you have built in just two minutes?
FormGet allows you to do that. It has integrated payment module- PayPal and Stripe with recurring payment options..
You can easily receive payments via PayPal or Stripe using forms powered by FormGet .
Is there any provision to receive Payments in Google Forms? Not yet.
5.  Agent assignment:
If you are an organization then you would have heard/used of/a ticket resolution systems.
Huge software that lets you resolve your customer's tickets.
You assign tickets to your employees and they resolve those tickets for your customers.
FormGet also lets you do that via FORMS. I am not joking, you can assign forms to agents and they will receive all the queries that come through that form.
They can reply to those queries.
So just imagine how good it would be when you have 100's of forms and you assign 10-10 forms to each employee.
Life would become better for everyone including you, your employees and your customers.
Google Forms: They are just forms, so no expectations for these awesome features.  
Conclusion:
If you want to just create forms with no professional touch then you can go with Google Forms but if you really care about your company's reputation then just try FormGet for free and you will love it.
FormGet is developed with an aim to provide best form building experience and it will continue to offer more services, features to its users.
Research team at FormGet continuously works on how to make it more simple and useful for its customers. Try it once and I am sure you not gonna leave it forever…:)
You may also like-
More To Read On FormGet Blogs
Have a look at some amazing WordPress plugins that can help you automate your task –