You agree with this fact that contact form is a great path you can offer to your visitors to get in touch with you. In other words, it is the easiest communication channel you can provide to your website visitors.
But choosing a right contact form from a variety of options matters. Isn't it?
Whenever you search a contact form, these suggestions will be on the priority list of Google- Contact Form 7, Gravity Form and FormGet Contact Form. These are the most recommended contact form solutions you will find.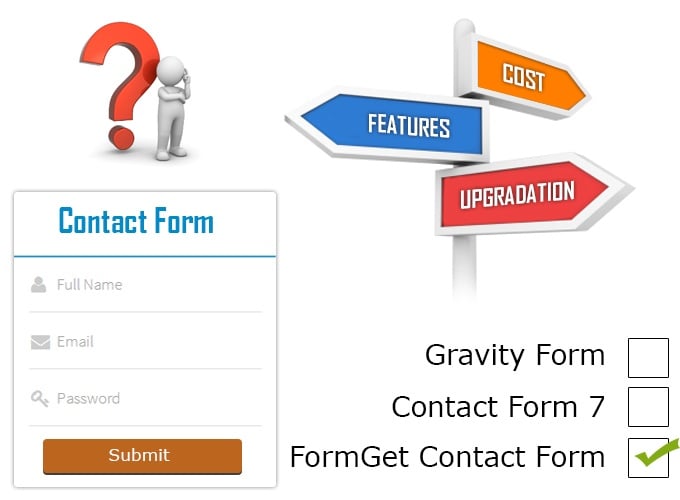 But when you compare these forms in terms of cost, features, usability, services, etc. then you will find variations among them.
So you must know which one is the best for you before implementing the form on your website. I will talk about some relevant parameters on the basis of which it will become easier for you to pick up the right one.
Cost
Cost is the most important factor to concern especially for start ups or small scale businesses. So when you go to a search of contact form then your first choice may be a very popular WordPress plugin- Contact Form 7. Why not so? Because it's totally free.
But when you'r concern with the advanced features of contact form like drag & drop tools then you definitely switch to another one. Because it gives you a choice to create a customizable form within a second.
For that, you have two options available Gravity Form and FormGet Contact Form. But how you can make a choice between them?
Simple! You can compare them on the basis of cost (the very first level).
Note : Price of FormGet app is changed now, you can check it from the given link: https://www.formget.com/formget/#pricing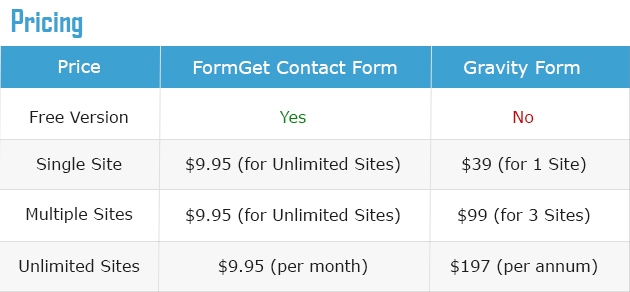 The above pricing table clearly indicates you the cheapest one i.e. FormGet Contact Form.
It cost you only $9.95 per month which even a small business can afford.
Moreover, all the users for a single site can save $30 and multiple sites users can save $90 which is really a huge profit. And also the gravity form users for unlimited sites will need to pay $99 every year after the completion of a above plan for support and updates. But FormGet Contact Form users will not charge for any extra cost for receiving updates and support.
Additionally, FormGet Contact Form available with a free trial up to 300 entries. It means you can easily embed the form on your website and use its functionalities without need to pay a single cost until the desired limit reached.
Winner: FormGet Contact Form
Features
Contact form with amazing features is always on demand. Moreover, you can also use some awesome ways to optimize your contact form for conversion.
It is very important to focus on the overall functionality of the contact form before implementing it on your website. So I come up with the clear comparison of some advanced features of Gravity Form and Form Get Contact Form in order to highlight the best one for you.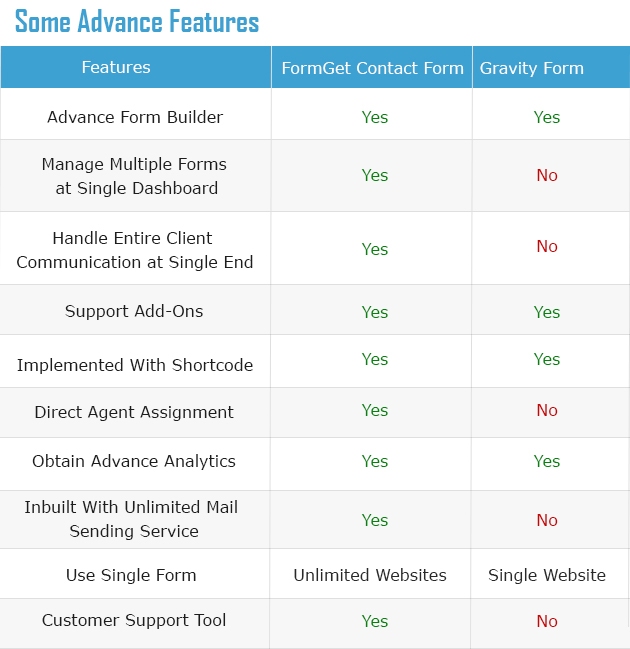 You can easily analyze the features of Gravity Form and Form Get Contact Form from above comparison. It will be more clear to you from the example given below.
Suppose, you are using multiple forms (let say 3) on your website and through each form you will receive approx 100 entries daily. Then it will be a challenging task for you to reply back all 300 entries every day. Even you require to switch on different panels for handling each form. Moreover, it is a very tedious job which consumes lots of time. Is in it?
But if you get a solution where you can easily handle these 300 entries at single place without need to switch on different panels. Moreover, you can also assign agents for handling customer queries more quickly and effectively. The solution is FormGet Contact Form.
Additionally, Form Get Contact Form inbuilt with a mail sending capabilities so that you can send unlimited mails to your customers without need to pay any extra cost.
Winner: FormGet Contact Form
Upgradation
Upgradation of plugins is a very common process.There are many reasons behind the up-gradation of WordPress plugins like
To add new features
For security reasons
To make it validate
For fixing any bug
For the latest WordPress version compatibility etc.
But sometimes it becomes hectic for you to upgrade a plugin. Why?
Let me explain you with a real example.
A couple of months ago, PayPal have upgraded its apps. So in order to use its services all the Gravity Form users need to update its plugin. You can imagine now how it will be hectic for user who have used it on their multiple sites (lets say 4). So they need to update Gravity Form plugin into all their sites one by one.
So to overcome above issue, FormGet Contact Form is the solution where you don't require to upgrade anything. Moreover an automatic upgradation have been done by a powerful admin panel and the desire changes will automatically reflect into the users' side. Moreover, you can save your time without need to involve in this tedious job.
Winner: FormGet Contact Form
Conclusion
It is difficult to decide which contact form is superior than others. But I hope the above parameters will help you to take a firm decision while making a choice. On the basis of which you can decide which one is best for you.
The whole post clears the winner i.e. Form Get Contact Form but I would say it will be more understandable if you actually use this contact form solution. Let me know how this post helps you? You can share your thoughts below in the comment section.
You might also be interested in: