There's no doubt that the most cost-effective and quickest way of reaching a targeted audience today is email marketing. And you are likely to benefit more from your email list if it has more subscribers.
But a list size isn't the only thing that matters. For your email marketing campaigns to bear successful results, the quality of your list is as much important as the size.
But what exactly does email list quality mean?
well, your email list should be validated and all the bad emails like suspended, blocked should be removed immediately, so that you can save your time without wasting it on useless email addresses.
That's not all, email list cleaning helps in protecting the domain of your email server from being blacklisted and also, helps in enhancing the performance of your email marketing campaign.
So, how is it possible to get a clean list?
The answer is, by using email list cleaning services. The market is definitely flooded with so many email list cleaning tools, so you'll need to pick one that can best serve your needs.
This article will ease your work as here we are providing you 10+  best email list cleaning tools with their features and pricing.
---
---
Pabbly Email Verification guarantees the most accurate result as they clean the entire list manually. This service will curtail your bounce rate by removing all invalid & duplicate email addresses from your list.
This email scrubbing service validates the entire list via Message Transfer Agents(MTA) to check whether it has an MX-checker to track domains or not. Further, it also removes all spam records through Intelligent Spam-Trap Indicators. This service comes with anti-greylisting technology that guarantees more accurate results by securing your list from spammers.
---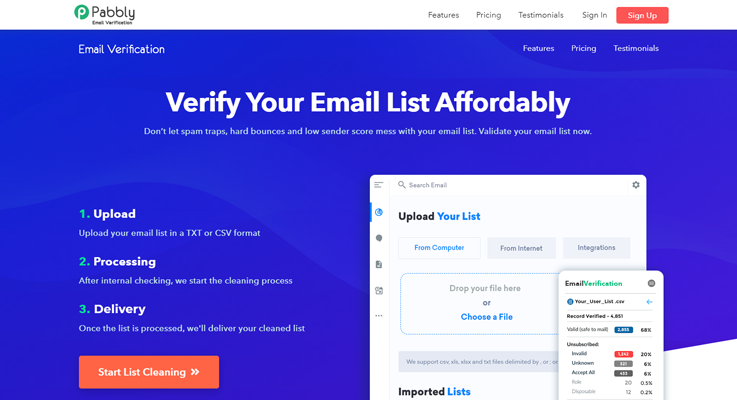 ---
Notable Features:
Pabbly List Cleaning offers a wide range of excellent features that can help you keep a strong email list of subscribers.
Syntax Remover-  Forget all your invalid email addresses as Pabbly Email verification removes all email addresses with any kind of invalid syntax.
Risk Validation- Further, Pabbly Email Verification runs scan against high-risk keyword and Top Level Domains(TLDs) hence, it keeps your email list secure and risk-free.
Complaints Eliminator- In case, any email addresses that match their complaint database are removed immediately.
Domain Clearance- Moreover, it removes all email addresses containing the inactive, invalid or parked domains.
Round-the-clock Support- If you get stuck at any hour of the day, then don't worry because they are ready to help you with live chat support.
Pricing
It will cost you $5 for cleaning 1,000 emails, $25 for cleaning 10,000 and $2999 to clean the list of 10,000,000. Moreover, a cost calculator is given on the website by which the cost of email verification can be calculated easily.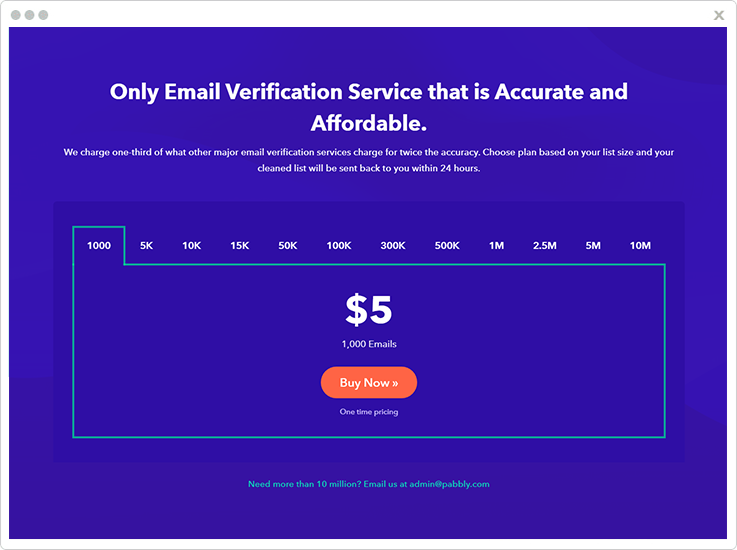 On a personal level, if you would ask me, I found Pabbly Email Verification as the best email list cleaning software. The mere reason is its accuracy and the speed with which you can clean your email list.
This service is available at such economical price plans that are starting at $5 for 1000 emails and going up to 10 million emails for $2999.
---
MailGet List Cleaning is one of the most reliable tools for cleaning and validating email lists for entrepreneurs. You can upload your email list, click on the button, and your list will be cleaned in a few minutes.
It's an ultimate solution to email marketing that sends emails by integrating standard Amazon SES as an SMTP. MailGet supports up to 5 more SMTP Mandrill, SendGrill, Postmark, Mailgun, and Mailjet.
This email list cleaning service has got 9 exhaustive steps for filtration. These steps specifically focus on a syntax error, formatting of the email address, domain check and spam trap and more.
---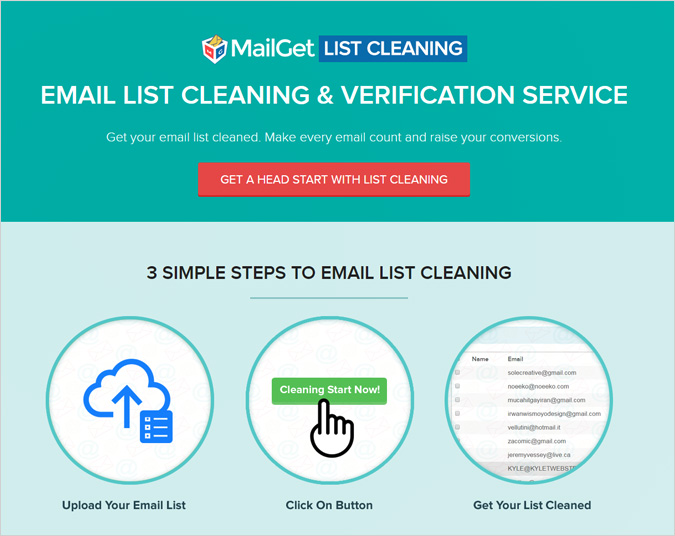 ---
Notable Features:
Well, MailGet has excellent features that are most appreciated by first-time users seeking out email list cleaning services.
Email list cleaning

– MailGet cleans all bad and inactive emails off your list to enhance your email marketing strategies. This email cleaning service will give you deliverability of up to 99 percent, high subscriptions, and responses. The email list cleaning feature also searches for invalid, duplicate and undeliverable email addresses that can affect your campaigns.

Bounce file comparison –

Your email addresses will be compared against an email list of hard bounces and affected emails filtered out.

Detect and clean disposable emails –

MailGet can also detect all temporary and junk email addresses used during sign up.

An editor with drag and drop –

Every user will admit that this is a real game-changer in sending cheap emails using Amazon SES. The tool's design somewhat resembles that of MailLite but works pretty well. It may not be so much advanced, but it is surely much better than most of the standard tools out there.

Segmentation of subscriber list –

Depending on the bounces and clicks among other elements, MailGet makes it possible for you to segment your subscriber lists. This is something that you won't get with most other email list cleaning tools.

Inbox preview –

MailGet actually shows you the preview of a newsletter that you are going to send.

Autoresponders and drip emails –

The capability of adding several drip emails isn't something you'll get so easily with other tools. MailGet's implementation of drip emails is pretty simpler and cleaner, making it easier to use.
In addition to these features, MailGet also has other integrations, including Wufoo (forms), Zapier and Google Analytics (web traffic data).
Pros:
Has many integrations, including Zapier and Google Analytics.
Multiple SMTPs supported.
Set up process is easy, facilitated by detailed tutorials.
Simple and intuitive interface.
Cons:
Lack of subscribers' custom fields.
---
With a guaranteed accuracy of 98%, ZeroBounce is the go-to email validation service for more than 125,000 customers worldwide. Excellent at detecting invalid, spam trap or abuse emails, ZeroBounce also has a few special features that make it stand out from its competitors.
---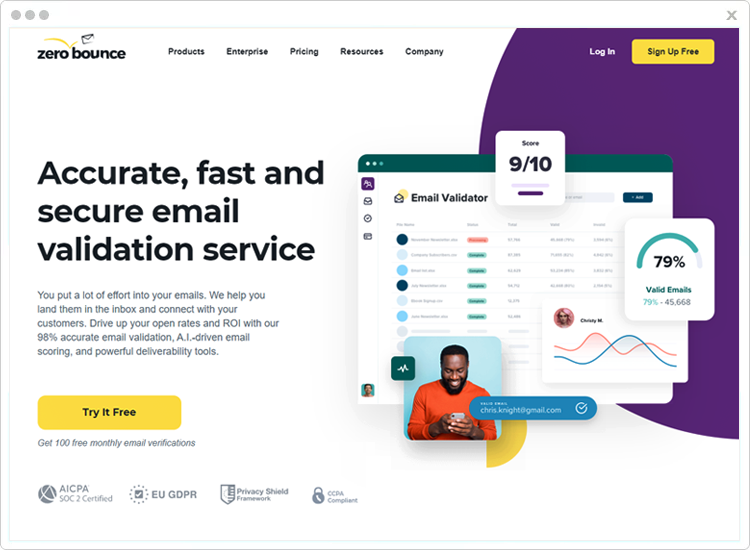 ---
Notable Features:
Email Validation – ZeroBounce can determine if an email address is valid and accepting emails.
Catch-All Domains – Some domains mask validity, meaning email addresses will always report as good, even when they're bad. ZeroBounce's proprietary technology uses algorithms to detect catch-all domains and identify which emails are unable to be validated (compared to other providers that unknowingly report bad emails as good).
Abuse Accounts – Not everyone is on board with the email marketing trend, even when they knowingly subscribe to your list. These users are notorious for marking messages as spam, which poses a high risk to brands building a healthy reputation. Unlike its competitors, ZeroBounce has compiled a list of known abusers (or complainers) to help companies reach the right audience while eliminating those who don't want to be included.
Spam Traps – Based on internal research via a series of algorithms, ZeroBounce can detect email accounts that are connected with industry-wide blacklists, a huge inconvenience that can derail an entire campaign.
Do Not Mail Accounts – ZeroBounce detects role-based emails (support@, info@, sales@, etc.) as well as domains belonging to companies that shouldn't be sent marketing messages.
Pros:
Free duplicate removal – ZeroBounce automatically removes duplicates and does not charge for them.
Data Appends – ZeroBounce can append basic information (First name, Last name, Gender, Location) to data when available.
IP Appends – ZeroBounce can append information about the IP address (country, state/region, city, and zip code of IP registration) used when the email was registered or opted-in for advertising.
Advanced data protection – ZeroBounce is one of the most secure email validation platforms. The company is using a top content delivery network, providing customers with several layers of defense against data breaches and cyberattacks.  Furthermore, ZeroBounce uses military-grade encryption ciphers to protect customer's files from the moment they sign up on the platform to the point when they download their clean email lists.
ZeroBounce A.I., the best catch-all email validator
On top of email validation, ZeroBounce also provides an artificial intelligence-driven email scoring system. With its proprietary algorithm, ZeroBounce A.I. scans all email addresses in a list and returns a quality score for each. ZeroBounce A.I. is remarkably good at validating catch-all emails and helps customers save valuable leads they would otherwise remove from their lists.
Email deliverability tools and Activity Data
In 2020, ZeroBounce also added three email deliverability tools to its platform: an email server tester, an inbox placement tester, and a blacklist monitoring tool. The deliverability toolkit helps senders optimize their email campaigns before sending and ensure they land in the inbox.
In 2021, ZeroBounce launched a new tool, Activity Data, which provides insight into subscribers' activity. Activity Data detects email users that have had email activity (by opening, clicking, forwarding or unsubscribing) in the past 30 to 365 days.
---
QuickEmailVerification, one of the leading service providers, helps you maintain a clean database by preventing incorrect or dead email addresses from entering into your database.
It can verify all the email addresses from your entire database. With the ability to verify bulk emails, it has the capacity to verify thousands of emails within a few minutes. Besides, you can also utilize its API to verify, in real-time, individual addresses as each address enters your mailing list.
QuickEmailVerification's technology, with an accuracy of over 95%, can classify addresses, based on whether the email address is a catch-all, a disposable address, role-based and so on.
---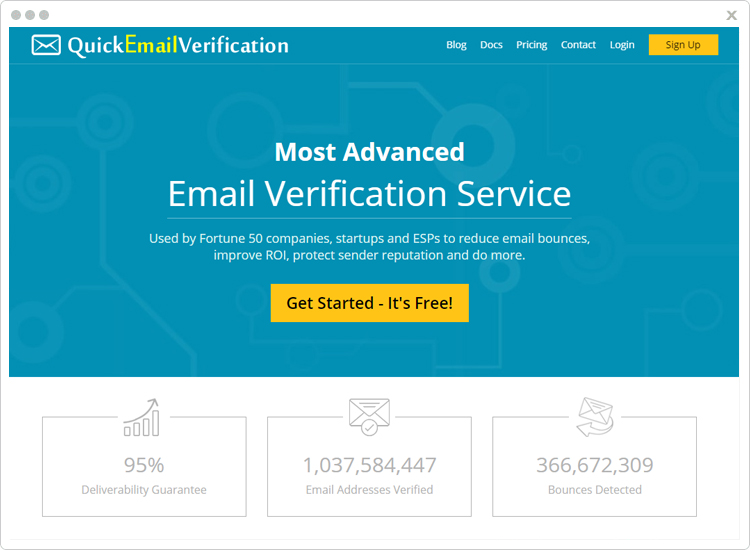 ---
Notable Features:
QuickEmailVerification makes use of a number of top-notch features to achieve the goals.
Real-time verification –

This is supported if you integrate their REST API into your site.

Multiple email verification methods –

This tool uses more than one email validation method, including IETF validation standards, RFC syntax, SMTP testing, DNS entry checking among others.

Bulk email verification –

 If you have a huge list of emails, QuickEmailVerification can successfully perform verification of all the email addresses within minutes.

Simplified verification –

The verification process has been made simpler by the drag and drops feature. You can drag your email list and drop it on the validation window. Alternatively, you can upload using a CSV file.
The pricing plans of QuickEmailVerification are quite flexible. This email list validation service allows you to validate 100 emails every day for free. You are also provided with a one-time verification service as well as monthly subscription plans.
---
Clearout has established itself as a clear leader in the email verification space. It validates, verifies & cleans your email list in real-time. Further, it automatically removes those emails that have duplicate email addresses and reduces your manual work.
Also, this list cleaning service ensures that your emails always land in the customers' inbox and increase the open rate.
---
---
Notable Features:
Clearout offers the most impressive tools in the marketplace for email marketers. They include:
Verifying SMTP Validation – Clearout validates SMTP servers through which you are transferring emails to determine the active and inactive mail servers.
Remove Sub Addresses – This email cleansing tool can remove & normalize the subaddresses of Gmail, Outlook, Yahoo, or iCloud to avoid various email addresses aiming to the same inbox.
Domain Confirmation – It always checks and ensures that you are working with a successful mail server domain network.
Auto Suggestion – With its autosuggestion feature, you will get autocomplete spellings in the email addresses. It helps you to reduces your spelling mistakes.
Role Account Verification – Using this feature, it's easy to verify all the role-based email addresses such as admin, support, or sales from the email list.
Pricing – starts from $20 to provide 5000 credits per month. If you require more than 5000 credits then you can go through its other plan that too is available at cheap prices. Further, for custom pricing plans, you need to contact the service provider.
---
EmailMarker is a leading bulk email Verifier service with over 97% accurate results. It cleans all the junk email address, detects spam keywords, complaints, traps, and more from your email list. Moreover, it also assures in increasing the deliverability, and deduction in the bounce rate.
With this service, you can filter low-quality emails from high-value contacts and send them to real customers. It helps you to boost your leads, make sure that your emails are delivered in inbox, and help you focus on generating new business.
---
---
Notable Features
Role Account Detector –  EmailMarker detected role-based email addresses that are not associated with a person but an organization, group, business, brand, etc. Such email addresses are excluded from receiving emails because they affect the deliverability rate.
Syntax Verifier – It checks each email address syntactically with IETF standards. Once a syntax error is found, Our system removes the invalid email address from your mailing list instantly.
Email Deduplication – EmailMarker identifies and merges duplicate records ensuring data quality improvement.
Domain checker – This list cleaning service can also identify domains that are invalid, inactive, or parked, and then remove such emails from your list accordingly.
Accurate Syntax Engine – Further, it detects invalid email formats and lets the good ones through.
The pricing plans of EmailMarker are quite flexible. This email list validation service allows you to validate 150 emails for free. Further, its pricing plan starts from $3 for verifying 1,000 emails. 
---
Email Checker is an efficient list cleaning service that runs on a cloud-based infrastructure for storing & distributing the data via a secured network.
With DEA (Disposable Email Address Detection) functionality, the software detects the disposable or temporary emails present in your database and automatically informs you about the same. Thereby, protecting your domain authority.
Moreover, this scrubbing tool comes with a custom-built B2B cloud platform, real-time API with Yahoo (and Ymail) function that ensures lightning-fast verification. Hence, you can verify the email address instantly & right from the dashboard.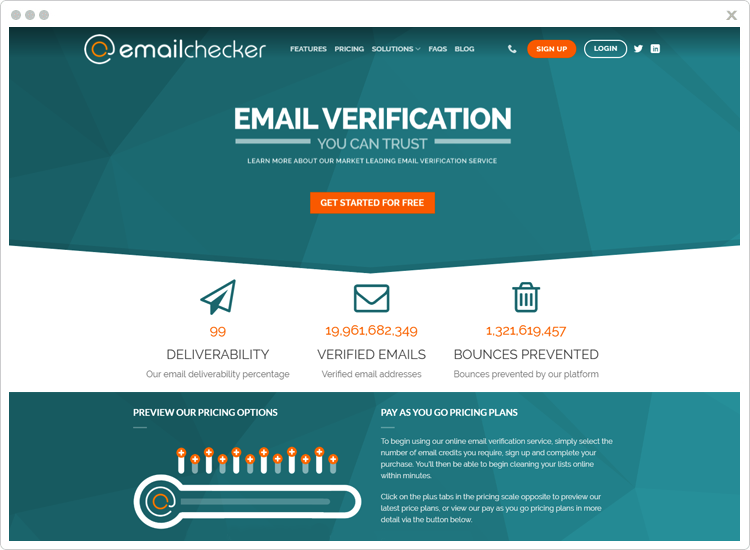 Notable Features:
Email Checker offers you a wide range of features that make it easy for you to keep a check on the email ids. Following mentioned are the best ones.
False Email Detection- This software provides an API system that helps in easily detecting whether the email address filled in the signup forms are real or not.
Domain Verification- It effortlessly checks that the email address contains a valid internet domain name. Further, it lets you know if the specified domain is configured to receive emails or not.
Check Syntax & Format- With this feature, you can make sure that the emails entered meets the pre-defined criteria such as '@' symbol is necessary. If these protocols are not fulfilled, the email address will not be accepted.
Rectification Of Errors- There are cases when the email address contains some characters that are not valid like extra white spaces, '/', etc. With the help of Email Checker API, you can automatically remove these additional characters.
On top of all this, an Email Checker offers cost-effective pricing plans. Based on the number of email credits you want to verify, you can select the pricing plans.
Starting from just $14 for 1,000 email verification credits, the plan moves on to $29 for 2,500 credits, $49 for 5,000 email credits and so on. Gradually up to 2,500,000 credits, you will then need to contact their Sales team for discounted high volume pricing.
---
This email list cleaning service is specially designed for people who are looking for guaranteed inbox delivery, low bounce rates and high open ratio from any email marketing campaign.
InkThemes Email Verification tool offers quite a number of services that any email marketer will find useful, including cleaning lists, removal of duplicate as well as potential bounces. Through all these features you can get a well-filtered email list that is flawless.
---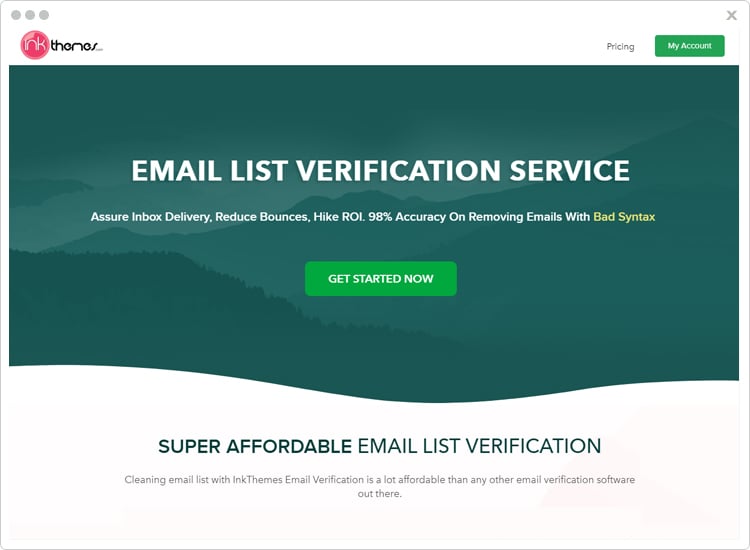 ---
Notable Features:
InkThemes Email Verification Service has quite a number of features, but the key ones are mentioned below:
Email List Cleaning – Get all bad emails on your list identified and cleaned out automatically.
Email Syntax Verification – Helps you verify and remove all email addresses in a list which have invalid or incorrect syntax address.
MX Server Connection Validation – It also checks the mail server connections to validate domain-specific email addresses.
Duplicate Email Removal – Duplicate email addresses on your list only adds to the bulk of your list. You can identify and remove all duplicate emails with ease using this tool.
Eliminate Hard Bounce & Increase Deliverability – This service keeps a record of the hard bounce messages and provides a cleaned list that gets higher open rates for you.
Suppression Verification – This email verification service automatically checks pre-suppression lists to remove bad emails from the list.
This list cleaning service gives you great flexibility as they have designed multiple price plans for different sizes of email lists. However, you can initiate by using the starter plan first which just costs $4 for cleaning 1000 email addresses.
---
DeBounce lets you enhance your email marketing campaigns by building an email list of valid email addresses only. You simply have to upload your email list and get it verified right away.
For email list validations, DeBounce uses an ESP integration as well as Batch Verification and Real-Time APIs. While verifying your email list, you simply need to choose an integration to use. DeBounce seems quite simple and is less intricate.
---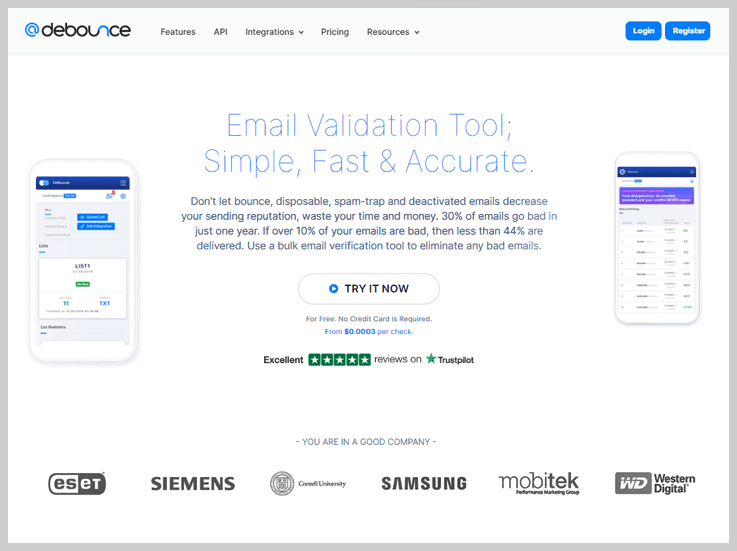 ---
Notable Features:
This email validation tool offers a couple of services or features that any email marketer or an ESP will find very useful. These include:
Email validation –

Have all the bad emails identified and eliminated from your list so you can have a clean email list to give desirable results. They support bulk verification too.

Email list cleaning –

All email addresses that are non-existent, temporary, undeliverable among other undesirable traits are erased off your list to give you a clean email list.

List quality reporting –

DeBounce allows you to see the deliverable, undeliverable and engaged email addresses on a list before purchasing it. Every email list that is imported into the validation tool gets verified and is awarded a score to describe its quality.

ESP integration – Y

ou can use one of the supported integrations to link your account, view the List Quality report, and verify your email list.

Real-Time verification APIs –

DeBounce makes it possible to verify the email addresses on your list in real-time using the Real-Time verification API. Alternatively, you can make use of the Batch API to fully verify your list.

In addition to these features, DeBounce has a pricing plan that is based on the size of your list. You can easily upload your list and determine the verification cost from their site. This is available as a one-time verification service.
If you have a bulk email list, DeBounce also provides flexible token packages so that you can verify any email addresses. Check out their detailed pricing plans on their website.
---
Snovio is one of the top email verification services. This tool aims at separating poor quality email addresses from the high-quality ones in your email marketing list.
Snovio helps most entrepreneurs solve one of the biggest challenges in email marketing: maintenance of lists. By simply uploading your email list, Snovio will do the work of identifying the undeliverable, deliverable, unknown, or risky addresses.
---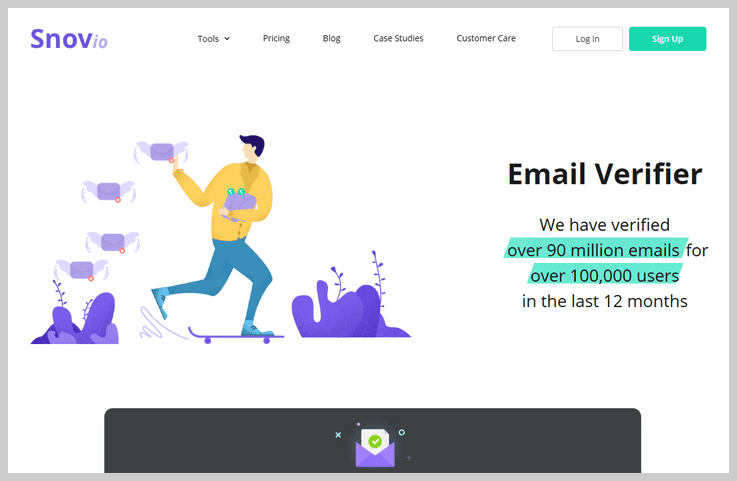 ---
Notable Features:
Snovio has plenty of top features that make the tool stand out from the other tools available in the market.
Snovio Sendex– T

his will rate each email on your list to show you its quality.

Recipient Authentication –

This does the purpose of verifying that the emails provided by your subscribers are indeed owned by them.

Multiple Integration –

Snovio works well with many email marketing services as well as sales tools, including Campaign Monitor and Drip among others.

Automatic Email Validation –

the tool automatically validates your email addresses after creating a list.

Easy To Use –

Their platform is user-friendly and intuitive.
However, Snovio pricing plans are available yearly as well as on a monthly basis. For instance, Snovio charges $39 for validation of 2000 emails, $69 for validation of 10,000 emails, $129 for validation of 40,000 emails and $199 for 100,000 emails validation. For more pricing details, check out the pricing page.
Though Snovio promises email deliverability of up to 95 percent, their tool seems to offer few features. Additionally, their pricing is quite higher than those of other email list cleaning services. 
---
Hunter is among a few email list cleaning service providers with wide global coverage, as they are operational in the United States, the UK, Australia, New Zealand, France, Netherlands, and Singapore.
Apart from having a wide geographical coverage, it offers more than just email verification services. Other product packages offered include data matching, phone verification, address verification, and data enrichment.
---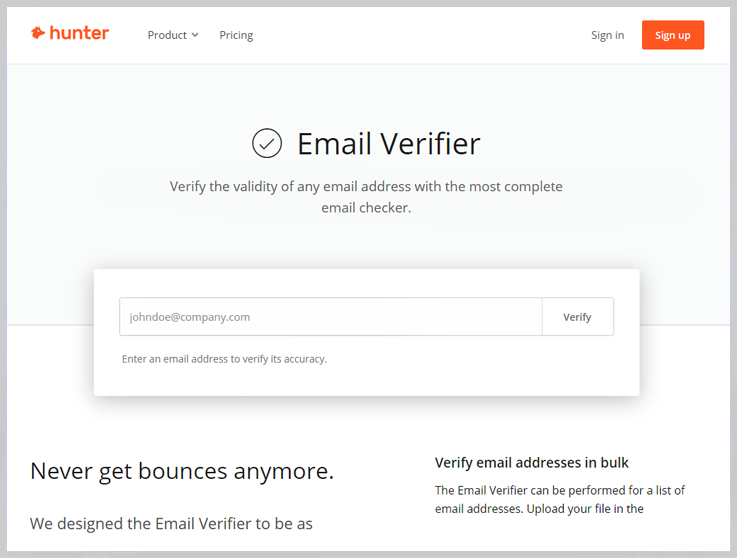 ---
Notable Features:
Hunter helps you connect your subscribers more effectively through the features or services offered. The following are the features or services offered:
Address verification –

this is a somewhat rare feature of Hunter that is absent in other email list cleaning services. Through the address cleansing app and verification app, you can keep the address information of your subscribers updated to reduce the costs of mailing and return packages.

Email verification –

this will help you maintain an accurate and valid email list, thus reducing bounce rates in your business.

Phone verification –

this is another unique feature that most other providers do not have. This simply helps you increase the list of valuable phone contacts to facilitate mobile marketing through SMS and other mobile campaigns.

Data matching –

you can use this feature to determine the hidden links that exist within the records of your customers, so you can eliminate duplicates and unneeded data.

Data enrichment –

this will help you gain a better understanding of your targeted customers to offer customized messages and experiences.
Hunter seems to be the only email verification service provider with additional services beyond the conventional ones. 
---
12. ReachMail
ReachMail is a Chicago-based email validation service provider offering email list clearing services and free email marketing services. They offer solutions that email marketers can use to create, analyze and send emails.
Their journey started in 2001 and has been focusing mainly on two things: making it easier for email marketers to enhance their email marketing campaigns and providing the best-personalized customer service.
ReachMail has proved that they have more features and a better tool for less than what other competitors offer. Their email list cleaning process is simple, scanning about 1 billion email addresses. Along with this, your addresses are also checked for invalid syntax, expired domains and spam traps. Within 48 hours a list of the invalid email addresses will be placed in your ReachMail Global Opt-Out list which you can download at any time.
---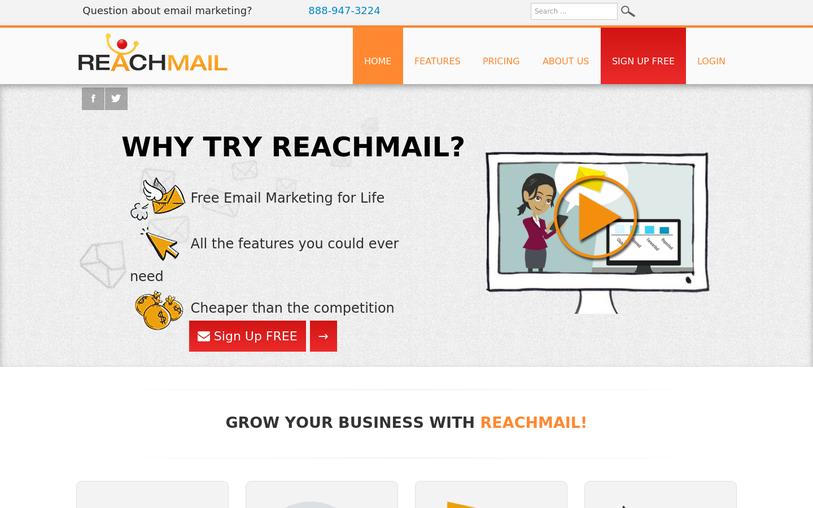 ---
Notable Features:
ReachMail offers a lot of features, which are.
Free accounts –

ReachMail offers you a free account where you can have up to 15,000 emails validated per month for free.

Free custom templates –

all the paid accounts get a custom template for free to match one's brand. This is a unique feature that distinguishes ReachMail from its competitors.

Success percentage –

their reporting feature enables you to know the success rate of your email marketing campaigns.

Integration of other platforms –

these include social media sharing, autoresponders, APIs, etc.

Email marketing –

ReachMail allows you to launch your campaign within minutes.

Social Media Sharing –

You can share your email content on social media.
Pros:
The good thing with ReachMail is that its plans are favorable for small businesses as well. Their free trial package allows you to send 15,000 emails per month to 5,000 contacts on your list.
After the trial period is over, you have to pay as little as $10 per month for verification if you are not ready to upgrade. Their free account has almost all the features of the paid accounts, except for Google Analytics, priority sending, email previews, and custom templates.
Cons:
None of their plans provide unlimited email sending facility. If you want to send more emails than what your plan caters for, you will be charged after every 1,000 emails you send at $1.50 to $0.74 rate.
Reach Mail's main aim is to offer what most of the other service providers do not have. They have many features at fair price plans that other providers do not offer. 
---
13. Email YoYo
Email YoYo is one of the most popular email list cleaning service providers in the email marketing industry. It is among the most trusted email list cleaning service providers by major brands on the web, including Yellow Pages, eBay, Microsoft Game Studios among others.
Despite being so popular among the major brands, Email YoYo seems to mainly focus on two major services: email list cleaning and email validation API.
What is most likable about Email YoYo is that their email verification API can perform real-time email validation for all business sizes without the need for software.
---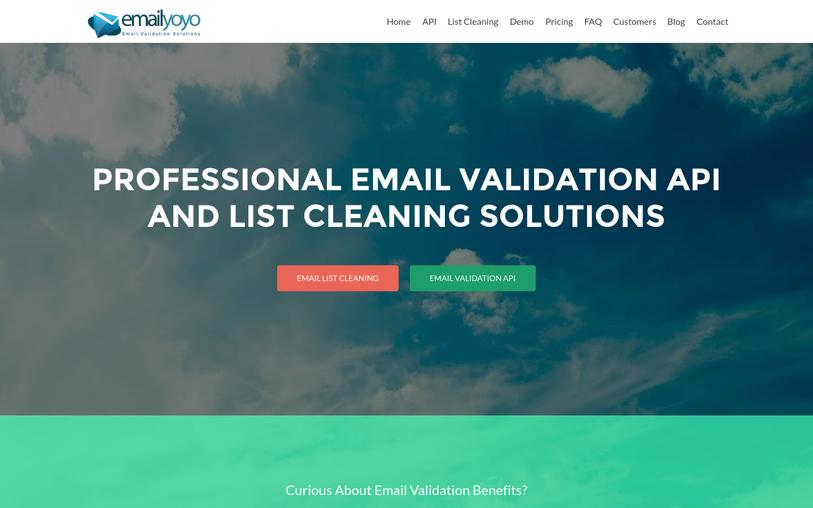 Notable Features:
Email YoYo focuses on two major services: email list cleaning and email validation.
Email list cleaning –

Email YoYo can help you identify the bad email addresses that are undeliverable, unknown or no longer functional. Both individuals and businesses can enjoy this service. This service offers verification of bulk email lists according to your list size. You simply have to select the level matching your needs from their tier.

Email validation API –

This service allows you to verify your email lists in real-time. The validation supports many software, registration process, website, app, e-commerce carts among other platforms you use in your business.
In addition, Email YoYo has a straightforward pricing plan aimed at keeping your email marketing campaign more affordable. Also, enjoy a free trial account for seven days. Once your free trial period is over, you may choose to subscribe to the paid plans. 
---
Conclusion
The above-mentioned email list cleaning service providers have varying features and services that distinguish them from their competitors. Most of the services offered mainly to meet the standard email marketing solutions, but one provider may differ from another in terms of pricing plans.
However, it's up to you to make a choice on the services that best meet your email marketing campaign needs and your budget.
For more related information go through the following blog –