Looking for the best email deliverability services to maximize your profit?
A marketer invests a lot of time and effort in designing a perfect email by incorporating various texts, images, and all sorts of eye-catching parameters. But all this effort gets wasted if the email doesn't arrive in the inbox of your targeted customer. Email deliverability ensures that the intended email reaches its destination and gets read by the audience. It increases and optimizes the open rates. Additionally, it also helps you to stand out among your competitors by ensuring that your emails are accepted by the ace inbox providers like Gmail and then arrive successfully into the inbox. In essence, it surpasses the risk of your intended emails getting blocked or marked spam.
Email deliverability is the base of email marketing. Hence, it is safe to say that successful deliverability means successful email marketing. With that said, we are providing 5 best email deliverability services that will help you to maximize your profit.
Let's start with an optimal comparison between the listed services.
Comparison Between The 5 Best Email Deliverability Services
| | | | | |
| --- | --- | --- | --- | --- |
| Service | Base Price | No. Of Emails | No. of Subscribers | SMTP Relay |
| Pabbly Email Marketing | $29/mo | Unlimited | 5000 | Present |
| | $25/mo | 40,000 | Limited | Present |
| Moosend | $32/mo | Unlimited | 5500 | Present |
| | $25/mo | 150,000 | Limited | Present |
| Constant Contact | $20/mo | Unlimited | Limited | Present |
" This email marketing platform that doesn't limit its users from using any features at the base plan. It offers in-built SMTP, Unlimited Emails, Autoresponders, 2x Open Rate and many more"
The first in our list is the Pabbly Email Marketing service. It is the most trusted email deliverability service of the marketers at present. It comes with its own SMTP server that ensures up to 98% of the email delivery. With this software, you don't need to worry about your emails getting lost or blocked instead of reaching the inbox of your targeted customers. Other than that, it also offers SMTP routing by which you can integrate other platforms like Amazon SES, Stripe, etc., for your bulk emailing service.
Furthermore, it not only offers the best deliverability but also comes with most powerful features like autoresponders, SMTP relay, Webhook Integration, auto follow up emails, marketing automation, affiliate management etc. The best part is, it allows you to send unlimited emails even with the incredibly affordable base plan.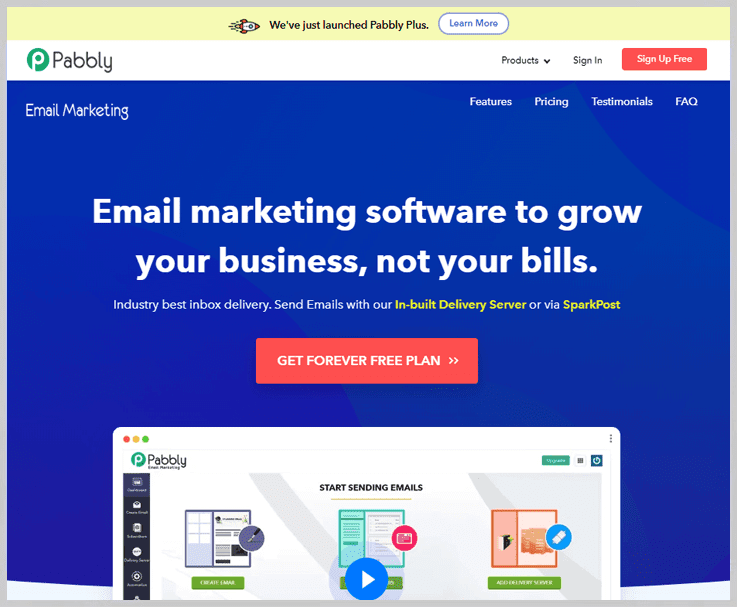 Features
In-built SMTP – To ensure up to 98% inbox deliverability, it comes with an in-built SMTP server. It makes sure your intended emails are reaching your subscribers' inbox.
2X Open Rate – This feature is very useful as it sends auto-follow ups emails for the unread emails. This doubles up the open rate.
Autoresponders – Autoresponders are very important in order to increase customer engagement. This feature of Pabbly Email Marketing allows you to send greeting emails to your new subscribers.
MX Cleaner – It is a functionality that helps you to clean your contact list by discarding all the unimportant and invalid email addresses.
List Management – The list management feature allows you to partition your subscriber list on any preset criteria like age, location, or gender into various categories and send specific emails to each group.
Email Tracking – This feature makes it very easy for you to monitor your email campaigns with the help of detailed delivery reports. You can easily determine whether or not your email is getting clicked.
Subscription Forms –  You can add professional looking subscription forms into your website that helps you to grab the attention of your potential customers and increase the chances of conversions.
Pricing
Forever Free –  Pabbly Email Marketing offers a generous free plan which allows you to send up to 12,000 emails to 1100 subscribers absolutely free of any cost.
Rookie – It is the monthly base plan that comes at $29/month for sending unlimited emails for up to 5000 subscribers.
Pro – This plan is perfect for the small and medium business owners as it allows you to send unlimited emails for up to 15,000 subscribers only at $49 per month.
Advance – Next, this plan is ideal for growing businesses. It allows the marketers to send unlimited emails for up to 50,000 subscribers at a cost of $99 per month.
Enterprise – Finally the jumbo plan. If your subscribers are above 1 million then you can avail this plan by contacting the company's sales.
2. Sendinblue – Bulk Email Service
Sendinblue is another powerful bulk email service. It offers the most versatile SMTP relay mechanism that ensures higher email deliverability. These easy to connect SMTP relay servers are provided to various locations.
Apart from great deliverability, it offers advanced functionalities like Integration, Marketing Automation, Campaign reports, friendly UI to name a few. It also integrates with powerful services like Google Analytics, WooCommerce, WordPress etc.
By using its unique features like heatmaps and Click-Through reports you will be able to monitor your email campaigns in an efficient manner. Best of all, it offers an amazing free plan that allows its users to send up to 9000 emails per month without paying for anything.
Basically, It can be a complete solution to all your email marketing needs.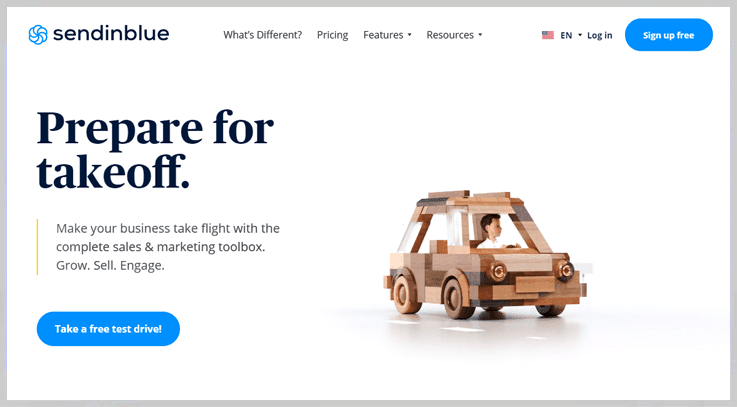 Features
Deliverability – Firstly, you get higher deliverability as its SMTP server ensures that your emails arrive into your client's inbox without any fuss.
Transactional Messages – It is a key feature of SendinBlue that allows the users to send transactional emails triggered by various customer actions like signing in, checking out. Additionally, delivery reports are also provided for these transactional emails for tracking their status.
Marketing Automation – Marketing Automation helps in increasing your customer engagement by sending them automated greeting mails.
Campaign Reports –  One of the most unique features of SendinBlue is the presence of Heatmaps and Click-Through reports. These functions help in monitoring the status of email campaigns.
Contact Management – This feature allows you to manage your contact list in a better way. You can perform certain actions like create, search, and modify for your contacts.
Pricing
Free – First, you get an amazing free plan with which you can send up to 300 emails per day i.e up to 9,000 emails per month at zero cost.
Lite – Now, the monthly starter plan which allows you to send up to 40,000 emails at just $25/month.
Essential –  With this plan, you can send up to 60,000 emails at a cost of  $39/month.
Premium – An ideal plan for growing businesses that comes at $66/month for sending up to 120, 000 emails/month.
Enterprise – Lastly, a plan for established businesses with higher numbers of subscribers. You can get this plan by contacting Sendinblue sales.
The main aim of Pepipost is to increase the inbox deliverability at lightning-fast email delivery rates. It is another affordable mass emailing service that offers several functionalities like Artificial Intelligence, Automation, fully workable Email API, smart integrations and many more. By using this service, you can reach your targeted audience in a better way by launching successful marketing campaigns smoothly.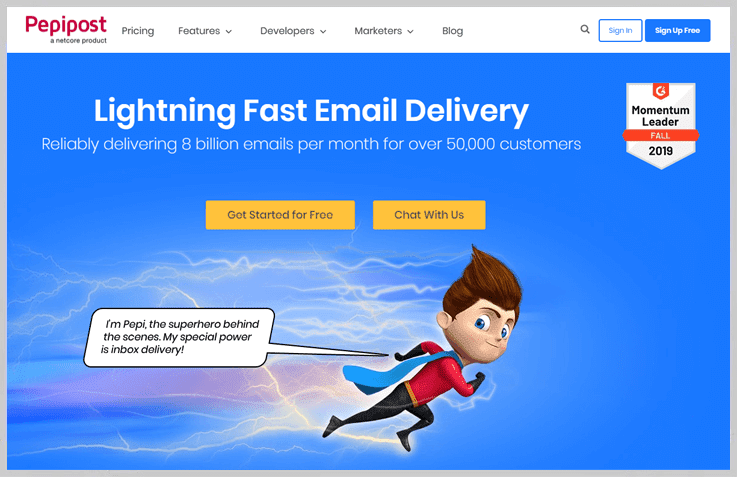 Features
SMTP – First and foremost, users get a promising SMTP mechanism that ensures outstanding deliverability. Pepipost also offers SMTP relay servers that make sure your emails are reaching the destination and gets read by the subscribers.
Bounce Forwarding – This functionality helps by sending bounce forwarding messages for every lost and blocked emails.
Email API –  Pepipost users are provided with a robust and useful email API which allows them to create and send eye-catching emails and run campaigns smoothly.
Artificial Intelligence – This is a unique feature which is very rare in email marketing services. By incorporating artificial intelligence, you will be able to track and analyze your email campaigns as well as your marketing strategies.
Security – Pepipost is a completely safe and secure service that allows third-party vendors to run checks on user data at regular intervals.
Pricing
The monthly base plan starts at $25/m for sending up to 150,000 per month.
The next plan is priced at $85 per month for sending up to 400,000 emails.
Next, you can get a plan at $145/m in order to send up to 600,000.
Further, at a price of $245/month, you will be able to send up to 1,000,000 emails.
Finally, Pepipost's highest plan is priced at $445/month  which allows you to send emails up to 2,000,000.
Moosend is an easy to set up and versatile mail campaign service. It offers higher deliverability along with several advanced features like autoresponders, CRM tools, web integration, relay servers, etc.
The best thing about Moosend is that it is very easy to install and configure. You don't need any kind of technical expertise and coding knowledge for its configuration. Moreover, this service is perfect for e-commerce businesses that make sales in digital products.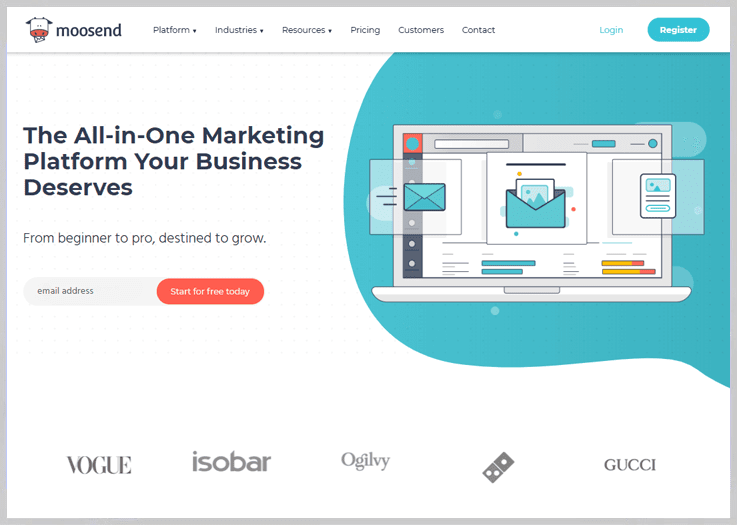 Features
CRM – Moosend offers amazing CRM tools that helps you to analyze the requirements of your customers and frame better marketing strategies accordingly.
Sign up Forms – You can add beautiful sign-up forms with multiple fields directly for attracting new customers.
 Automation – Moosend is a fully automated platform that frees you from the burden of handling the platform manually. You will be able to send automated emails to your subscribers.
Reporting- It provides detailed reports of your email campaigns. Thus, you will be able to analyze the outcomes of your campaigns effectively.
 Email Campaigns – Moosend enables you to launch valuable email campaigns and analyze them to generate more ROI.
Pricing
Moosend offers a free plan that allows you to send emails to a list size of 1,000.
The basic monthly plan starts from  $10/month by which you can send emails for up to 5,000 contacts.
Next, you will get a plan at $150/ month for sending emails for up to 50, 000 subscribers.
Last but not the least, we have Constant Contact which is another software that offers incredible email deliverability. It enables you to increase your revenue by promoting customer engagement. By selecting Constant Contact, you will be able to reach your targeted audience and encourage them to purchase your products and services.
Additionally, it offers a number of useful features like E-Commerce tools, real-time tracking, Autoresponders, List building, etc. Also, it offers a mobile-friendly interface that facilitates the customers to make transactions at any time from any place.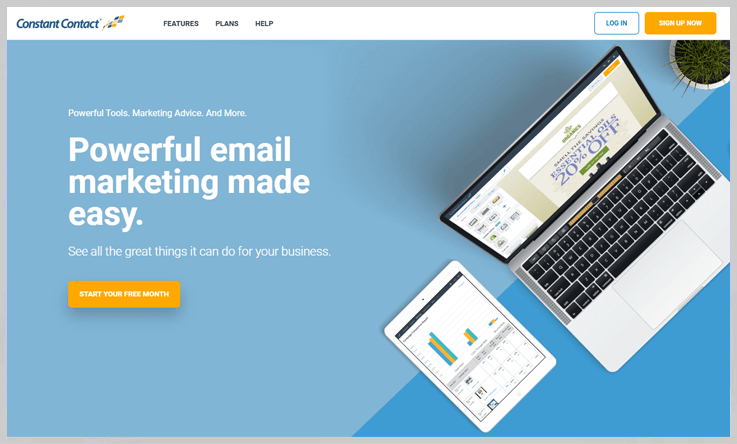 Features
Automation – Automation helps you to build stronger business relationships. Constant Contact enables you to send beautiful automation mails to your subscribers.
Contact Management – You can easily manage your contact list by keeping only the required email addresses and discarding all the invalid contacts.
List Building Tools – By using list building tools you can categorize your contact list into different subgroups based on the similar requirements of your contacts.
E-Commerce Tools – The powerful e-commerce tools offered by Constant Contact helps you to increase your sales and generate more revenue. It also allows you to use popular E-commerce platforms such as Shopify and WooCommerce.
 Real-time Tracking Tools – These tools allow you to track the status of your mail campaigns in real-time. You can also analyze the results and outcomes of the campaigns in order to determine whether or not your marketing strategies are on point.
Pricing
Lite – To get started, here is a base plan that comes at just $5 per month and you can send up to 10,000 emails.
Email – Next, this plan allows you to send unlimited emails at a price of  $20 per month.
Email Plus – Lastly, by availing this plan you can send unlimited emails at $45 per month.
Conclusion
Email deliverability is undoubtedly the foundation of email marketing. It is the first and foremost factor that you should look for while selecting the best mass emailing service for your business. We have done our part by narrowing down the best email deliverability service for you and we hope you are ready to choose the most suitable one for your business.
You May Also Like To Read: