If you like to create an effective Property based website, you will enjoy this post. Keep reading!!
When a realtor website goes successful, there's no any gimmick involved.
It's the knowledge that you need to learn and covered in this post.
Creating a bridge between the buyers and sellers for property can add an overwhelming advantage to your business.
Whether you are a real estate agent or an entrepreneur, everyone is seeking for a website that can build an online brand effectively. An ideal Real Estate website can put a treasure in your Almirah if this job is done in right way.
Also, read – 12+ Real Estate WordPress Themes
In this post, I am thoroughly putting my effort to describe you –
How to create a property listing website with full functionality when you are on a narrow budget?
However, you have not to compromise with the quality and features of your site.
WordPress – Your Website Buddy To Create A Website Of Your Dream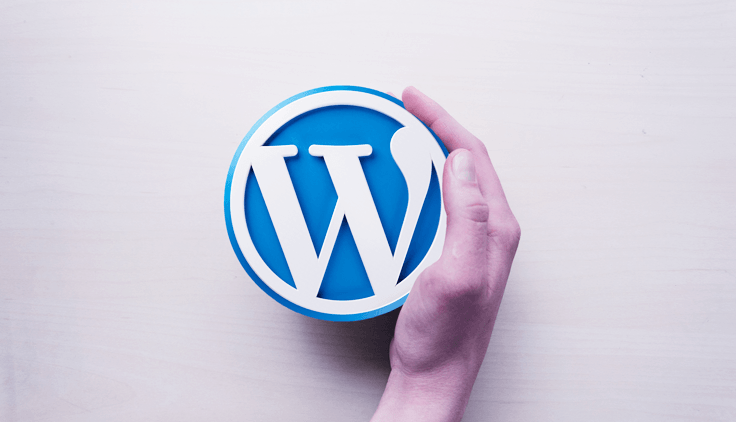 Let's start our tutorial, but first of all, for those who aren't familiar with WordPress; take a breath at this moment and keep your eyes for few seconds. Though the WordPress is the core platform responsible for setting up a complete website and also a part of this tutorial.
WordPress is one of the most influential CMS (content management system) in the world where you can start building any kind of website or blog without any coding knowledge. Here most of the things work on the fundamentals of WYSIWYG (what you see is what you get) editor.
WordPress and its theme provide a simplified dashboard as easy as like maintaining a Facebook account. The software is completely free and can be downloaded from the official website of WordPress.Org.
Integrating WordPress with your hosting provider and installing the data is not a rocket science to learn. We have written a complete guide on creating a WordPress website.
Ingredients Of An Ideal Property Listing Website
If you're going to start to make your site a great success, you have to make something authoritative.
According to the market analysis, any successful realtor websites tends to contain core features that push the audience to visit more and more pages.
I covered almost all features that you need in your website. Grab these points here:
a) The Game Of Visuals & Images
This is too important to keep an image section on a Real Estate website. Most of the audience will keep you remember due to the visuals instead of the text exists on the website. It depends on how does your web-page look. How pretty or useful your images are?
Therefore, it is a proven technique to insert an image gallery on the front page that reflects the niche and sense of a true website.
It is reported that image used in a website can help you to boost organic traffic and page-views by 200 percent with a right strategy.
Tip: Keep reading, I am going to present a great source to solve your problem ahead.
b) Ultra Advanced Filters For Homes & Plots
A real estate website would be more productive when you make it streamlined, organized and user-friendly. Instead of arranging for different data in different pages, the filter search options system proactively searches the desired result for users.
Just search for a category and the filter system will recognize and fetch the site for relevant data.
Example:
Suppose, your real estate site is based on flat, villa, bungalow or house listings, just think – how will any user supposed to find their dream property on a silver platter.
Your Site can sort the results by how many bedrooms your audience is looking for, how much area they want, pricing options and other location based filter option.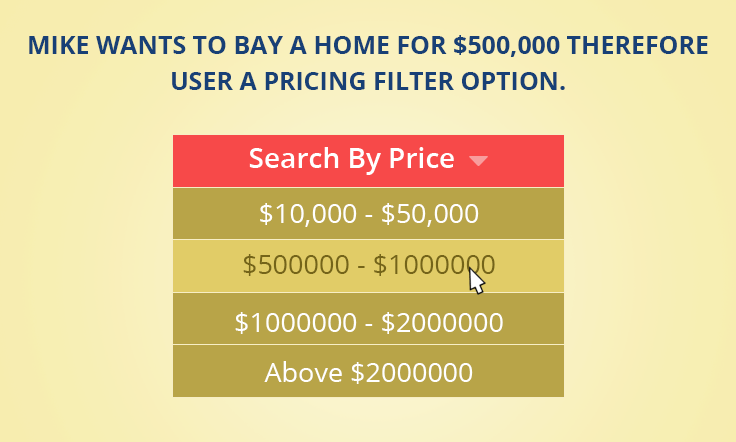 These following filter-options will make your property website great and, believe me, this feature will increase the average time spent by the users on your site.
Pricing options
Number of bedrooms
Area or size of the property
Location
Any other amenities
c) Interface For Displaying Relevant Information
Now, if you want to see some great results with your listing website, it's time for you to move through some tactics that most of the productive sites used.
Also, if you are stuck in what other information you should add to your real estate website. It's easy with my described interface. I had mind-mapped and observed the industry specific sites that had the striking interface. Therefore, you must add the things that your targeted crowd were interested in.
So, here's what to include on your homepage to turn your site into a compelling traffic driven source.
Featured or Premium property listing:
You can highlight several properties in the prime area of your website. This area is probably the homepage/frontpage where chances are high to move the multitude of eyeballs to few selected properties that you want to sell on the priority basis.
This is also a killer way to display featured properties to reflect an idea that – you got up to the trade by having premium clients who want to list their house on premium space.
Room for latest property posting:
Probably, your new and existing client both groups of the audience are looking for new property listings that they can use for buy/sell preference. So, the listing for fresh villas and lands must be inserted on the homepage.
Are you really assured that you make a regular or weekly listing of new properties? How often do you post them?
And most importantly when audience frequently looks fresh posting on your site, they tend to turn in returning visitors and multiply your pageviews.
d) Dedicated Listing Page For Property Listing
Your users want a dedicated page for property listings as they could get their hands on. This web-page will be sure to make your audience to search the property again and again.
Therefore, a listing page is a quintessential tool to inspire the people that gauge the user interest in your particular page. Such type of service is referred as MLS (multiple listing services) in real estate industry.
Getting Started With HomeBuilder & WordPress
If you are serious about to creating a real estate site yourself, it must your first effort to learn and know about WordPress as much as you can. These are some steps mentioned below to bump up your efforts for creating a Realtor website.
Having a good domain name
Purchase a hosting account
Integrate WordPress with your hosting provider
In the bottom line, once you have installed WordPress on your hosting provider, you need to install a WordPress theme that offers up the custom presentation of an ideal property listing website. All properties, functionalities, and design elements rely on the WordPress theme itself.
Now, I am presenting an easy and to-the-point solution.
At the time, you will have a basic idea about WordPress, and it's an opportunity to whip up with a quality real-estate WordPress theme named as HomeBuilder.
The theme is developed with a polished layout used to present full functionalities of a property site. It is framed with MLS interface that provides a suite of features to the brokers and realtors to keep their site with full of property listings.
Tip: When you create the things the right way, your clients are happy to visit your site to give you a great business – and – this is what HomeBuilder WordPress theme does.
HomeBuilder is the one of the best property WordPress themes and has the potential to blow you away, so – why not make your site a top one with the theme.
After a day-researching of the HomeBuilder theme, I am presenting some of the result driven features of the theme that you want to see.
Features of a Realtor WordPress Theme
Optimized Homepage
Is your homepage enough to drive potential customers? Or it is poorly designed?
Creators of the HomeBuilder theme have strategically inserted a predefined layout for the homepage that attracts the audience who might wish to involve in your website.
Premium Image Slider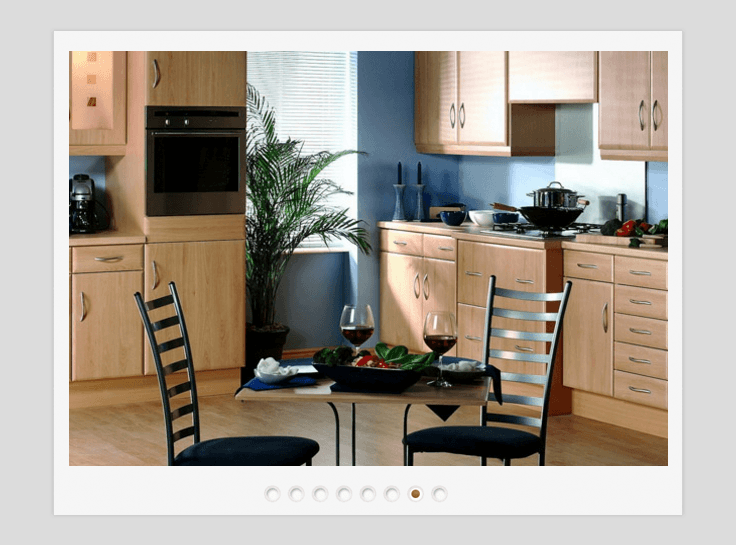 Your site is based on the trading and brokerage of flat, property, bungalow or any other asset, and therefore, HomeBuilder uses a premium image slider to go along with it. The theme option panel has a link to the slider option and provides the custom images for sliding.
Custom Filter Options For Browsing Properties
The theme is integrated with a custom filter options where you can create categories and create filters for each category itself. As stated earlier, this is a very important feature for an MLS website.
Featured Property Listing

At this point when you run an awesome website and want to send your property listing info to a wider crowd, therefore, featured listings have been integrated on the homepage of HomeBuilder.
To grab an idea of what these featured listings look like, again you can check the demo page of the theme. Further, You can insert the ads of properties by charging money to your clients.
Latest Property listings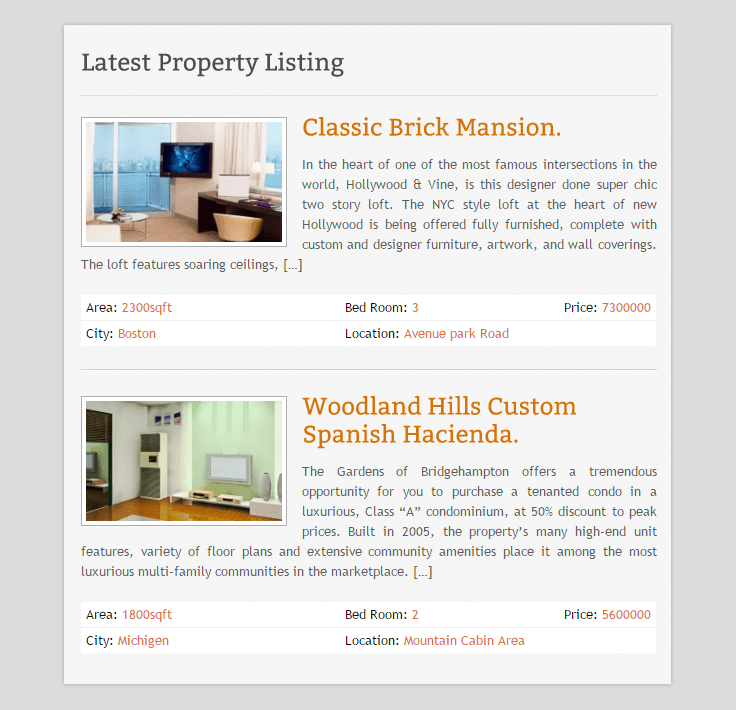 Besides featured listings, you have another benefit that arises from the latest property listings. The theme uses latest property listings on the homepage, and it ensures the frequency of your posting and new assignments from time to time.
Gallery Page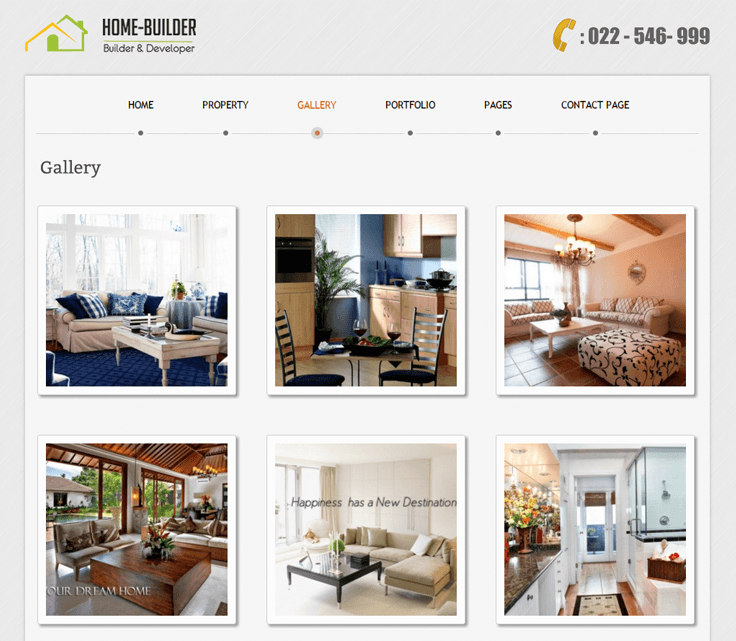 Images are most integral part of any websites and gallery presents the collection of images in an appealing manner. You can easily create a Gallery page with HomeBuilder to make a real estate site more visually compelling.
Custom Page For Property Listings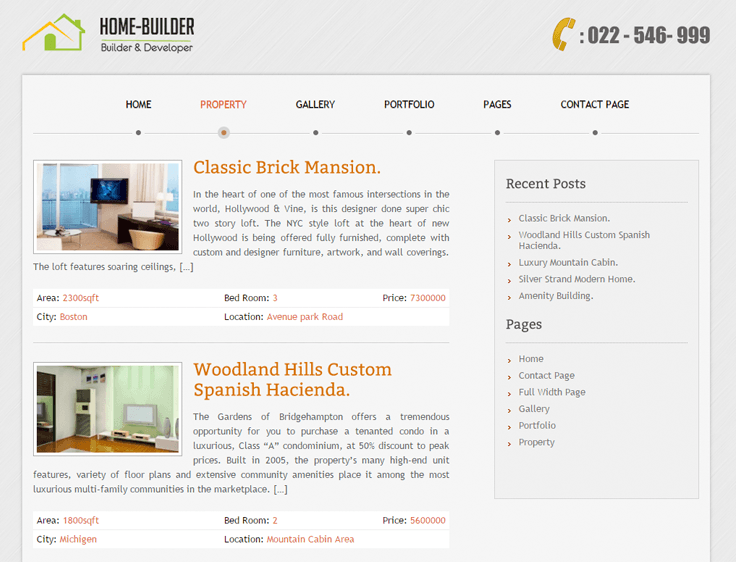 This is one of the most enticing pages where you can keep engage your audience for a long. The page is exclusively dedicated for property ad posting with a lot of custom information.
Portfolio Page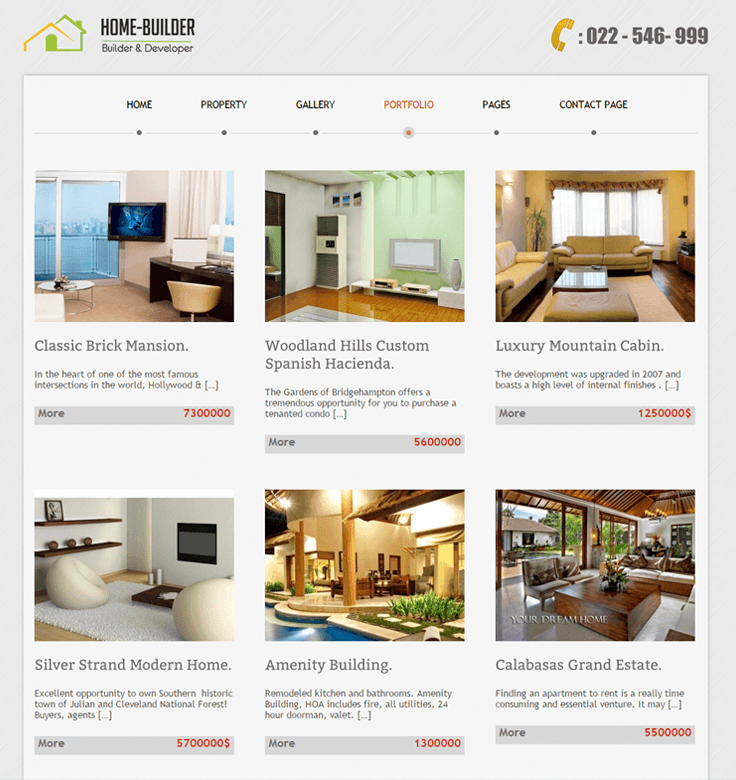 Probably, you have some of the greatest deals in past that have a successful conversion on your site, or you have the client's property images to deal in. These images can be shown in Portfolio page and thanks to the HomeBuilder theme, you can mention your favorite deal images with proper information on the portfolio page.
Custom Background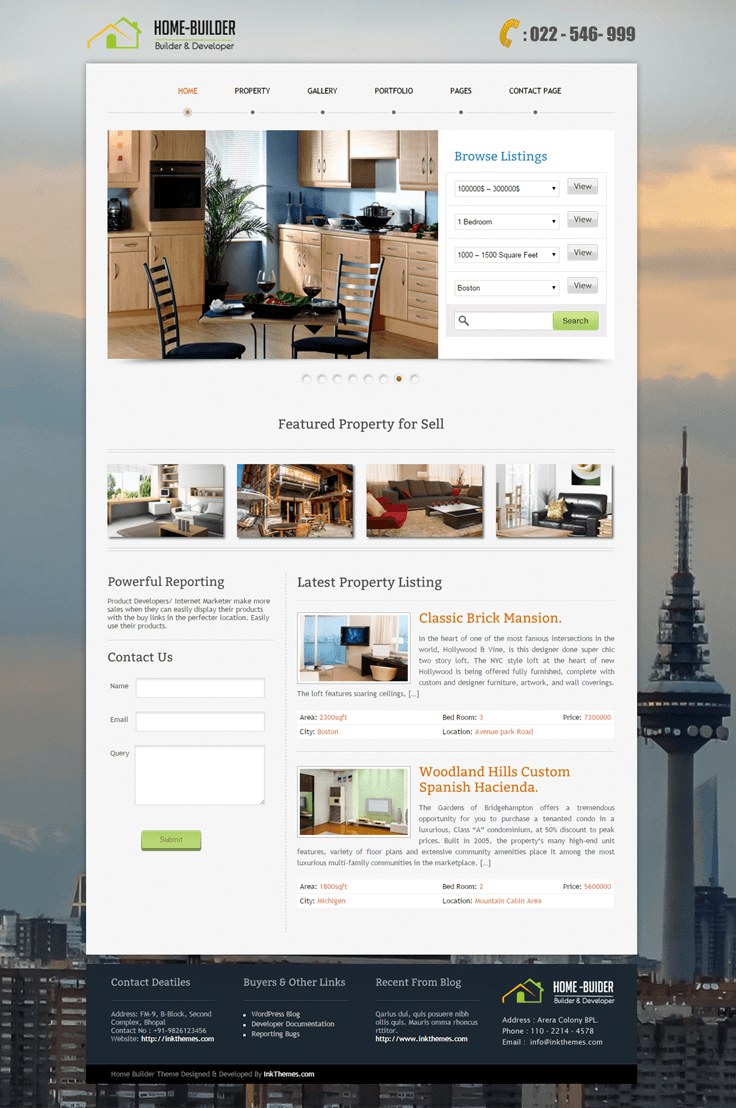 Custom background is the source of image and visual in actions but if you want to get an exact quality from this feature, you need to insert the most appropriate image that reflects the desired industry.
Multiple Plugin Integration
When it comes to some of the add-on features you want to integrate with the website, HomeBuilder is compatible with almost many popular plugins like SEO plugins, designing plugins, MlS plugins like Lava Real Estate Manager.
Responsive Design
HomeBuilder uses a responsive design for an extremely straightforward reason – and this is – your customer can find you on iPhone, mobiles, tablets and other screen sizes.
Conclusion, All features that I described above turns any realtor website extremely enticing.
The theme has almost all things to create a perfect property listing website. It's because the features give the audience a unique layout to cling to. What do you think about HomeBuilder? I would love to hear the voices in the comment section below.