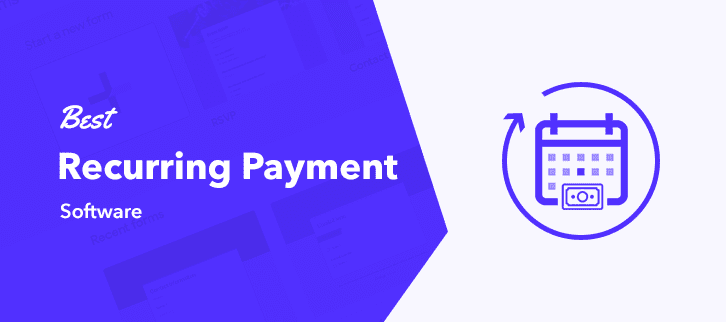 Is your organization offering subscription-based products and services? If yes, then it is essential to have reliable recurring payment software. With such software, it becomes easy to manage automated payments and subscriptions. In addition to that, record-keeping, tracking invoices, and providing refunds become easy.
Manually managing subscriptions and billing becomes a tiresome and lengthy process for companies having more number of clients. In such scenarios, it becomes a tedious task to collect information like plan details, contact number, address, etc. at a single pace. Your organization will end up hiring more employees but still fail to witness the desired results and accuracy in data.
In such scenarios, affordable recurring billing software comes to your rescue. It designed and developed to meet the management aspects of your subscription business. There are various software options available in the market, and we have compiled the best five amongst them. Therefore, the process of extracting information from different websites no more exists for you. In this article, you can learn and explore various features along with its pricing.
Comparison of Best Recurring Payment Software
| | | | | |
| --- | --- | --- | --- | --- |
| Services | Pricing | Additional Transaction Fee | Affiliate Module | Custom Domain |
| Pabbly Subscription Billing | $19/mo | No | Yes | Yes |
| | $6/mo | Yes | No | No |
| MoonClerk | $15/mo | Yes | No | No |
| PayWhirl | $49/mo | Yes | No | No |
| Zoho Subscriptions | $39/mo | Yes | No | Yes |
"This software does not restrict users on revenue and customers. In addition to that, it is only the software in the industry that does not charge an additional transaction fee from the users."
This software can single-handedly address all your subscription billing requirements. It can meticulously manage all the aspects from payments to reporting. Users can conveniently create unlimited products & plans and sell them through the checkout pages. Tracking the details of customers and their subscriptions, from a particular section, becomes quick and easy. The invoices can be automated and sent via email. An inbuilt affiliate management module makes Pabbly one of the top recurring billing software. Above all, it is pocket friendly and easily fits into all types of budgets.
Users can add limitless customers and generate unlimited revenue from a single account, without any extra transaction fees or taxes. At no additional cost or hidden charges, it provides business with a suitable environment to grow and nourish their operations and revenue. For collecting hasslefree payments, it offers integration with Paypal and Stripe.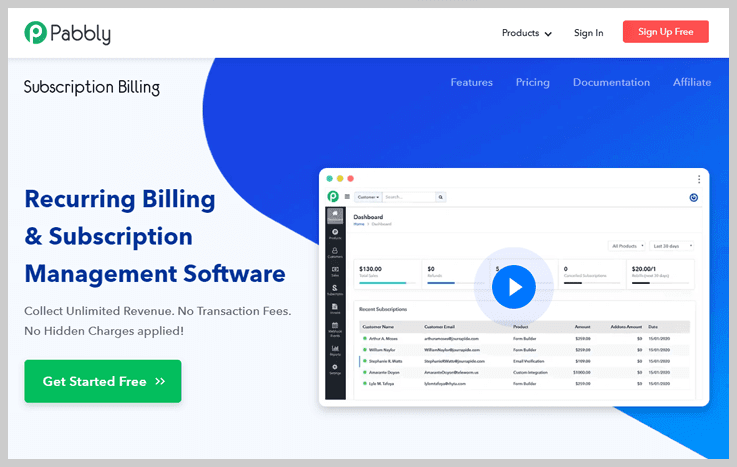 Features
Easy Invoicing – All the payments can be tracked anytime. Users can have access to shareable invoices that maintain all the records.
API Access – Pabbly Subscription Billing offers a full-fledged API with extensive documentation to meet the needs of the users. This also helps in all-round management of various aspects of billing.
Webhook and SaaS Integration – The Webhook integration helps users in performing all the required actions to complete a task. It can be any task from purchase to cancellation. It is also possible to integrate this software with any SaaS application using the API keys.
Autofill Checkout & Embed – Ths features help in embedding a customized checkout page on your website. By using a simple code, it is possible to enable data autofill for the customers.
No Extra Charges – Pabbly Subscription Billing is a cheaper recurring payment software because they do not charge any additional fees except the monthly subscription fee. There is no policy of revenue sharing or collecting transaction fees from the customer.
Offline Subscription Cycle – This feature is for the customers who do not prefer automatic payments. An offline subscription is created for such customers, to facilitate their preferences and needs.
Affiliate Management System – This is the only software in the market, that clubs subscription management, with a pre-integrated affiliate management module on a single dashboard.
Sales and Analytic – This feature helps in generating an in-depth and descriptive analysis of sales, net revenue, etc. from the dashboard. This helps the users in conducting business analysis and improvising strategies.
Pricing
The software does not restrict usage of features on selecting any of the following packs. This makes it the best recurring payment software.
Starter – Buy this plan at $19/m for use by up to 50 customers.
Rookie – The price of this plan is $37/m. It offers management of subscriptions for up to 100 customers.
Pro – This is a popular plan of this software, with a price of $57/m. Users can manage the subscriptions of up to 150 customers.
Advanced – Customers having high-volume requirements can choose this plan. The price is $79/m for subscription management of up to 250 customers.
Freshbooks is a reliable, fast, and easy accounting suite, for addressing complex financial management needs of an organization. Users can quickly create elegant and professional invoices without any experience in accounting. It offers automation for tasks like client follow up, expense tracking, etc. It offers third-party integration with apps like Paypal, Stripe, Shopify, and G Suite for a seamless payment experience. In addition to these features, users can chat with customers and also receive dynamic updates. This is one of its kind all-in-one accounting solutions and business invoicing software.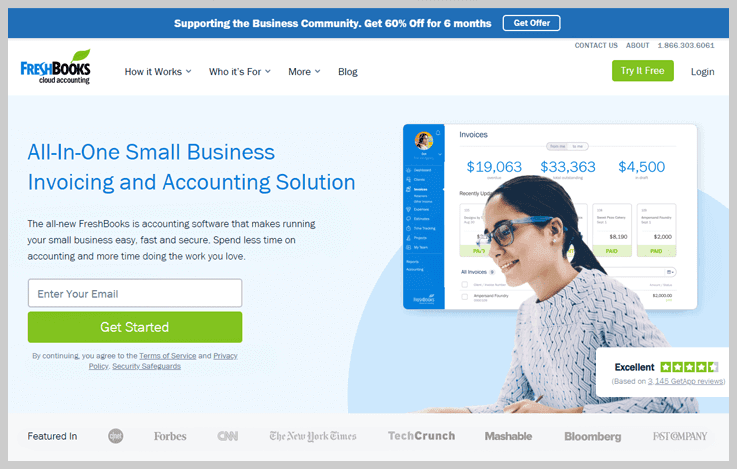 Features
Invoicing – This feature simplifies the process of creating and customizing invoices. Users can easily add a logo and make necessary settings for discounts and applicable taxes.
Expense Tracking – Users can connect their credit card and bank account with this software. This helps in eradicating the manual entry process. The account details are updated on the system every day. A copy of all the receipts is available on the cloud. Necessary categorization of expenses is possible.
Time Tracking – This feature helps users in tracking the time spent on clients and projects. Tracking and analyzing the work efficiency of an individual or a team is possible.
Collaboration – Users can easily collaborate with their internal teams, contractors, business partners, and employees. Such collaborations help in boosting productivity. Admins can manage the permission and access authority of each collaborator.
Payments – This feature enables customers to directly pay through invoices, with multiple payment options. There are no hidden charges, and the payment is recorded automatically in your account.
Accurate Account Reporting – The software identifies the revenue elements and provides an accurate calculation of profit & loss. Users can generate reports like balance sheets, trial balances, journal entries, general ledgers, and others.
Pricing
Lite – This plan is available at $6/m for five billable clients.
Plus – Buy this plan at $10/m for fifty billable clients.
Premium – Users can buy this plan at $20/m for five-hundred billable clients.
Select – For addressing the requirements of thriving businesses of five-hundred plus billable clients, this plan can be selected. Visit the website and request for an exclusive quotation.
MoonClerk is an affordable recurring billing software facilitating one-time and recurring transactions for organizations. It offers a wide range of solutions for addressing the needs of payment management for businesses of all sizes and sectors. This software can assist users who do not have a website because it can host almost everything. For all kinds of payments, users can easily set parameters such as duration, start date, checkout, and trial period. It is not necessary to have a merchant account to receive payments. MoonClerk contributes to business processes such as automatic notifications, data import, developer options, coupon creation, etc.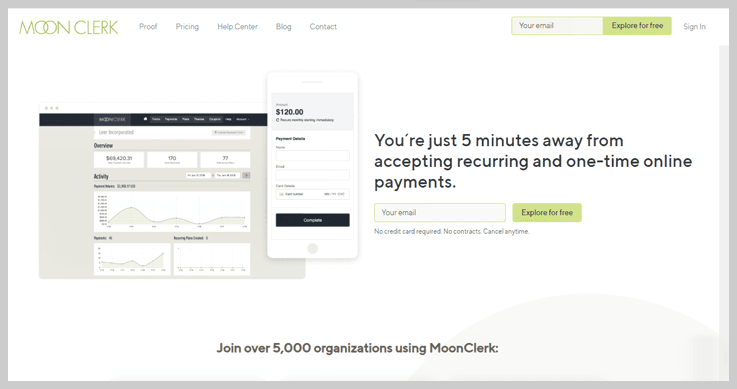 Features
Back-office Automation – This feature enables users to send funds to their accounts automatically. Integration with third-party software is possible. It retries for failed payments automatically. According to the event, it can send customized email notifications. Users can conveniently filter and export the required data.
Controlled Payment Process – Users can take the granular control of their payment process. It helps in the set up of custom frequencies and durations. It also helps payers in choosing their preferred recurring options. Accept payment through various mediums like credit/debit cards, Google Pay, Microsoft Pay, etc.
Customization – MoonClerk enables users to customize the entire checkout process with unique styles. Embed the checkout window on the website. One can add custom colors to match the palette and upload the desired background images. It is also possible to add custom CSS and brand logo.
Security – The developers claim to have in-built bank-level security for its users. It offers full SSL encryption and secure hosting. It is in compliance with the norms of Level 1 PCI.
Pricing
The pricing automatically adjusts based on the volume of the usage. This makes MoonClerk a cheaper recurring billing software compared to others.
Pay $15/m for monthly payment volume up to $2000.
Users with monthly payment volume up to $4000 have to pay $30/m.
To manage payment volume up to $7500, users have to pay $50/m.
For high-volume payment management up to $12500 and $20000, users have to pay $75/m and $110/m, respectively.
One can request for the pricing of other high-volume requirements from the website. Users can also buy optional extensions like digital delivery and MailChimp Pro at $15/month for each extension.
4. PayWhirl
It is the most flexible subscription payment software for businesses having repeat customers or charge customers on a recurring basis. PayWhirl installation takes only a few minutes on any existing website. This makes it better than developing custom billing software, which requires more time and investment. It has one of the best customer portals and offers world-class customer support. Furthermore, it supports multiple languages like German, French, Italian, Japanese, Spanish, and many more. One can use it for small businesses and giant e-commerce companies as well.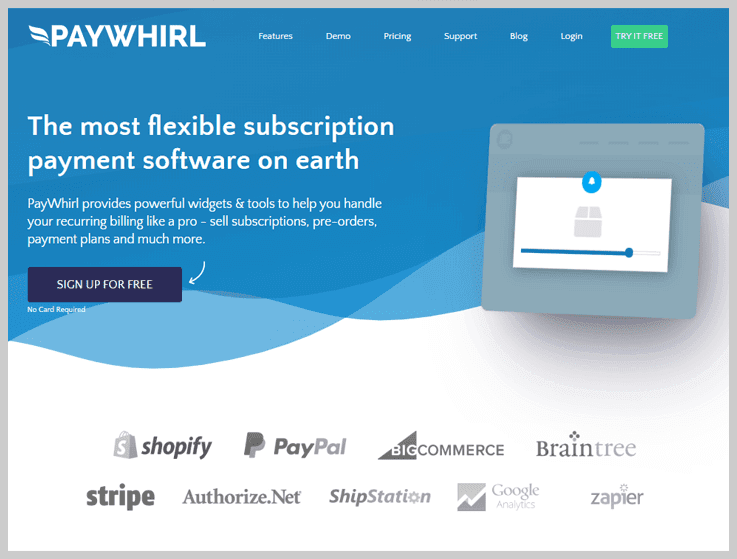 Features
One-Time Payments – PayWhirl comes with a smart shopping cart to identify subscription and single-payment items. This helps the customers in efficiently checking out with both at the same time.
Ease-of-Payments – The software accepts all major brands of credit cards for accepting payments. Customers also have an option to add their bank account and pay directly through it.
Customization – This feature enables users to edit the HTML and text of all invoices sent from the system. In other words, users have complete control and access to overall communication. In addition to that, they can also choose beautiful and elegant default templates.
Data & Metrics – Grow your business with powerful reporting tools that help in making better decisions. It is possible to track monthly recurring revenue and annualized run rate. This helps in generating sales metrics that help in staying at the top.
Payment security – PayWhirl is securely built for payments and avoids storing card numbers in its server. It runs on SLL and is secure with TLS 1.2 cryptographic protocol. In addition to that, it supports payment gateways in almost every country.
Pricing
Business Pro – Buy this plan at $49/m. Users will have to bear an additional cost of 2.0% per transaction. It includes featured gateways, three account managers, phone support, and other features.
Business Plus – This price of this plan is $149/m, and the additional transaction cost is 1.0% per transaction. It includes all the features of Bussiness pro with ten account managers and customer report facility.
Business Ultimate – Users can buy this plan at $249/m, and the additional transaction cost is 0.5% per transaction. It includes all the features and benefits.
5. Zoho Subscription
This software is one of the smartest recurring billing solutions. It is possible to manage the entire billing customer lifecycle. The requirements of growing businesses are at the core of its designing process. The software helps in addressing payment failure issues and also chases overdue payments from clients. One of its peculiar and most-liked features is multi-currency invoicing. Zoho books record all the transactions without any manual entry. For corporate operations, it offers a vast range of apps and integrations. The majority of the processes in the software can be automated, and this makes it one of the top recurring payment software. Users can perform various tasks with just one push of a button.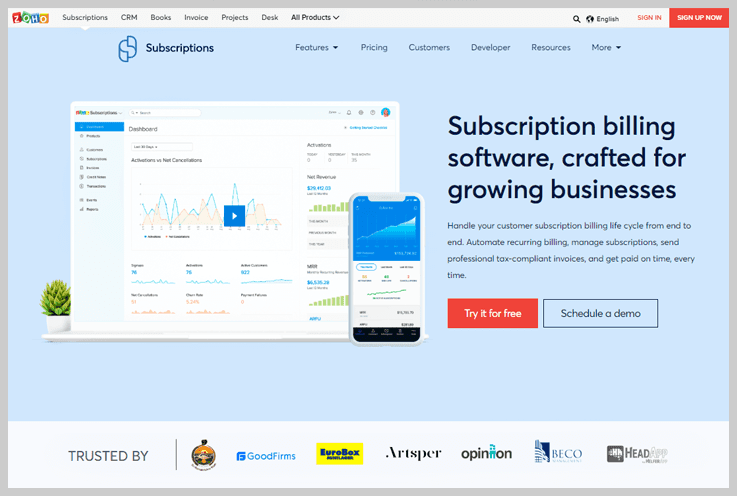 Features
Recurring Billing – Users can set up an auto-bill operation for their clients. One has to add the billing cycle and frequencies for a product or service. Based on the input, this feature will automate the entire operation and send invoices before the due date. The clients are billed based on their prorated usage.
Manage Multiple Subscriptions – The subscription management process becomes complicated for customers having multiple subscriptions. This feature sends a single consolidated invoice to a customer with multiple subscriptions. On top of that, the credits are also automatically adjusted.
Webhooks – It is easy to track subscription changes with Webhooks. Users are notified, on the service's URL, on the occurrence of a specified event.
Subscription Metrics and Reporting – Zoho Subscriptions offers 40+ tools of metrics & analytics for analyzing your business operations. Users can quickly review insights like monthly recurring revenue, churn rate, etc. It also offers access to financial reports like net revenue and activity-based reports like API usage and activity logs. One can also generate customized reports according to the requirements.
Developer-friendly API – This software offers open APIs to its users. This helps in customizing the software right from the basics to the more advanced operations. Users can find everything related to it in their comprehensive API documentation. They also offer expert support throughout the setup process.
Pricing
Basic – The price of this plan is $39 per organization per month. Users can manage 500 customers and three automated modules.
Standard – Buy this plan at $79 per organization per month. Easily manage 2000 customers and ten automated modules.
Professional – Users can manage 5000 customers and ten automated modules with this plan. Buy it at $199 per organization per month.
Conclusion
The above-read is a compilation of the top recurring payment software available in the industry. Every business has a unique set of requirements and demands. Depending upon the customers and business type, a suitable program can be selected. In conclusion, remember that impactful software will determine the growth and sustainability of your business.
You May Also Like To Read: