It's an era of Email marketing which surely is one of the top channels to drive traffic, improve engagement, and generate business. But, most of the time our mailboxes get crammed with unwanted emails, offers, and advertisements, spams, etc., which leads to a piled-up mailbox. Then you need to get rid of it, so we rush to find what is important and what is not.
Zerobounce is one of the platforms where these tasks are performed. It performs various tasks and duties like removing email addresses that don't exist and misspelled email addresses, identifying and removing spam emails. Furthermore, it has an AI which is an email scoring system that helps in rating the value of email addresses.
Now, as Zerobounce has some pros it also has some cons like its filters do not work properly and find their ways back to your inbox. Besides, sometimes the results are not accurate or proper.
Just like Zerobounce, there are many services available in the market that perform these tasks in a similar and in a much better way with some extra features. So, let's have a quick view on the list of 5 best Zerobounce alternatives that we are going to present in this piece of write up.
Quick Comparison Between Best Zerobounce Alternatives
| | | | | |
| --- | --- | --- | --- | --- |
| Service | Basic plan | Manual  Verifications | No. of Verification | Greylisting Verification |
| Pabbly Email Verification | $5/mo | Yes | 1000 | Yes |
| DeBounce | $10/mo | No | 5000 | Yes |
| Clearout | $20/mo | No | 5000 | Yes |
| Mailfloss | $17/mo | No | 10,000 | Yes |
| Hunter | $49/mo | No | 1000 | Yes |
"Pabbly Email Verification is the only tool providing explicit results by taking verification at the slowest speed."
It is the best Zerobounce alternative, It is the only software that provides accurate results by verifying the emails at a slow speed to minimize oversights and flaws. It sends a ping request to the recipient's email server to verify, and the server responds back to the request to tell whether the email is valid or not. Further, the ping request is sent at a very ideal speed so that the mail server can send you the accurate data and can accept the request properly. This removes hard bounce, verifies email addresses, removes inactive or fake emails from your list, and gives you a clean list.
Besides, it offers features such as syntax eliminator, spam trap removal, email deduplication, etc. They guarantee better email verification results than anyone through their manual and human involved process.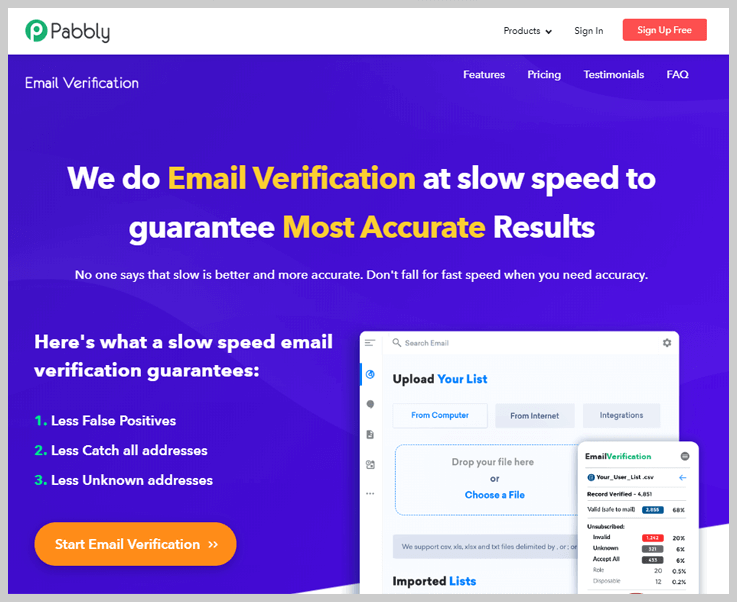 Features
Minimum Bouncing – Pabbly Email Verification ensures the validity of the email addresses that were not validated properly.
Syntex Eliminator – Removing the email addresses with invalid characters from the email list.
Domain Confirmation – Email addresses with non-working, fake, and inappropriate domains are removed.
MTA Validation – Checking whether the email transfer agents have the valid MX record or not.
Anti Greylisting – Greylisting is an anti-spam technology at mail servers to prevent spam, this is what Pabbly has for accurate results.
Email Deduplication – Remove duplicate email addresses from the list immediately.
Pricing
The price of this service varies between $5 to $2999 in which you get 1000 emails to 10M emails.
2. DeBounce – Email List Cleaning
The next one in our list is DeBounce which assures fast and accurate email validation and email verification alike Zerobounce. It cleans your list by detecting invalid, spammy, or non-operational mailboxes. They make sure that no one on your list receives an unsolicited email during validation. With this, you can also check any email address right on their web page to know whether it is working or not. DeBounce give 100 free credits while on registration.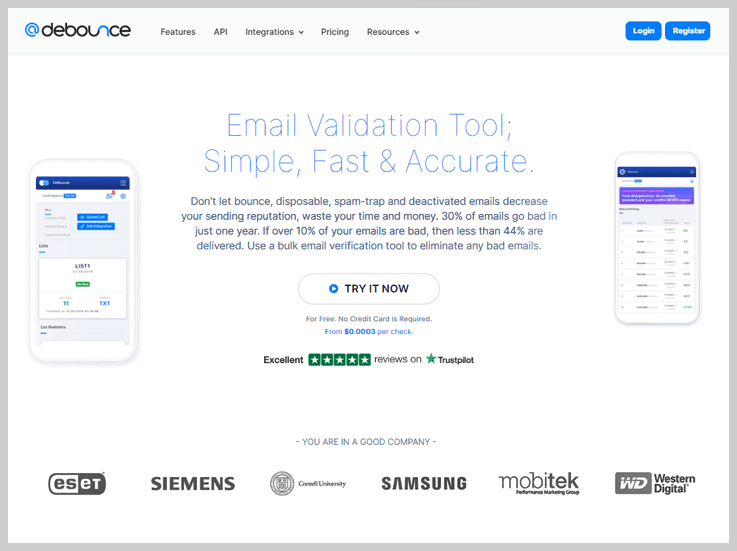 Features
Minimum Bouncing – Keeps removing invalid and hard bounce email addresses from your database.
Disposable Email Checker – DeBounce has a checker which indicates the fraudulent activity online  and fights back against spam
Domain Checker – Email Verifier keeps check on the domain (google, Yahoo) of the emails and then accepts them, misspelled emails are removed automatically.
Syntax Eliminator – All the email addresses with invalid syntax are removed immediately from your mails.
Email Duplication – The emails that are in your inbox for more than one time with the same content are removed automatically.
Pricing
Free – As you register you get 100 credits for free which you can use instantly.
Paid – The minimum price for the service $10 in which you get 5000 emails and the maximum is $1500 for 5M emails.
3. Clearout – Email Validation Tool
Clearout is the next Zerobounce competitor which does bulk validation of emails and provides 20+ validation checks at an affordable price which Zerobounce lacks. Further, it gives the accuracy of 98%+ to keep your sender reputation. A platform that minimizes efforts by supporting API on a real-time basis at an affordable rate. Clearout clean up your bulk-email lists from invalid, improper, and fake emails to keep your sender reputation and email deliverability.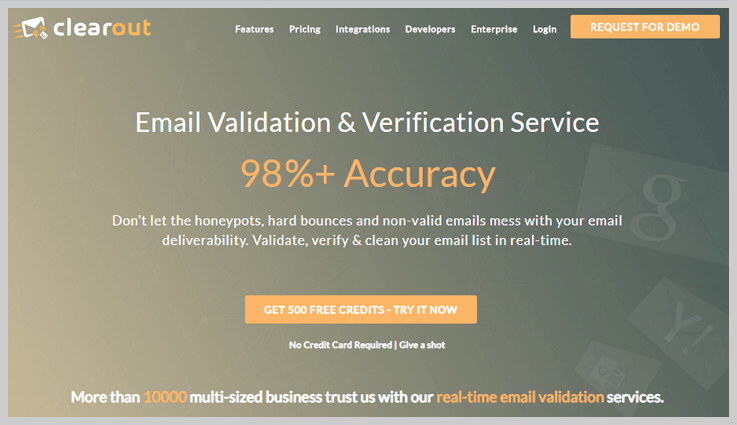 Features
Catch-All Verification – Identifies all type addresses to avoid emailing to improve the overall deliverability hygiene.
Spam Trap Detection – Multi-layered algorithm determining the chances of an email address to be a spam trap.
Role Account Verification – Identify email addresses like admin, support, or sales from the list and remove such types of emails from your list.
Free Account Verification – Checks whether the email addresses are using free services such as Gmail and Hotmail or not.
Bulk Email Verification- Clear up your email list with just a single click by uploading your email database.
Pricing
Free – Get a free trial as well as free account verification as you go on to register yourself for the first time.
Paid – The pricing starts from $20/month and goes $2800/month in which you get 5000 verified emails to 5M verified emails.
4. Mailfloss – Bulk Email Verification
Mailfloss is the next and fourth Zerobounce alternative which removes invalid email addresses before it creates any problem to you. To get in the front of your ideal customer Mailfloss need to be connected with your email service provider and then it removes the unwanted and invalid email address automatically. Further, this performs this function on a daily basis to increase your deliverability at a very affordable rate.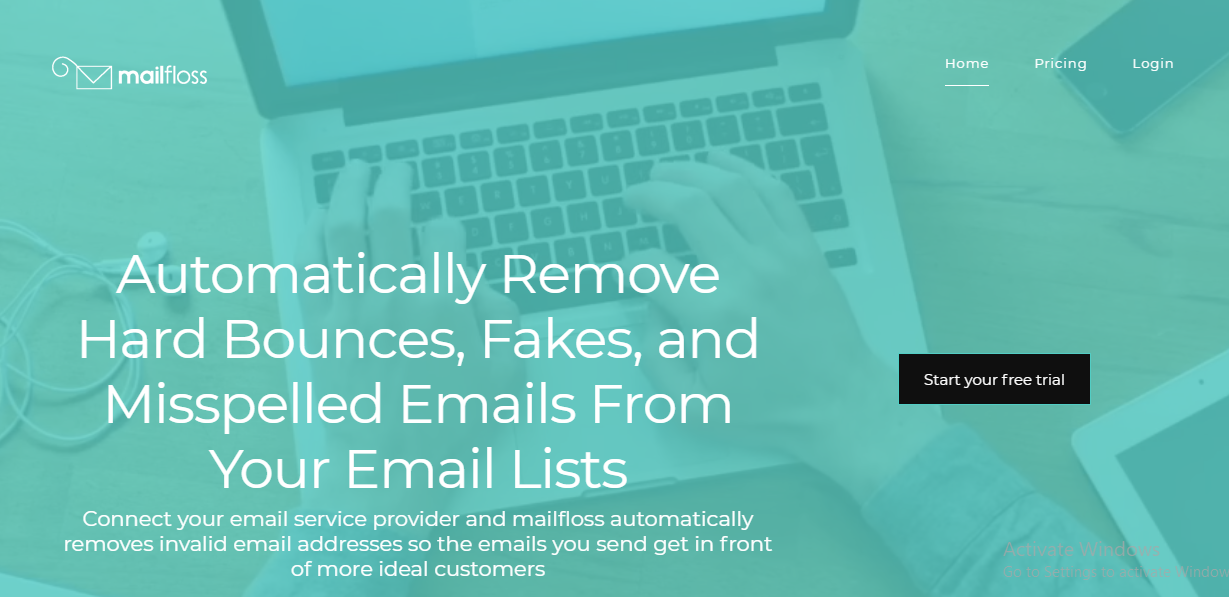 Features
Bulk Email Verification – As you connect it with your email service provider Mailfloss automatically starts verifying the emails in bulk quantity.
Disposable Email Detection – Disposes of all the unwanted and invalid emails that make your email less visible to the customers.
Easy To Deploy – Mailfloss is very easy to deploy, you just need to connect it with your email service provider, and then it starts its work automatically.
Daily cleanup – As soon as you receive a new mail Mailfloss starts working and removes it if the email is invalid or misspelled.
Unsubscribe Management – this email verifier Automatically delete, unsubscribe, or update tags and custom fields of the emails in your inbox.
Integrations – Besides this, it also supports MailChimp, Constant Contact, HubSpot, Campaign Monitor, ActiveCampaign, ConvertKit, Drip, Sendlane, Klaviyo, Moosend, etc.
Pricing
Free – Yes you get 7 days free trial of the paid membership.
Lite – $17/month in which you get 10000 scanned emails/month.
Business – $49/month in which you get 25000 scanned emails/month.
Pro – $200/month in which you get 125000 scanned emails/month.
5. Hunter – List Cleaning Service
Hunter Email Verifier as the last tool in our list is designed to be as accurate as possible, with verification made at multiple levels like email format, domain information, the response of the mail servers and compare it with email addresses in their data. At the end of the verification, the hunter provides a confidence score about the email addresses so that you can look for the level of accuracy depending upon the need and select the emails which Zerobounce doesn't provide.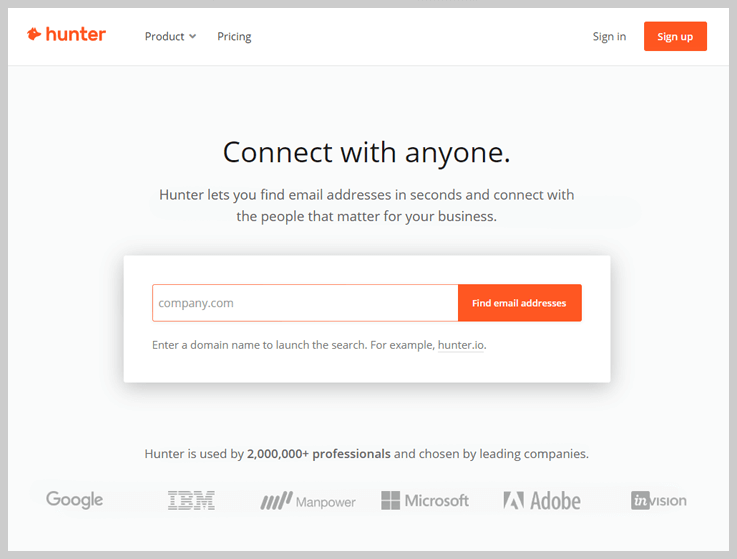 Features
Bulk Email Validation – Hunter validates email addresses in bulk, you just need to upload the list of email addresses that are to be verified.
Gibberish Email Address – ensure the email address doesn't look like a random email address and if it does hunter doesn't let it pass the test.
Accept-all Domain – Tool checks if the server has a catch-all policy so that it can accept all the email addresses.
Valid Format – It also ensures that the email address has a proper format with a proper domain name.
Disposable Email Address – Hunter checks if the email address has a domain name used for temporary email addresses.
Pricing
Free – After registration with hunter there is a free trial of 50 verifications.
Starter – For $49/month you get 1000 verifications for the starter package
Growth –  $99/month you get 5000 verifications for the growth package.
Pro – In $199/month you get 20,000 verifications for the pro package.
Enterprise –  $399 you get 50,000 verifications for the enterprise package.
Conclusion
To conclude, we discussed the best Zerobounce alternatives available in the marketplace. To get more information related to the services, you can go through the above-mentioned services by clicking the available links at the end of every description of the services.
These services not only verifies or validates your list of email addresses but also reduces bounce rates and gives you a clean list of email addresses.
For further queries or suggestions please contact us.
You May Also Like To Read: