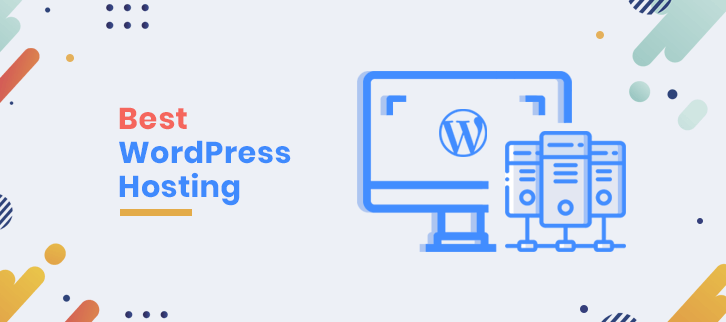 Quick Glance At WordPress Hosting Comparison
| | | | | | |
| --- | --- | --- | --- | --- | --- |
| Services | Base Plan Starts At:  | No. Of Websites | No. of Visitors | Free Domain | Ratings |
| Bluehost | $19.99/M | 1 Site | 100 Million | ✔ | 4.9/5.0 |
| SiteGround | $3.95/M | 1 Site | 10k | ✖ | 4.0/5.0 |
| WP Engine | $35 /M | 1 Site | 25k | ✖ | 5.0/5.0 |
| HostGator | $5.95/M | 1 Site | 100k | ✖ | 4.5/5.0 |
| Cloudways | $10/M | Unlimited | > 15,000 | N/A | 5.0/5.0 |
| HOSTNOC |  $3.36/M | 10 Sub Domain | Unmetered Bandwidth | N/A | 4.9/5.0 |
| Inmotion Hosting | $7.26/M | 2 Site | 20k | ✔ | 4.0/5.0 |
| A2 Hosting | $3.92/M | 1 Site | Unlimited | ✔ | 3.0/5.0 |
| Kinsta | $30 /M | 1 Site | 20k | ✖ | 4.9/5.0 |
| Liquid WP Hosting | $99/M | 10 Sites | Unlimited | ✖ | 4.0/5.0 |
So, you are all set to launch your website. By choosing WordPress you're already a step ahead of those who are stuck in the tricky HTML codes. You have got the webpage design ready in your mind. You have chosen the theme and plugins to implement. But is it going to be enough to take your website on air?
Without a perfect host, your website can never go live on the web space.
First, you would need a space, space on the server. Space exclusively yours.
Take it this way.
Just like in our smartphones we have got processors and RAM. The same way, in a website, the host becomes the processor and RAM where all the data gets stored, backed up with a lot more functionalities.
Now, when you have understood what hosting is, we'll quickly move to its types.
Types of WordPress Hosting
WordPress hosting is as vast as WordPress. Therefore, it is sure to have different dimensions. Notable part is hosting majorly differs on the basis of its application and usage.
Take this as an example-
If you have a fairly new website with less traffic then you would need a host which provides you with less space on the server. If you have a website with higher traffic then you would need a host which provides you higher space on the server.
Now let's begin!
You will have your encounters most of the times with Free Hosting, Shared Hosting, Managed Hosting and Dedicated Hosting.
Today, in this article we'll be discussing the best WordPress hosting comparison for 2022.
---
Bluehost doesn't need an introduction for its exception WordPress hosting. Around 2 million WordPress websites are
running with Bluehost behind the scene. It surely holds the throne of best WordPress hosting platform.
Now, if you look for functionalities, it is jam-packed. You'll find constant site backup, blazing fast loading, 1 click install and a lot more.
It provides you a free domain, free SSL certificate. With these freebies, it is sure to enter the favorite list of almost every site owner out there.
Apart from it, they have an expert support team who will always have your back if you get stuck.
Bluehost is a must to have on your website. If you still don't believe us then invest your trust in WordPress. WordPress officially recommends Bluehost as a hosting platform.
It is officially working in collaboration with WordPress as a hosting solution with an aim to develop WordPress as an ideal platform for website creation.
---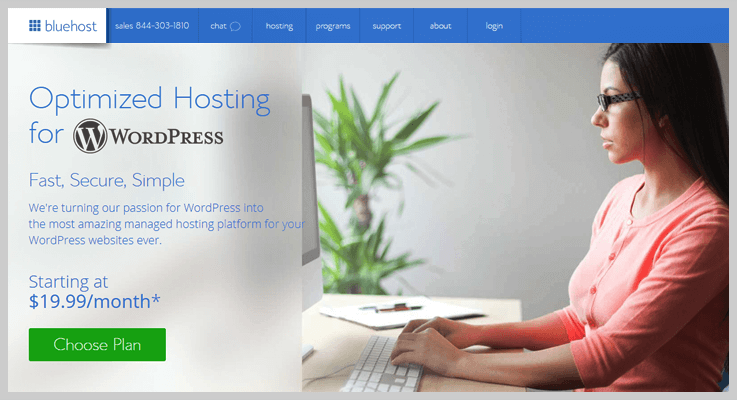 ---
Features of Bluehost:
It includes free site builders.
Packed with the famous 1-click install.
Automatic backups.
Enhanced cPanel.
---
SiteGround is by far one of the most used hosting platforms. It is amongst the four officially recommended hosting providers by wordpress.org.
This provides a single umbrella for speed and security of your webpage. The best they are known for is 24/7 expert support. Their support and service are loved by people around the globe. You'll find tickets where you'll get the reply within 10 minutes. Unlike other services, they also offer 24/7 support through calls which stand as their unique feature.
You'll find SiteGround completely filled with features. Here you find the latest technology like SSD drives, NGINX, HTTP/2, PHP7 and free CDN for speeding your website along with the best practices for security like free SSL certificate and inbuilt firewall security rules.
---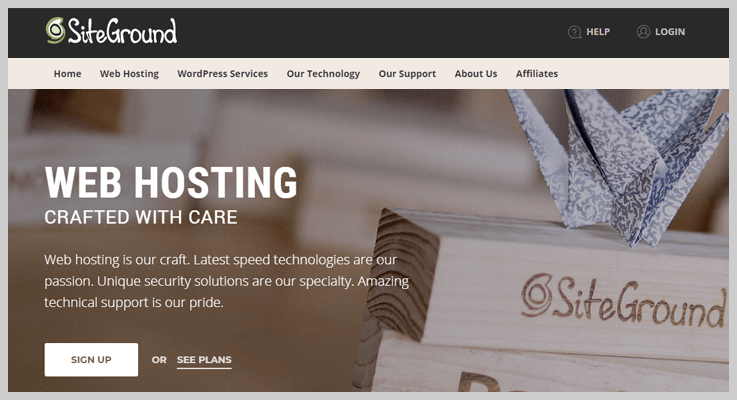 ---
Features of SiteGround:
Auto-updates for WordPress.
Built-in 1 click installation
SuperCacher for enhanced speed.
WP-CLI Enabled.
---
There's are a lot of reasons why we are recommending WP Engine as a hosting provider.
WP Engine has held the throne for managed WordPress hosting. It is specifically for the websites of WordPress. The pricing plans of WP engine are quite affordable and the package comes with every essential feature that would hike up the speed, performance and security aspect of the webpage.
It comes with the revolutionary 1 click installation which makes it easy to use even for those who aren't too good with the codes. Then it also provides free migration. So, if you won't face any problem at the time of shifting from one server to another. You'll find it packed with built-in CDN and free SSL certificate.
---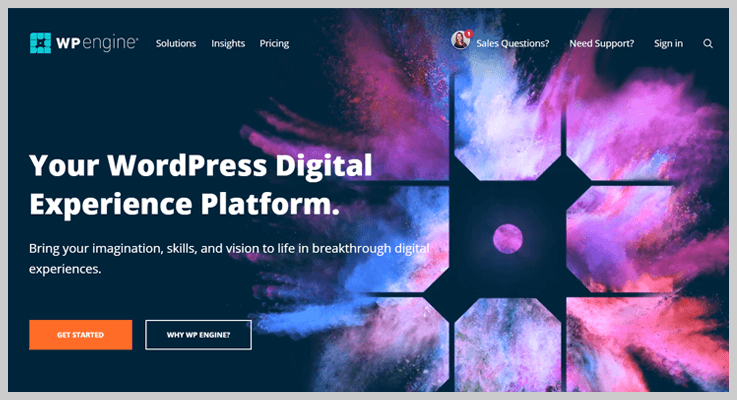 ---
Features of WP Engine:
Amazing 24/7/365 support team. In fact, their team has been 3 times winner of Stevie Award for the best customer service.
Genesis Framework and 35+ StudioPress theme included for free on any WP Engine plan. (This is a huge free benefit that no other hosting provider has).
Enterprise-grade WordPress security on every plan.
NPS score of 86.
3 environments with every site.
PHP 7 ready.
Built-in firewall protection.
Automated backups.
---
HostGator is running behind the scenes of more than 10 million websites. It is world's one of the most favorite hosting service.
Now it has made it to our list because it is extremely user-friendly and has got the understandable control panel.
It has a dedicated support team with 99.9% guaranteed uptime.
They are one of the most reliable ones with an average load time of 462ms. So far, HostGator is the third fastest web hosting service. Its Supercharged cloud architecture stands as one of the reasons behind this blazing speed.
---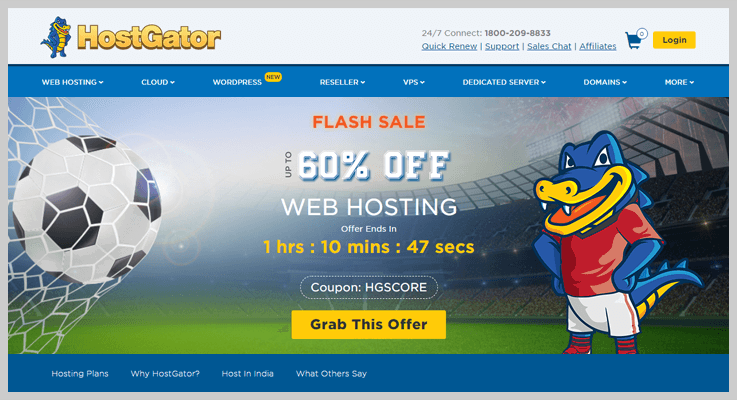 ---
Features of HostGator:
It has 1 click scalability to handle hiked up traffic.
Comes with free 1 site migration.
Auto Backup with 1 click restore.
Includes Google Adwords credit.
---
5. Cloudways — Managed WordPress Cloud Hosting
Cloudways is an industry-leading managed WordPress hosting provider that offers simplicity and choice to everyone!
When you host your WordPress website on Cloudways, you get lightning-fast performance, ironclad security and 24/7 expert support (through live chat and support tickets).
With Cloudways, you get complete peace of mind to focus on your business processes because Cloudways takes over all hosting and server management hassles. The best part – as your website grows, Cloudways scales up to keep pace.
Cloudways Platform is simple and intuitive for beginners and advanced users alike. You can choose from top IaaS providers and then leverage pre-configured PHP-FPM, HTTP/2, CloudwaysCDN, platform-level firewalls, 1-click features for migration, automated and on-demand backups, server scaling, (and a host of other features) to scale your WordPress websites.
---

---
Features of Cloudways:
5 top-notch cloud providers

60+ global data centers

24/7 expert support

CloudwaysCDN

Built-in advanced firewalls

Real-time server monitoring

1-click WordPress installation

Free SSL certificates

Free WordPress migration

Free WordPress cache plugin

Free WordPress backups

And many more
---
---
HOSTNOC offers fully managed WordPress hosting services. With built-in caching, your WordPress website will get a speed boost and deliver a great user experience. This reduces page load times drastically and increases conversions. Your users won't have to wait for your website to load and respond to their inputs, which would force them to stay longer and explore more.
With daily data backups and data mirroring, you don't have to worry about data loss. HOSTNOC's team of highly skilled NOC is well equipped to handle your hosting server and make sure that your website always stays up and running. Their 99.99% uptime guarantee means that you don't have to worry about downtimes either.
What makes HOSTNOC stand out from its competitors is its fixed billing and scalability options. With HOSTNOC managed WordPress hosting, you won't get any unpleasant surprises when it comes to billing. You will get what you pay for and there are no hidden charges. Secondly, users can easily upscale and downscale resources to deal with fluctuation in website traffic. Want to migrate your website? HOSTNOC offers a white-glove migration facility and a staging environment for seamless migration.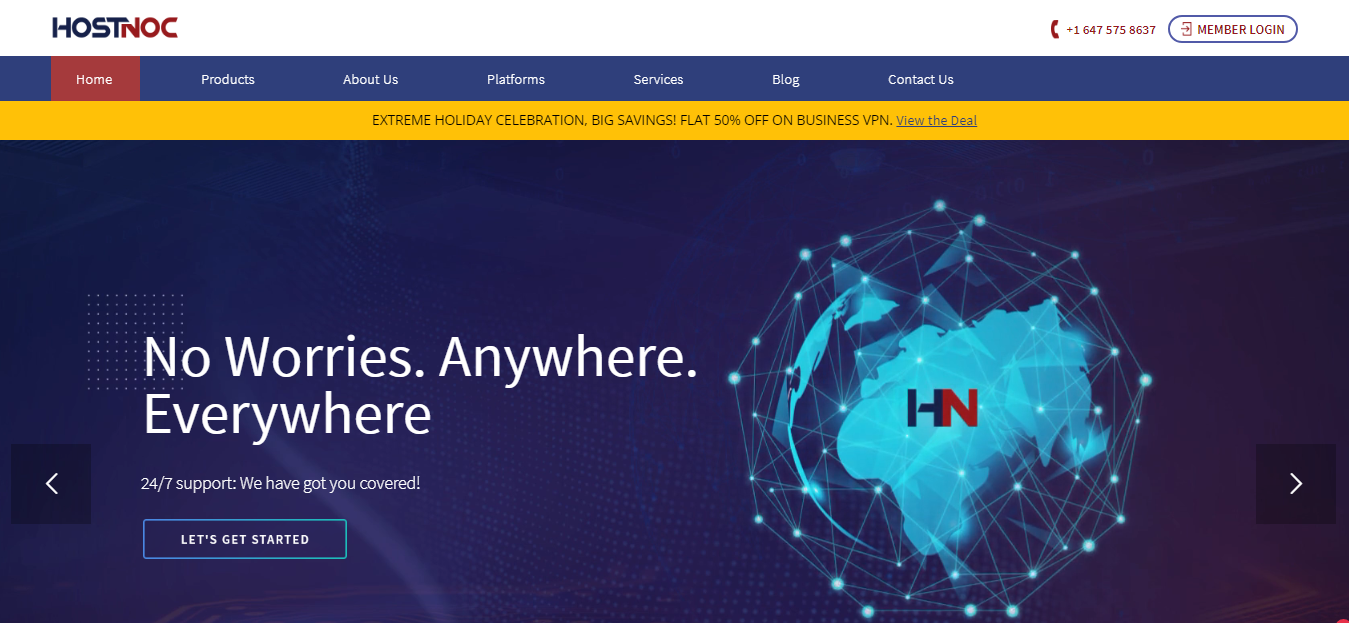 Features of HOSTNOC:
Data Mirroring
Instant Setup
Scalability Options
Fixed Billing
---
GreenGeeks has got a huge fan base and people around the world use it for it lightning speed and high performance.
It claims to have 99.9% uptime on the website. Other than speed and performance, it has got free stuff for too.
Free domain, free data transfers, free site migration does make sense and gives it an upper hand while making a final choice. It has 1 click installation which makes the installation easy and hassle-free.
Then they are offering a lot of security for your webpage with free WordPress enhanced security. This way your website will be bulletproof against the attacks of hacker, spammer, and viruses.
One of the USPs of Green Geek is their bold step to offer 30 days of complete money back, if not satisfied.
---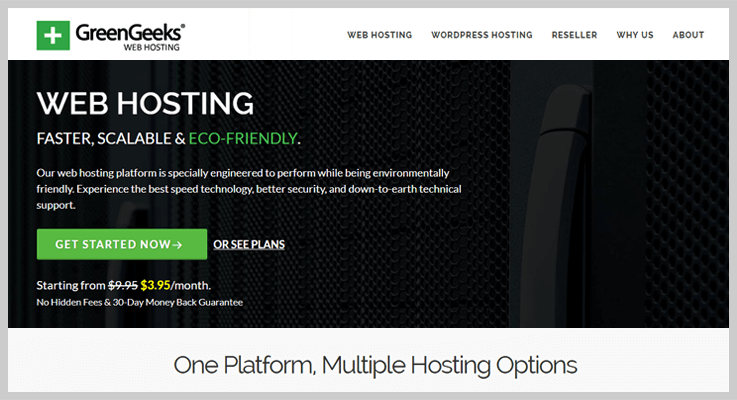 ---
Features of GreenGeeks:
Comes with unlimited Data Transfer and SSD Web Space
It has automatic updates.
Excellent 24/7 support.
Free SSL certificate
---
DreamHost has created a huge network of sites and powers over 1.5 million sites over the globe. It's has been trusted by people for both shared hosting and managed hosting.
Unlimited bandwidth is one of the features that can persuade you to switch to it. However, it also has unlimited disk storage, unlimited email accounts which makes it worth a try.
Then, another reason you can switch to it is the 97 days money back guarantee. In these 97 days, you can try and test its performance on your webpage and if you stay unsatisfied then its a money back.
Their support guys are fast enough with sound knowledge of every technical issue.
---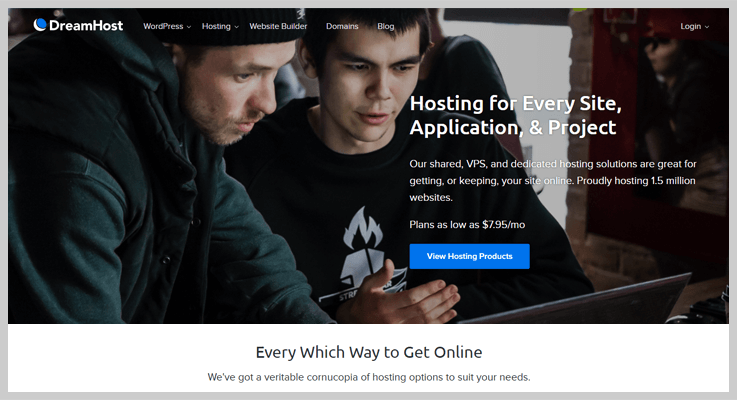 ---
Features of DreamHost:
Automatic updates for the latest WordPress versions
Free SSDs for faster loading.
It includes 1 free domain
Free 1 click SSL certificates
---
Inmotion has been a known name for a long time in the hosting niche. It stands as one of the pioneers with award-winning technical support team and 99.9% uptime.
To their users, they offer a free domain along with free SSDs which makes improves the site speed by 200%.
However, Inmotion is more than just hosting as it provides free themes, free site transfer, drag and drop support along with pre-installed WordPress.
For speed optimization, you'll find it stuffed with NGINX, PHP7 and also advanced caching.
It runs on automation and has got features of automatic updates and automatic backup with one click restore.
---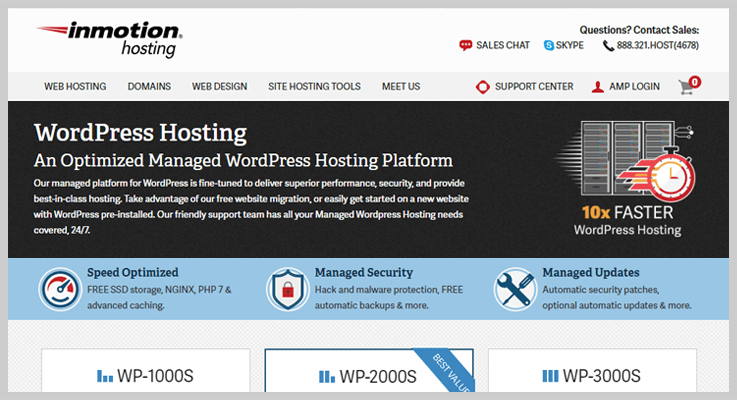 ---
Features of Inmotion:
Offers unlimited bandwidth.
Supports caching plugins.
Unlimited email accounts along with unlimited disk space.
Free dedicated IP.
---
---
A2 claims to have 20x faster web hosting than the competitors. This is a perfect hosting solution if you are looking forward to keep impatient people happy. As it takes a nanosecond to load the data from the server and the results on the web page are just instant. Altogether, it doesn't let you down in terms of the speed and performance. It has become so far one of the fastest web hosting provider in the web world.
Then the support guys are great at A2. They offer you 24/7 support over phone, chat, emails and ticketing system.
A2 has WordPress pre-installed in it. So, you can save the manual efforts.
It has dead simple 1 click installation scripts which makes it, even more, user-friendly.
---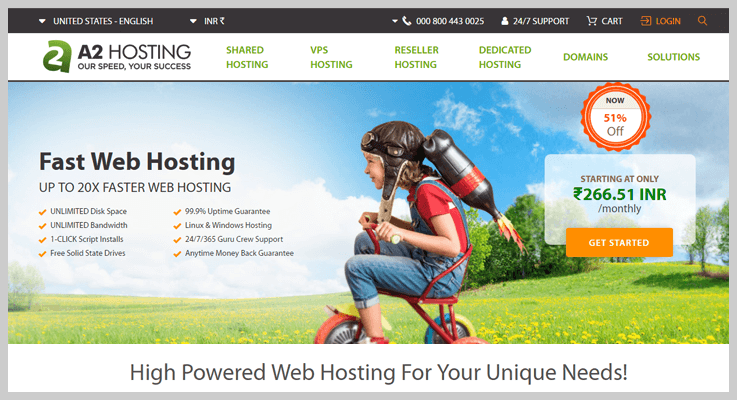 ---
Features of A2:
Unlimited bandwidth and unlimited disk space.
Free SSDs for better speed.
Enhanced cPanel control panel.
Free account migration.
---
Kinsta serves the leaders of the markets like Ubisoft, TripAdvisor and more. However, if you have got a big budget then you should pay attention to its hosting service.
It's based on Google Cloud platform and is a fully managed WordPress hosting. So, practically there won't be even a single thing to bother about the server or the site performance. It does all that it takes to keep your site's loading speed at the highest pace, it constantly works on the caching and backups. Further, it also keeps security as a priority and offers security like Fort Knox with DDoS detection and hardware firewalls. So, your site's data actually becomes hacker proof.
Finally, Kinsta is optimized for performance and readily takes up any traffic spikes that you may throw on it.
Then, you can rely upon the support team of Kinsta as they stand by your side 24/7 with the best solutions.
---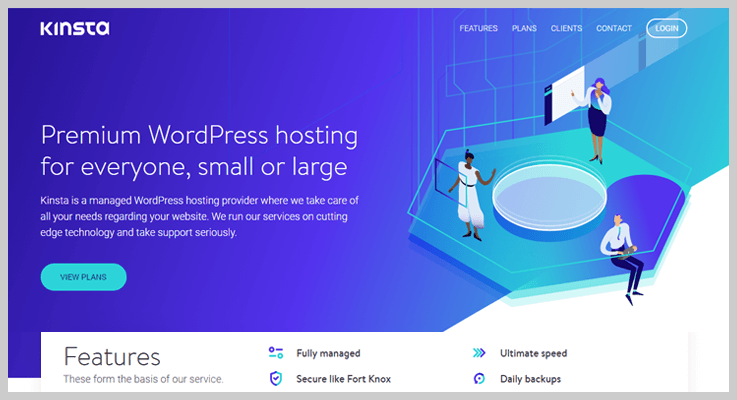 ---
Features of Kinsta:
Offers free CDN. Also, it readily works with your current CDN too.
Free SSL certificate for added security measures.
Free site migration and updates.
Speed focused design with NGINX, PHP7 framework.
---
Liquid web hosting is known for their heroic support, speed optimized performance and high security.
It is one of the most experienced players in the hosting segment and has hosted a lot of websites from every part of the globe.
Their client base has got big names like Motorola, Audi, Red Bull, FedEx and more.
Unlike other hosting services, Liquid doesn't put a limit on you. You can have an unlimited number of visitors and an unlimited number of applications and plugins on your web page.
The installation is extremely simple with its 1 click installation button. You simply have to click and rest, it does it all.
Then they also guarantee 100% uptime and undoubtedly delivers a blazing speed. It can also take up well on the sudden traffic spikes and doesn't slow down the loading process.
This hosting service is even up for the WooCommerce hosting. This has surely increased its horizon of action.
---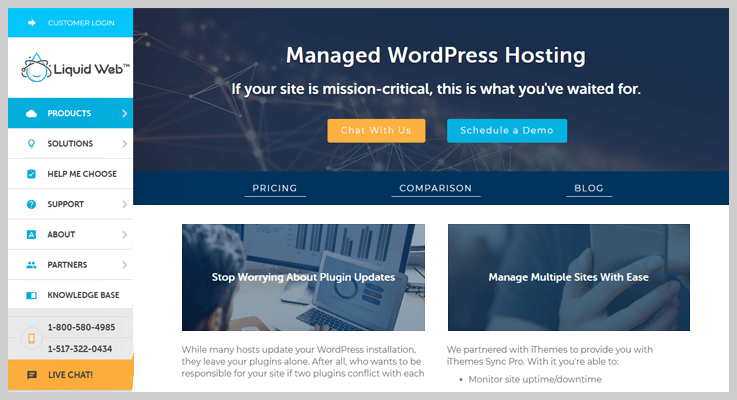 ---
Features of Liquid Hosting:
Automatic SSL.
Free site migration
Includes the developer tools like SSH, Git, and WP-CLI.
Complete access to the server.
---
Conclusion
This was our take the best WordPress hosting comparison. We have got our first-hand experience of these hosts so, you can stay assured. Of course, because everything here is tried and tested!
Moreover, if you have any better host in mind then please let us know. In fact, we would love to take this list of 10 WordPress hosting even further.
In case, you have any suggestions then you can comment below. We promise that we would get back to you ASAP.