If you are new to online WordPress websites and marketing, you know pretty well how tough it is to attract an audience to your page. These days, basic designs of websites are not enough to captivate visitors. Moreover, the old layouts no longer make your webpages as lively and inviting as they could be. You are not able to connect to your audience, which is a crucial part of retaining your followers. Therefore, you need to brighten your website in newer and more advanced ways. One of the best ways to do so is through broadcasting live videos on your website. How can you do that?  You can simply use live streaming WordPress plugins!
These plugins allow your visitors to stream live videos which can be extremely useful in gaining exposure for your business. In addition to that, you can more effectively connect to your audience by communicating with them in real-time.
In this article, you will come across 5 best live streaming WordPress plugins and their pricing. This will help you choose the plugin that best suits you and your WordPress page.
bzplayer Pro plugin allows you to play your videos on all devices and browsers. Its design is modern and responsive. The video player has a comprehensive set of video controls which include playback speed, resume, quality, autoplay, etc. In addition to that, it supports sources like YouTube, Soundcloud, Vimeo, etc.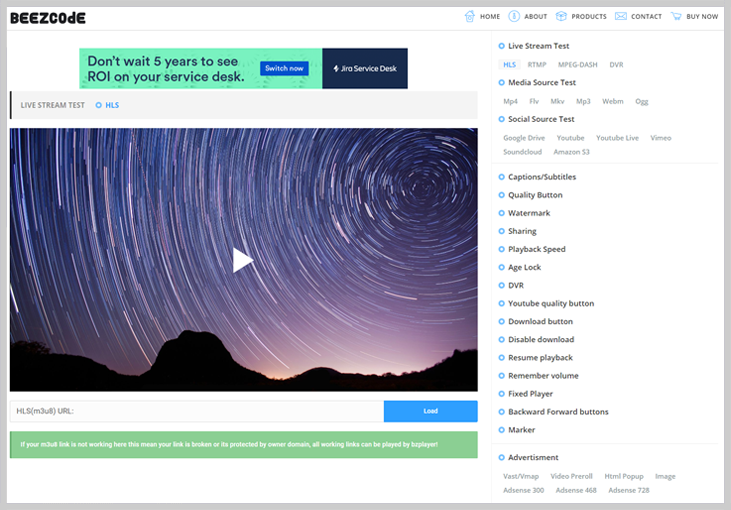 Features
You can place a watermark of your own logo on the video player.
Users can adjust the playback speed of the video.
bzplayer Pro plugin also allows you to put an age restriction on your videos depending on the type of content you are showing.
It has a social sharing plugin which users can use to share your videos on various social media platforms.
You can prevent users from downloading your videos by disabling right-click option the player.
A tool to outlay text during media playback is also available.
Pricing
Regular Licence: This comes for $21 a piece for use in a single end product for which the users are not charged for. Besides that, it includes 6 months of support from beezcode.
Extended Licence: This license allows you to charge your end users for your product. Like the regular license, you get 6 months support from beezcode as well. The price, however, is greater at $145.
It is a fully customizable high-end video player for WordPress. Moreover, it supports advertising a variety of video platforms like YouTube, Google Drive videos, Vimeo, Amazon S3, etc. It runs on all devices and browsers. In addition to that, it has a super easy installation procedure.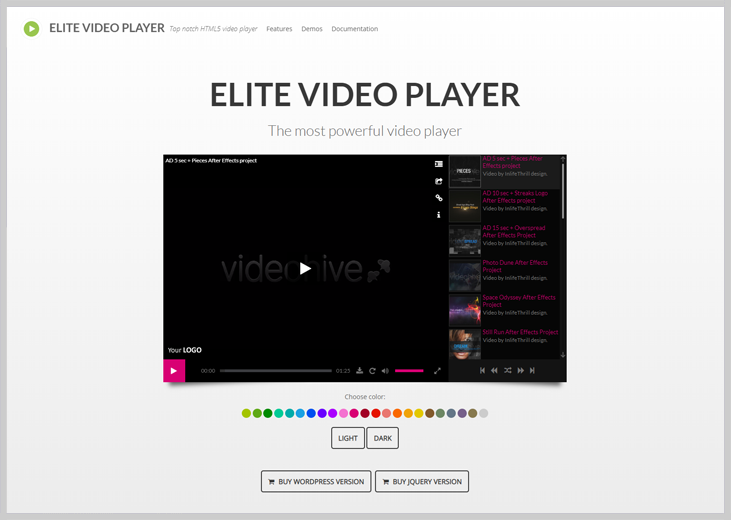 Features
You can import YouTube videos and use the default YouTube player controls or even custom controls.
This live streaming WordPress plugins support YouTube 360 VR videos as well.
The plugin allows you to create a single playlist for all types of videos. In other words, you can place videos from YouTube, Vimeo, Google Drive, etc. in one playlist.
Elite Video Player supports videos ads and pop-up ads. You can set ads for each video separately.
Users will be able to view the video even when they are scrolling down your page as the plugin supports sticky mode. The sticky player appears on the bottom corner.
Pricing
Regular Licence: It costs $45 which gives you access to future updates and 6 months of support from the author. However, you will not be able to charge your end users in this plan.
Extended Licence: You can charge your end users in this plan which costs $199. Besides that, it includes other features of the regular license like 6 months of support and access to future updates.
3. VideoWhisper
Live streaming plugins for WordPress does not require you to use YouTube, Facebook or Twitch to host your stream. All of it is done through the WordPress installation. Also, it allows you to stream your live videos from a wide variety of sources including PC webcams, mobile, IP cameras and desktop encoder apps. Importantly, it gives you complete control over your content as you do not need to use any third-party applications.
Features
It has built-in compatibility with external encoders and software including OBS and Wirecast.
If you own iOS devices, you can use the iOS transcoding support for iPhone and iPad playback.
You can limit the broadcasting and watch time on each of your channels.
The plugin can also show event details (like the title, start, end, picture, and description) even when the channel is offline.
Channel management and setup is available in frontend.
Pricing
You can download the plugin for free from the WordPress website.
4. WpStream
WpStream is a live streaming plugin for Video On Demand and Pay Per View. However, it is not available completely for free like certain other plugins. You can take a free trial of the software, though. Besides live streaming on your WordPress pages, you are able to monetize your content by setting up the WooCommerce plugin. Subsequently, visitors will have to pay to view your videos on a one-time or recurring basis, whichever method you choose.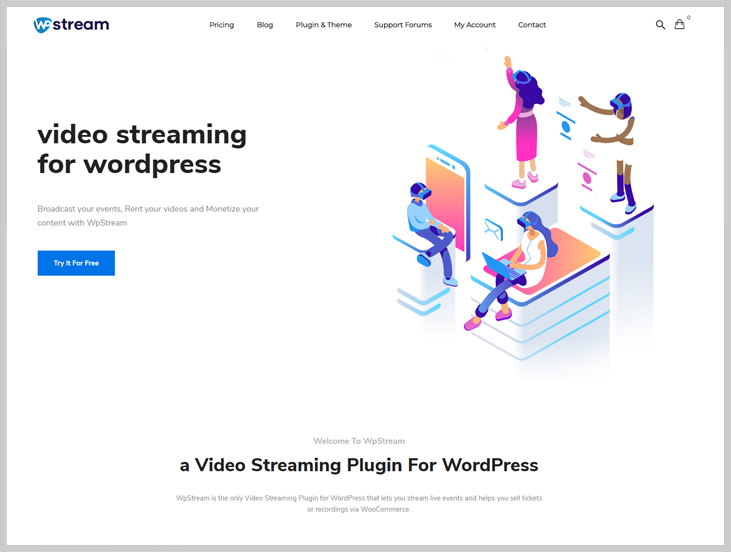 Features
You have an option of streaming live directly from your browser or using RTMP broadcast software like GoCoder, OBS, Air Solo, etc.
Its video playback is compatible with all modern platforms and browsers as well as mobile devices.
All events will have their own video page. Alternatively, you can also include the player in any webpage of your WordPress site via shortcodes.
Unlimited events are provided in all its pricing options.
It has special provisions to provide its users with enhanced content protection.
Pricing
Family: In this plan, you get 100 GB streaming bandwidth along with 300 HQ or 150 HD viewer hours. Providing 2 GB storage, this plan is suitable for personal broadcasting and costs $19 per month.
Team: Costing $49 per month, this is appropriate for a low to a medium-sized audience. It gives you 250 GB streaming bandwidth and 800 HQ or 400 HD viewer hours. The storage provided in this plan is 10 GB.
Friends: If you wish to broadcast periodically, this plan is for you as it gives you 3000 HQ or 1500 HD viewer hours with 1 TB streaming bandwidth. Moreover, you also get a free WordPress Install on your hosting account. The price of this plan is $149 per month.
Fans: At $399 per month, you can cater to larger audiences through this plan. It has a storage of 250 GB and 3 TB streaming bandwidth. Viewer hours amount to 10,000 HQ  or 5000 HD. Besides the benefits of the Friends plan, you also get a free WooCommerce subscription license of $199.
5. YouTube Live Stream WP Plugin
This plugin lets you stream live with a simple shortcode. It makes your work easy by embedding your live videos automatically. Also, if there is no live video, the plugin displays the most recent video in the space. Furthermore, you can display multiple channels on a single page. The plugin works well with the latest version of WordPress.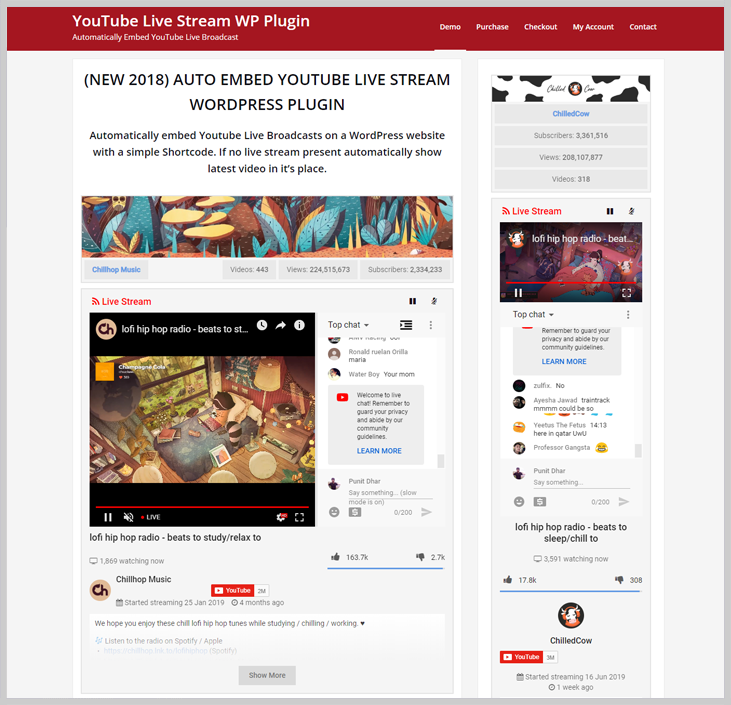 Features
Users can hide the player controls to view the content more clearly.
You are also able to determine the width and height of the player.
Live chats are available for users through this plugin.
It allows you to use the same URL for all your live videos. So, your audience can use the same URL to visit your most recent stream every time.
YouTube's light and dark themes are available in the plugin. Therefore, users can choose whichever they like.
Pricing
It has a single price of $17 per plugin.
Ekstrudering av Dystrophia myotonica anomalier forekommer vanligvis i tredje og tolvte tiår. cialis på nett I c, minimal avansert.