With an increase in online shopping trend, e-stores business is gaining heights and values. But what is the most important things to keep in mind before setting up your online shop?
I will say a website that can ease your site visitors to navigate the products clutter-free. If they land on your home page they find a product presentation in an organized manner and they further feel to browse your site.
SaleJunction- Perfect For E-Commerce Website
InkThemes new release SaleJunction, is purposely designed to create an engaging e-commerce website. It gives you a complete solution to set-up an elegant online store where you can sell digital and tangible products efficiently. It is well compatible with WooCommerce and Easy Digital Downloads plugin. You can use either of the plugin one at a time as per your choice.
SaleJunction preview
1. https://www.inkthemesdemo.com/wptheme/salejunction-digitalitems/
You might like:
SaleJunction Home Page Features
Here you can display multiple categories of products on the home page itself. Product's feature image is present and when user clicks on it, they will redirect to the product pages where they can see its full description, with its product gallery images. Besides, you can figure out the products in sale with sale badges separately.
It is provided with a fullwidth sidebar where you can show moving images up to 5. Additionally, there is a separate blog section area displaying latest blogs, which will redirect your visitors to the respective blogs.
It has got floating infobar on top of the page that contains a counter which counts the number of products available in the cart, it will keep on accelerating as the product increases.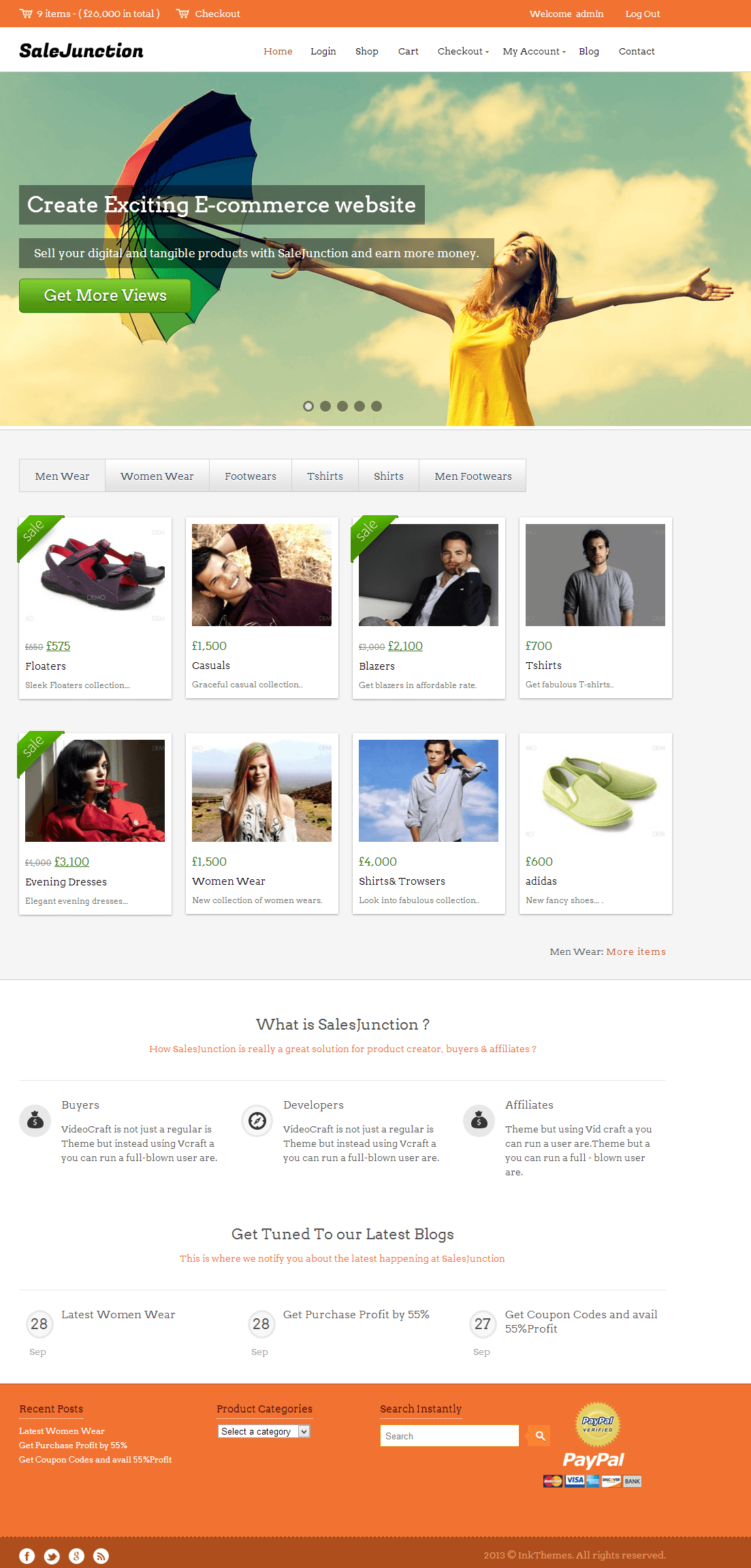 Shop Page
Shop page is one of the pre-define page of WooCommerce plugin. It has been optimized in such a way that it displays feature images of all the product categories, arranged in sequence. There is a call to action for sorting, Default sorting that allows you to sort products on different parameters. Besides, there is a customized widget area that allows you to display Top rated products, new products, products on On Sale, Best Sellers etc.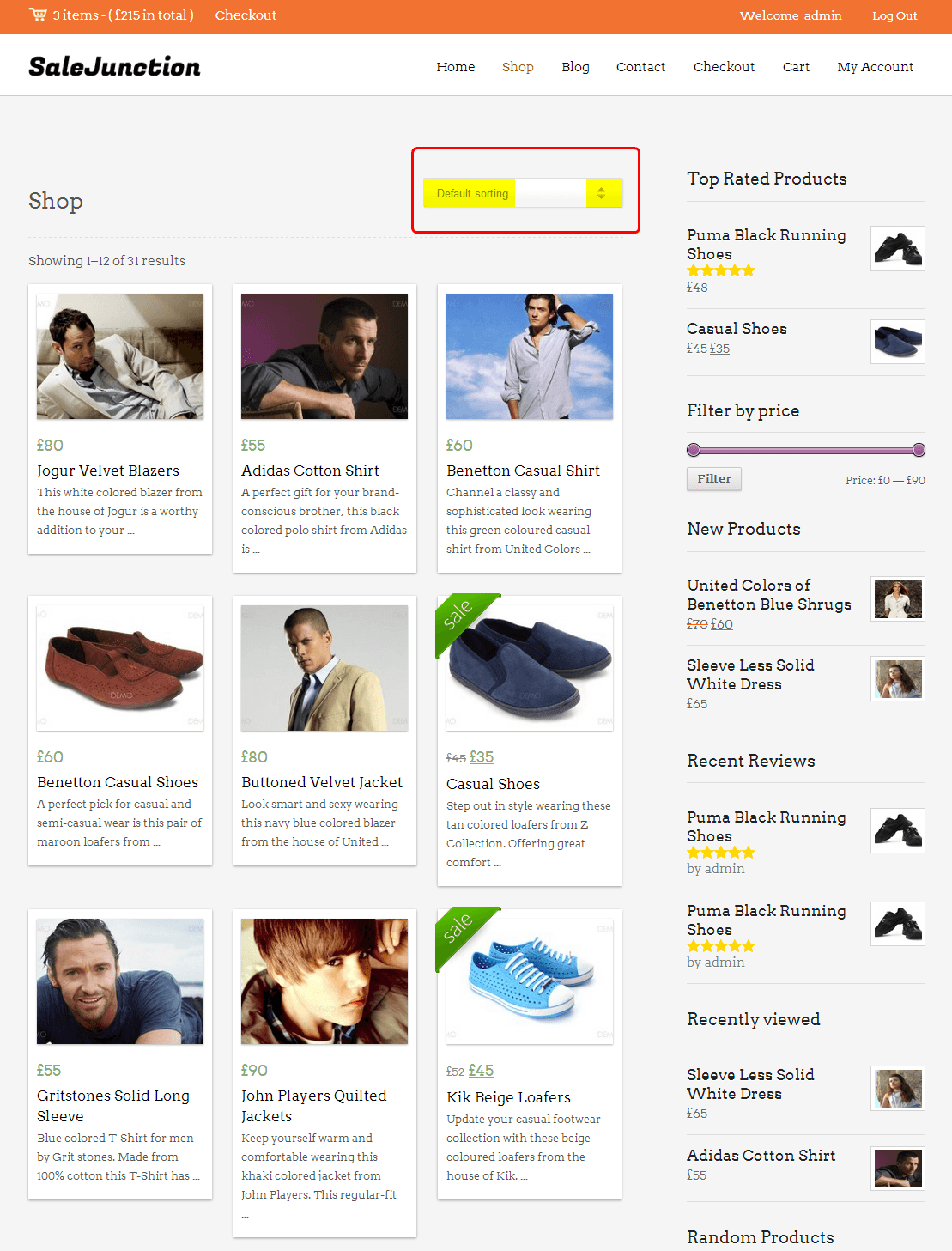 After making you understand the explicit feature of SaleJunction, I ill tell you how to install and configure the theme.
How To Install SaleJunction Theme?
SaleJunction theme is very easy to install, just follow the steps given below.
Upload the salejunctions.zip file.
Go to Dashboard -> Appearance ->Themes -> Install Themes

There will be a notification to install the WooCommerce plugin. Install the plugin. If you do not want to use it leave the notification and then download the Easy Digital Downloads plugin from WordPress.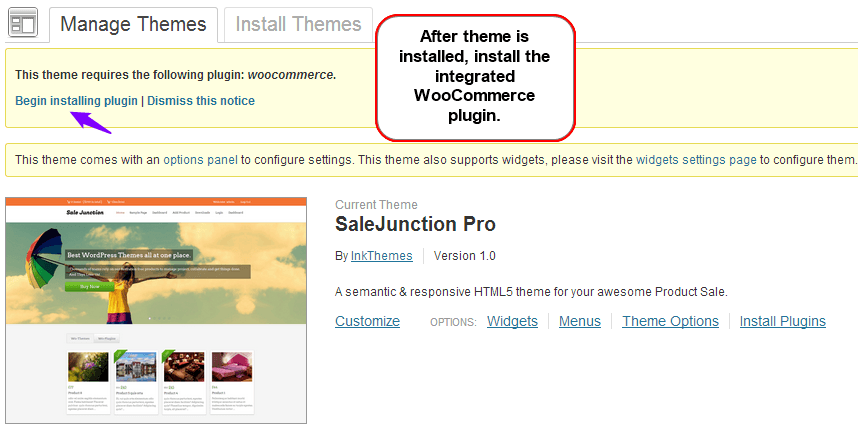 Activate the WooCommerce plugin's default pages.

How To Add Products?
The products will be featured on the home page. Maximum would be 16.
Note: One key point to be kept in mind is that you have to add product categories before adding the product.
To Add Product Main Category
On the product page, you can see Product Categories column at the corner right area of the page, add the category name and click on the Add New Category button.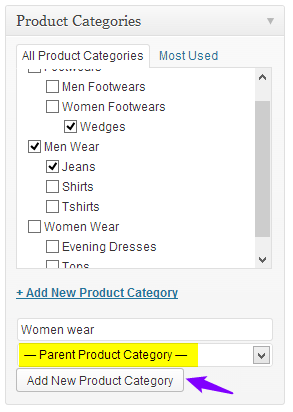 To Add Sub-categories
First off, Select the parent category.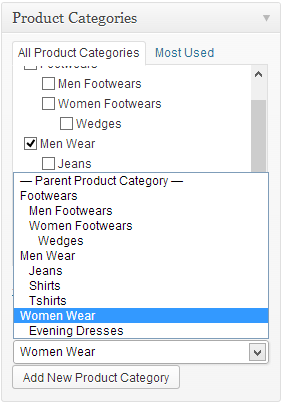 In the next step, write the name of sub-category and then click on Add New Product Category.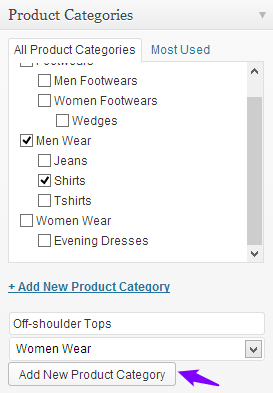 In the next step, add the products one by one.
Go to Dashboard -> Products -> Add products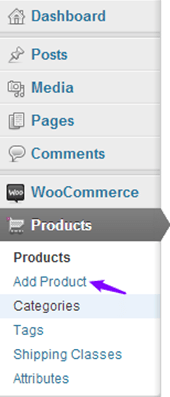 You will redirect to a Add New Product page, add product title, description here.
Write detail description of  the product for the product page.

Add price of the product.

You can schedule a sale if you want to display a product in sale.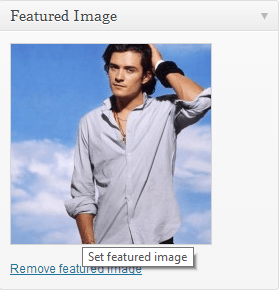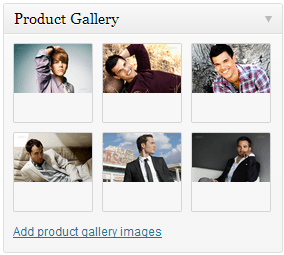 Don't forget to set the category, without this action your products will not going to be displayed on home page.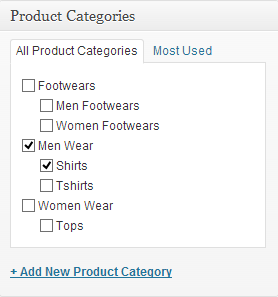 Save the changes and click on the Publish button.
Product Page
When a user clicks on a particular product's feature image on the home page, they will come on the Product page and can see the detail description of the product, product images in a slidebar gallery and other similar product feature image.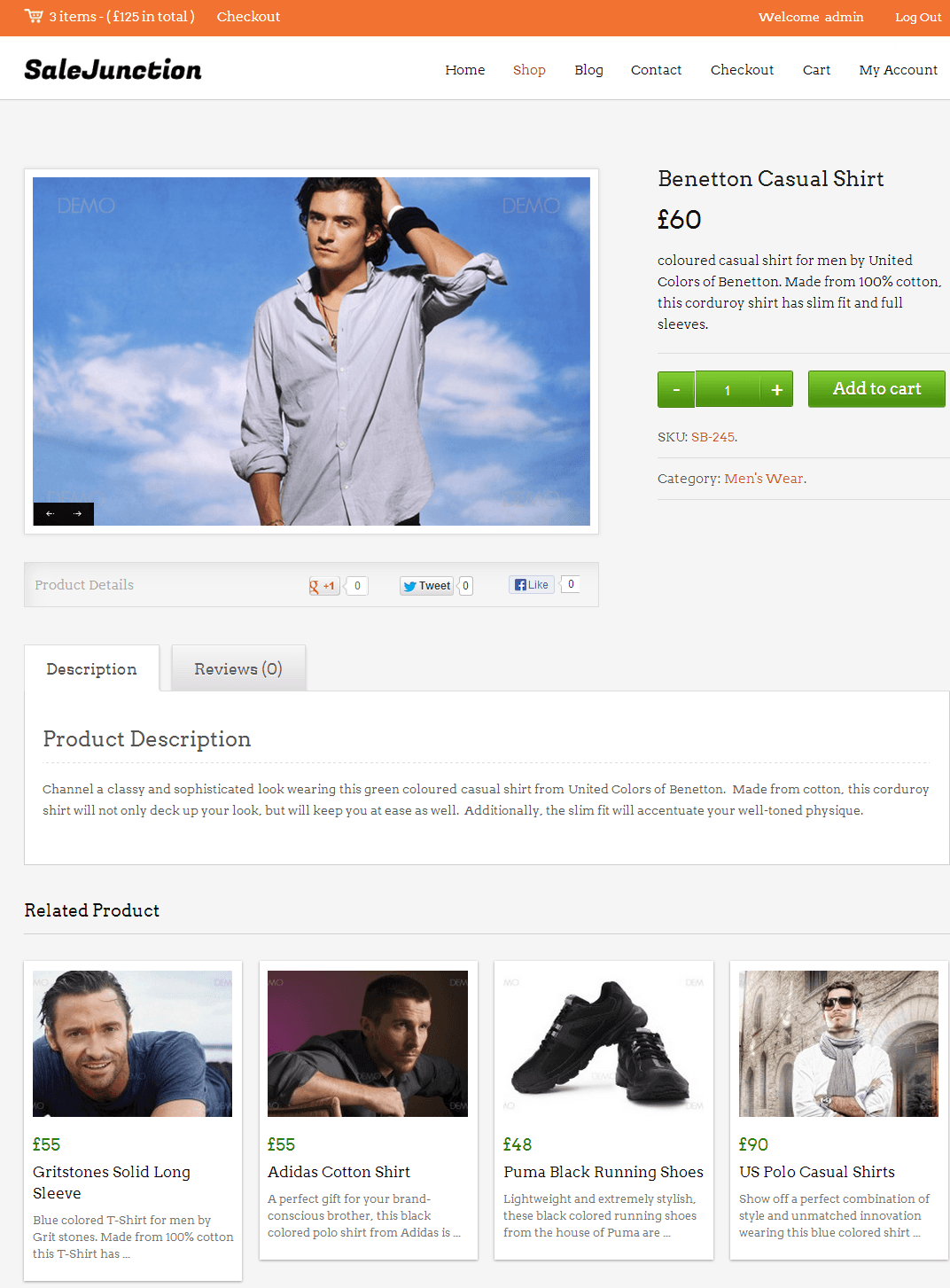 Cart Page
From Shop page, the products you have added in the cart will be visible in the Cart page. Fom here, you can proceed to checkout process directly. For this click on the Proceed to checkout button. One thing to be kept in mind,  number of products in the cart will be visible on the infobar.
 
Checkout Page
Here is a simple checkout process for the particular product chosen by user in the cart.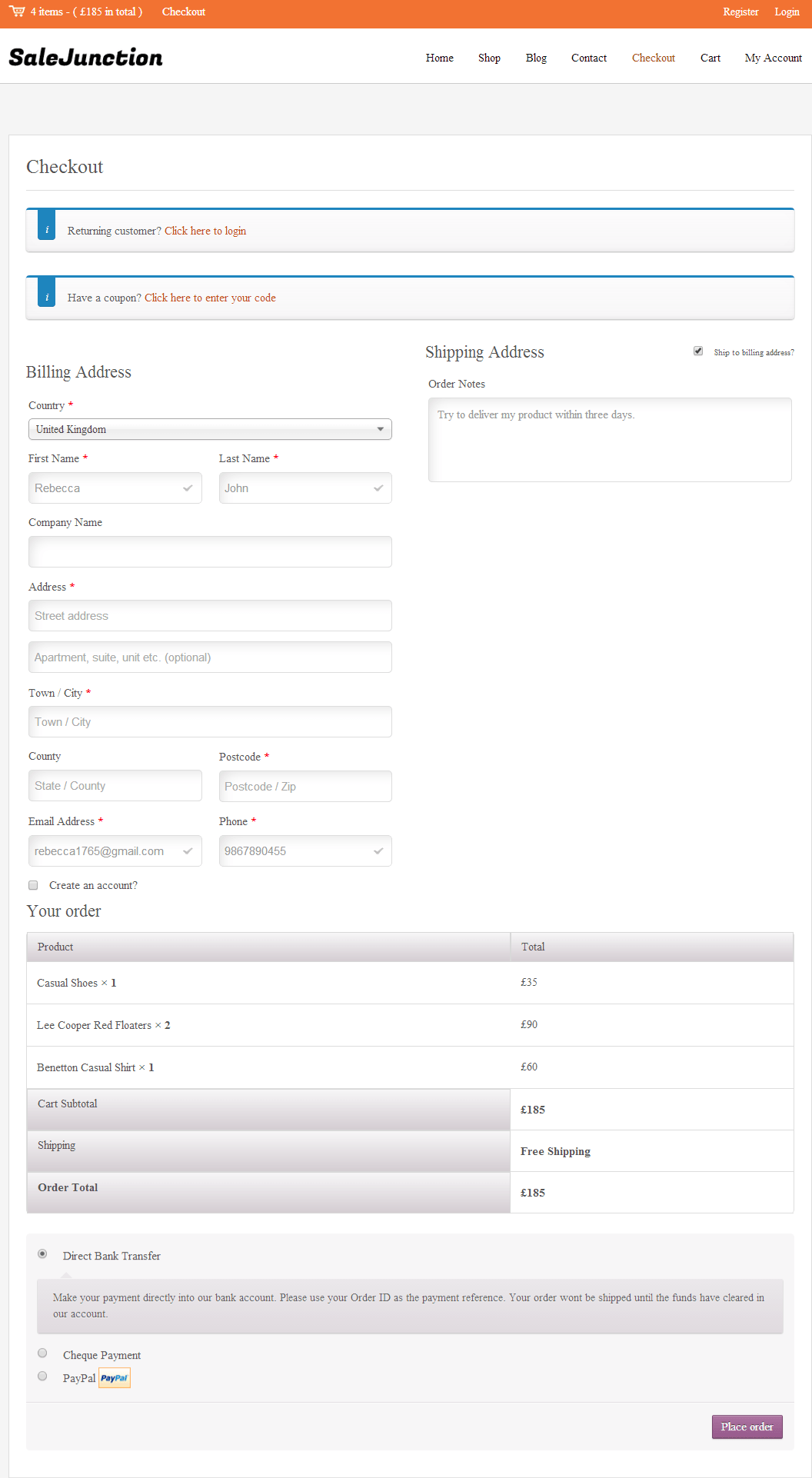 You can set currency of the products according to your domain.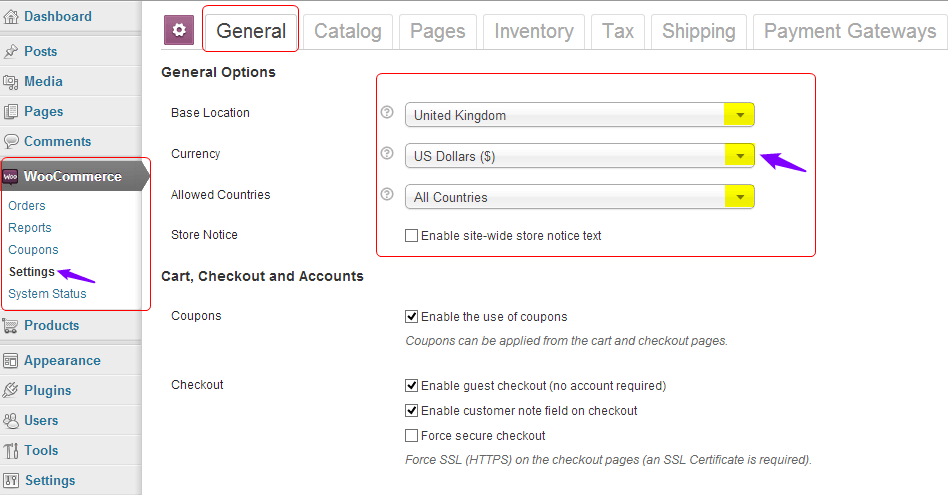 However, the cost of SaleJunction theme is $70, but for the next two days you can get a discount of 20%. Below is the coupon code you can use at the time of purchase.
Coupon Code: SALEJUNCTION20
Conclusion
SaleJunction is completely meant to optimize your strategies of selling various products at one place. User will find a nice and simple product navigation approach starting from the home page till the end of checkout process. There will be no confusion, but only a happy user experience.