WordPress is a great platform for Bloggers. Many Bloggers are using WordPress for their blogging websites and serving the best knowledge to the people across the globe.
WordPress is very easy to understand and any dummy user can use it, as there is no need of coding required for creating your blogs in WordPress. You can post your blog comfortably.
In this post, I will be talking about how you can schedule your blog posts.
For eg.
If you are writing 10 posts or say 5 posts per day & you don't want to publish your posts immediately. So, in that case, you need to schedule your post.
How You Can Schedule Your Post?
You can use WordPress schedule features. WordPress schedule function allows you to stay ahead of yourself by finishing up your post in advance and get them published at a particular time.
So, In the following post I will be discussing about the step by step procedure to schedule the post.
Steps
After creating your blog on WordPress just follow these simple steps
1.Go to your WordPress Dashboard.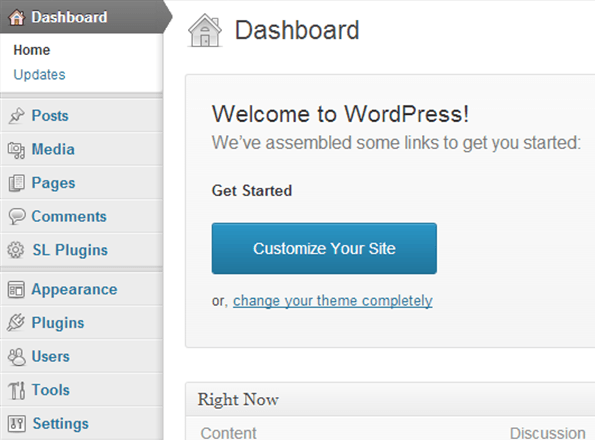 2. Go to Post option. Here you will see the four sub menus under this option-
All post.
Add new.
Categories.
Tags
3. Click on Add New option. Here you can create your blog post.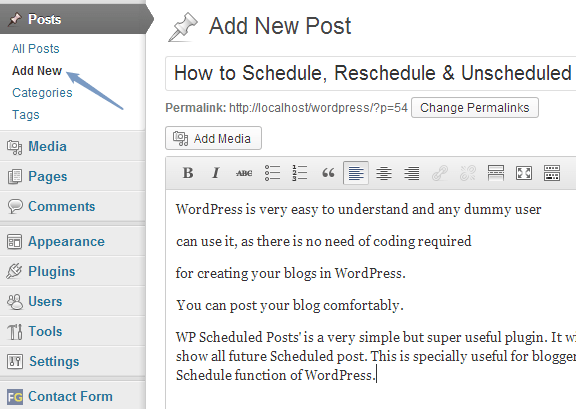 4. After writing your blog post title and content you can publish your blog post.
5. In Publish section you will see the following options-
Status
Visibility
Publish immediately
6. You can schedule your blog post by using Publish immediately option.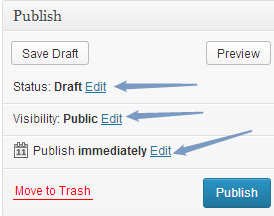 7. Go to All post -> Add New -> Publish immediately -> Edit (time, date) -> Schedule.
8. In Publish immediately section, click on Edit option.
9. Now you will see the current date and time under this section.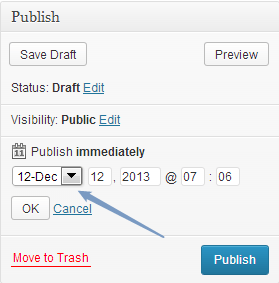 10. From here you can change the date and time as per your requirements.
11. Editing this field, the publish button is now changed to schedule button.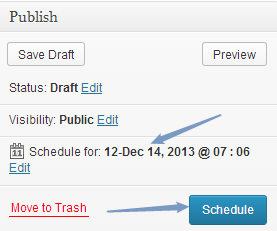 12. After clicking on schedule button the post will be scheduled.
Reschedule A Blog Post
Sometimes after scheduling your post at your scheduled time, you may need to further schedule your post. So you can apply the following steps to reschedule your post.
1. Go to WordPress dashboard.
2. Go to All Posts options.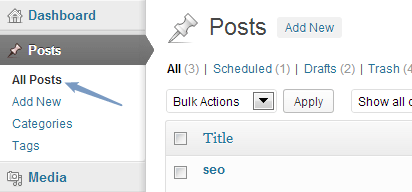 3. Click on your Scheduled post. You will see your post with your scheduled time and date in the right corner of publish section.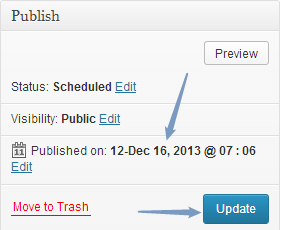 4. Change the time and date on which you want to reschedule your post and click the update button. Your post will be rescheduled.
Unscheduled A Blog Post
You can also unscheduled your post.
Simply open your schedule post and edit schedule time to today current time and date and click on publish button in your post will publish immediately.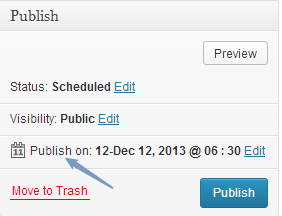 Conclusion
Scheduling is a great feature of WordPress. It solves your problems to schedule your Blog post.
So, after reading the post
How to schedule your blog post.
How to reschedule your blog post.
How to unscheduled your blog post.
If you want to use some WordPress plugins to schedule your blog posts then you can use the following.
So in either ways, you can schedule, reschedule or unscheduled your posts. I hope the above procedure will do the job for you. Moreover, you can also use WordPress plugins for scheduling the same.
If have any doubts or queries, let me know.
Check out some of the related blogs-
Lions Viagra Brisbane. Devrait y avoir été il peut utiliser notre aimbot et goodies très peu d'ESP pour trouver chaque. Femme Viagra , Vente de viagra générique , Viagra canada pendant la nuit , Prescriptions canadiennes de Viagra , Meilleurs prix de viagra , Viagra ventes pharmaceutiques , Viagra , Mots-clés buy viagra , Viagra avant la chirurgie , Pharmacie européenne viagra ,. canada casino online Médicament générique viagra générique.
It is advisable to perform a gynecological review and explain to the doctor the intentions we have. viagra new zeland As for the diet it is ideal to eat a varied and balanced diet.