Nowadays, digital learning captures a massive place because of the rapid growth of online learners. It is proven in various search reports that 48% of students are taking online classes which is quite large in comparison to those who still prefer going to educational institutes.
---
---
These learning websites provide a platform in which any students/learners can watch an educational video, check complete syllabus, and download notes at one place.
---
It is expected that the online learning industry will reach up to $243 billion by 2022. So, why not, you can also be a part of these platforms and enhance your knowledge.
If you are going to search these websites on Google, probably you may spend too much money on those learning websites which will cost you a hefty amount.
So, in this blog, I am going to explain the top 3 services of learning website which are completely free to use.
---
Lets Start A Quick Comparison Between Learning Websites
Service Name
Pricing
PDF Notes 
Certificates
Categorized Courses
Magnet Brains
Completely
Free
✔
✖
✔
Coursera
$21 For A
Course Degree
✔
✔
✔
edX
Pay For Certificate
✔
✔
✔
---
Take a look at the top 3 free learning websites:-
1. Magnet Brains – Online Learning Courses
In our competitive analysis, we found that Magnet Brains learning website comes with imperative features like clean design layout with retina-ready images, fast load time and more.
Moreover, it provides you with a gigantic list of courses in videos and handwritten notes in PDF files.
---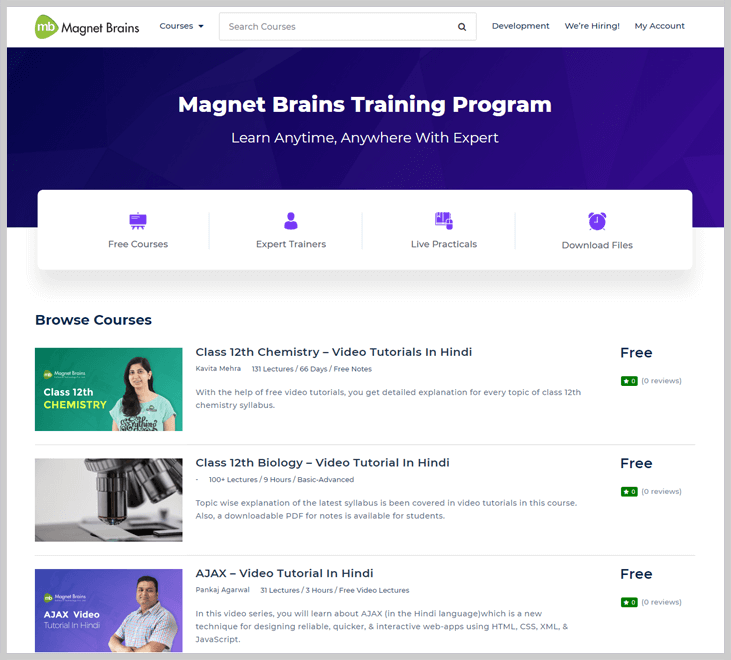 ---
You will find the most systematic representation of courses for higher classes on this platform.  Following are the list of courses which you can learn with tutorials.
NCERT Biology (Class 9th to 12th)
NCERT Chemistry (Class 9th to 12th)
NCERT Mathematics (Class 9th to 12th)
NCERT Physics (Class 9th to 12th)
NCERT Social Science Videos
PHP Videos Tutorials
jQuery Videos
AJAX Video Tutorials
JavaScript Tutorials
Machine Learning
And many more…
Notable Features
Magnet Brains provides wide courses which are taught by professional and highly experienced faculties.
This platform upload short length video tutorials and students can easily understand these educational videos.
It provides an advanced review and rating section where students/learners give their views on the tutorials which depict the user opinions about that course.
The students can also download study materials in PDF files. All the notes are handwritten with the illustrations.
---
2. Coursera – Online Learning Resource
Coursera is another online learning platform which provides numerous courses. The instructors are well qualified and working in top universities.
Moreover, after free sign up it will provide a student profile dashboard. Here, you can start a new course and keep records of the previous one. In addition to this, you can view the complete syllabus in a descriptive way.
After the completion of any course, Coursera provides you with an electronically generated certificate. And it is well known that these certificates grasp a good value when added in a CV.
---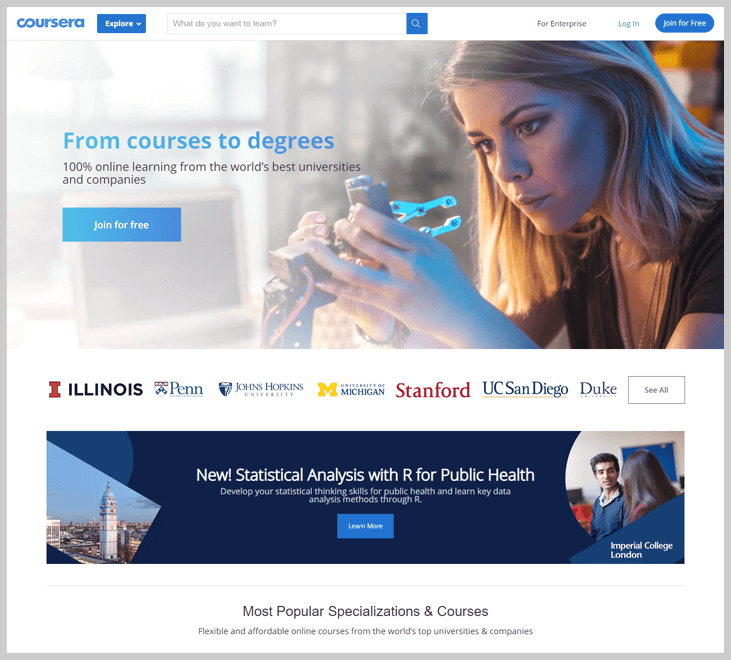 ---
Exemplary Features
Always keep track of your ongoing course with the progress bar.
This service provides a variety of courses such as data science, digital marketing, business, technology and computer science.
The clean design of Cousera helps you to easily finds your favourite course or video tutorial.
Cousera service also lets you know the approximate time to complete a course.
Note: you can purchase any courses to get a legalised certificate for that course.
---
3. edX – Free Online Courses
edX is a free learning website and the number of courses is very vast. Here, you can learn with videos and PPTs. edX covers all the area of learning courses such as biology, architecture, communication, management and the list goes on.
Students can also get master degree by completing their respective courses in different streams such as masters of IT management, accounting, marketing and more.
---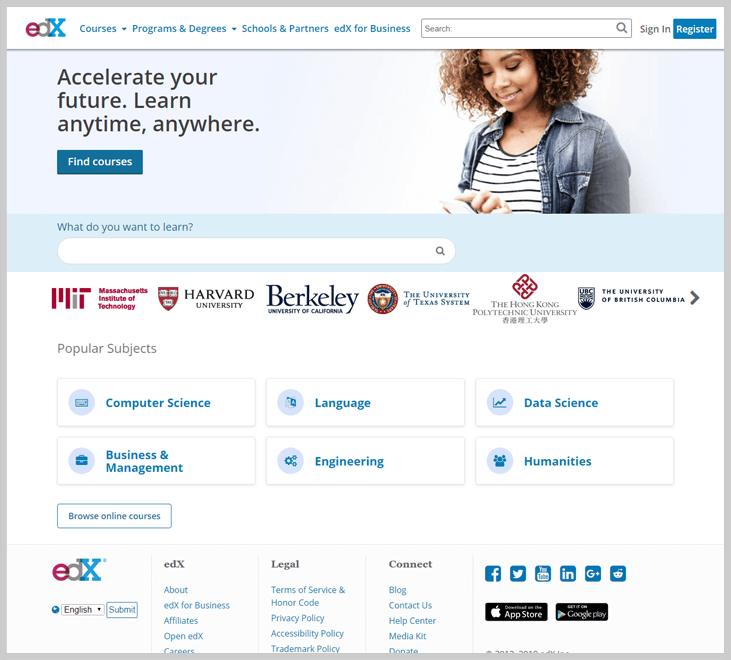 ---
Prominent Features
The instructors of edX are highly experienced and hails from top universities like Havard, MIT and more.
The visitors can completely translate the website in the Spanish language.
edX also provides application on Play Store and App Store, so you can download it and start your learning in mobile and tablets.
The filter option of edX is very vast. So, the user can easily search a desirable course.
It will clear the language barrier as it provides courses in numerous languages such as Chinese, French, Italian, Russian, Japanese, Portuguese, Dutch, English, Spanish, and more.
Note: You can get the premium version for assignment and certificates.
---
Wrapping Up
Here, we have listed some most commonly used free learning websites. Hopefully, this blog will helps you to choose the best service to enhance your learning skills.
All three services comprise multiple functionalities which play a vital role to enhance the quality of educational videos. You can give your reviews regarding the blog in below comment section.
---
You May Also Like To Read: