Are you having problems with delivering a lot of emails to your big client base?
Do they always know what are you up to?
Well, with the WordPress Newsletter plugins we are about to suggest, you won't be thinking about this anymore.
If your site runs on WordPress, you will have a great chance of delivering the newsletter to everyone easily, conveniently and with no headaches.
All of such lead capturing plugin presented here have their own pros and cons and you will be able to pick what's best for you.
Also, Click On The Below Link & Get Bulk Of Lead Generation & Pop Up Plugins
---
1. MailGet
An email newsletter plugin for WordPress provided by bulk email marketing service of FormGet.
A great and handy platform to create and send newsletters and a cheap solution.
Arms you with everything you need to craft emails, send, manage, custom lead generate and track your newsletters.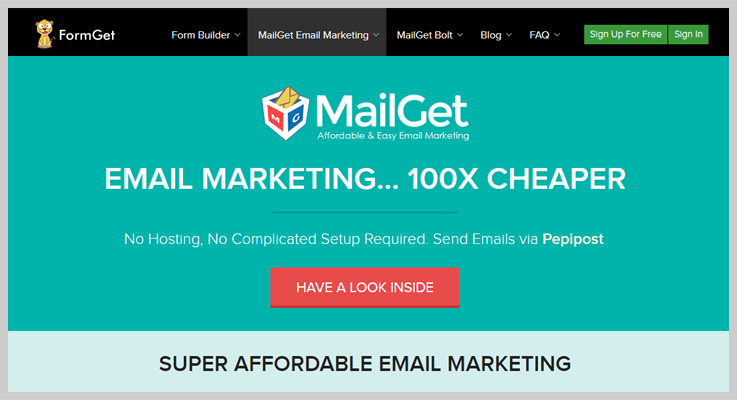 Features:
Powerful email builder.

Lots of appealing email templates.

Drag & drop email builder.

Cheaper yet quality email marketing solution.

Detailed stats on bounced, opened, ignored emails.

Email scheduling and auto-responder. Send automated emails.

Email opt-in forms, personalization tags, and subscriber segmentation.

Send a test email to your private email addresses before the final push to check

 if everything is fine.

Email Malfunction Check.

Integrate website's signup form with your MailGet account.

Download our API from your MailGet dashboard and put some PHP code on your signup form code.

Contact information for the new sign-ups from your website will automatically sync to your MailGet contact list. No need to import the list.
Price:
Free.
$29/Month for 10,000 monthly subscribers plan. Costs $24/month if billed yearly.
$49/Month for 50,000 monthly subscribers plan. Costs $41/month if billed yearly.
$79/Month for 100,000 monthly subscribers plan. Costs $66/month if billed yearly.
MailGet connects with Amazon SES and other SMTP services for sending emails. Amazon charges an extra $1 per 10,000 emails above MailGet Pricing.
---
2. The Newsletter Plugin
Not having a very fancy name, this plugin is one of your best options to manage your newsletter from the WordPress dashboard, without any additional problems. This plugin is very useful, easy to install and use.
This is a great app you can get either for free or premium, and it offers you unlimited mail to unlimited pro members, gives you the chance to store your email locally and export or import mail with the help of any email provider you like.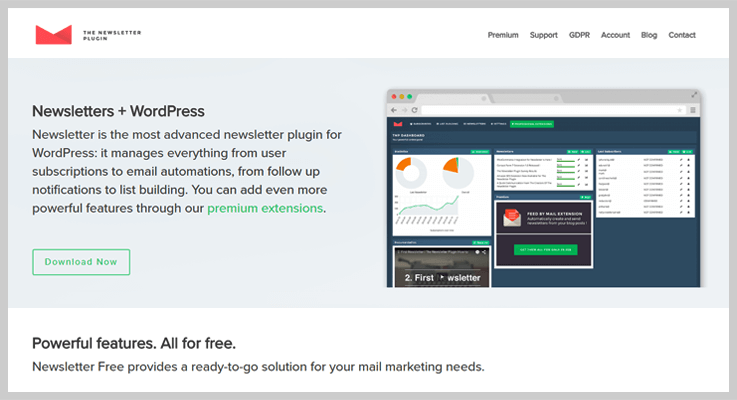 Some of the main features that make this plugin stand out are:
Send unlimited number of emails to as many subscribers you want.

A statistics board tells emails open rates, delivery rates, number of emails sent, etc.

Send automated email regarding new published posts on your website.

A built-in subscription form widget to notify your clients to subscribe.

Subscription widget is customizable. Fields can be added based on the information you want from users.

A built-in visual content editor to build your newsletter far easily that you imagine.

Also Supports external SMTP service provider.

1 click subscription facility for users.

Facility to edit email in HTML.

Messages are fully translatable.
There are 3 different packs available:
Free pack: Offers all the standard options mentioned above.
Blogger pack: $39.95. Offers all of the above, plus a whole year access to updates, 60-days money back guarantee, unlimited install on owned blogs, priority support, and useful extensions.
Agency pack: $97. Offers all of the above mentioned at the free and blogger pack plus unlimited installs.
Premium Packs Come With The Following Apps (extensions) integrated:
Reports extension. Improves internal statistics gathering and organizes statistics.

Feed by Mail extension. Automatically generates and sends email on new posts.

WooCommerce extension. Helps your customers subscribe to your news.

Amazon SES extension. For integrating Amazon with your mailing system.
---
3. SendPress
Yet another easy way for you to manage your newsletter and share information with your clients.
SendPress is a great alternative to Newsletter plugin and has high ratings by many users.
It also has a both a free and a premium version from which the premium version is more expensive than in the SendPress plugin.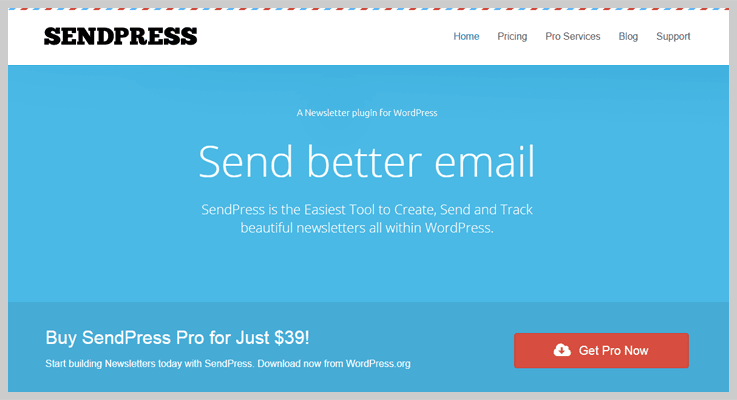 The main features are:
Very easy to use content editor.

A lot of choices to impress your clients with fancy emails. 

Edit text, colors, margins, add images, and so on.

Manage rights for authors and contributors. Restrict managing email settings and editing emails.

Quick reports on emails. But this plugin requires a premium subscription for this feature. The free pack offers you only a quick glimpse of your email status.

Manage subscribers status and information. Add, remove or edit information without having a hard time.

Import a post to your email from blog.
There are 3 premium packs:
Personal: $99. Supports 2 sites and you have all the pro extensions and capabilities, plus one-year updates and supports
Business: $199. Supports 3 sites, plus pro extensions and 1-year support and updates
Developer: $399. Supports 20 sites, plus all of the already above mentioned
What does the premium pack offer?
Custom HTML templates. Choose either text or HTML editor.

Advanced reports with detailed statistics.

SMTP support.

Campaign tracking with Google analytics, etc.

Offers post notifications to your users.
---
4. SendinBlue
This is a very good and free newsletter plugin.
It gives you quite a lot of features and they all are for free, so no wonder a lot of users choose this plugin.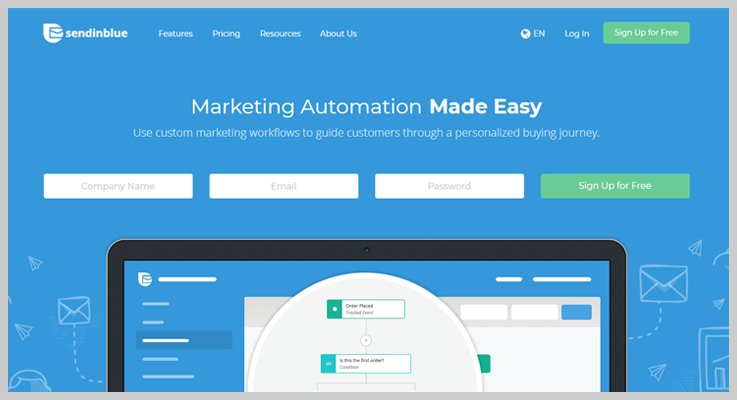 The main features you can get from SendinBlue are:
Very handy, greatly created and customized sign-up forms to i

mpress clients.

Sign-up form as pop-ups. Regulate when popups are to appear.

Send automatic subscription signup form to users active on your site.

Detailed reports and statistics for free.

Integrates with Google analytics. Gives you a detailed analysis of your email.

Very easy to install and use.
Price:
It's all for free for first 600 emails, after that you can go with its premium packs starting from $25 for 40,000 emails/month.
Drawbacks:
No facility of automatic standouts with the latest news and blogs from your blog.

Not greatly moderated and organized as SendPress and Newsletter plugin.
---
5. MailPoet
Yet another great newsletter app at your service!
MailPoet is handy and gives you a lot of widgets to form nicely designed emails.
Offers drag and drop functions, automated emails, analytical stats, autoresponder feature, and much more.
It has both free and premium versions.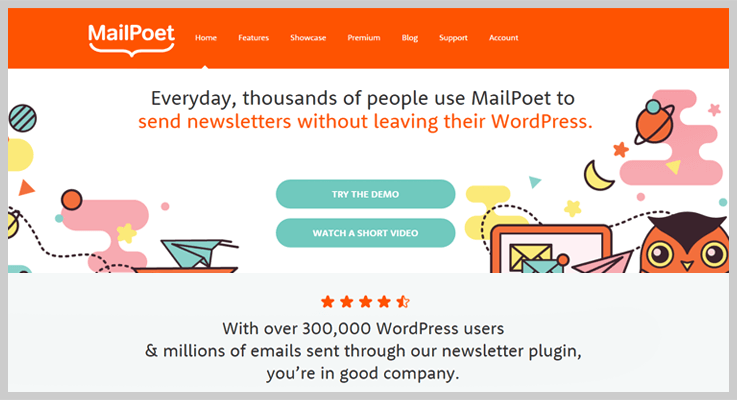 Features
Unique Drag & Drop feature.
Simple and easily customizable.
Drop images, texts, and even full blog post in the mail, and Rearrange.
Over 50 different themes to make appealing emails.
Create your own template using theme creator widget.
Save time. Emails are created and sent within minutes!
Detailed analytical stats to show you who opened your mail, clicked it, ignored it or unsubscribed.
Supports Yahoo, Gmail and even phones (both Android and iOS)! Your subscribers will see emails exactly the way you've styled them.
Create text/html emails.
Email scheduling.
Email Autoresponder.
Price:
It offers 3 premium packs and a free version.
Free.
Blogger: $99 per year ( 1 site supported)
Freelance: $249 per year (3 sites supported)
Agency: $399 per year (Unlimited number of sites supported)
What does the premium pack offer?
There are the features that you don't get in the free version of the plugin but in all of its premium versions.
Support via fast mail within 12 hours.
See your spam score. Comprehensive data on bounced mail or unsubscribed users.
Email Templates.
Stats dashboard with data of top newsletter, subscribers and links, new subscribers count and the best email domains.
Campaign Tracking with Google Analytics.
Get lists of subscribers that click specific links in your website the most. So you know what subscribers like most.
---
6. ALO EasyMail Newsletter
This is a very good choice for those who don't want to pay for using a fairly good newsletter plugin.
This offers all of the basic features that a newsletter plugin can offer you: great stats, easy using and installation, detailed email reports, automatic email sending, links click, easy registration, nicely designed registration forms.
You can have all the necessary features without needing to pay.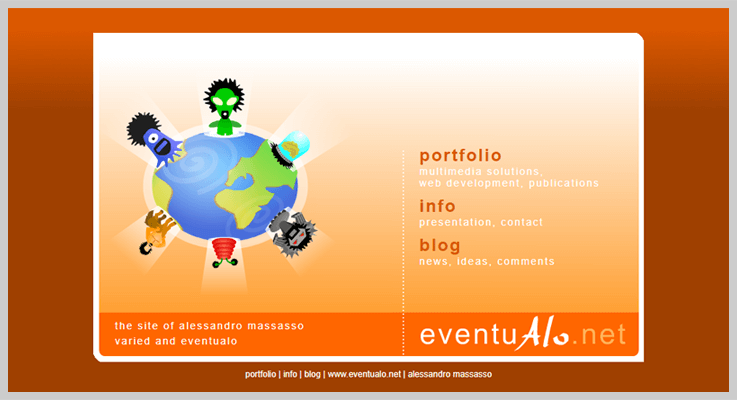 Features:
Edit as HTML and text.

Select multiple recipients.

No limitation on the number of emails or subscribers.

Detailed sending reports.

Bounced email addresses are unsubscribed automatically.

Multiple languages.

Log file that keeps you email.

Manage access of others working on your site.

Importing, exporting and managing subscribers.

Email Scheduling.
So if you want a great deal without needing to pay extra then this plugin is for you.
---
7. Mailbag
Yet another simple and easy to use the plugin, and a favorite of many users. It offers a very easy to work with dashboard thereby finds convenience for you. Subscribers can also register quickly with just a couple of clicks. So full on comfort.

Provides details of your email status with analytical reports.

Integrates both MailChimp and Campaign Monitor API's.
Provides email subscription forms that you can easily drop into your posts or pages.

Subscribe visitors from anywhere in your blog using shortcodes.

Has minimal front-end styles. On disabling styles, inherits styles from your theme.
Customize form using unique CSS selectors.
---
Summing Up
We hope that the information given in this article will come in handy for you and you will be able to pick exactly what you need to serve your purpose.
Also see->