If you have a play school, kids day care or Kindergarten center, then you must go for building a website for it.
And, that website should be attractive, consist of everything a parent look for their children and most importantly it should reflect a personal touch so that any parent can easily trust on you and leave their children at your play school during working hours.
However, your website should be appealing in look wise and must be well organized so that any parent can easily trust on you and leave their children at your play school during working hours.
And, nothing better than creating a website with WordPress!
All you need is to get a perfect child care WordPress theme that gives your site the right look which any child care services should possess.
Well,
Here I have collected 8+ best preschool, child care and kindergarten WordPress themes that will assist you in creating a beautiful and attractive website.
Let's scroll down the list and check out each of the themes in detail –
---
Colorway is a premium Elementor based WordPress theme with lightweight & creative design that is ideal for childcare centers, primary schools, kindergartens & other children related websites. With column, text, product sliders, you can add a visual engagement that will be uplift your website's outlook. Moreover, you can insert images & videos in the slider with ease.
This theme offers many customization options such as impressive color styles, typography options, custom logos & more to customize your website as you want. Using this theme, you get drag & drop customizer, so you can easily create your custom page layouts without any hassle.
Colorway is a fully responsive theme that adapts to every device & screen size. Also, it comes with SEO optimization to boost your search engine rankings.
---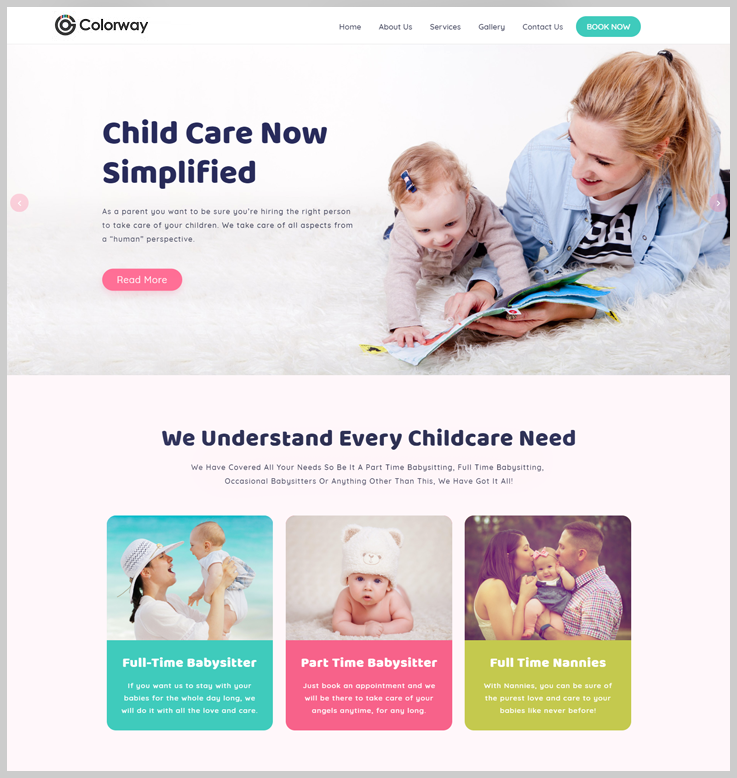 Here are some extra features of Colorway:-
Integrated with WooCommerce plugin
Easy-to-use & powerful AJAX based admin panel
It can be installed in a single click & use it at no cost.
Comes with Image Comparer, LeadUp & AppointUp addons
Supports all modern browsers like Chrome, Opera, Safari, etc.
Various social networking icons to raise website in different social media platforms.
Provides you more than 35 in-built templates to design different types of website niches.
It is bundled with several plugins that are Visual Composer, SiteOrigin, Yoast SEO, etc.
Live DemoTheme Info + Download
---
2. KiddiDays – Child Care WordPress Theme
KiddiDays is an incredible WordPress theme that suits for people running childcare services like Kindergarten, Pre-school, Babysitter services and childcare services. You will love to see the design and layout of this theme, as every element of the theme is outlined in such a fashion that it effectively helps out in showcasing your childcare services.
The theme consists of a various segment where you can display about different services you offer, brief about your history, post blogs and article, place stunning images of your work and many more things which will help you build a bang-up your website.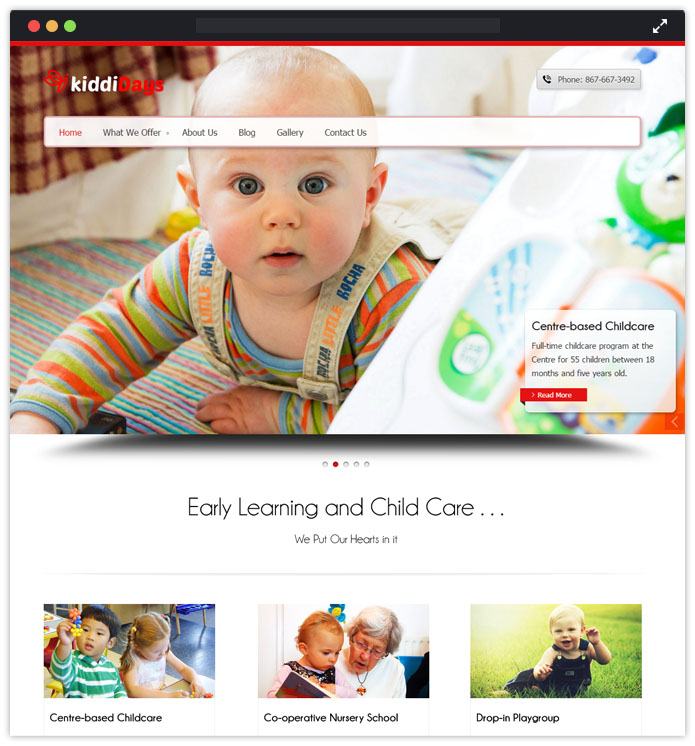 Astonishing features of KiddiDays are –
Full-screen image slider which comes with parallax phenomenon.
Multiple color options to choose from.
Contact Us page comes integrated Google Maps
Responsive layout of the theme makes it accessible through any viewing device.
Live DemoTheme Info + Download
---
3. DayCamp – Day Care WordPress Skin
Another theme absolutely fits for childcare services is – DayCamp. Weather, you run a preschool, kindergarten or even playschool, you can surely go with this theme for building your website. Loaded with some mind-blowing theme customization options, you can transform the theme in whatsoever style, you think will work for your kid's care services.
The wow factor you can say about DayCamp theme is its full-width slider image section, where you can place striking images of your classroom environments. Collectively, this theme is a perfect choice for those who want to do little customization with the theme and just want to launch its website.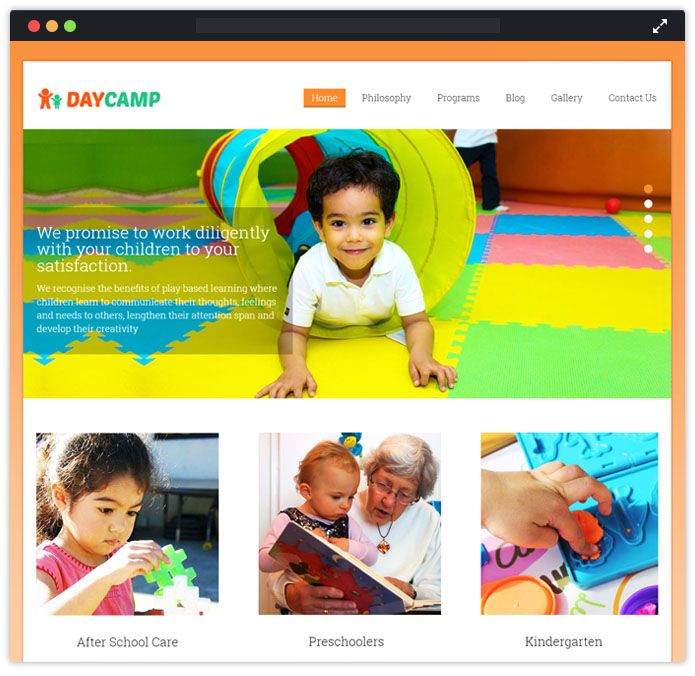 Key features of DayCamp theme are as follows –
Responsive design and retina ready design makes the theme more attractive one.
Gallery section comes with a carousel effects.
Multiple color combinations are available.
Fully optimized according to SEO rules and fits perfect with all the key browsers.
Live DemoTheme Info + Download
---
4. LittleFlower – Preschool WordPress Template
Build on the single-page format, LittleFlower is an ideal option for building preschool and childcare websites. The theme is perfectly crafted in such a style that it shows your proficiency in child caring services besides grabbing visitor's attentions also. The color combination that has been employed in this theme is just amazing one and cut back visitor from leaving your website.
Bundled with powerful features, the theme rightly assists in building the website and holds all resources through which you can create powerful websites. You can perfectly display about your preschool services, and you can create as many as pages you want. An inbuilt lead generation form is also there, which will get you potential leads easily.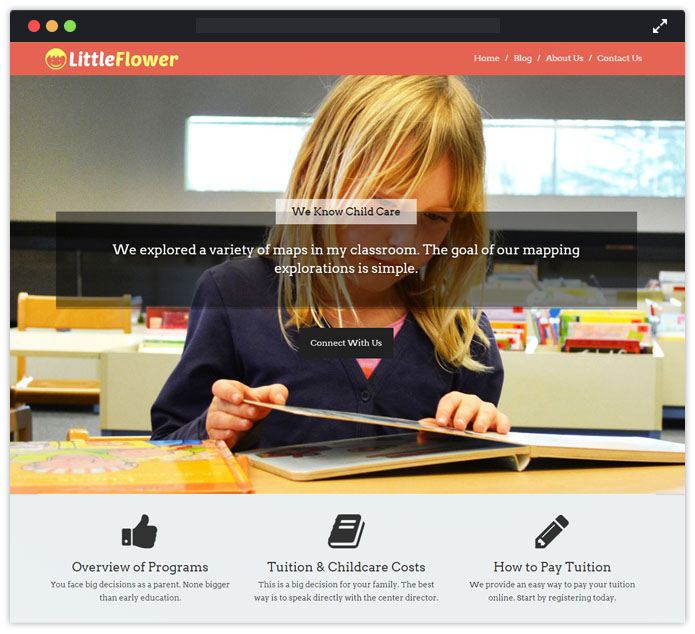 Impressive features of LittleFlower are –
The image slider comes with a parallax effect on it, which makes front end interface very appealing.
Testimonial sections come with animation effect.
Various social sharing widgets such of Facebook, Twitter, Pinterest, Google+.
Fully compatible with all latest browser and simple installation procedure.
Live DemoTheme Info + Download
---
 5. KidsWorlds – Kindergarten WordPress Skin

KidsWorld WordPress theme is an incredible choice to go with, for building kindergarten or child care websites. The design of this theme has a streamlined and clean look which easily catches visitors attention. Moreover, this hassle-free website template can be easily customized by users without any coding knowledge required.
The configuring tools incorporated with this theme will empower you to design your own customized, interesting, robust and clean website that are particularly meant for children and their parents. This theme comes with multiple pages to add a variety of contents that in your website such as for Contact Us, Gallery, Admissions, etc.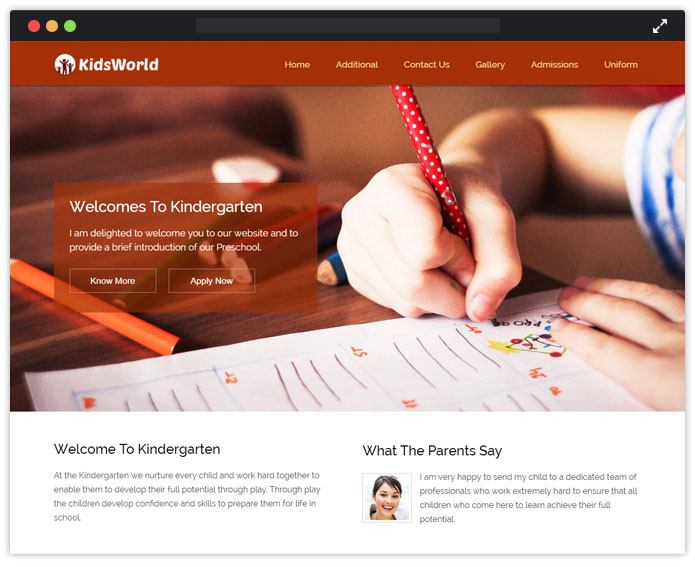 Some features of this theme are –
Blog section to update about upcoming events and functions.
Testimonial sections to display about client's experiences.
Eye-catching gallery section to place your classroom and kindergarten pictures.
Compatible with iPhone, iPad, tablets and mobiles devices.
Live DemoTheme Info + Download
---
6. Babycare – Babysitter WordPress Theme
BabyCare is a staggering website template for those who provides babysitter, nanny services and wants to develop its online presence worldwide. The theme has a clean and elegant look. The themes hold all the elements that vigorously helps you in building a website that can show various information related to your services.
This theme has Ken Burns slider which comes with animation effect. You can place as many as pictures on it with a short description and a call to action buttons on each om them. Plus, you will also see a search bar situated at the bottom, which make the website more user-oriented for visitors.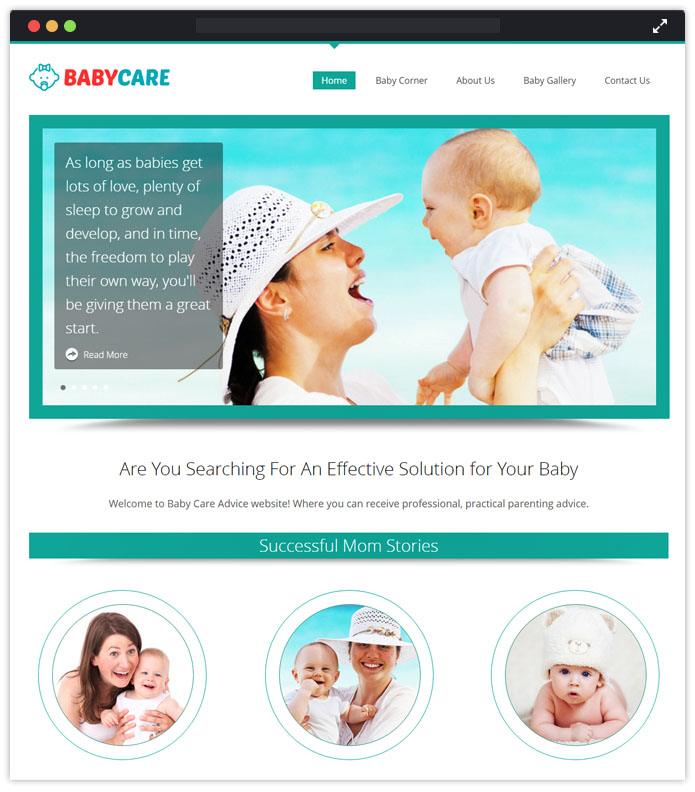 Listed below are features of BabyCare –
Retina ready and compatible with all viewing devices
Inbuilt lead generation form will get you new clients easily.
Spectacular 3 column feature area for displaying various information.
Cross-browser compatible with all popular browsers.
Live DemoTheme Info + Download
---
7. Kiddz WordPress Kindergarten Theme
Nowadays everything is judged by their look, whether it's about a preschool or some or it is a website of any preschool and kindergarten. Well, that's exactly Kiddz WordPress theme comes into use.
Make an interesting child care website using this theme and attract more potential clients towards your play school. Introduce your team member on your site that could help to build a healthy relationship with your clients, post your latest stories and news via blogs and keep your users updated about your school events and programs.
The theme has also got easy to use drag and drop builder that allows you to manage quickly the social icons and sliders.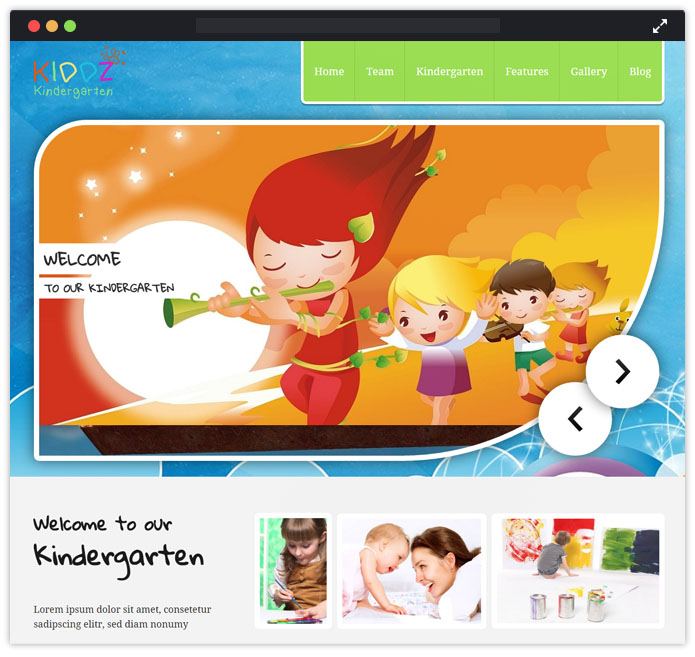 Features of Kidzz that could help to build the best Child Care WP theme –
Customize your theme with all colors, fonts, and backgrounds in few clicks.
Unlimited colors, portfolios, sidebar generator.
Upload your own logo and favicon.
Looks perfect on every device say mobile, tablet, desktop, etc.
Blog section to post latest blogs,
Live DemoTheme Info + Download
---
8. Hot KinderGarten WordPress Skin
Another simple yet powerful WordPress theme to create a kid-friendly website is Hot KinderGarten.
It has a playful and colorful design along with the graphics that gives a creative and different look to your website. The theme consist of multiple pages where you show all your features, a contact section to share your location using Google map, a form is also provided that lets your user contact with you anytime.
The theme is fully responsive and can be used for primary schools, day care center, and other child care websites.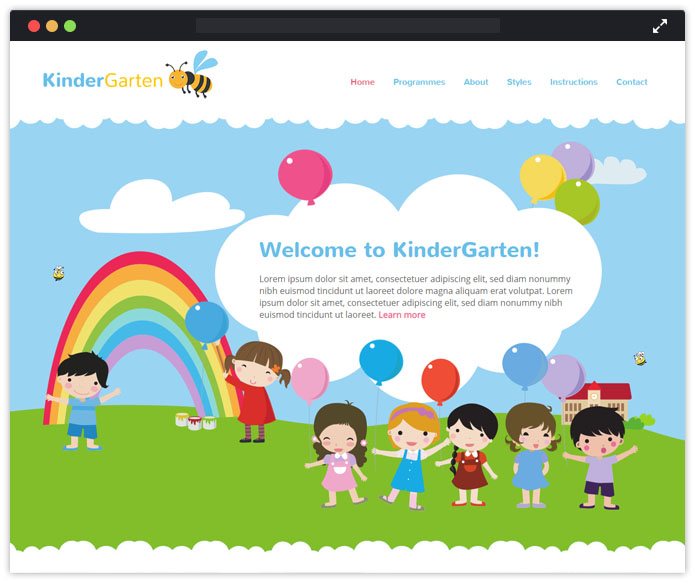 Have a look at some interesting features of this theme –
3 pre-defined styles with 3 different colors (pink-blue-green, purple-yellow and green-yellow). Customization option is also available.
Flexible and customizable layout.
Unlimited widget positions
Supports right-to-left languages.
SEO friendly theme code.
Live DemoTheme Info + Download
---
9. KidsLand – HTML Template For Schools And Educational Institutes
KidsLand theme made easy for you to build up a highly creative and good looking website. The theme is not only created for the primary or day care centers websites but also you can use it for vocational schools, training academy, finishing school, coaching institutes, art school, design schools, etc.
Upload latest blogs, upcoming schools events and other related activities along with the images. Add the multiple images of your school and classroom in 1-column, 2- column, or 3 column gallery section that gives your clients a better experience.
It has all the tools you need to create a school website or small business.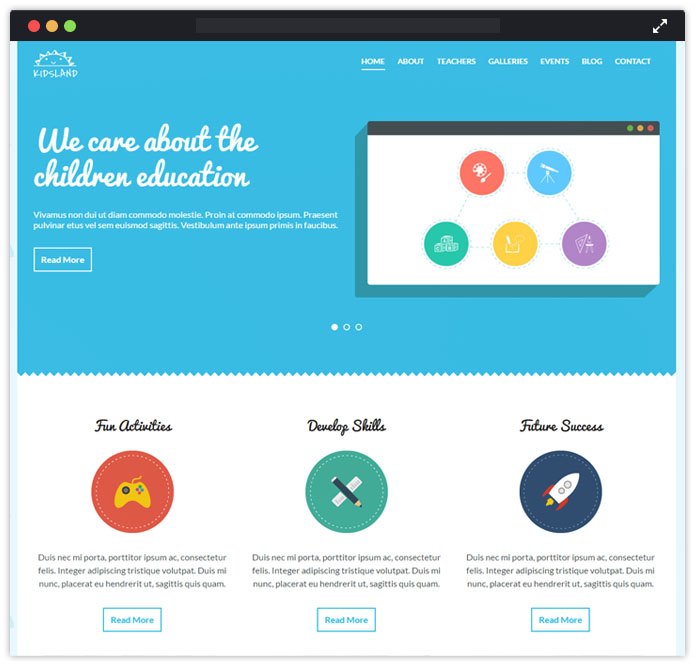 Have a look at some interesting features of KidsLand –
Responsive and flexible layout that works on any device.
Stylish pricing table
Working contact form.
Customization options are available in the theme that does not require any coding.
Font awesome icons.
Full customer support.
Live DemoTheme Info + Download
---
 10. FunPark- Amusement Park WordPress Theme
The FunPark one page WordPress theme is specifically designed for fun centers, water parks, theme parks, Disneyland, fun-zones, national parks, pleasure ground, safari park and adventurous centers to have an online presence. The layout of one-page theme is perfect for covering all aspects of your amusement park services which includes riding technologies, adventure tours, amusement park activities and other regional park details.  
This one-page WP theme is overloaded with customizable features at one single page that a business website needs.The powerful feature of the theme is that you can list your pricing plans and offers along with price tag. Other features like icon image and call to action button, video section where you can share the video of your live rides, events, laser show auditorium, programs news and upcoming events updates are also there.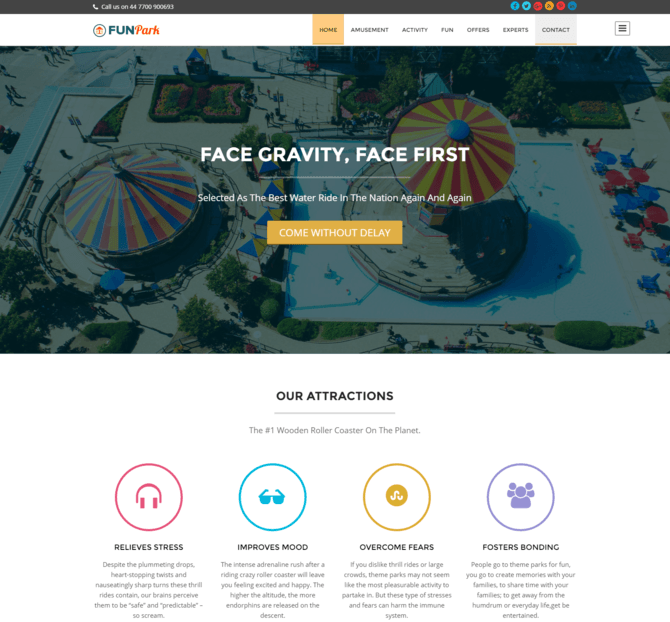 Special Features Of FunPark Are-
Full-Width Slider
4 Column Feature Area

Hexagonal Gallery Section

Testimonial, Member Section Integrated

Built-in Contact Form With Google Map

All Browser Compatible

Sticky On Scroll Up Header Behavior
Live DemoTheme Info + Download
---
Conclusion –
So, these were the 10 best WordPress themes that I've shortlisted for you keeping in mind all the major aspects and other boundaries that are necessary for making a superb website.
Go with either Colorway or KiddiDays  as they include various present great features. Also see some education and training themes here.
Hope, you would like the post and please let me know if you want to add some other themes in the list.
Also read some other related posts  –