It may sometimes happen that your barbershop or fancy salon may not be discoverable by a lot many people in the vicinity.

Why not bring that offline shop of yours at an online platform & let others enjoy the luxury of a lifetime?
We present to you a wonderful collection of handpicked & stylish WordPress themes for hair salons, wellness centers, Spa and other health and beauty related websites. These are apt themes for all types of businesses & fully SEO friendly.
Hair Salon WordPress themes are of premium quality with advanced functionality and strong documentation. You can highlight working hours, alluring and customizable service via special table section and can also introduce your team members.
Get your hands-on the premium WordPress collection…..
---
Colorway –  Barber Shop WordPress theme
If you are a barber and wants to create a website which will take your business to a peak, then Colorway is an ideal theme for you.
Colorway is the most lightweight and fastest Elementor based WordPress theme. It offers outstanding features like 35 plus templates, drag and drop editor, color option and so on which will help you create a fully functional website.
This is a completely free WP theme hence without paying even a penny you can enjoy all its features.
---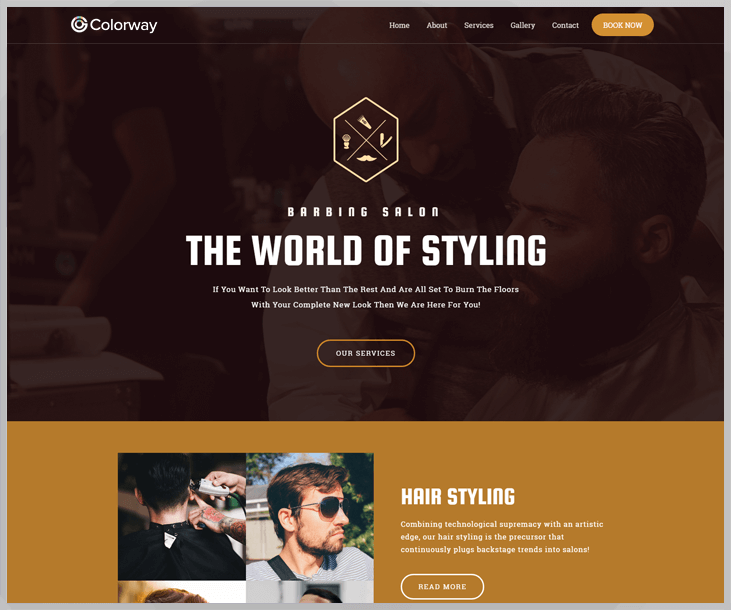 ---
Features of Colorway WordPress Theme:
You get 35+ customizable templates to choose from, you can select the template as per your website requirement.
Colorway provides add-ons which add booking and scheduling feature to your website.
The theme offers social sharing buttons using which you can promote your website in several social platforms.
It is responsive in nature. As a result of this, your website will adapt itself as per the device of usage of your user.
Additionally, this Elementor based theme is SEO optimized. Hence your website can reach to more audience.
Theme Info + DownloadLive Demo
---
Beauty Salon And Style Bar WordPress Theme

You can exhibit the impression of a healthy environment adopted in your beauty care center though this theme.  The beauty exhibition WordPress theme also offers stylish page layouts for your premium services, guest, and staffs.

Beauty Salon WordPress template is apt for Beauticians, Hair stylists & Skin Care Experts, Beauty & Day Spa Salons, Makeup Artists from Film & Television Industry, Manicure and Pedicure Centers, Tanning Salons.
---

---
Features Of Beauty Salon WordPress Template
You can provide a brief description of the features and services provided by your skin care center via about section present on the homepage.

The most important feature of this theme which differentiates your beauty salon from others is online booking module.

You can share the location of your beauty care center through the business location map which makes easy for customers to find the center.

Share beauty tips, latest news and updates, and information about the upcoming events via blog section on the homepage.

You can display real comments and feedback of your customers in the customized testimonial section.
Theme Info + DownloadLive Demo
---
Free Barbershop Website Theme From Weblium
Weblium – is a website builder that provides more than 500 templates absolutely for free, for any niche: wide range categories for website and templates with a unique and stylish design!
The barbershop template developed due to all the requirements and specifics for this niche. The template suits for small and middle businesses. If you wish, you can add new pages, change the existing design, or create your own blog.
If you want to test your design skills – Weblium is an excellent place for this.
Login – choose a template – edit – publish. That's it!
---
---
Features Of Barbershop Template:
Stylish and unique design (Weblium – is a product powered by TemplateMonster, that is a leading website templates provider with 15 years of experience)
The structure of the template created due to business-specific – as a result, not only customers will be satisfied, but Google bots as well.
The template is composed of the most useful pages (review, portfolio, services, etc.), which you can edit and add new pages if needed.
Theme Info + DownloadLive Demo
---
BeautyExpert – Beauty School WordPress Theme
BeautyExpert WordPress theme provides you with the features like inbuilt lead capture form, and advanced functionality to create the website and display your services.
This WordPress template is apt for beauty schools, cosmetology school, hair salons, wellness centers, nail salon, spa care, massage, beauty treatment business, yoga classes, and other health and beauty related websites.
---

---
Attributes Of BeautyExpert WordPress Template
You can showcase beauty courses and services, special offers on batches, share various beauty plans like cosmetology, barber etc. through 4 column feature of the template.

Video section of the template helps you to train the beauty customers and provide them, stress-free online classes.

The visitors can follow and subscribe your video services via special section featured in the BeautyExpert template.

Display success stories of the students who have completed their course from your beauty school. This aids to earn visitors trust which in turn helps to get more registration.
Theme Info + DownloadLive Demo
---
BarbingSalon – Barbing Salon WordPress Theme
If you have a barbing salon and want to advertise your services all over the world then you can do it by creating a customized theme. One such theme is Barbing Salon WordPress Theme where you can showcase your salon products and services in a systematic manner.
Hair Stylist WordPress Template is the best option for Barbers, Hair Designers, Hair Stylists, Spa Owners, Beauticians, Tonsorial Artists And Men's Hair Cutters.
---

---
Features Of BarbingSalon WordPress Template
Display the salon's best hair designs in full-width slider along with the full-size pictures of barbing salon tools, hairstyles, beard products, parlor's interior and so on.

3 column service area facilitates you to exhibit your business services such as hair coloring, straightening, eyebrow shaping, laser treatment, facials, massage, waxing, hair trimming, etc.

You can advertise the promotional ads of other companies via homepage clients setting option from the backend.
You can exhibit the real comments and feedback of visitors in the special testimonial section of the theme.
Theme Info + DownloadLive Demo
---
CoolDude – Barber Shop WordPress Theme
Cool Dude is an excellent WordPress theme for haircutting, hairdressing, grooming, styling workshops, membership salons, and other businesses. The theme consists of fascinating one-page style that matches the hair grooming profession so well.
The Beauty Place WordPress theme is designed in such a manner that it contains special sections for services, pricing tables, blog, videos, client testimonials & contact. The latest bootstrap in this template persuades a cutting edge functionality, compatibility, and a good user experience.
---

---
Ingredients Of CoolDude WordPress Template
The template is loaded with various advanced features such as Glyph icons integration and uses modern technologies like HTML5.

You can flaunt your expert barber team member's profile with links to their social media sites.

Share your tips on hair care, your sense of hairdressing, or hair cutting, or anything you can help your clients within the blog section of the theme.

Exhibiting your client's photograph and their valuable feedback in special testimonial section of the theme will make your clients feel special.
Theme Info + DownloadLive Demo
---
Hair Styler – Barber Shop WordPress Theme
Hair Styler WordPress theme is loaded with tons of features that let you flaunt your services in a stylish manner before your clients. It is an alluring template for barbers & hairdressers where they can exhibit their work and earn reliability.
Hair selling WordPress theme is ideal for designing barber shop, hair salon's, hair dresser's portfolio and hairdressing website. This WordPress theme for hairstylists helps you to acquire traffic on your website and expand your business.
---

---
Elements Of Hair Styler WordPress Template
Exhibit your vital services with their brief description and photos in the 3 column service section of the Hair Styler Template.

This template has a 'call to action' button at its top right corner that enables clients to fix an easy appointment.

The contact form is entrenched with google maps which make easier for customers to locate your geolocation.

You can exhibit your hairstyle portfolio in the inbuilt picture gallery of the template to attract more traffic.

Exclusive testimonial section of the template allows you to flaunt the real feedback and comments of the clients.
Theme Info + DownloadLive Demo
---
StylishCut – Hair Stylist WordPress Theme
If you are a professional hairstylist and want to flaunt your services online, then opting the correct theme to do so is important. Stylish Cut WordPress theme is perfectly designed for a Hairdresser, Barbers, Tonsorial Artist and Hairstylist.

Hair care WordPress theme is loaded with tons of features that allow you to create a website for your beauty parlors, wellness centers, haircutting salons, spas, etc. The homepage possesses boxed slider, feature section, the business tagline etc.
---

---
Specifications Of StylishCut WordPress Template
The theme is adaptable to the latest version of WordPress, HTML, and CSS which aids you to design an online platform that is suitable for your hairstyle center.

The exclusive Ken Burns slider effect provides an animated effect to your work which assists you to attract more clients.

You can flaunt your beauty center and popular hairstyles images in the gallery section of the template on the homepage.

The testimonial section gives freedom to your users to write reviews about your business services, etc.

You can share latest updates about hairstyling, hair care and styling tips with clients via special blog section of the template.
Theme Info + DownloadLive Demo
---
MagicalHair – Hair Extensions Center WooCommerce WordPress Theme
Do you want to showcase your knowledge about hair extensions center, hair salon, spa, beauty center, etc. online then you should delve into the Magical Hair WordPress theme.
The Haircare WordPress template is supplied with features to design a customized website & is specially carved for hair extension centers, professional hair styles, beauty parlors & hair replacement etc.
---

---
Characteristics Of MagicalHair WordPress Template
You can display the unique features of your website in an exclusive flip display section where the services get flipped over when clients go through the services.

Exhibit the Salon & Spa services that are offered to your clients at your Hair Care Center like trending haircuts, hair coloring, hair straightening, different hairstyles etc. in the special column available on the homepage.

Display the exclusive snapshots of various services in the homepage slider section that assist you to make your website more tempting.

You can advertise your styling techniques and work via fascinating features of the template like video endorsement on the homepage and real comments and feedback via testimonial section.
Theme Info + DownloadLive Demo
---
MassageParlour – Foot Massage WordPress Theme
Do you run a business related to the foot massage or foot spa and want to exhibit your services to the world the designing a WordPress website is the best choice? You must opt for Massage Parlour WordPress template.
Massage salon WordPress theme assists you in publishing your foot massage services and attract more clients. The theme is composed of elements that will definitely help you in flourishing a proper online presence and thus, helps you to get recognized worldwide.
---

---
Features Of MassageParlour WordPress Template
Images help you explain more easily so, flaunt the services you offer in your foot massage center in the form of snaps in the exclusive image slider present on the homepage.

Clients can engage their time slot for foot treatment through the inbuilt appointment form plugin. Double booking of time slots is prevented by the template, ie once a time slot is reserved then it is shifted from the available reservation slot.

Share your foot spa tips and benefits with your valuable clients and update them about the latest events via blogs section of theme.
Theme Info + DownloadLive Demo
---
Conclusion
As of now, you've been through all the best & premium Barber, hair care & beauty massage salon WordPress themes. We hope that you choose the best amongst the whole list.
If you like our article or have any suggestions for improvements! Please write to us anytime.. comment in the section below & let us know your opinions!
Get going with more WordPress themes from our collection….