Are you looking to start your own affiliate business and want to earn money by simply promoting other vendor products.
Every year thousands of newbies start their affiliate business and earn passive income with affiliate marketing.
It's easy to sell product of other by promoting on website or blogs than creating and managing entire product cycle.
Today I am going in detail, how affiliate marketing works.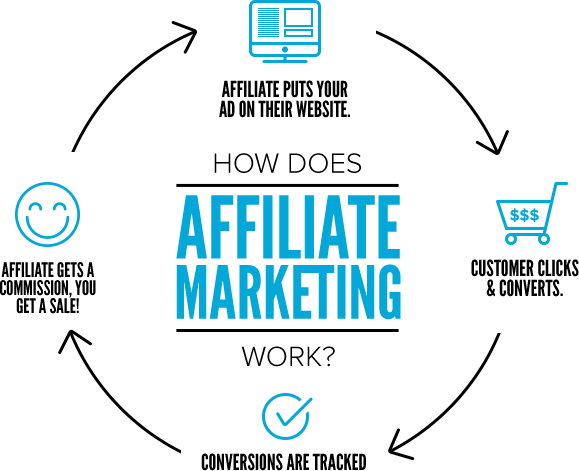 What Is Affiliate Marketing ?
Affiliate marketing is the course of making commission by promoting other people's products or services without actually owning it. More accurately it is to get paid by the company to encourage people to buy the company's product.
This particular act of marketing has become a huge online industry since the past couple of years. 
In order to take full advantage of the concept of affiliate marketing it is necessary to have a deep understanding of how it works and how can one shift from the traditional marketing techniques to the advantageous techniques of affiliate marketing.
In the process of affiliate marketing there are three main parties: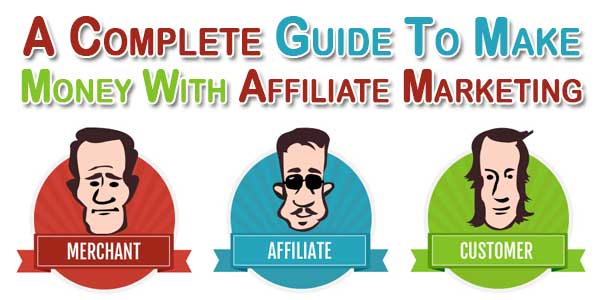 A. Merchant Or Advertiser : Product Owner 
In affiliate marketing advertiser is a person or a company who pays other people to help him sell his products or services.
An merchant, maybe a (software) company who offering services like email marketing, web development, selling products like WordPress themes and many others.
The advertiser is the one who is responsible for showing his presence on the web in order to sell the products and services offered. The action plan of the overall affiliate marketing is initiated by the advertiser and he is also known as the merchant in the business language.
The advertisers usually likes the process of affiliate marketing as it has a fixed rate or cost. The advertiser is able to jot down the list of his publishers who are supposed to bring back business to him.
B. Affiliate : Publish Advertisement On Website Or Blogs
In affiliate marketing publisher refers to the person or a company who serves by promoting the advertiser's products or services and gets paid in the form of commission.
The publisher puts the banners, links, logos or text provided by the advertiser, on his website or blogs. Flash signs or some catchy lines regarding the product thus, compelling the consumer to click on the link.
In reality he does not own a service or a product nor is he responsible for advertising it he is supposed to attract users of the web to get their attention on the link and make them click on it. For doing such a thing merchant offered percentage base commission of a fixed amount of money to advertiser in particular.
In most cases the publishers are good with the content so that they can easily provide solutions to the queries of the people or the web visitors.  Along with the promotion of the work of their partner, provide recommendations where needed and gives an extra boost with the addition of reviews.
The publisher makes sure that a link from their site connects the site of their business partner or the advertiser's website so that people can easily pave their ways through it. The publisher gets his part of the profit share as they make sales for their merchant.
C. Customer : Who Buy Products
The consumer is an individual who sees the advertisement and get convinced to buy or avail the product or service.
The customer is basically on the lookout for some valid piece of information regarding his problem or query. The publisher is able to help the consumer by providing what exactly he may be looking for. If customer click on the link and buy product this process is known as conversion in affiliate marketing business.
The consumer manages to create a relationship with the publisher through different mediums of information transfer. The relationship is propagated through an email a loyalty, any kind of membership program etc.
Why Affiliate Marketing?
You do not need to worry about development of products or support customers after they purchase the products. Affiliate Marketing is all about promoting others products and selling it using your affiliate links.
How Much Money Can You Make With Affiliate Marketing?
Well, there's no limit as such. You can make passive income with affiliate marketing. Your income depends on your network and your email list. And of course on your selection of products to promote.
One of the fastest way to setup your affiliate website is using WordPress. Yes install WordPress on your server and get your affiliate website ready within next 10 minutes using Rethink Theme. It will hardly take 10 minutes to set up your affiliate website using Rethink theme.
You Promote Affiliate Product in Two Ways:
A. Don't Have Personal Experience:
In this form of affiliate marketing you are showing your presence. You are promoting the product in the form of blog, a video or a podcast. But the publisher does not have the personal experience of using that product. This level of marketing has its risk as sometimes the buyer comes back to you or maybe he asks the details of the product. If you do not have the proper information about the product, your credibility as a marketer is at stake. On the other hand if you had the personal experience of using that product, you will feel confident in promoting it and you will be more than willing to help the consumer in case of any query on his part.
B. Having Personal Experience:
This is the most honest and involved way of affiliate marketing. In this level the publisher is promoting the product by truly believing in it.  He recommends the visitors a certain product by actually telling his own experience of using that product in his routine life. He recommends the product not in any banner or any kind of link but, in his content directly. This form of affiliate marketing is most effective especially if you enjoy some credibility among the audience. But at the same time there also lies a responsibility on you to fulfill their expectations.
HOW TO START AFFILIATE MARKETING:
A. Picking your niche
By picking your niche means to sell the products according to your area of interest. You should select a niche according to your expertise. For example if you are an interior designer you will be more comfortable to promote an artistic piece of furniture rather than some home gadgetry.
B. Starting your website
Before signing up with any company you need to start your own website. Many companies would want to see the status and content of your website before signing you in.
C. Choosing an affiliate program
While choosing an affiliate program you need to make thorough research in affiliate marketplace as to which affiliate marketing program is performing well basing on your blog niche. It is also important to be aware of the latest products publishing in blogs of your niche. So that you remain updated in your blog.
D. Signing up for affiliate program
After selecting your program you need to sign up with the company who is offering that affiliate program. Signing up with any affiliate program is free of charge.
After signing up you will receive a tracking line and from then onwards while promoting that company's product, you will recommend that affiliate link to direct the consumer to the company's website. The company might ask the URL and you can provide the URL of the website you made.
10 RULES TO BE A SMART AFFILIATE MARKETER
If you are new in affiliate marketing business, there are certain rules that need to be kept in view while starting up. Initially when you start up, a clear direction is important and you should never run after the commission, as you need to make your name and credibility in the market first and the money will follow afterward.
RULE #1: Be honest and never make false claims:
While promoting a product to the audience never make false claim of using or benefitting from that product or service until you actually haven't done that. Instead if you want to promote that product you can convince the consumer that why do you think he needs to buy that product and how will it be beneficial for him. This honest way of marketing will never let your name down and will make you credible among the audience.
RULE #2: Share your personal experience
Always relate your personal experience with the product. Share your experience as how you happened to use that product and what difference did it make in your life. People always get inspired by the real life experience of others rather than just asking them to buy the product.
RULE#3: Always try to recommend
Never insist the consumer by putting flashy banners like BUY IT NOW or anything like it. Do not try to sell but instead be involved and make the consumer believe that you are there to help. Always recommend the product by sharing your own experience.
RULE#4: Details of the product
Always promote the product which you are confident about. Get full details of the product, its use, how it works and share it with the audience. Never encourage people to buy the product you yourself does not know about.
RULE#5: Be manageable
When you are new in affiliate marketing you run after any affiliate program you get to see. And this is how you make things unmanageable for yourself. So, always choose wisely as which affiliate program you need to work in and later when you are settled and have made your name in the market, you can manage to open up new income generating avenues online.
RULE #6: Keep the trust of the consumers by always following up
Whenever you recommend a product to your consumer and if they choose to buy it, always make the follow up. Always get the comments and reviews as how they found that product and always be there to assist them in case they find any inconvenience or problem using that product. This is how you will never lose the trust of your audience and your name will become more credible in the market.
RULE#7: Never be contradictory in your content or posts
There are often sites that put contradictory notes while advertising a product. Be careful on what you write otherwise you will lose your trust among the audience.
RULE#8: Never get distracted
When working online a lot of distractions come in the form of flashy banners like easy way to earn money online or something which attracts you and get you distracted from your program which you are already working on. This is how you lose your concentration in search of something better.
When you start up as an affiliate marketer all you need to do is to be focused on building up your reputation and name. Once you are established, other avenues will open up automatically.
RULE#9: Focus on your content
When you are running a blog always focus on the content you are writing. Writing what interests people, something they haven't read or about something they haven't experience before. More importantly you should produce the content relevant to your niche. Good, informative and engaging piece of writings will compel them to come to your blog regularly and the money comes automatically.
Write the posts or content which automatically drives the consumer to your affiliated link. If you are writing posts for the sake of supporting your link like a salesman, you are less likely to succeed. Make the consumer believe through your writings that they really need this product and this is high time that they should try this.
RULE#10: Include Visual ADS in your sidebars
On every website there is always a side bar. You have to utilize that side bar putting visual ads on it. That will make it attractive and a great idea to promote products according to your niche.
RULE#11 : Be Analytical
Always be analytical about your performance, what you sell, how and to whom. And to which strategy works best for you and which doesn't.
You need to see which posts are being hit most and try to link more affiliated ads on that post.
Focus on what ads doesn't work for you and try to get rid of them soon. Use more of those ads which are receiving most attention.
CONCLUSION
Affiliate marketing, with its unique set of advantages has brought revolution in the e-commerce industry. This boom in e-commerce industry has resulted in record sales of by a single international websites in a day, surpassing their own sales records.  This is the flexible method of marketing and promoting your product with ease and comfort of your home at any time according to your convenience. Moreover it saves your effort and time to reach the masses. Market of your product as in the people who might be interested to buy your product can easily be reached and entertained. Thus, it's a win win situation for all, the advertiser, the publisher and the consumer.
The maximum benefits from affiliate marketing can be reaped only by optimizing the client and affiliate's relationship. If they are in mutual consent both can enjoy mutual benefits as well.

In Affiliate marketing you are only paid if a predetermine action is met. That means if a desirable action is not completed you will not be paid. That means there is no risk of loss on the part of advertiser.

In affiliate marketing you don't require a good amount of investment on the part of affiliate plus there is no certain pre requisite to start affiliate marketing. In fact signing up with any affiliate program is free of cost. All you need is your time and effort.
Before starting affiliate marketing business its disadvantages should also be taken under consideration:
In affiliate advertising some people are involved in false advertising and unfair and unlawful ways to malign brands.

Merchants may be dishonest and promise higher rates and then reduce afterwards.

Affiliates may engage in false advertisements to mislead the merchants and get commission.
Affiliate marketing with all its advantages and disadvantages is still one of the best home based online businesses. Its advantages can be overcome easily by taking simple security checks and measures.
1.What is Affiliate Marketing?
In simple words promoting products developed by others and get some commission on every sale.
Why Rethink Theme?
Easy to setup and manage your whole website.
Search engine friendly theme which makes it a good theme for Affiliates.
Rating system integrated.
Each product page has options to send user to target website with your affiliate link.
Attractive clickable slider.
Sidebar is widgetized.
Ability to turn your visitors into buyers by reviewing system.
Easy to enter your affiliate link for every single product.
Rethink theme lets you create your own affiliate business with ease.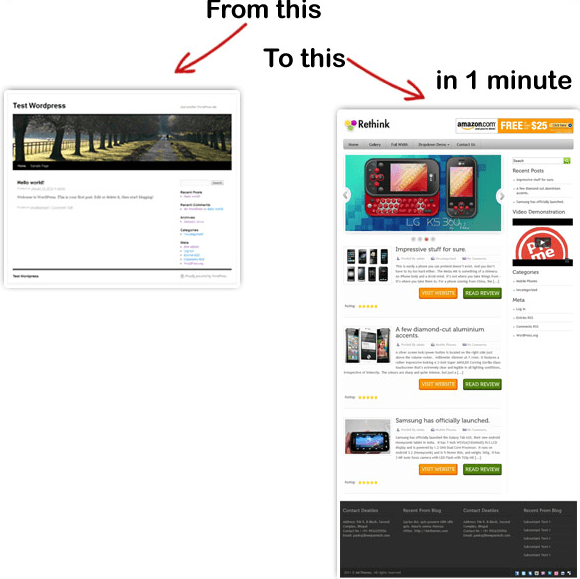 Important things you should focus on:
1> Selection of product categories that you will be promoting.
2> Method of Promotion.
3> SEO (keyword ranking for products you are promoting)
Tip:  1.
To make your website more professional I would suggest you to use any link redirect/cloaking plugin. Install the plugin in your WordPress website and create good looking links like
http://yoursite.com/go/targetsite
2. I recommend every new Affiliate marketer to maintain an excel sheet of products they are promoting. It would save you from the chaos which will be created in future when you will have huge number of different products to promote.
Conclusion:
If takes less than 10 minutes to start your own business then you should give it a try. Following some strong strategies will make you successful. Be active and updated with whats going on in market to compete with others.
You might also be interested in: