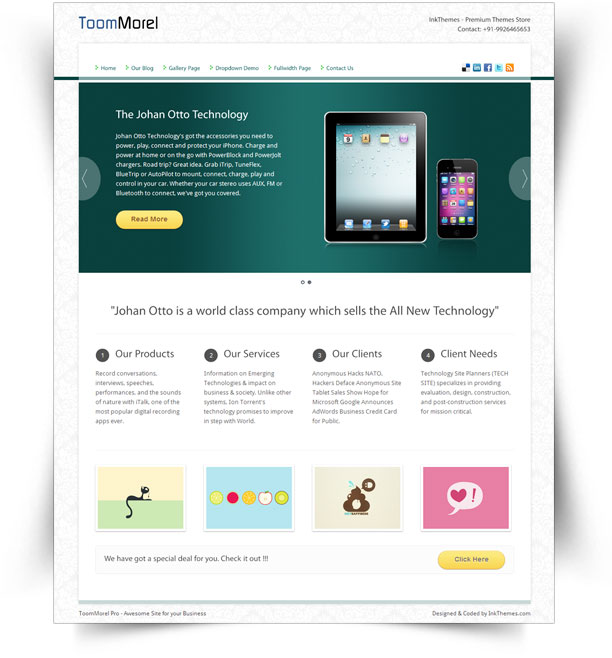 Looking for an ultra-easy platform to build websites. Here is an ideal solution. Easy to frame and customize.
We at InkThemes built our Themes with Single Click Install and ToomMorel supports a Single Click Installation. You can access an easy and powerful website building at one cost. It is integrated with easy interface that supports instant design and custom actions. With ToomMorel advance theme option panel, it's super-easy to edit and draw-up your website in few clicks. Either a moving slider image, logos, featured images or post/pages contents, you can easily put it in your website and modify in few clicks.
If you talk about it's layout, it has included, each and every elegant features to present your business items, products and services in front of your audience. Say about moving sliders, attention-focused headline areas, 4-column business feature area everyone is distinctively highlight. You just need to put up your content according to your requirement.
It has various facilities like-
Custom widgets, custom footer, custom background, custom colors, these all attribute are inbuilt in the template to make your website creation work mega-easy. Design the website on one side and see it's live front-view on the other. Customization and updation goes parallely. You will love to see the instant front-view of your website according to your own requirement.
So, if  you are running a web-designing company, you can literally get your site ready for yourself and your Client by it's easy custom panel.
With mighty-easy customization, ToomMorel has a clean and modern interface and tons of features. It comes with multiple color styling which is really helpful in building sites for various different niches. From health to education or from beauty to food. You can do customization as per as your choice.
At the end, it's so easy to convert the theme to different niches, you can draw fabulous look and of feel of the site in various possible ways.
Grab the theme now for your business work and growth

The free version of ToomMorel WordPress Theme is now Available at WordPress.org.
Key Features
Seven Different Skins – Blue, Pink, Red, Brown , Black , Yellow, Green.
Lots Of Amazing Shortcodes – Images, Contact Form, Dividers and more.
Individual Page/Post Customisation – Change various layout options on each individual page (or globally if you want).
Contact Form – Built-in ajax/php contact form, with javascript turned off fallback.
Drop-down Menus – Unlimited levels.
Drag & Drop Menu Manager – WordPress 3.0+ powered.
Color– Edit all the site colors.
Tim-thumb – Optional automatic image cropping and resizing.
Unlimited Sidebars – Create as many sidebars as you want and assign them to individual posts/pages.
Theme Options – Tons of easy to use options to customize your theme.
Full Theme PSD Included.
Documentation – Detailed step by step help file with videos.
Compatible In All Major Browsers.