Introducing Rethink, a Product Review Theme for WordPress users, It is user friendly and really easy to setup and configure for internet marketer and for WordPress users.
1. What is WordPress Review/Affiliate Themes ?
Review website help you to review products with your affiliate id and make more sale in your pocket especially for affiliate marketers.
2. Why Review/Affiliate Themes?
As an affiliate marketer, your goal is to attract visitors that are ready to buy.
Using review sites for affiliate marketing is ideal because you are attracting visitors that are looking for a specific product or service and are ready to buy.
When a person is looking to make a buying decision they look to reviews online.
These customers are ready to buy, they just want to know they're making the best choice and getting the best deal available.
If your blog provides quality reviews that make their buying decision easy you will earn the commissions.
Internet Marketer/Affiliates make more sale when the Affiliate link on the website are place in such a manner that it gets maximum hits.
So this WordPress Affiliate theme comes with good design principal to boost your Affiliate Income.
3. How many Affiliate Networks do your Themes Supports?
We support almost all the major affiliate programs all you have to do is just grab their affiliate links and put in the custom  text box, That's all you are now ready with your affiliate website.
4. Is it easy to Setup your Rethink Theme?
Yes, It is really very easy to setup and configure your review website no technical expertise required.
5. How much time will it take to setup the website?
In order to get you website online you have to just press the "Activate" button of theme. Your WordPress website would be ready, pre-loaded with default generic content including images. Now all you have to do, is edit the text and add your own images.
6. Will it be easy to put affiliate link on my website?
We have created custom field to put your affiliate id, no coding skill required.
7. How many products can I show with your Affiliate Theme?
You can show any number of products, It completely depend on you. You have to just grab your affiliate id and content and you are ready to launch new product.
8. Can I place video on the Home page?
Yes, You can put the Product video, Opt-in form, Product images, anything you like all the text box support HTML and it really easy to use the theme.
9. Can I make multiple website with your theme?
Yes, You are free to make any number of website with the theme.
10. Do your themes are WordPress 3.3+ Compatible?
Yes themes are compatible with all the latest versions of WordPress. It is our responsibility to make themes compatible with WordPress new version.
Rethink Effective Features
Beautiful Slider to Showcase 4-Different Images on Home page
Widgetized Sidebar
Inbuilt Templates- Default Template, Contact Page, Fullwidth Page, Gallery Page, Product Page, Product Portfolio Page etc
Provided with Social Icons, so that easy for users to follow you on Social networks
Footer Text area
Compatible with all major Browsers
Completely Responsive on various devices like- Mobiles, iPad, Tablets, Smart phones, Desktop etc
Unlimited Drop down menu level
Available with many useful Widgets
Easy to use Theme Options Interface
Rethink Theme Different Previews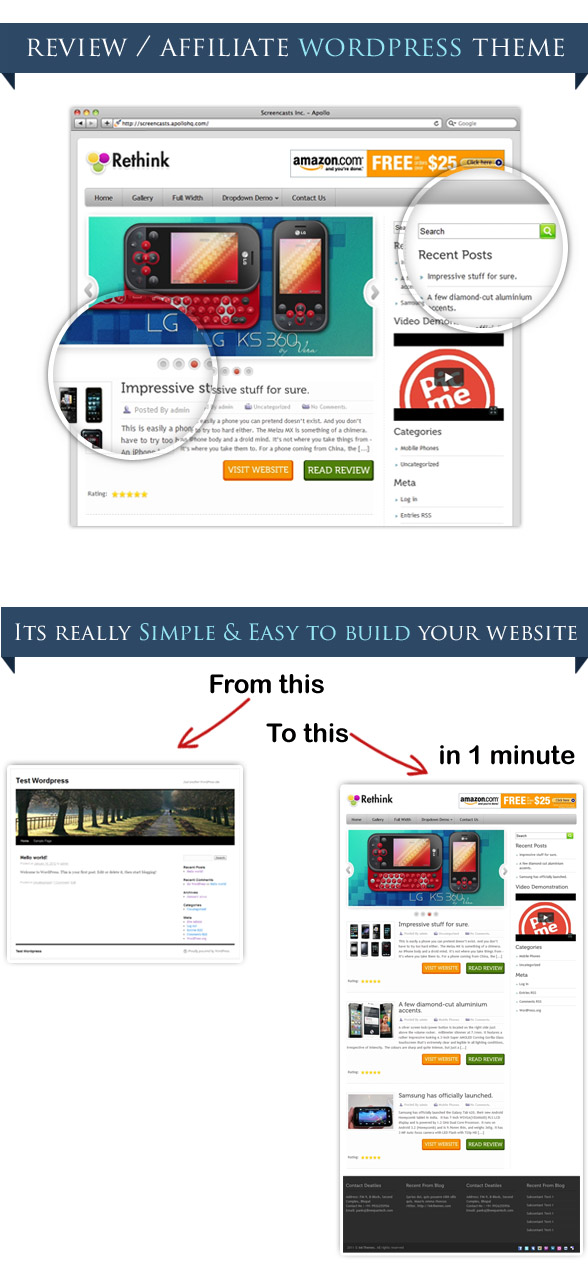 So what are you waiting for, Grab the deal now.