WordPress Social Share Plugins
I have been a loyal WordPress community and software user, for what seems like 6 full years. In this time, I've gone trough roughly 100 of different social sharing plugins – what can I say, I care about my style – and I have seen great plugins become not-so great, and I've seen plugins take community advice and improve for the better.
There is always going to be demand for plugins that integrate social sharing into your WordPress blog, social media is no small thing and I do believe that when someone installs a new WordPress installation – the first few plugins that are being put in place will have social sharing among them, what are the plugins you install first?
We have to agree on the simple fact, that isn't a perfect plugin available out there. We all have different style choices, opinion of what's good and what's terrible. We want something that resonates with our own style and also with our blog's theme, am I right?
Over the years, I've come to realize there are roughly four categories that social sharing plugins for WordPress fall under:
Floating Bars (Scrolling)
Before / After Content (Standard)
Sidebar Widget (Direct Links)
Social Media "Box" (All in One)
I'm sure you already know which ones you prefer. In case you're wondering how is this guide going to beat the last one; it's not my intention to compete. I only want to make it easy for you to make the right choice and choose a sharing plugin that will seamlessly flow with the rest of the design.
I will not hold you for much longer, and lets look at the list of plugins that are currently available on the market, free of charge.
Floating Bars (Scrolling)
Floating bars, otherwise known was sticky floating bars, is a type of plugin that "sticks" to the side of the page and is scrolling along with the user whenever he is scrolling up, or down.
This type of sharing has become really popular over the last two years, and could very well be named as the standard way of displaying sharing buttons across your blog, or website. In the recent months we're also seeing most of the floating bar plugins to adapt for mobiles – which makes them even more appealing.
There is an alternative plugin to this available, and it promises to increase the speed by reducing load times of the requests, and while speed is important – the original seems to be working just fine for me and other bloggers that I know. The original, also, is carrying a lot more options and functionality.
The Digg Digg floating share bar is being developed and maintained by Buffer, a social sharing company located in the sunny California. There are currently over 800,000 installs that have been created for this plugin, and I myself – I've seen it plenty of times around the web, just like you.
Notable Features of Digg Digg:
Includes All Popular Social Networks
Right / Left Side Floating Bar
Standard Sharing Buttons (Before / After / Shortcode)
Lazy Loading (Increase Speed)
Custom Button Order
This is definitely one of the top floating bar plugins on my list.
Slick sharing buttons are great to use if you're also operating a blog that is heavily visited by mobile users, as it looks really nice on the side of the blog posts – as far as I know, floating bar plugins like Digg Digg, do not support mobile designs.
The Slick Social Sharing plugin is very lightweight, and has custom built-in social metrics that will track the shares of your content within the admin dashboard, neat!
Notable Features of Slick Social Share Buttons:
Social Statistics
Automatic URL Shortening
Versatile Positioning
All of Major Social Networks
Custom Open / Close Button
My personal reason for listing this plugin is the flexibility and the ability to change the "SHARE" button to whatever you like. There are people who get distracted by having sharing buttons to their left / right, so it's always nice to be able to close them easily, and reopen them when reading has been finished.
This plugin is developed by the lovely Syed, who is the founder of WordPress websites WPBeginner. This plugin is a little bit more tricky to show an example of, so I have taken two snapshots to try and show you how it works.
BEFORE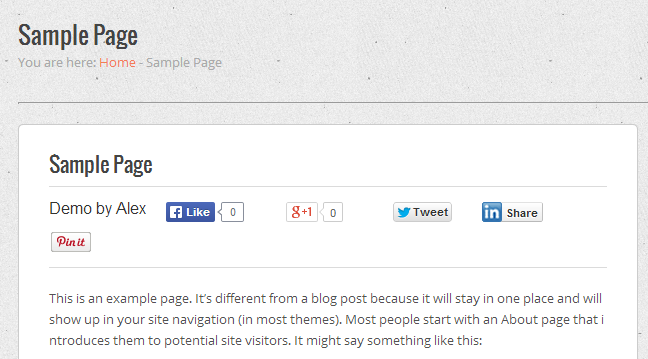 AFTER
As you can see, in the second snapshot the text has changed, but the floating bar remained where it was before. You have the ability to disable the scrolling (floating) of this plugin within the admin dashboard.
The reason for including this plugin is because of how lightweight it is, and the ability to disable the scrolling effect, to leave the buttons as standalone. It's definitely an effective floating bar plugin that I would recommend using for client sites that don't require as much focus on the social sharing side of things.
This plugin also concludes our first section of this complete WordPress guide to social sharing plugins! There aren't that many more types available out there, and I've covered all of the three major areas:
Resourcefulness
Simplicity
Mobility
I hope you'll find something you like, and please share with the community any other floating plugins you come across!
Before / After Content (Standard)
These are basically standard buttons that are now coming integrated into WordPress themes by default. You can easily add your own by using the given HTML codes each social bookmarking site presents, or you can just install a simple plugin to do it for you.

There isn't much more to it, so we can get to our plugins right away! :)
I know how important site speed can be to many people, especially when Google is taking site speed as a factor for ranking websites. It's a pretty important signal to Google that you've got great content, but also just as great site speed. The trouble begins when we install tons of plugins and scripts on our blogs – which can lead to up to 5 second requests just to load remote scripts.
BEFORE
AFTER
This plugin will simply hide the social sharing buttons until someone hovers their mouse over them, the process is called lazy loading because the initial buttons are served as static content – which literally requires milliseconds to load.
The downside of this specific plugin is the fact that it only supports three social networks: Google+, Twitter and Facebook.
I don't bother with other social networking sites myself, so for me – this plugin is perfect.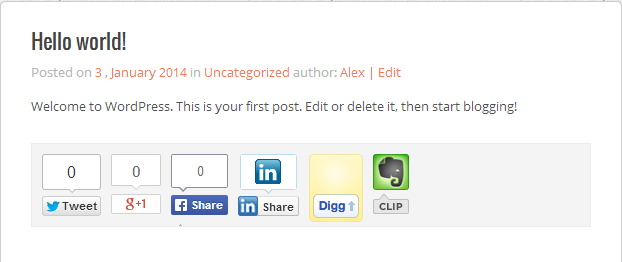 This social sharing plugin will work on both posts and pages, and mostly made the list because of the simplicity and added emphasis on a background color for the buttons. I think that sometimes you need to emphasize that the social buttons are in fact there, and this plugin does it perfectly.
It also includes an unusual (but, very useful) sharing button: Evernote.
Evernote is a 'clipping' website where you can bookmark links for later viewing, so it's definitely a plugin to look into if your blog is about sharing content that might take a while to read.
I remember when AddThis consisted only of it's sharing widget (which, at the time, was extremely popular) and how almost every website in the world was using it. The only competitor out there was ShareThis, I think both have now settled for their own communities.
You can see in the snapshot above that there are two types of buttons displayed, and that is because in the options panel you can select to show the buttons both at the bottom and at the top, I included both for the demo purposes.
This is one of the most known plugins in the market, and it's totally free – if you signup to AddThis official webpage, you will also gain access to detailed statistics about your content and where it gets shared.
This plugin also marks the end for this category of social sharing plugins, I think that these are more than enough to meet your or your client needs. Any additions to this list are welcomed in the comments, there are hundreds of these type of plugins available – and to be honest, impossible to go trough them all and still stay sane.
Sidebar Widget (Direct Links)
Sidebar widgets have been created mostly because of the fact that they solve the problem of having to create and add the social media links manually. It's as easy as creating a couple of links and putting them together, to let the world know where they can find you on social media. It's more difficult to add images and organize them so that they 'stick'.
I think that a lot of websites and blogs are now considering to change their designs to the latest and modernized web standards, and I think that this 'metro style' widget can really accelerate the click-trough rate for your social media accounts.
This plugin offers the ability to display / enable the social media networks that you can add (all of which are in the snapshot), and the ability to set custom width to match your theme. The colors of the icons really stand out, but I know that there are bloggers out there who prefer something else. Lets move on.

These buttons are more shallow, and also very basic to setup and use. Just install the plugin, add the widget and the social network profiles to have it going. I included this plugin in the list because I believe that many writers like to have their design more on the gray side of things, to make reading easier.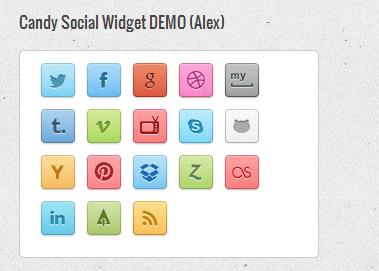 This is candy to the eyes, and the variety of social media accounts you can add is brilliant! This is the one that will literally fit any style of website. The buttons are very easy on the eyes, they are modern and like I said, there is plenty of variety to choose from.
I think this plugin also concludes our section of social media sidebar widgets for directly linking to your social networking accounts. There is plenty of color to choose from, and I'll gladly help you find something else if you let me know!
Social Media "Box" (All in One)
We have finally arrived at the last section of social sharing plugins for WordPress. In this particular part of the post I want to give you three plugins that I couldn't come up with a name for, so I called them 'All in One' plugins. These are basically widgets that add the 'box' effect of having multiple social media places into one widget. Think of Facebook Like Box, but with more functionality. You can also think of Twitter stream widget, but combined with other social networks.
This will add a widget to your sidebar that will let you display your Twitter, Facebook and RSS stream in one compact widget. It's stylish and it doesn't take up too much space, you can specify how many rows to display directly from the widget panel.
It's a nice little plugin if you run a news site and there is always something happening on your social profiles.
This plugin will add a Facebook box, Twitter follow button and Google +1 in one tiny and compact box that won't take up too much space, while providing all the necessary tools for your visitors to like your blog directly. You don't need any specific scripts to add to the header and footer, everything comes integrated in the plugin itself.
This plugin is old like the WordPress platform itself, but it's still a good way of displaying all of your social media profiles – and also give the visitors the ability to subscribe to your RSS feed directly. If you're a HTML/CSS ninja, you can easily edit this plugin to fit your theme needs.
It looks a little bit cluttered in the screenshot, but that's because I added every single social account that the options allow. The widget options panel allows CSS customization directly, but you'll still need to know some HTML if you want to move things around.
This plugin also concludes are epic list and the complete guide to WordPress social sharing plugins. It was fun to put it together, and it gave me a lot of new ideas for what kind of plugins to use for not only my own sites, but also my client sites. I hope you were able to find something new and exciting.