What is the need of visitor counter WordPress plugin?
Well, visitor counters provide information regarding the total number of visitors hitting the particular page.
This will help you in analyzing the traffic and get to know if the visitors have increased or decreased accordingly. It will let you know the audience reaction towards any changes on the site.
Hence, the aptest way to know your website popularity is by knowing the number of people visiting your site. By installing the visitor counter WordPress plugin you can easily track your website traffic.
Here, we are providing you the list of best visitor counter plugin for WordPress with their amazing features, pricing & other details.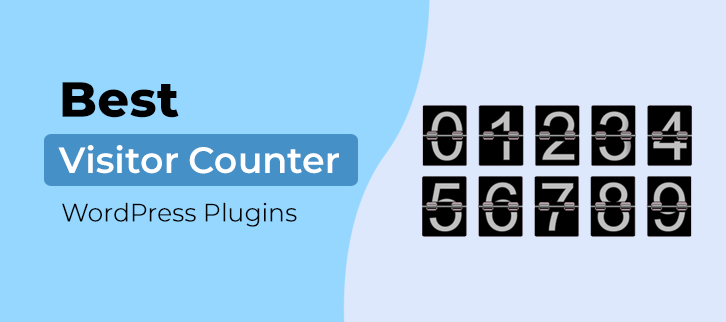 So, let's get started with the list.
---
1. WordPress View Counter
WordPress view counter is a simple, fast, user-friendly plugin that allows you to display a number of times posts, pages, products, and WooCommerce products had been viewed on site.
No matter if you own a big business website, small business website or old business website, page visit counter WordPress is a must to boost your site visitors.
It allows you to analyze your stats with amazing graphs. You can also view your top ten site visitor.
---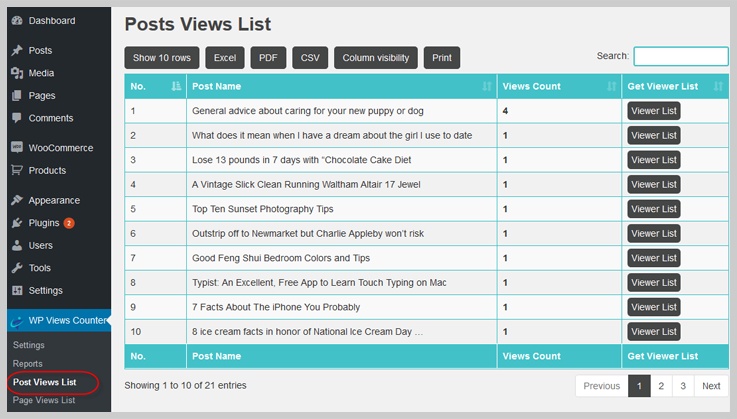 ---
Features
You can get information about users and their IP address. Along with this, you can even know about the date of views.
You are allowed to know 'Referrer URL' of posts, pages, and product viewed on site.
Here, counter stats are displayed on dashboard.widget.
This visitor counter plugin for the website allows you to export reports on most handy documents like Excel, PDF, CSV
Pricing
This view counter plugin comes with two licenses. You can enjoy regular license for $17 whereas extended license is available for $85.
---
2. WordPress Views Likes & Ratings – VLR
Views Likes & Ratings is easy to use a WordPress plugin. It lets you control your site traffic very safely. You can download it directly from the WordPress directory. This plugin is best for count views, submit likes and ratings on posts and pages.
Additionally, it also shows your recent site visitors and generates reports with graphs on the dashboard.
---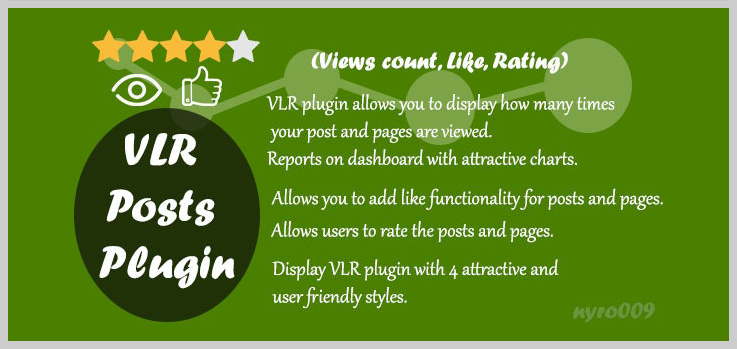 ---
Features
You can install in any widget, sidebar depending on the theme.
Simple visitor counter displays daily, weekly monthly visitor count.
It is the best visitor counter plugin for WordPress as it gives you a one-click installation feature.
For switching styles and enable or disable option it has a setting page.
No need for 'Sign up' or 'Sign in'. Just download it and it is ready to use.
Pricing
It is available in two licenses in which you will get 6 months of support and future updates. Regular license will cost you $10 and for extended license you have to pay $95 only.
---
3. Jetpack
It is simple and ready to use in a single click view counter WordPress plugin. Jetpack is more than a plugin that offers amazing services including visitors analysis. This awesome visitor counter plugin displays, weekly, monthly visitors count. Moreover, you can even print the results for personal documentation.
It has a defence against spam, hacks, malware, etc. And this plugin is fully responsive.
---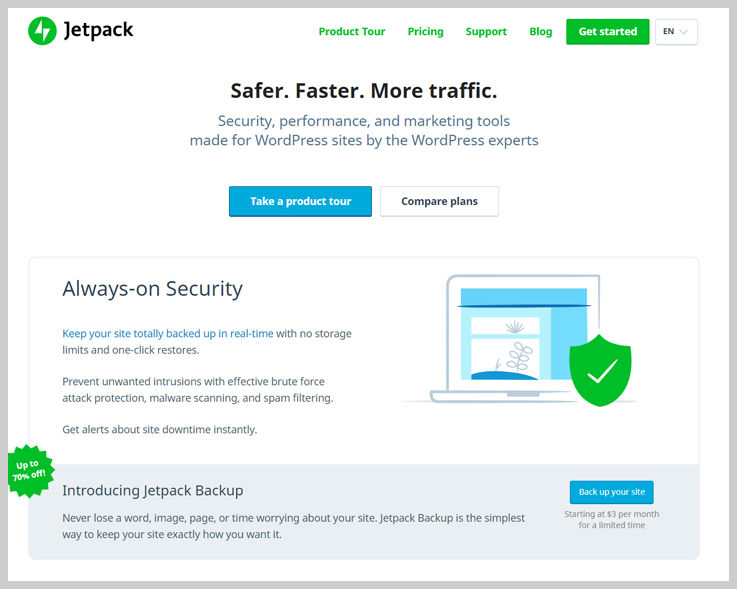 ---
Features
This hit counter plugin is easy to download and install.
You can easily track and analyze the results.
It allows updating your website from any device at any time.
Awesome Visitor Counter can be installed in any widget, sidebar or footer depending on the theme.
Pricing
This view counter plugin is free of cost but if you want advance features then you can go for the following plans
Personal – It will cost you Rs 200 per month with 30 days archive and daily automated backup.
Premium – Charges Rs 420 per month including downtime monitoring and automated spam filtering.
Professional – The amount of this plan is Rs 960 only in which you will get automated malware scanning and automatic security fixes.
---
4. Web Traffic Analysis with StatCounter for PrestaShop.
Web Traffic Analysis WordPress plugin is used for the front side page and post counter. It provides you search by page or search by date facility. Here, you have the power to add page counter on the bottom of all pages so that your visitors can see the page count.
This view counter WordPress plugin helps you to avoid error and provides free website analytics.
---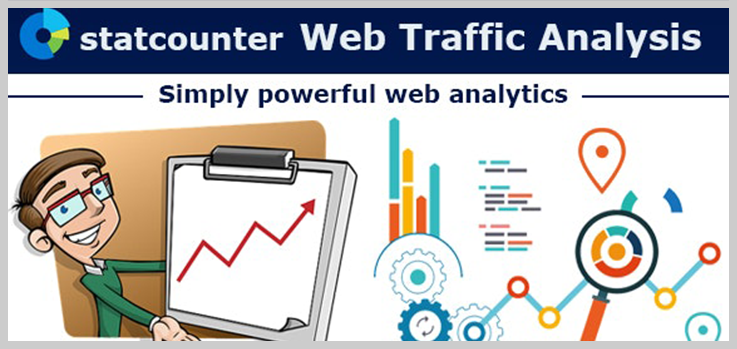 ---
Features
It let you exclude specific user, IP address from the page/post counter.
This visitor counter WordPress plugin comes with color customization for the front end view.
It has a user-friendly interface which is easy to use
You can share a specific page on Facebook, Google+, Twitter, etc.
This plugin is compatible with all themes.
It supported all the major browsers.
You can get real-time analysis of the visitors.
Pricing
This plugin is available in two licenses, regular and extended which cost you $21 and $80 only.
---
5. Who Hit The Page – Hit Counter
This hit counter plugin by WordPress helps you in monitoring your visitor count. It also allows you to get the information like user and IP address of every visitor.
It registers the user information on your WordPress database.
---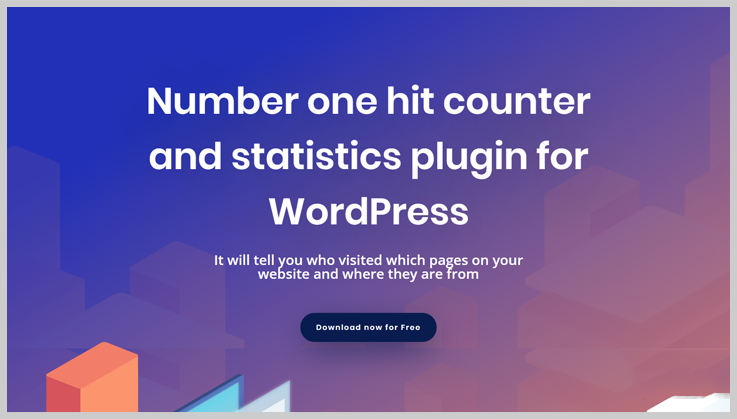 ---
Features
You can see your stats on WordPress admin.
It allows you to place shortcode snippet on every post or page.
This visitor counter WordPress plugin is compatible with mobile too.
It is an awesome visitor counter that helps you in understanding your visitors and allows you to serve better content for better lead generation.
Pricing
Moreover, you can avail this visitor counter WordPress plugin for free.
Conclusion
Here, we have provided you with the awesome visitor counter WordPress plugin with their astonishing features. You can choose the best view counter plugin from the above-mentioned list.
Lastly, analyze the visitor counter WordPress plugin at your end and choose the best one. Besides, if you have any queries you can contact the sales team.