Being the owner of a business, you usually need to get involved in various tasks like managing warehouses, maintaining stock and keeping track of delivery. Many pages of bookkeeping, scribbling and penned entries were necessary to ensure that you and your workers were dependent on the position and quantity of your stock. Inventory management software has simplified the process and helps you avoid headaches caused by not tracking your list. Inventory control is important to manage your stock, which can also frighten the experienced website owners.
This plugin lets you manage your business's inventory and stock items, keeping track of your products. Also,  it gives you the power to efficiently manage products, customers, and orders.
Moreover, these plugins will help you to promote and sell your products, manage your customers, and maintain your site.
Not only that but, many types of products are also available in the market today. You can choose the software to suit your business needs. The inventory management plugin provides one of those nifty features that you will find when using the plugin.
Rapid Stock Manager is a fast and easy-to-use WooCommerce plugin for managing warehouses and record stock audit. It updates all your stock inventory automatically without reloading the page. Its user-friendly interface helps you access all the stock details within a single screen.  Because of this, customers don't face any problem when they buy a product.
In addition, this plugin allows you to customize the appearance of product catalogs and let you show single or multiple products on the screen.
Features
You can set or adjust the number of products that you want to show on the page. Also, you can
It helps you to set a low stock indicator on your site for taking immediate action when the products are low in the stock.
Easy to customize the view of products, set the color of low stock products, highlight row/column color to show the changes done by users.
With Rapid Stock Manager, you can track "who" and "when" last modify the stock amount for the given products.
This stock management allows you to search for products by type, category, stock manage or stock status.
Moreover, you can easily export the stock report by copying and pasting to Excel, Google Spreadsheets, OSX Numbers.
Pricing
Extended License: Buy this plugin, for one site with future updates and 6-month support of dynamicsoft at the price of $205.
Regular License: Its price is $39 that includes 6-months support and future updates feature.
Point Of Sale WordPress plugin provides an easy interface to store owners where they can easily manage an online store stock and inventory. It is suitable for all sizes of companies and organizations who want to manage sales, inventory, stock and much more. Advance point of sales plugin comes with several features like inventory & cash management, QRcode scanning, graph chat, invoice print & much more.
Moreover, with the point of sale plugin, you can track sales, employee productivity, customer details, handle accounting, and perform back-office functions.
Features
View customer contact information, balances and credit limits at the POS. You can define multiple shipping and billing addresses of the customers and provide a discount on items based on different customer groups.
Advance point of sale plugin helps you to quickly update customer details and view previous order information.
This plugin supports different types of barcode scanner through which you can easily register your sales and inventory products on the WooCommerce store.
It automatically creates print or email receipts of product list when the customers enter its details like email address, name, phone number.
Pricing
You can purchase this WordPress plugin by selecting the available plans according to the license.
Regular License: This plan is available at the cost of $39. It provides the license of one user and it can not charge for end users. Also, you can extend the support by 12 months worth $13.13
Extended License: You can purchase this licensing plan just at $199 and get the amazing feature of this inventory management plugin. Also, you can extend the support by 12 months at the cost of $67.13.
Katana is a WooCommerce inventory management plugin built by manufacturers, for manufacturers. An all-in-one solution for direct-to-consumer manufacturers, which allows them to centralize their entire business, from order fulfillment to raw material inventory management, onto one dashboard.
Katana also allows WooCommerce users to add several stores, track multiple inventory levels at different locations, integrate popular accounting tools and shipping software in order to help achieve the smoothest production flow possible for modern manufacturers around the world.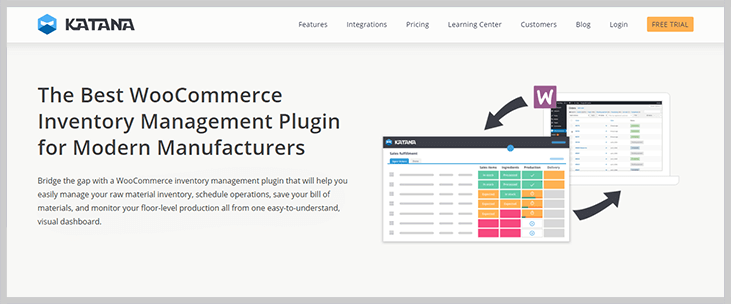 Features
Katana's smart auto-booking system automatically takes available stock and raw materials and allocates it to open orders, so you can quickly and efficiently fulfill an order, begin production or order more materials.
Track finished goods and raw material levels in real-time, and get a better understanding of stock levels, set re-order points to avoid production stopping shortages, and more.
Priority-based production planning allows you to refocus your resources to VIP orders, and the auto-booking system will reallocate inventory to suit your new workflow.
Synchronize your products and inventory between Katana and WooCommerce, and any changes in stock levels are automatically reflected on both platforms.
Katana automatically calculates manufacturing costs for your products, based on your bills of materials and defined production operations.
Set task lists for employees and production lines and easily track your resources with a simple workflow status based on "start – in progress – complete."
Pricing
Katana (including all features):
14-day free trial
$99 per month when the trial period ends
WP ERP Inventory is one of a unique and popular inventory management plugin for your wholesales and retail business. It allows you to manage your inventory and stock items, keeping track of exactly where your assets are. You can view the products and their details from one screen without going to each product screen. To streamline operations and automate inventory management, you can easily sync this plugin from your eCommerce Store.
Apart from this, it gives you the power to efficiently manage product stock, customers, backorder, stock status, sale price, regular price, weight and much more.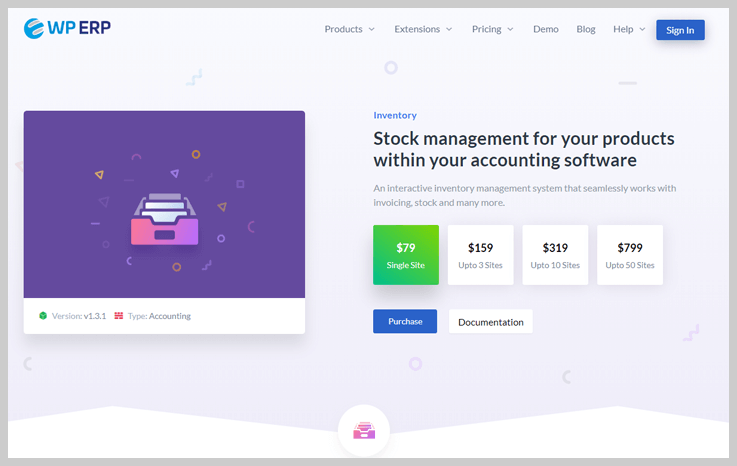 Features
This tool allows you to export all stock data from your e-commerce store to a CSV file. Along with that, you can also edit the CSV file according to your needs and then import it back into your online store.
It gives the filter option to search each product of WooCommerce Stock by product ID, product name, and default sorting.
With this plugin, you can show the various stock fields with multiple colors such as when stock is more than 5 you can show it with green color, yellow for lower than 5 pieces, and red for 0 pieces.
You can display the product thumbnail image on your order page to manage a group of large images.
WP ERP Inventory is GDPR ready which protects the personal data and privacy of your site users.
It allows you to set stock status, sales price, shipping class, tax status and much more for each product and variation from the WP dashboard.
Pricing
It has different plans and you can choose according to your needs. The basic plan starts from $149 per year.
5. WP Inventory Manager
WP Inventory Manager is a WordPress plugin that provides a clean and powerful dashboard for managing and tracking your everyday sales and purchase records. Here, administrators can easily manage the product stock details that they want to display or sell on your WordPress site.
Moreover, it provides customizable labels, templating system, developer-friendly with hooks, filters, and utility functions fully give full control access permissions to add or edit items to your list. Further, it offers powerful features and add-ons for your WordPress website.
Features
It is compatible with Mac Firefox, Mac Safari, Mac Chrome, PC Safari, PC Chrome, PC Firefox, iPhone Safari, iPad Safari, and PC ie7.
WP Inventory Manager allows you to manage and store unlimited numbers of items.
You can use different database tables for faster database access.
Create several categories of products and label them according to your preferred choice.
There are ready-to-use customizable templates through which you can control how your inventory is displayed on the front-end.
With this plugin, you can control the numbers of orders and fields which you want to display on the front screen.
Pricing
You can download WP Inventory freely for your WordPress website without any cost.
6. Z Inventory Manager
Z Inventory Manager is an efficient WordPress plugin that lets you manage and organize the sales, purchase orders, shipments, receipts and much more. It has an intuitive dashboard through which you can control how much stock are shown on your site, edit product information for multiple stores in real-time from one place.
Moreover, this plugin is suitable for companies of all shape and size who is trafficking with online sales, shipment, delivery, purchasing of inventory items.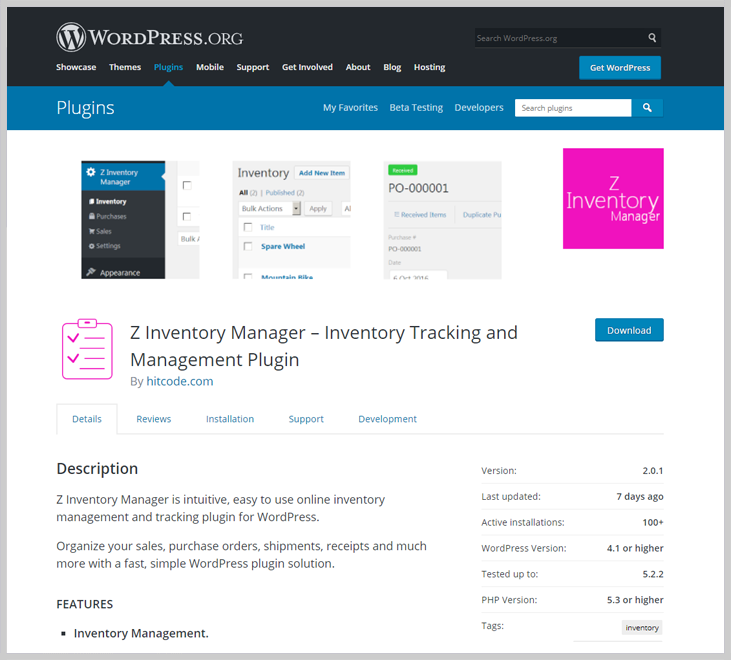 Features
Z inventory manager provides low inventory alerts, so you can replenish your inventory level by ordering more items.
This plugin is ready for translation which gives you the right to translate your site into many languages.
You can create and add new sales by copying existing inventory for more natural inventory management and order.
With a real-time inventory tracking feature, you can keep track of inventory stats and history of current quantity, average cost, and purchase receipts of items.
Pricing
Z Inventory Manager is a free online inventory management plugin for your WordPress website.