Are you on your mark to create website like OLX or Quikr??
These classified ad listing websites may appear difficult to create and manage, but for today this is not a fact.
You just need be passionate about it, and there are no hurdles. No matter you know or you don't know how to do coding and other required technical tactics.
You don't need them at all. Just go with the few simple steps I've told below.
In this post I have answered every question crossing your mind this time.
So get on the ride…
Get Your Copy Of Classicraft WordPress Theme
Building Exactly OLX & Quikr Like Website At the Least Possible Price
Keeping your domain and hosting charges aside, you can purchase the Classicraft WordPress theme with full licence for under $100, and you can launch your OLX like website and start earning in the next few minutes.
Or else, if you hire a developer, you have to pay around $500 – $1000 or even higher. It's guaranteed!
Building your Website In Almost No Time
Ideal time required to create a classified website with Classicraft theme is 20 mins.
Means less than half an hour to create your own OLX, Quikr, or Ebay Classifieds. The theme has every required module already inbuilt in the theme and you won't ever have to write a single line of code.
Just go to the dashboard panel and do whatever you want.
There is tutorial also available on how to create classified website using Classicraft. You can refer to that as well.
This is like in no time. If you handover the project to some freelancer developer, he may take up to 30 days.
Now you can easily make choice.
You Can Start Now from Zero…
Steps for startups…
1. Book a domain name (if you don't have already).
2. Buy space for your domain on any hosting server of your choice.
3. Download WordPress (it's free) and install it on your server.
4. Download Classified and install it on your WordPress site.
Get Your Copy of Classicraft theme
Quikr & OLX

 In Comparison To Your

Upcoming Website
You might have some questions like…
Will my website work like OLX or Quikr?? Will it have all same features??
So keeping that in mind, Open Quikr.com, OLX.com & this demo classified website built on Classicraft – in the different tabs on your internet browser.
Now we will compare the features of these websites with what you'll get with this Classicraft theme.
1. Add Posting Invitation Button
With this button, you invite sellers and buyers to post their advertisements. To know more about how the ad system works, read the post – how to post classified ads in Classicraft.
2. User Login/Register System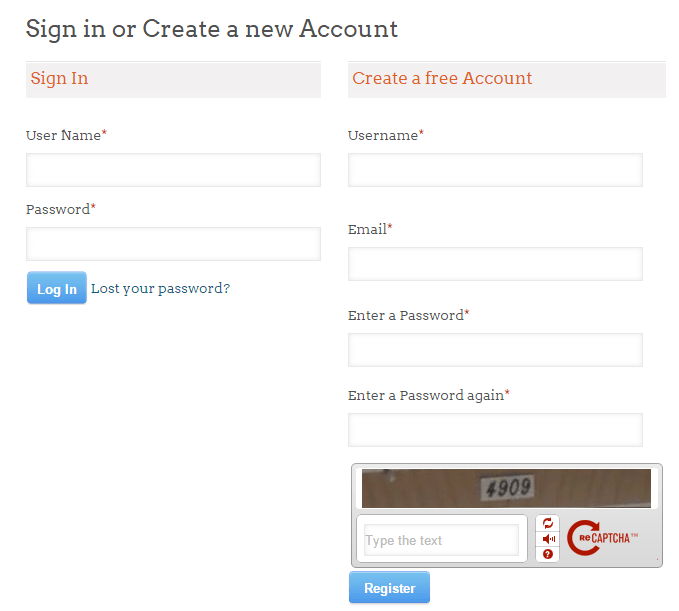 After a user registers an account on your website and logs-in, he gets the page shown below:
On this page, users specify details about their item.
3. Submit Free Or Paid Ads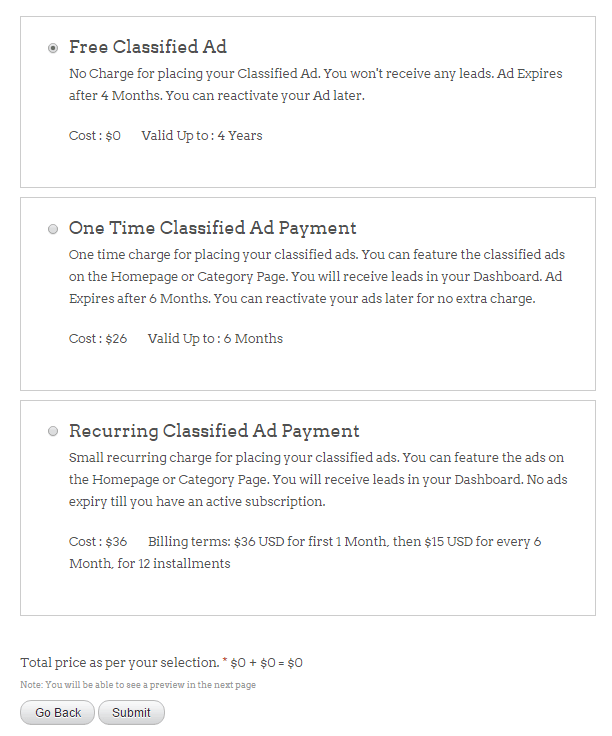 Read the text on this image to get idea about this. If your users want to show ads in the most visible places on your website and are interested to get leads also, they will show interest in becoming a paying user.
4. Ad Search Feature

Your visitors can make searches easily with the help of its advanced ad searching feature.
They can either directly search with keywords, use the ad category filter, or according to their location.
5. Classified Ads Categories

Your main classified ad categories will somewhat show like this.
These are expandable categories. If click on any of these, a list of subcategories will come out.
6. Spotlight Items Like In OLX

This is a similar feature like OLX or eBay classifieds.
In classicraft, you can feature ads in the slider. On hovering these images, descriptions of the items pop out.
7. Inside View of a Product Page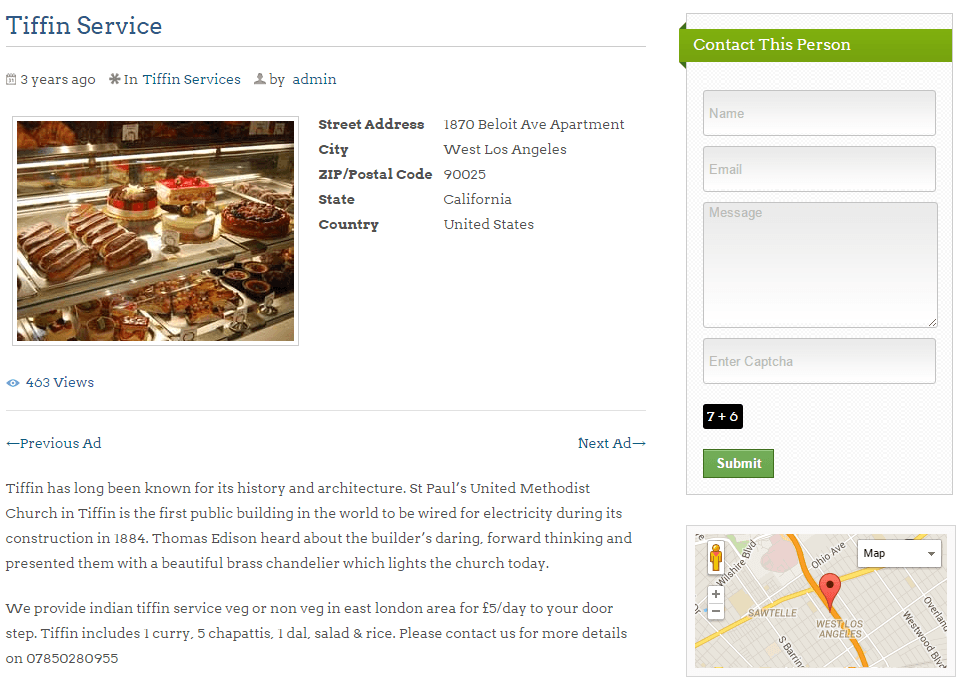 This is a product page. As you can see, all information about vendor, along with item description can be easily displayed.
Interested buyers can contact the seller through the contact form. Google map, on the other hand, will help find the location of the advertiser.
8. Submitted Ad Approval Mechanism
This classified theme has a mechanism for manual approval of the ads submitted by your users. Before Ads go live on your website, you can check whether they are appropriate enough to show on your website.

9. Display Ad Banners And Video Ads
Classicraft theme has a widgetized footer and sidebar that can be used for the purpose.
Like as you see on the right corner on Quikr.com.
You can also Show ads from Adsense or other advertisers like you see ad banners both on OLX and Quikr.
Among the various other sources of income for classified sites, Ads are very prominent.
Classicraft WordPress Theme Has These ADDITIONAL FEATURES
10. Show Ads By Category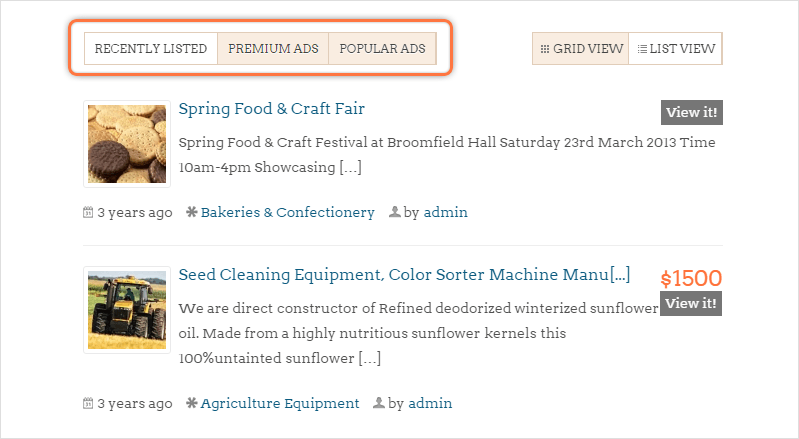 As you can see in the image, classified ads are listed in categories of Recently Ads, Premium Ads, and Popular Ads. You can create any such ad categories and display ads accordingly.
11. Visitors Can Choose The View Type
Similarly, you can enable visitors to choose the display type they are more comfortable with.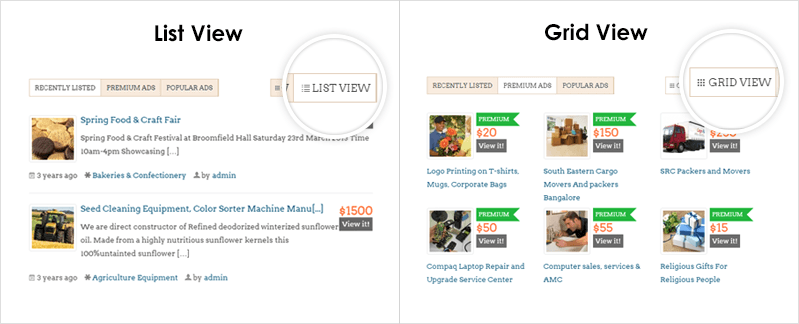 List View                                                                                   Grid View
ClassiCraft Theme Has Created Many Awesome Classified Websites
Like 99bpo.com – A free online classifieds of BPO industry, launched in 2022 for buyers and sellers to meet online.
Today, it's a no.1 online classifieds platform dedicated to BPO industry. Here people connect with each other to buy and sell services.
There are numerous examples of flourishing websites like 99bpo – annunci.altaciociariaexpress, filipinosg, shopmebook, fisher.fastdns…
You can be the next, in next 20 mins.
Pop on to these link –
Good Luck..!