Traditionally, for business help, email and phone were preferred as a communication channel to contact customers. But, countless phone calls and email exchanges took huge amounts of time and grow overhead with the growth of the business.
Moreover, keeping all the communication information neat and in one place is an everyday challenge for business owners and expensive too. Apart from these overheads, the security of data also matters because all those interactions contain sensitive financial and business data like transactions, payments and other details related to sales.
Therefore, it is necessary to save the data from going to the wrong hands, as it can cause a lot of negative consequences for both enterprises and customers.
That's why today's customers want simple, fast and personalized services that can be accessed at any time, anywhere and from any device. Fortunately, progress in technology has addressed this group of issues in a very effective manner and provided self-service client portal plugins. With the plugins, you can manage your work & clients as well and make customers happier.
The client portal WordPress plugins provide a secure digital gateway to the organization's network that will increase company revenue and reduce costs. Also, it gives customers access to multiple resources at their fingertips for sharing important documents, review transaction histories, send secure messages, upload files, and so on.
Choosing the ideal client portal WordPress plugin for your website can be a daunting task. So be smart and choose the best client portal WordPress plugins from the listing of this article.
1. SuiteDash
SuiteDash is a highly commended and well-reviewed WordPress plugin that provides excellent customer portal functionality to your website. This plugin has a cloud-based platform which will help in maximizing the productivity for all small to medium-sized businesses. Plus, it's combined with many business tools that will help you reduce the time and money. Specifically, SuiteDash provides all these things within a single dashboard.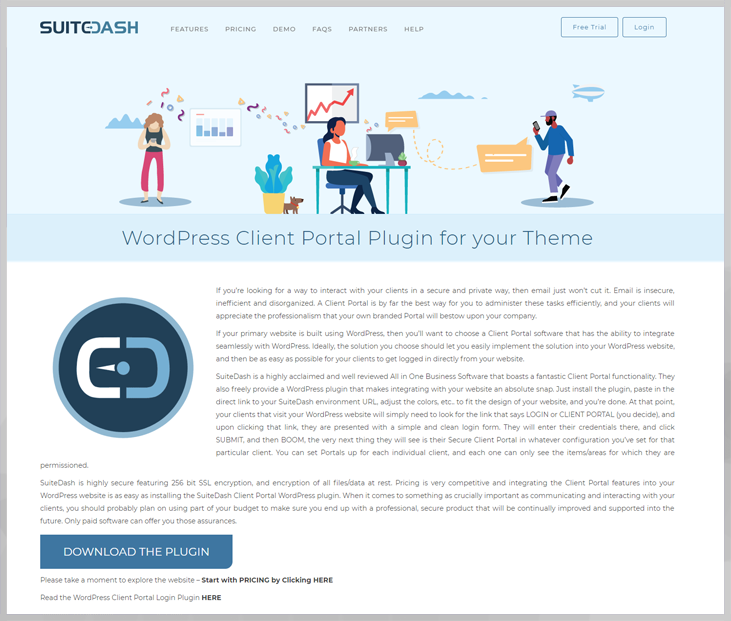 Features
With this client portal plugin, you get several tools like CRM, project management, invoice generation, online payments, live chat, and much more.
SuiteDash is a white label solution that lets you customize login screen, logo, email templates and change its colors, and replace URLs with your custom URL.
You can effortlessly handle online payments and generate invoices. Furthermore, clients can view transaction details online at any time.
Easily embed any widget on the site using iFrames, YouTube, Vimeo, etc.
With the help of SuiteDash, you can immediately contact any customers. Meanwhile, you can manage the chat and track any message from the dashboard.
Moreover, you can accept payments from clients via online payment gateways such as PayPal, Braintree, and Stripe.
Pricing
SuiteDash plugin offers different prices on a monthly or yearly basis that depends on the features which are as follows:
Start: In this, you can get unlimited CRM contact, staff, team, projects, portals, etc., at $19 for a month. Also, it provides you 100 GB storage and 14 days free trial.
Thrive: At $49/month you get all the features of the Start plan along with 500 GB storage and email marketing tools.
Pinnacle: Buy at $69 with all the features of Thrive plan and it empowers you 1 TB storage with custom brand URL creation.
2. Client Portal
Connect Client Portal plugin with your WordPress site to provide business secure storage space. This plugin gives access to do anything for business needs. It is an online platform for managing numerous clients information, projects, final deliverables, contracts, proposals, prototypes, invoice receipts, and more from one dashboard without any hassle.
Moreover, it lets you add or remove the multiple sections whether you are a designer, copywriter, or developer according to your business needs. Also, it provides a conducive environment for you and clients to monitor projects.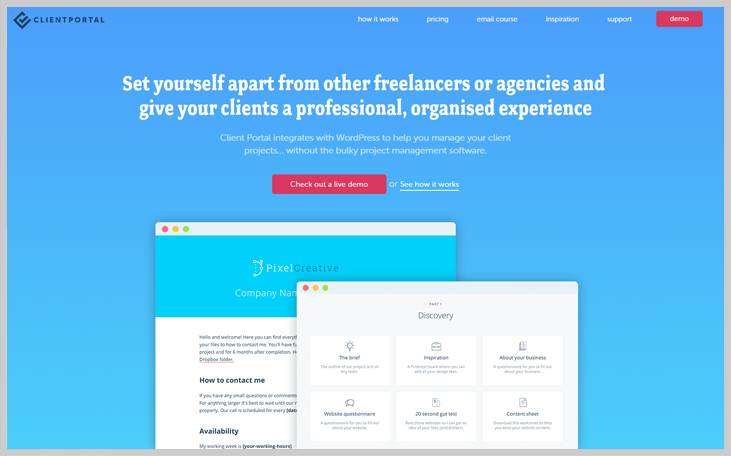 Features
With this client portal WordPress plugin, your clients can easily find their requirements on the website and create unlimited client portals, enable client file upload areas and much more.
Automatically generate estimates & invoices that your clients can pay online.
Allow your customers to keep track of the project and give access to all files at any time.
It supports the slack of communication tool for making team communication fast and easy. Hence, it enables users to communicate via real-time messaging.
Client portal plugin allows you to work on GoogleDocs to write content or collaborative documents.
This gives you more control to set boundaries and expectations with customers. They will only see the things you want to see them that will make your work easier and more manageable.
Pricing
This plugin gives you two pricing plans with different advanced features on annual payments.
Single Site License – You can get this service for 1 site at $199 for a whole year with unlimited portals, free future updates & one year support.
Multi-Site License – Get this plan in $399 to add unlimited clients in the unlimited portals along with all the features of a single site license.
3. WP-Client
WP-Client plugin for WordPress provides a comprehensive web portal management solution. It is an easy to use plugin through which you can manage and monitor the work progress of the project whether you are a techno-savvy or a novice administrator. Apart from this, it is fully compatible with the latest version of WordPress. Also, you can quickly design new client management portals, client areas, private staff pages, etc., on the website by filling a few data fields with ease.
Further, you can define the user's role and control the access of various fields from the dashboard and allows clients to download and upload files securely.
Features
This plugin is highly customizable which allows you to create a secure, personal portal for a client login and enable/disable various functions.
Easily design the logo of your preference and modify the colors, design, login page, messages, and a lot more.
You can accept online payments from clients, create invoices, change estimates to invoices and email them to your clients in PDF format.
It has an advanced file sharing feature that allows you to share files that are downloadable with the client. In addition, with many filter options, you can categorize and find any file.
It allows you to chat and send a private message to clients via emails. Therefore, it automatically saves all the transactions and chats in the dashboard.
WP-Client plugin comes with powerful widget control that lets you decide which widgets will be displayed on your HUB pages and portal pages.
Pricing
It comes with four different types of plans, so you can choose any of them which suits you best.
Basic: Pay $59 for the one-time license and you'll get one-year free support, futures updates, add unlimited clients, managers, invoices, etc., in your site.
Plus: You can buy this plan at $119 with a bonus plugin, 5 URL compatibility, and all the features of the Basic plan.
Developer: Along with all the features of the Plus plan you get SMS extension, SILVER project management, and much more at $199.
White Label: Buy this plan at the cost of $349 with all the above-mentioned features and GOLD project management.
4. CRMJetty
CRMJetty is a powerful CRM (customer relationship management) platform that lets you manage project details of numerous clients from a single place. You can easily integrate this client portal plugin in your pre-made WordPress website to interact with customers.
Moreover, you can easily resolve customer queries and requests from the client portal.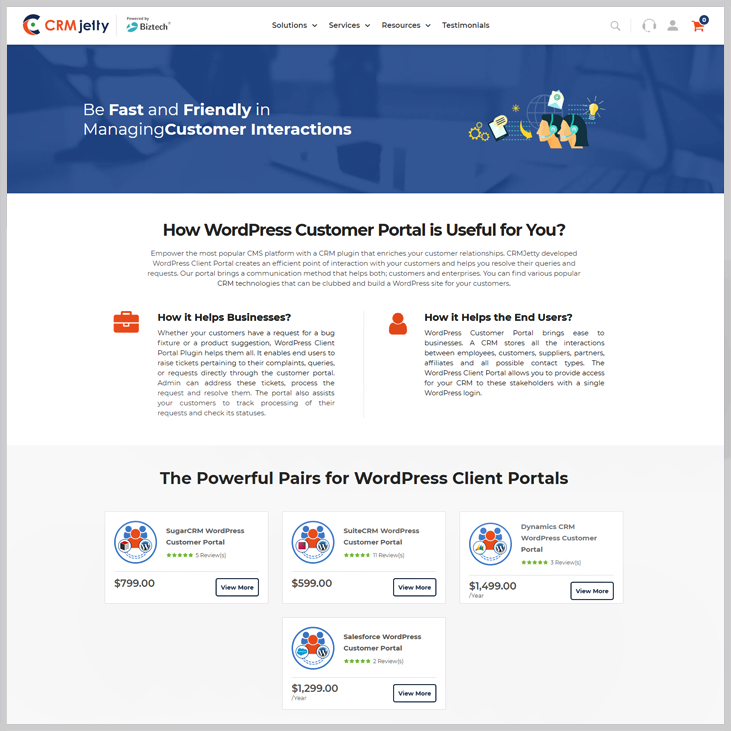 Features
CRMJetty has a single point interaction platform from which customers, partners, suppliers, and employees manage the CRM portal.
Customers and businesses can directly track all the customer statistics like work progress, completion status, expected completion date, etc.
With this plugin, you can generate the bulk credentials of users. It will automatically create a new email and password for customers. After that, you can upload the CSV file of the customer and send these credentials by email.
Administrators can create & add contacts into the groups, and assign special roles based on the portal module.
Pricing
CRMjetty customer portal offers a free trial of 30 days with 2 pricing plans that go around the following pattern:
Quarterly Plan: To purchase, these services pay $599 for three months which gives you the power to add unlimited customer, module generation and more.
Half Yearly Plan: Get this plan for 6 months at $718 that provides various features like secure login, powerful portal, etc.
Add-on: CRMjetty also provides an add-on to create invoices that you can get with the above plans at $99.
5. OfficeWP
OfficeWP is a feature-rich WordPress client portal plugin that allows you to create unlimited clients, portals and members for your business. Likewise, you can manage their details and assign them tasks and give access to their roles from the OfficeWP dashboard. In addition, you can also communicate securely with any users.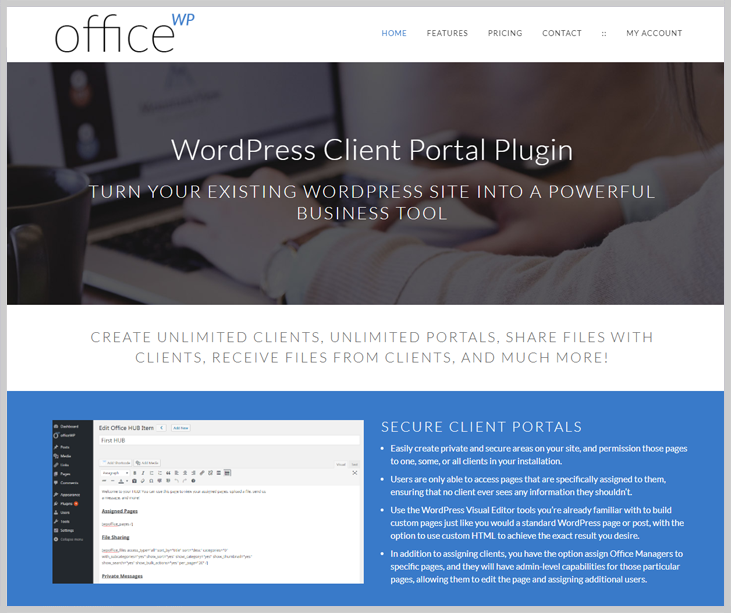 Features
This plugin is robust and powerful helps you to manage portals in multiple ways such as emails, client management and more.
It is integrated with the Visual Editor tool that allows you to create custom pages using HTML. Furthermore, you can easily customize the client portal with colors, text, button, etc.
Create and upload files directly from the WordPress dashboard. Also, you can create multiple categories and send to users in bulk without any data loss.
You can create secure and private areas within your site and assign them different permissions according to your business needs
Furthermore, you can also sort and search the messages from your inbox and take bulk action for sending multiple messages at once.
Pricing
The prices of this client portal plugin differ according to the number of sites you use which are as follows:
1 Site Plan – It charges $44 per year with the benefits of one site, one year support and future updates.
3 Sites Plan – Get 3 sites compatibly at $77 per year with a renewal charge of $33, support of 3 URLs, multiple customizations and more.
10 Site Plan – Buy at $111 per year for 10 sites with renewal charge $55/year, 10 URLs, and priority support.
25 Sites Plan – Pay $222 per annum and get the benefits for 25 sites. Its renewal charge is $111 per year.