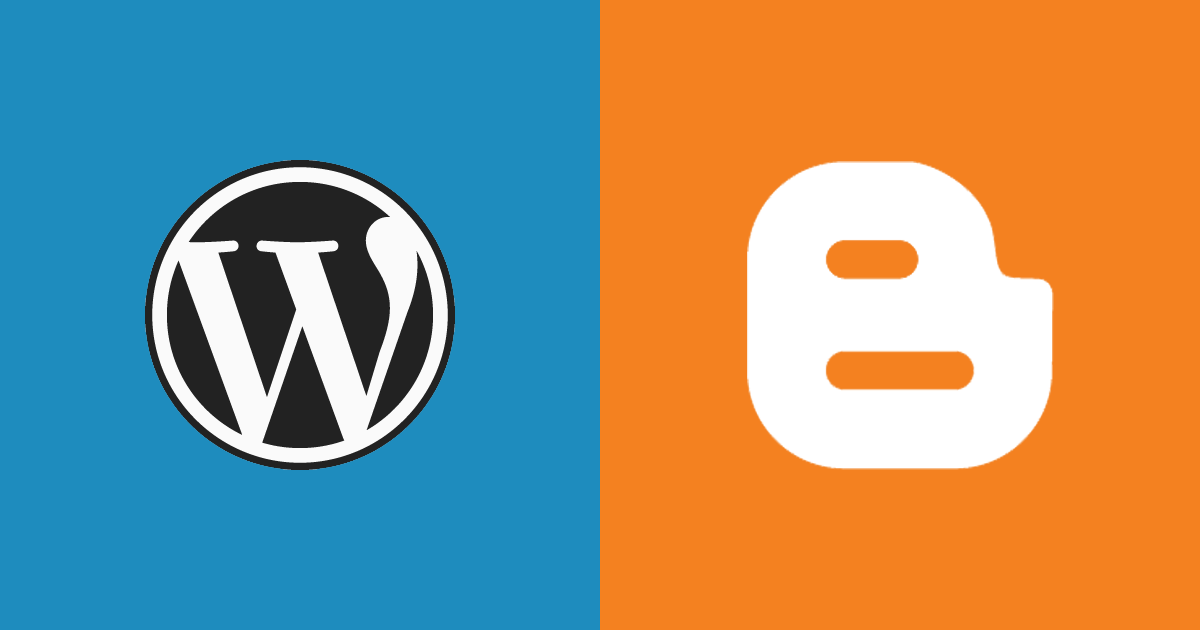 The arrival of blogging platforms brought the greatest revolution in the history of the internet. Thanks to platforms like Blogger and WordPress, our blogs go live on the internet in very less efforts.
They made it so easy that the craze of blogging spread like wildfire. Hundreds of new bloggers started to come out day by day.
But since a number of blogging platforms have evolved, it becomes a challenge for newbies to pick the most suitable blogging platform.
As WordPress and Blogger are the two most popular blogging platforms, the most common question newbies ask is which is better of these two.
Recommended Reading – 10 Biggest Reasons To Use WordPress
Please Note
This is WordPress.org and Blogger comparison.
WordPress.org and WordPress.com are different.
Blogger and Blogspot are one and the same.
Believe me, no straight answer to this question is possible if you just want to hear one name – either Blogger or WordPress. Some favor Google's Blogger whereas some fancy WordPress. People love both and complain about both.
Unfortunately, these are the only clear fact you come across. All the discussions end at a never-ending discussion on Blog & Magazine templates. Leaving you reached nowhere. Still confused.
---
Blogger And WordPress Are Priority Based Choices
All have different choices based on their requirements and priorities, and that's why they call one better.
Some find comfort in the free custom domain hosting feature provided by blogger. They happily compromise with its limitations in other terms.
Some want more functionality than just a blog, so WordPress comes as a better option for them.
Some get attracted to the visuals and go to WordPress. Whereas to some, blog security assured by Google (for free) matters a lot.
So this is somewhat how it goes…
I too have had enough experience dealing with both – the WordPress and the Google's Blogger.
I will say, it is not justified to recommend anyone over the other without understanding your requirements and priorities.
Rather, presenting a clear picture is required.
So which one is better in terms of…
---
Custom Domain Hosting
Although both WordPress and Blogger are free to enjoy blogging by creating an account, if blogging to you is only fun with no goals such as popularity, carrier, or revenue, is associated with it. Then a yourname.blogspot.com is all okay.
But as you're reading this article, I suppose you're serious about blogging, more or less.
In this condition, you have to have a custom domain. It's possible to run it on WordPress as well as on Blogger.
But let's see what's the difference…
Custom Domain Hosting On Blogger is Free
Yep! Blogger allows you to host your custom domain purchased from anywhere and get it hosted on Blogger for free. So you can use www.example.com instead of the by default example.blogspot.com.
Since your Blogger account is associated with your Gmail account, you have the space quota provided by Google for every gmail account. Google doesn't object to let you utilize the space quota as a hosting space for your custom domain.
If the free hosting facility attracts you the most, go for it. But remember, you have to be satisfied with the limitations both in terms of looks and functionality.
WordPress Is Cost Effective
It's is an open source software that you can download and use for free. So, to enjoy WordPress, it's not mandatory to use the premium service by WordPress.com. It is just an official premium service by the WordPress company.
You can buy server space from any hosting company and install WordPress on your server. You'll be able to enjoy the complete functionality of WordPress on your custom domain.
Follow – Quick Tutorial For Creating A WordPress Site.
Bottomline: In spite of all the limitations of Blogger, free hosting is a big point for newbies to go for it. You can put rest of the things aside.
---
Blog Ownership & Control
Sovereignty has its own taste! You decide what's right, 'that's freedom'.
Blogger is not owned by you, so the final say will always be someone else's. You have to be careful of their terms and conditions all the time.
However, Google shutting down a site is an extremely rare case. It doesn't happen without a warning or without a clear evidence of copyright violation. In that condition, you'll have to migrate your whole website to another platform.
But no such worries in case of WordPress. It has nothing to do with anything. Your domain is self-hosted, and you decide when to call off. In this situation, the extreme case can be that Google will no-index your blog from the google search results. So that's the relief!
Bottom Line: Choose WordPress and never look back! Your blog will be up and running for always.
---
Blog Security And Data Backup
Website Security and backups always need to be taken care of.
If you use Blogger, Google takes care of everything. Due to this fact, it is considered incredibly safe and secure.
WordPress is also enough safe, but in its case, you're responsible to take care of security and backup.
Initially, it requires some security methods to be implemented to become hacking proof. There are many reliable free security tools available to secure WordPress websites.
Follow – How To Make WordPress 100% Secure.
Bottom line: If you opt for WordPress, take time for security setup. Use Blogger otherwise and go tension free.
---
Availability Of Blogging Tools
The blogging craze inspired developers to think about creating tools that will be the future of blogging.
Tools have shifted Blogging to another level.
WordPress is the richest in terms of availability of tools. From SEO tools, Social tools, advertising tools, there is a truckload of plugins, the make it easy for you to optimize your blog for more traffic and more revenue.
On using Blogger, you'll miss the party!
Bottom Line: To experience the advance level of blogging with tools, use WordPress. Or let it be okay for sometime…
---
Appearance Wise
Whether it is about changing your template or making customization in your existing blog template, WordPress is several thousand times better than not just Blogger but every blogging platform out there.
It makes switching your blog design very easy. Complete transformation of a blog becomes possible with wide range of WordPress blogging themes and plugins that enhance the layout, coloring, and typography of a blog.
[su_icon_text icon="icon: hand-o-right"] In case you are looking for a perfect WordPress theme which is responsive and fully-customizable, you must checkout
Colorway
.
This Elementor-based theme comes with 35+ ready to use website templates, advanced video/image slider, WooCommerce integration, and many more add-ons as well. [/su_icon_text]
Blogger on the other side is full of limitations, and customization doesn't always work out the way you want. There is a limited set of templates and you have to put enough efforts customizing. Also, blogger themes and plugins are not very rich in functionality.
Bottom line: If good visuals are to be preferred over free hosting facility, the choice has to be WordPress.
---
Also, Keep Your Eye On Our Best WordPress Articles-