Past few releases from InkThemes included a landing page WordPress theme, various plugins, facebook and twitter covers, animated banners.. and lots of more.
In this post we have listed all the items that we launched in the past few days.
If by chance you missed any of them that could have been of great use for you, OR if there was something you have been waiting for since a long time...
Take a look at the new WordPress theme - Variant (landing page wordpress theme), a few brand new plugins, and ad banners that were recently released at InkThemes MarketPlace.
Product #1: Variant Landing Page Theme Bundle
Product Type: New Lead Generation/Landing Page WordPress Theme.
Variant is a reliable conversion focused landing page WordPress theme bundle with 5 unique layouts designed to increase your leads conversion and sales.
With this theme you can create any landing page that suits your requirements the best.
All landing pages are pre integrated with lead generation forms. You can customize your lead generation form according your industry type and your requirement.
The forms are built using FormGet (a form builder brand) which is pre-integrated and comes for free along with Variant Theme to allow forms customization in every possible way and allows creating conversion optimized landing page in minutes.
The type of forms that can be integrated with these landing pages can vary.
Skin 1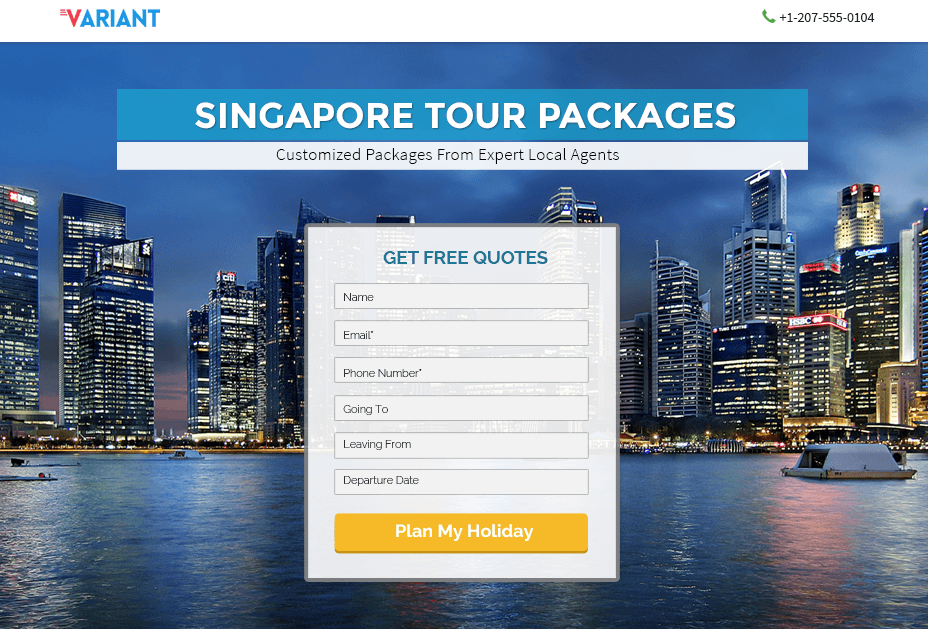 Landing Page for Tour & Travel Industry
---
Skin 2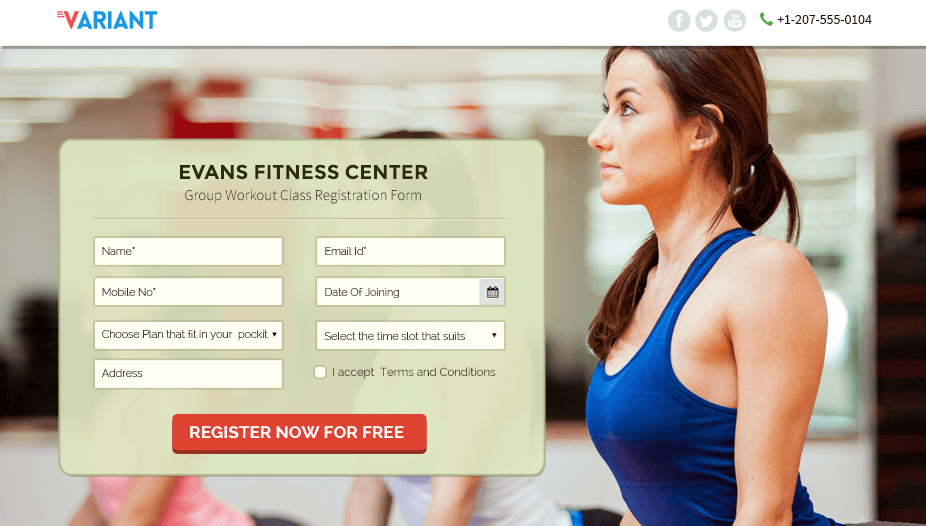 Landing Page for Fitness Centers
---
Skin 3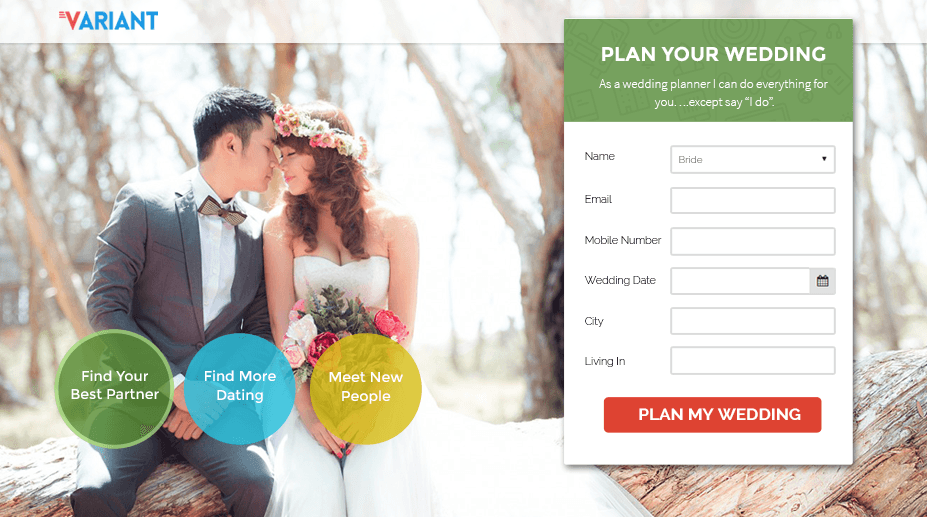 Landing Page for Wedding & Dating Industry
---
Skin 4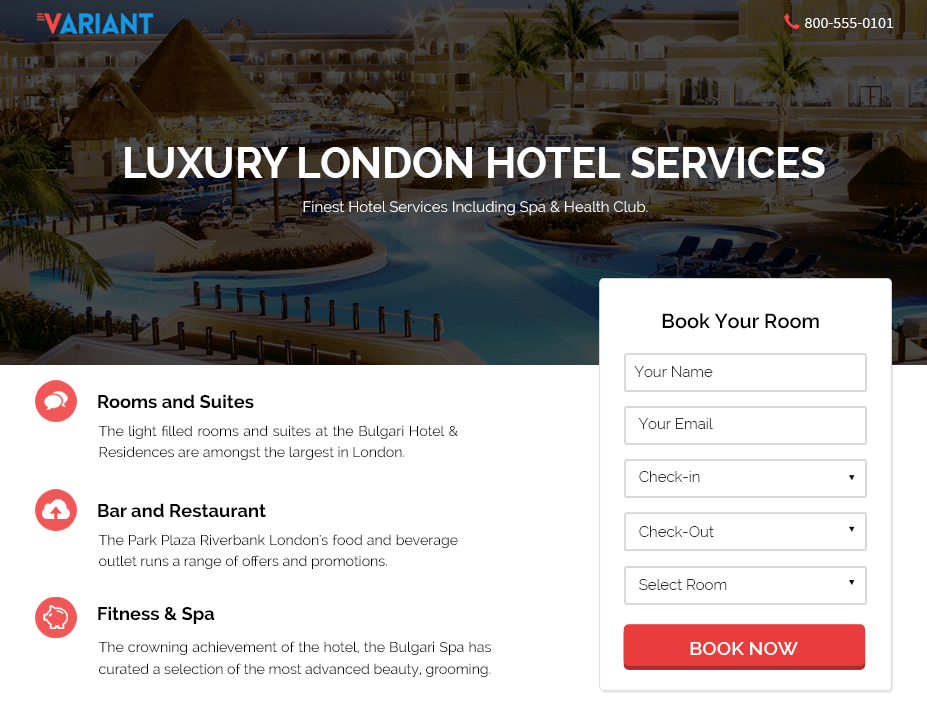 Landing Page for Hotel Industry
---
Skin 5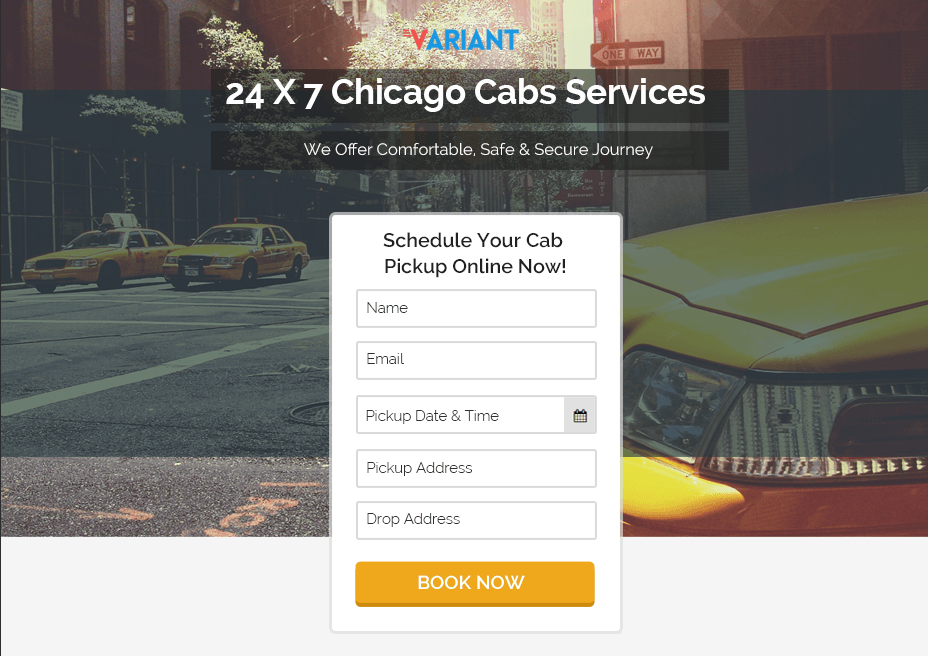 Landing Page for Cab Services or Booking Services
Check Out Variant Landing Page Theme
Here are few examples of what new you can do with Variant + FormGet combined:
Lead Generation - Build a perfect lead generation form and add that to variant easily. You can put up a form for your customers to help them in requesting quote or requesting a call back or just about any other lead generation form with Variant.
Booking Services - If you offer services for booking cabs, hotel rooms or just about any other booking service, this landing page is perfect for you. Build a booking form and add that to Variant easily.
Appointment Lead Generation - If you offer services like Health Clinics, Spas, etc.,  you can build a custom form for that and allow customers to book appointments online quickly and easily.
Sell Products & Collect Payments  - If you are willing to sell any product directly through the product landing page, than you can also build a custom payment form using FormGet and use the payment form with Variant for selling and collecting payments.
Email Optins - If you want to generate your email subscribers than Variant landing page can be used for generating email leads. Having the presence on the top of landing page makes sure that the conversions are maximxed for your business.
Application Forms - If you are a college or school entity, you can redirect students to the landing page and ask them to submit any applications forms like admissions, enrollments in any event and much more.
Event Registration - If you are organizing any event, you can use the landing page along with custom event registration form for accepting registrations from audience.
What kind of industry can use these landing pages:
Fitness centers, spas lead generation and online booking.
Doctors, Lawyers, Accountants to book appointment and gather leads.
Selling your products directly like T-Shirts, Your software application and much more.
Hospitality and Tour and Travel industry for the purpose of bookings or lead generation.
Event Booking companies for audience registrations or enrollments.
There are tons of possibilities that Variant Landing Page theme opens up. Since FormGet is integrated it allows you to create just about any kind of forms that you can imagine and use landing page for any purpose you can think of.
Freebie: Variant Theme was built with a focus of conversions in mind. Since, landing pages are of no-use without a proper form solution, we have integrated and giving you the license of FormGet for free when you use Variant Theme.
Variant theme comes with multiple layouts and skins to suit different industry type. It is like having 5 Unique Landing Page Themes in a Single Bundle.
---
Product #2: Ink Social Locker
Lock Your Content for Getting Shares or Tweets.

Product Type: Content Locker WordPress Social Plugin
Ink Social Locker is a content locker Plugin for WordPress that lets you restrict or delay a user's access to your content until he spreads it in his own social networks.
It increases social sharing of your blogs and products and spreads of your website content on social networking sites like Facebook, Twitter, Google+, LinkedIn.
It is justified to ask visitors to pay for the freebies, free downloads, or valuable content (which took your hard work) in form of bringing more audience to your site through at least a share, a like or a tweet.
Who can use Ink Social Locker:
Whether you are you a blogger, a graphic designer, a marketer who needs more traffic & sales, or perhaps you are something very unique and entirely different and you need the deserved value from audience, this could be a great effective way to achieve your goals while maximizing content sharing.
---
Product #3: InkTicketing
WordPress Plugin For Creating Helpdesk and Knowledgebase.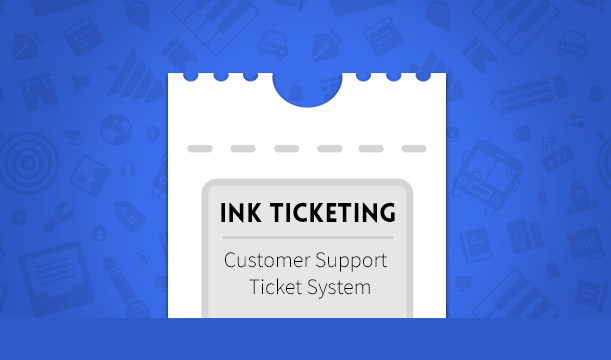 Product Type:  WordPress Plugin for Ticket Based Helpdesk System.
InkTicket is a well organized customer support helpdesk WordPress plugin for your website that helps you to resolve customer queries in less time in a professional manner.
Ticket Support System: With ticket support system, handling loads of queries becomes a lot easier. Logged in users will just enter their query details and forward the submission to you.
Knowledge Base: The inbuilt knowledgebase section provides general information such as FAQ's, or any additional knowledge your customers may need at times.
Troubleshooter: Troubleshooter section will allow your users to solve their problems on their own if they wish, without always having to get in touch with you even for very minor issues.
Who can use InkTicketing Helpdesk Plugin:
Websites with medium and large user base can easily handle client queries with the help of InkTicketing helpdesk support system.
If you are running an ecommerce or a membership site, or any online business regarding which your customers may need to enquire you about products, services, or processes, this plugin is a complete solution for your business.
---
Product #4: InkTweet
Get more shares with Twitter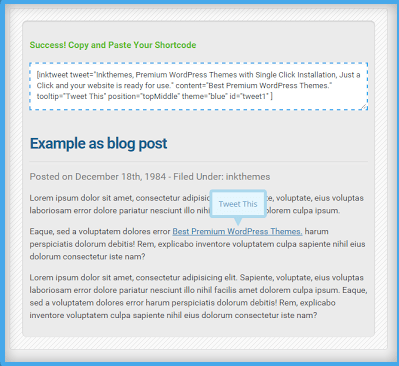 Asking a reader to tweet a part of your content at the moment he finds it interesting, increases your chances of content share manifold.
InkTweet is a WordPress plugin that increases referral traffic to your website from Twitter the same way. It lets your blog readers to tweet any piece of content they like while reading your blog post.
All you need is to add the "tweet this" functionality for the piece of text which you think a reader will find interesting and worth a tweet.
Check the screenshot below to find out how the InkTweet plugin will look like once its activated on your content.
---
Product #5. InkVideo Optin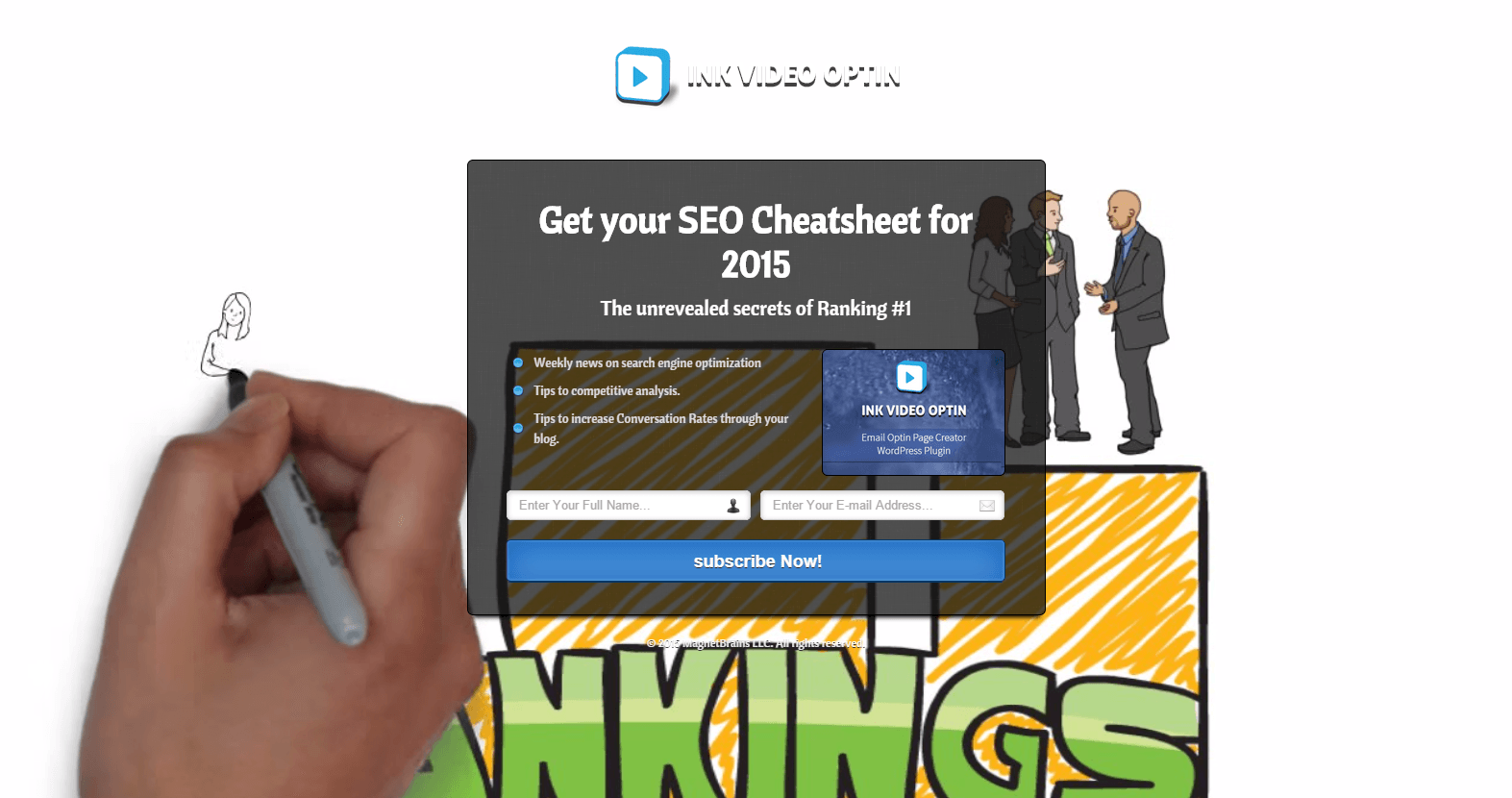 A Plugin That Converts Visitors Into Your Subscribers.
If you are receiving good traffic on your WordPress website, using a lead generation system can be great to increase your income via email marketing.
Converting a good percentage of your website traffic into leads (your email subscribers) is one of the best ways to build up a business. But evoking people to opt for your mailing list is most of the times a back-breaking task until your approach is a bit creative. Otherwise, the email capture form you have put on your website remains idle.
So when the challenge is to evoke a maximum possible number of visitors to convert into your leads, there is an extreme need to make your lead generation system more appealing and engaging.
This is what the InkVideo Optin plugin helps you in. It gives a more effective lead generation system for your WordPress website. With this plugin, you can create a lead page that displays a sign-up form with a background video.
---
Product #6. Ink Ad Creator
To easily create Ad Banners for your wordpress site in no time.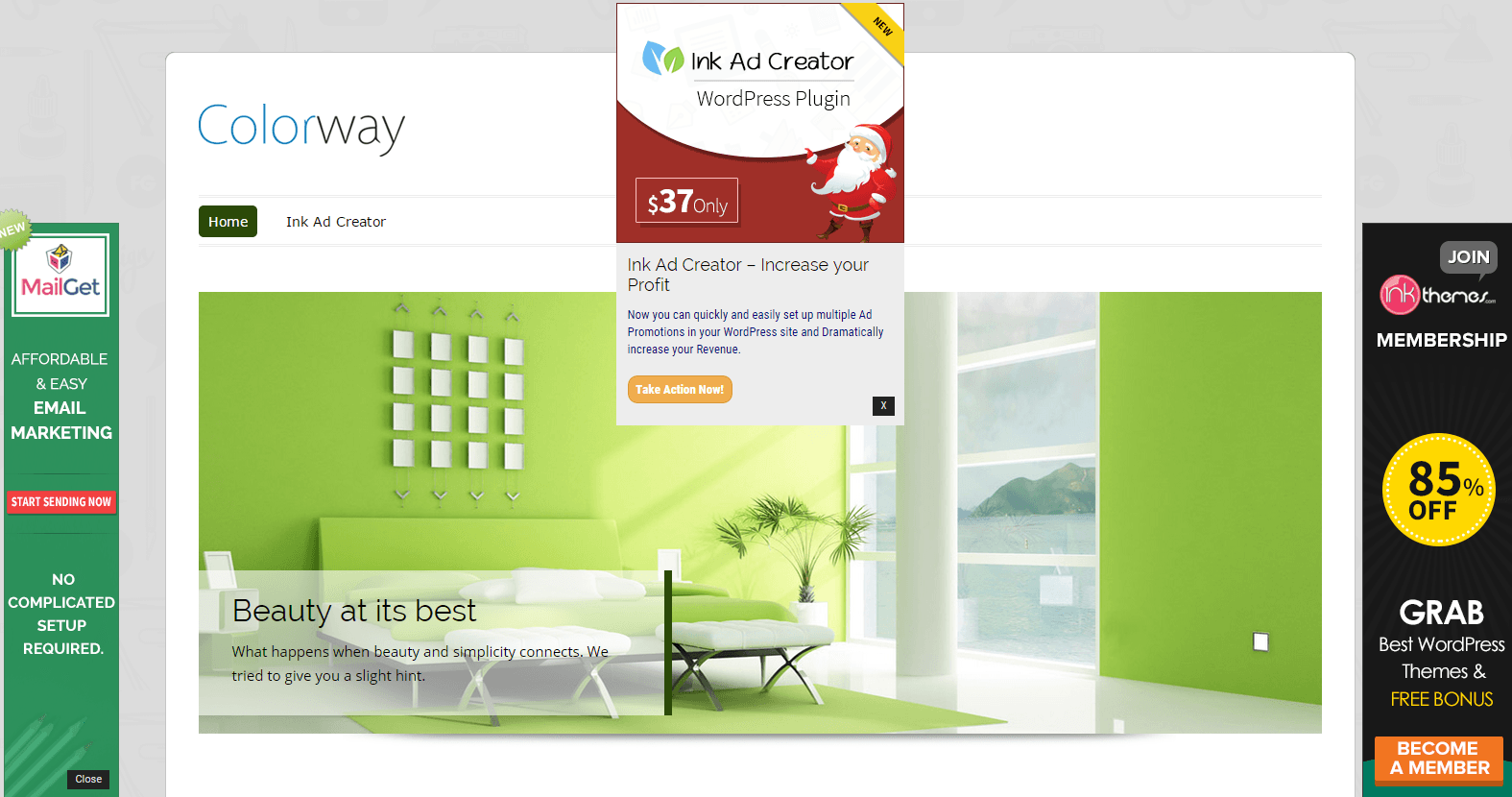 Ink Ad Creator WordPress plugin makes it easier to setup ad banners and run promotional campaigns.
With the help of Ink Ad Creator, you can easily showcase ads not only on your website but also insert ad banners inside the body of your blog posts.
It provides easy options to help you setup and display ads in the desired manner in a matter of a short few minutes.
Load upload Ad-banner Image.
Customize the dimensions of the banner.
Select place / multiple places where the banner is to be positioned.
Insert redirecting links to banner.
Take a look at various text formatting and styling options, background color options, etc.
Meanwhile, see the real time preview of the ad being created in the back-end itself.
---
Product #7. New Header Covers for Your Facebook Page

Facebook is a promosing platform both all size business entities. Therefore now we are also gonna help you in maximize the scope for your business through your facebook page.
We have launched this set of pretty Facebook covers that are pretty darn cool. These facebook covers come with polished effect that will intrigue your viewers into taking a second look on whatever you want them to see.
These Facebook covers come with fully editable editable PSD file. So you'll be able to replace the images and the text in them with the images and text you want you audiences to see.
---
 Product #8. New Header Covers for Your Twitter Profile

When you want to build your brand awareness through social networks, especially on twitter, you definitely need a great looking twitter profile.
Twitter has its own delight when it comes to building brand awareness. Get these eye-catching Twitter header banners and get ready to highlight your presentations for the whole Twittersphere to see.
Product #9. Banner Advertisment Set ( Both Animated & Static Editable Banners)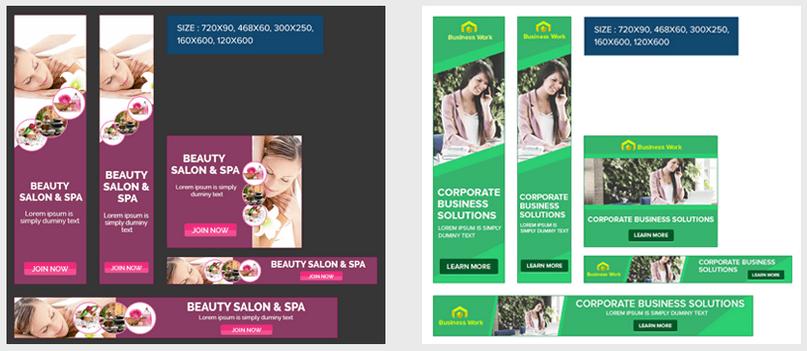 And here is more...
Different size ad banners fully editable.
This set includes both animated ad banners and static ad banners.
You can easily edit and use on your website and on your advertizer's site.
Animation in your ad banners will definitely get more attention of your audience. Moreover, banners with animation effects will assure you that your target audience is not ignoring your ads without even watching them!
Check Out These Ad Banners and Covers
---
How to access ?
If you are an active InkThemes Full Membership Subscriber, you can access all those products from your members area. Login to your InkThemes account and check under Active Subscriptions to download the products.
If you are new to InkThemes, not a membership subscriber yet, you can join InkThemes now.
InkThemes membership gives you access to all released InkThemes products till date along with all the bonus perks. Including continued access to our customer support.
Become a InkThemes Membership Subscriber
We give instant updates to our customers and newsletter subscribers on our new launches. You'll be informed whenever new deals, freebies, or special offers are launched.
More To Come Soon. Don't miss...