10 Best Responsive Admin Panel Templates 2016
If you are making some compelling and complex website, then you probably require a robust admin panel template.
Isn't It..??
Well, admin panel or the admin dashboard is the area, from where you can have complete supervision over your website starting from management process to website analysis procedure.
All you need is to get a perfect admin panel template which holds superb features and widgets that make administrating website an easygoing task.
So I have listed down 10 Best Responsive Admin Panel Templates that lets you build a clean, beautiful and powerful admin panel/dashboard for your websites.
---
Let's have a look at each of these templates.
1. Start Up – A Web Template Admin Panel
Start Up is a capable, clear, prepared to utilize responsive administrator template. Based on twitter bootstrap framework and controlled with Sass with no intense codes, you can straightforwardly utilize this template for any of your website ventures.
You will love to see various customization options inside the administrator panel. The Administrator panel has astounding jumble free design with each one of the components orchestrated out of the way. One would love to take a shot at this administrator panel.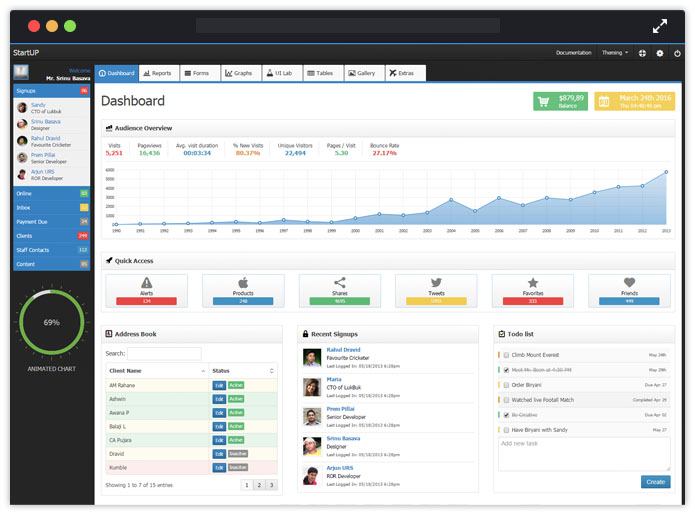 Some features of Start Up are –
Fully responsive template – design is simple, fresh, clean and clear
Straightforward and easy to access customization option with a single click
Support for HTML, HTML5 and CSS
Supports graphs, charts, and animations
Stunning menu navigation system and a big library of font icons
Intuitive custom menu display – which makes interface friendly
---
2. Supina – Bootstrap Admin Template
Supina is a set of professional admin template, which comes with a fully responsive design that looks stunning on any viewing device. The template comes with tons of layout possibilities and includes every single component which you could require for back-end website administration.
The template has HTML/CSS/JS structure which makes it reliable, user-friendly and easy to customize. You will never regret if you opt this admin template for building your website admin dashboard.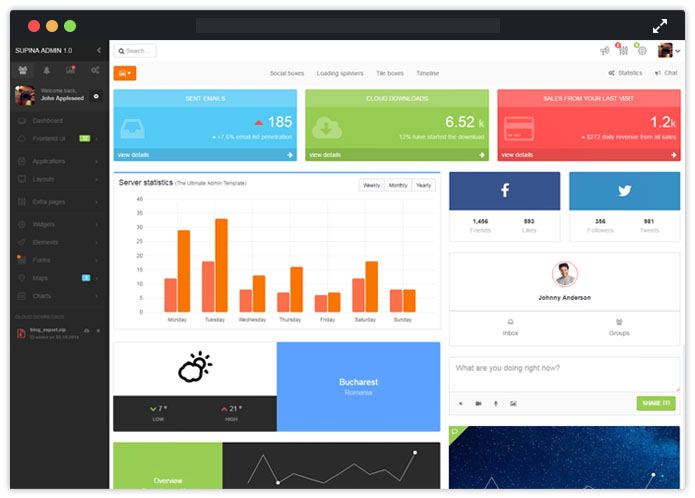 Astonishing features of Supina are –
Clear, simple and fast response time with no additional CSS or JS required
Administrator dashboard pages – create administrator panels and dashboards for mobile and web applications
HTML5 and CSS3 Valid W3C code, clear, semantic and straightforward to change
Variety of widgets and UI components available
Easy to customize templates – even users with no configuration sense can make excellent things utilizing our template
---
3. Monarch – Responsive Bootstrap Admin Theme with Angular JS
Monarch is a responsive WordPress admin template with WPML integration of multi languages. It is cross-program compatible and mobile prepared, so it looks extraordinary on cell phones, tablets as well as portable workstations also. Plus, Monarch is accessible as Angular JS and HTML layout/template also.
This template has many distinction graph version incorporated that will make your dashboard emerge from the rest. This administrator layout/template is made by coders so that administrating website at an advanced level can be carried out. This template utilizes Google textual styles, so your site typography will look precisely as you mean it.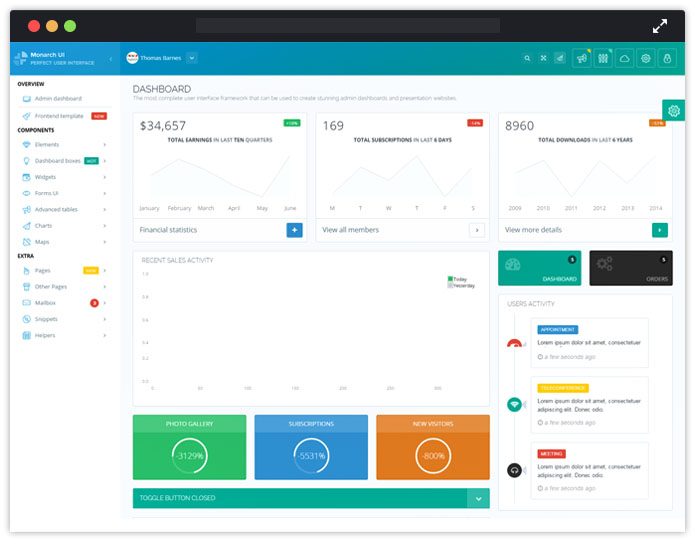 Listed below are features of Monarch –
Multi-dialect WPML ready and advanced layout customization options
Responsive HTML5 and CSS3 design
Visual shortcode generator – Buttons, Tabs, Toggles, Pricing Tables, Sliders, Boxes, Icons and substantially more in a single tick
Angular JS Enabled – Making your next web application will never be simple with Monarch Admin Template as it comes in both Angular JS and non-Angular JS variant
Clean, user-friendly and lightweight template
---
4. Zontal Admin – Fully Responsive Admin Skin
Zontal has an adaptable and responsive HTML5/CSS3 layout, based on the mobile-first principle and strong foundations of HTML5. It gives a rich arrangement of styles and components so that you can find everything easily according to your needs.
The crucial part of this template is the flexibility that it offers and the straightforward procedure of integration. You might discover numerous others HTML5 layout available, yet genuinely you won't locate any free HTML5 format of this premium quality.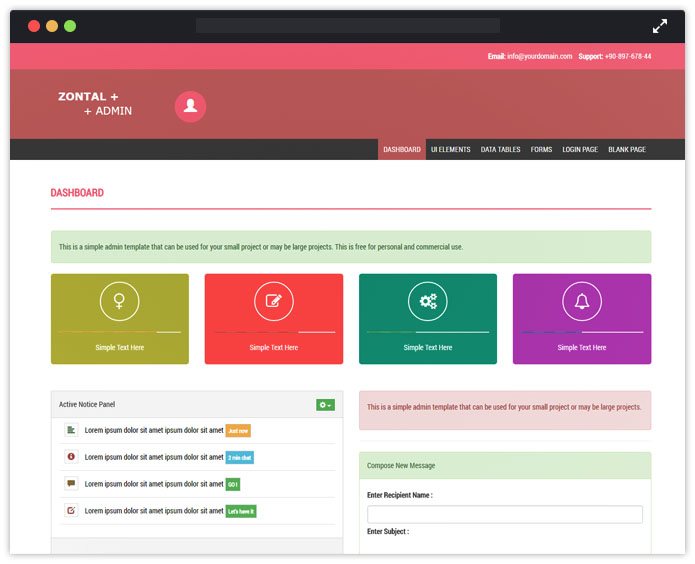 Key features of Zontal Admin are as follows –
Responsive changes occasions and control techniques
Built upon Bootstrap framework which makes it device responsive
Clean, neat and intuitive interface
Holds various supervision panels like primary panel. security panel, danger panel, etc
Programmed template setup – All your plug-ins let go automatically, all over the place
---
5. Dream – Bootstrap Admin Template
Dream is a neatly coded, flawlessly styled, customizable and cross-browser compatible perfect admin template. It is one of the smash hit, most noteworthy evaluated templates of WordPress admin panel templates.
This admin template is fully loaded with elements; that permits you with an incredible mixture of designs, controls, and styles to guarantee you have a totally one of a kind application. Dream gives a genuine web application experience, progressively stacking pages and keeping away from program reloads.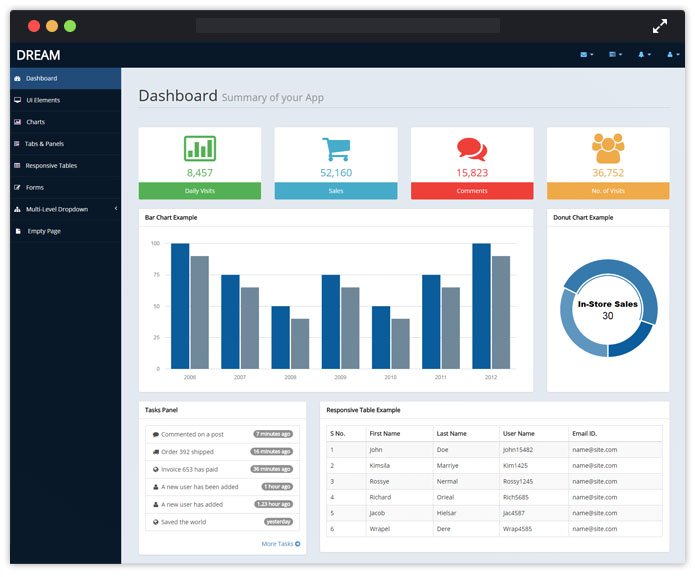 Stunning features of Dream are –
Speediest offering administrator and multipurpose admin template
Fluid and altered design with advanced customization options
Supports all viewing device like iPhone, iPad, etc
Special accordion based dropdown route (3 levels)
Fully compatible with all latest plugins and supports Google fonts also
---
6. Elixir – Angularjs Admin Dashboard Template
Elixir is another premium administrator skin/template with heaps of custom components and exceptionally adaptable substance structure. Incorporated with angularJS modules, makes it simple to utilize custom stuffs like buttons, dropdown menus, distinctive button sizes and numerous different elements.
Elixir has a responsive format, which implies it is perfect with cell phones, for example, iPhone and iPad. This template offers various segment for primary content and widgets, which makes the entire format extremely adaptable for various sort of information and content.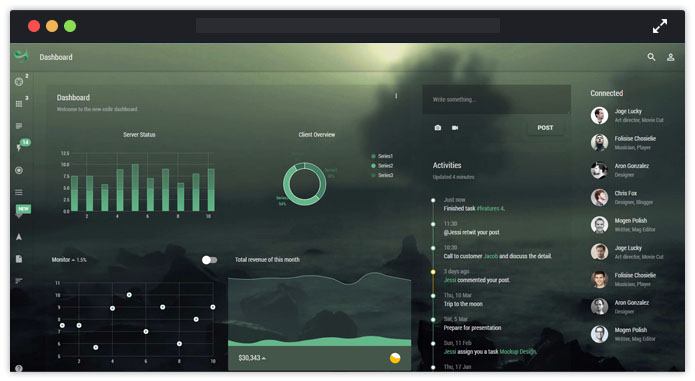 Important features of Elixir Admin template –
Text area with settled height, characters counter and auto growing highlight
Dropdown and select records list
Browser dependency management system
Radio buttons and customized checkboxes
Vivified progress bars with tooltip in 6 hues for content part and sidebar
Progress bars: regular one, with rates and timer, with rates and timer + delay on begin
---
7. SB Admin 2- A Minimal Dashboard Admin Theme
SB Admin 2 is a responsive, clean, fast and lightweight admin template, based on Bootstrap framework that presents building a distinguished yet robust admin panel for overseeing the website.
Moreover, the template is retina ready and is fully compatible with all major browsers. The templates hold huge collection of icons and plugins that will present every single detail of your website with a perfection.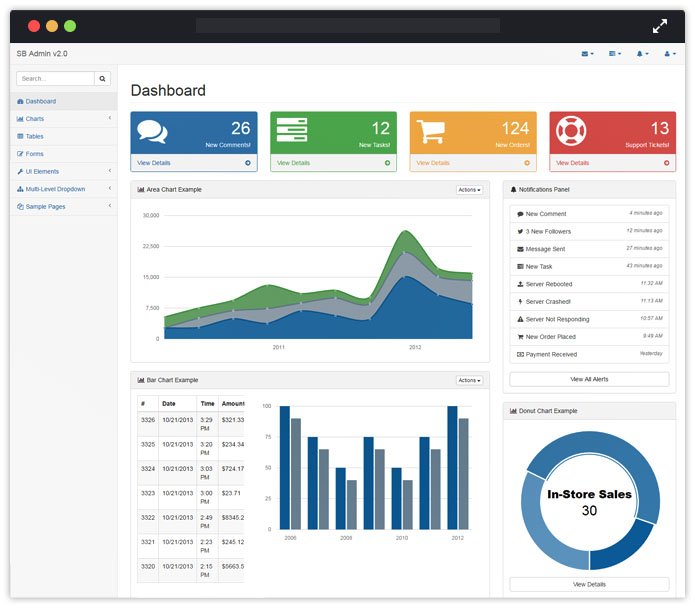 Listed below are SB Admin 2 features –
Responsive sidebar menu with multiple dropdown levels
Completely responsive and multi-leveled layout
Numerous custom styles evacuated for simpler customization
Cleaner code structure for less demanding altering and customization
Large collection of bootstrap social buttons
Supports three custom panel styling namely – red, yellow, and green
---
8. Novus Admin Panel Flat Bootstrap Responsive Web Template
Novus is a complete administrator dashboard layout which is crafted keeping in mind of clean, sleek and flat design. The template highlights various tool that strongly assists in building modern, smart and convenient user interfaces for interactive web applications.
Based on Bootstrap 3+ framework, media query, HTML5, and CSS3, Novos is a great package that comes integrated with all latest jQuery plugins. You can use it for various applications such as for custom admin panel, application backend, project management system, etc. A substantial number of widgets are incorporated here to make your application vibrant and vigorous.
Some features are listed below –
Advanced notification section
Custom Radio button, Checkbox
Completely Responsive and Interactive
jQuery Easy Pie Chart for showing different stats
Very much organized code
Point by point documentation
---
9. Nifty – Responsive Admin Template
Nifty is an amazing responsive admin template that comes with Bootstrap 3.3 framework. It holds all the necessary elements that will spare time and makes your responsibility a simpler undertaking. On top of all, you will love to see it's great intuitive and neat design that will present you an incredible yet robust admin dashboard.
With such great elements and resources that you will get with this admin template, management and development process of your website will certainly get enhanced.
Essential features of Everest –
Completely responsive layout – Adapts to fit your client's gadget from extensive desktop screens to tablets and mobile devices

Full Width/Fixed Width Grid Portfolio – Pick between two distinctive framework designs for your portfolio record

Filterable Portfolio -Classify your tasks and alternatively utilize a portfolio filter

Advanced tracking system – analyze your website in real time

Build on Saas – makes customization an easy task
---
10. Inspinia – Responsive Admin Panel
Develop using modern techniques like HTML5 and CSS3, Inspinia is a premium bootstrap administrator template that has been crafted to give a complete all in one administrator arrangement. You will get more than 70 unique views, with various components that will help make your website administration task a handy one.
This template consists of all the tools that are must to make your work completely usable, aesthetically flawless and always in line with the web criterion and requirements. It's super simple customization and a considerable measure of elements make it a helpful and valuable thing.
Listed below are some features of Navigator –
Various color scheme and with amazing flat design structure

Easy to navigate- Through different areas.

Fully Responsive and supports animated chart

Totally simple and Easy customization

Unlimited color variation options and different layout available

Notifications bar – Contain alert, timer and Animated notification

Supports charts – including maps and graphs
---
Wrapping Up..
So these were 10 Best Responsive Admin Panel Templates. All of these templates contains distinct and unique features which will help you build handy admin dashboard.
Whichever theme you go for, it will surely provide you great service since all the themes are fantastic and work very well. As far as I am concerned, go with Start Up, as it is an easier one to use and understand.
You may also like –
Fantastic WordPress Themes and HTML Templates Built With Bootstrap
If you have any query related to anything, do let us know in the comment box below.
Last Updated on: June 11, 2016
Under: Blog