Wp ExtraWatch Plugin to watch joomla visitors live stats and bots in real-time
ExtraWatch is one of the powerful and easy to install WordPress Plugins, a popular visitor live tracking component ported from Joomla. ExtraWatch allows you to watch your joomla visitors live stats and bots in real-time from the administration back-end.
Tracking is the analyzation of your  visitors behavior on your website, tracking the most popular pages is very helpful like in a business to business context understanding a web site visitors behavior in order to identify and analyze visitors buying intentions is observed by many commercial organizations as an effective way to target marketing activities, it allows you to see every single activity of your visitors  on your website at a given time, and gives you a very important statistical amount of information about them, as it reveals the intention of your targeted visitors, it determines the effectiveness of your website pages popularity by determining what pages or products and services are visited on your website, which page or product on your website is mostly being viewed by your visitors, did they go to the Services section? did they go to the products page? or did they read testimonials? etc.
Specially analyzing their IP addresses and countries they are coming from, geographical locations on a map, which pages they are viewing, what browser and operating system they are using, it creates daily and all-time stats from these information plus unique, page-load and total hits statistics, analyzing such specific statistics can be quite revealing as it can help refine website content like and how long your visitors spend their time on a particular page and also determining how effective or not your sales, leads, and conversions, as well as your "calls to action", web analytics provide a wealth of useful information that gives a deeper look regarding website performance and help a website owner make improvements.
Furthermore, you can block harmful IP addresses, see blocked attempts stats, evaluate the trend charts, and create goals based on many parameters. In the front-end, it displays the top countries, user and visit information for certain periods of time.
Click here to download ExtraWatch Plugin.
Open your WordPress admin panel click on Plugin menu & then hit the Add New option & now click Upload, browse the zip file & install it.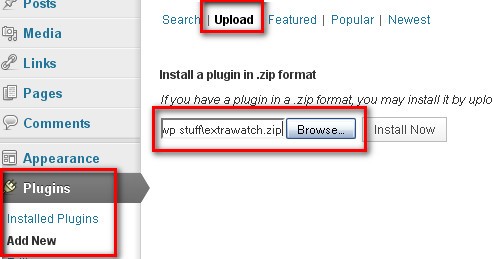 Now click on Activate Plugin to install it as shown below.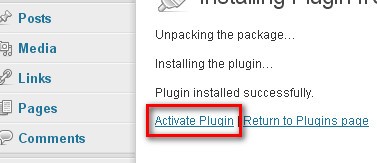 Now click the ExtraWatch option inside ExtraWatch menu at you left-hand side, here you can keep track of your visitors activities , where  you can analyze their  IP addresses and you can also find out what browsers and operating systems they are using date-wise as shown below.
Here in ExtraWatch section at your right-hand side you can review the weekly statistics about visitors activities how many times a visitor visits any of the particular items or pages of your website weekly.
In the same section you can also analyze that how many goals have been successfully converted on daily basis, and Referrers can also be analyzed here on daily basis to find out what links or pages are conveying the traffic to you site, and what keywords are mostly being clicked etc.
Here in Email Section you can define the email reporting like receiving nightly emails with reports for previous day, which you can read in the morning, and in second field you can set the email address to which you'll receive these reports, and in third field you set the maximum characters limit of email row name which can be changed if your email client message window is too small, and there are many more advance options.

Now in Anti-Spam and Blocking section you can make a list of spam-words which you want to exclude or ban like most common spam words used by spam bots, If the setting  is enabled, ExtraWatch will check whether the attacker submitted a form on your website with some of these spam words, this is very useful option to fight with spammy stuff.
In Goal Section at your left-hand side you can set the various goals to track the success growth rate of your website by the way of successful conversions. in Name field give the name of your goal which is mandatory, and in remaining fields you can use (*) wildcards  to match any character any number of time or (?) question mark to match character as optional.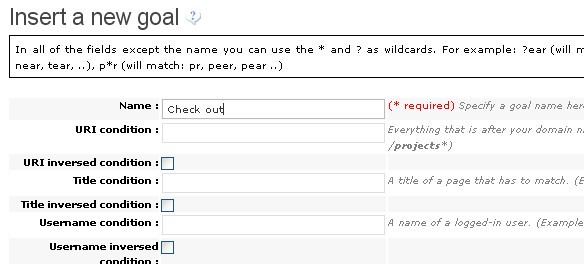 Now in Settings section at your left-hand side you have a list of options here like you can set your language, (If you want to create a brand new language file, first check the project's homepage, and if the language file is still not there, just copy the default english.php to eg. german.php and place it in this directory. Then, translate all the key values on the right), by clicking first check-box you can set how many number of  visited page should be shown, and there are many more advance options which you can use as per your need.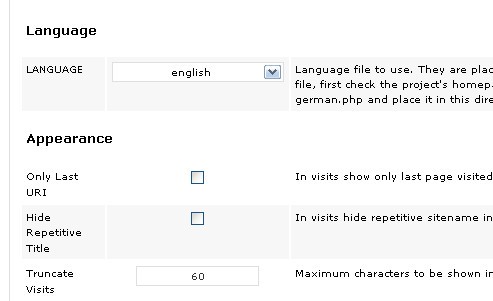 Excerpt:
WordPress ExtraWatch 12.18.457 Plugin has been developed by ExtraWatch, to keep track of your visitors every single activity,  on the Live Stats dashboard you use the right-hand section to view some of these same statistics in recent context, much of the statistics you see in the Graphs section where you can easily visualize the statistics, this will help you to gain a more comprehensive view of your web site's traffic performance.
Thanks for visiting.