Methods To Provide Back Up For Your Website
Why website backup is so important? Is it necessary to have a backup or it is just of no importance.Before coming to a conclusion, have a look to the line below.Backup means copying the data contents and keeping it in a safe place, so that it can be used further whenever it is required.Threats to websites are uncertain. Probability of threat attack can come anytime.
So, you need a website's backup solution because a website can suffer from different kinds of threats such as:
Website hacking
Malware attacks on servers
Sudden data loss due to certain human errors
Website crash.
When you have a backup of a website, and if suddenly any of the attacks mentioned above happens, with the help of your backup files, you can restore your site within a minutes and save your business from a sudden failure.
After reading the complete post, you will come to know some useful methods to back up a website.
Just look at the Infographics below:

Well above Infographic clearly says, to create website back up is as important thing as creating the site.
Website backup can be performed in three ways:
Manual backup
Backup plugins
Backup services.
Let me tell you one by one how to backup a website with above mention option. Let me start with WordPress plugins that provides backup.
Generate backup, restore backup
Generate automatic backup with the help of cronjobs
Restore the backup to a different location.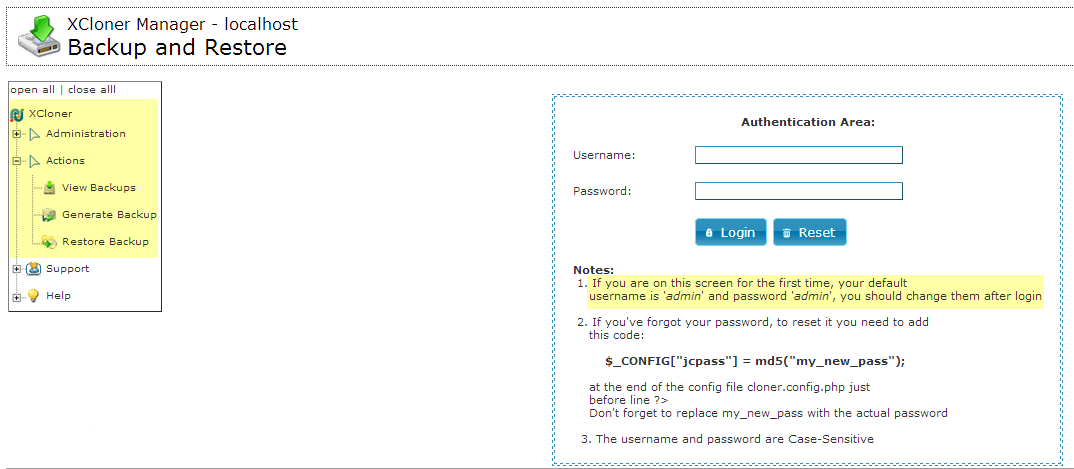 Provide database backup, wp-content backup.
Backup can be stored to FTP server, S3 services, Dropbox etc.
Multi-user support, multi languages
Optimize database, check and repair database.
Backup storage on Dropbox, AmazonS3, Rackspace, Email.
Provides restoration
Helps to move site on different server.
Provides database and websites files backups
Provide backup with encryption
Stores backup on your email/server folder/ Backup technology's secure data centres with 100 MB free online storage space.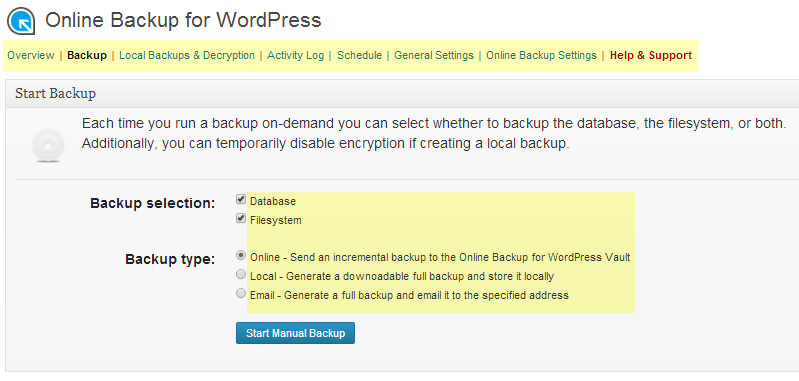 Backup database
Store database to Dropbox.
Backup database and files
Provides restoration
Provides manual or automatic backup to Amazon S3, Dropbox, WebDav, email etc.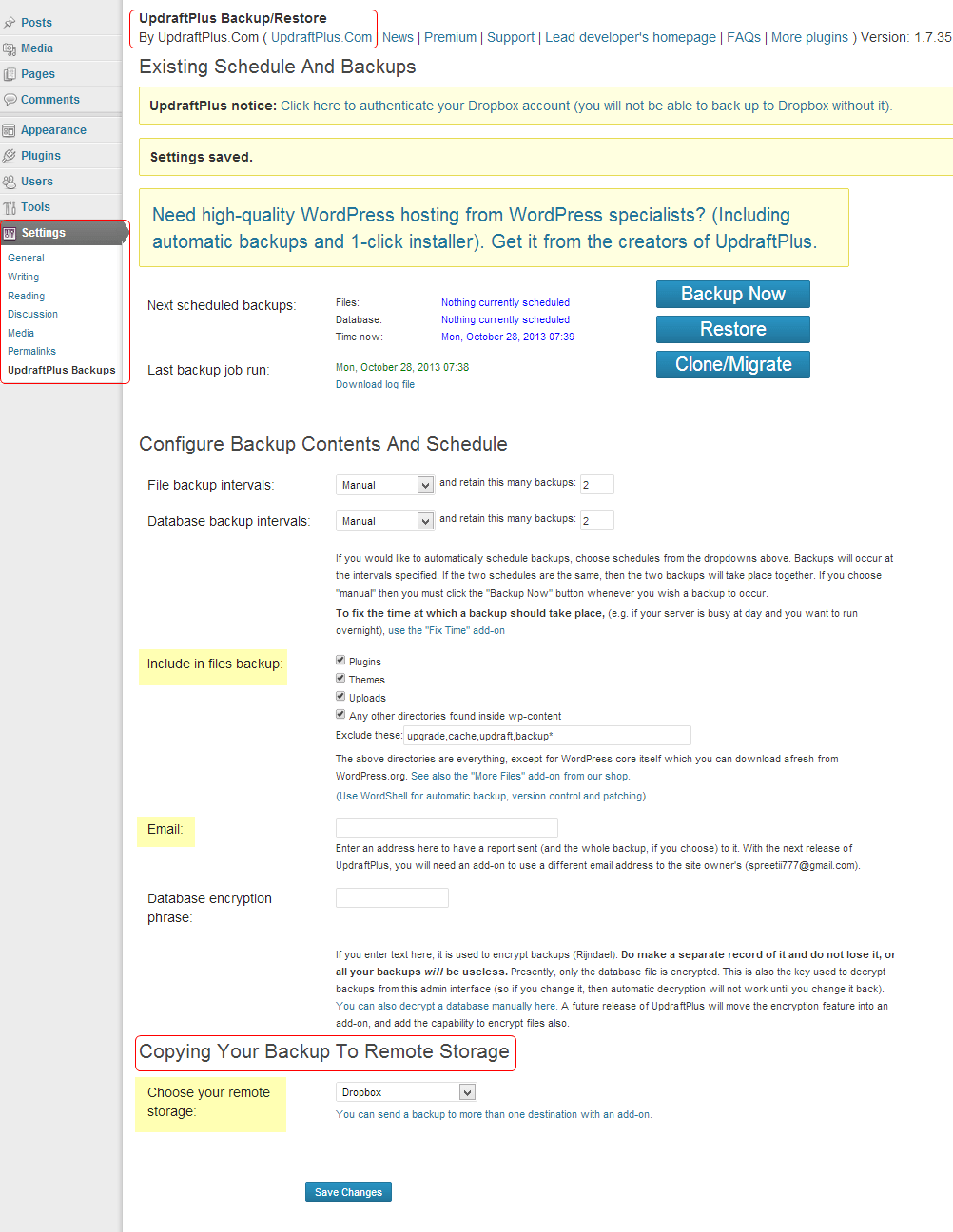 Provides database and file backup
Provides database optimization
Facility to store backup file on FTP server.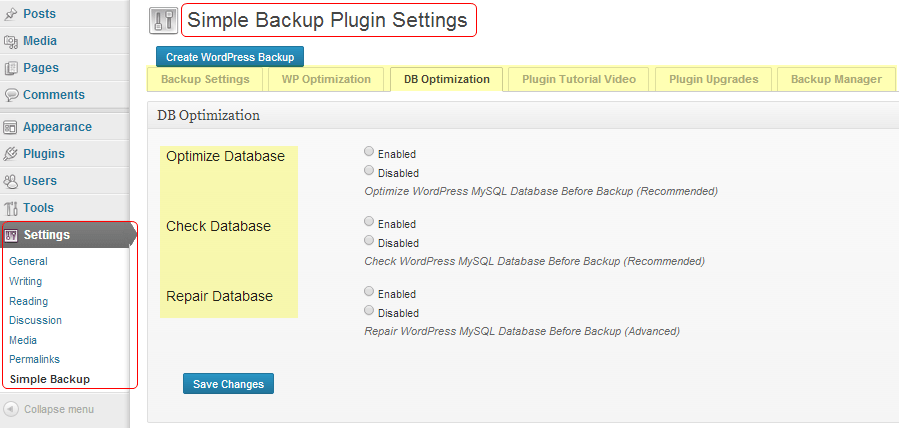 It allows backup, restoration, repair, optimization of the database.
While installing the plugin one error is going to appear, look into the image.

This error can be sort out by steps given below.

Easy database backup
You can store backup data on your server/computer/email.
Very simple to use
Manage multiple backups
Email notification
Works on Linux and windows server.
There is one new plugin Keep Backup Daily that allows you to schedule and backup database and store it on your email address. Another one is Backuper that provides complete backup of your web hosting account using cPanel. So it is compulsory to have cPanel account. Backup can be compressed and can be sent to FTP server.
Website Backup Online Services
Provides website backup, database backup through FTP, SFTP
Multiple site backup through single account
Stores data with 256 AES(Advanced encryption standards) encryption
Monitor website and give email notification.
It is the most durable, reliable and cheapest backup solution. Standard storage pricing starting from $.095/GB-per month(upto 1 TB data) to $.055/GB-per month(over 5000TB). All you need to have your account on Amazon web service or you can create it.
When you create an account you will get your Access Id and Secret Access key. It's very important.
You need to have S3Synch tool to create interaction between your computer and AmazonS3. With S3Synch, you can upload files from AmazonS3 or download files from AmazonS3. If sometimes error occur in transferring, it sends an email.
Another tool is Synch2S3, it also synchronizes your files with the AmazonS3. You can download the trial version from here.
Create bucket. It is a main directory where all the backup files will stored.
Run the backup script using the scheduler.
A smart online backup service. With it, you can generate your online backup, move your site from one server to another. You can restore your site through backup. It also maintains a backup history.
Apart from backup and restoration, it secures your site on a regular basis and informs you through email, if there is any malicious activity occurring, on your WordPress website.
This is another online backup and restoration service. It also has myReponoWordPress Backup Plugin.
It is a web hosting company which also provides backup. It is a very popular service to manage your backup activities. Visit the link here.
It's an effective data backup solution. It provides automatic backup and protect files against thefts, viruses, natural disaster. It can work well on platform like Mac, Windows, Linux.
It is very easy and completely automatic backup solution. You can securely backup your website contents and database. Apart from WordPress website, it also provide backup solution for Drupal and Jhoomla sites.
However, you can automatically drop your website into Dropbox by using the tool called backupbox. With the help of backupbox you can move the stored file from one place to another. For e.g. If you want to move your file from FTP to Dropbox, you can use backupbox. There are many options available on the backupbox.

Manual Backup
Backup using cPanel
It is a web hosting control panel, Many of you who owns a website, knows that it is integrated with website hosting service provider like Hostgator. From here you can create backup of your website and download the files on your computer.
Login to cPanel account -> Backup -> Full Backup, enter your server details  then click on Generate Backup. For more reference visit the video below.
Backup using Export tool in Tools option of WordPress
Go to your WordPress dashboard, click on Tools -> Export. Select the option whether you want to take up a backup of all the contents or posts or pages.

PhPMyAdmin
You can backup the database from the PhPMyAdmin panel on the WordPress dashboard.
All you need to do is, open up your PhPMyAdmin panel, select the database which you want to backup and and click on Export. Click on Go button. You will get a file dowloaded on your system. Click on the file.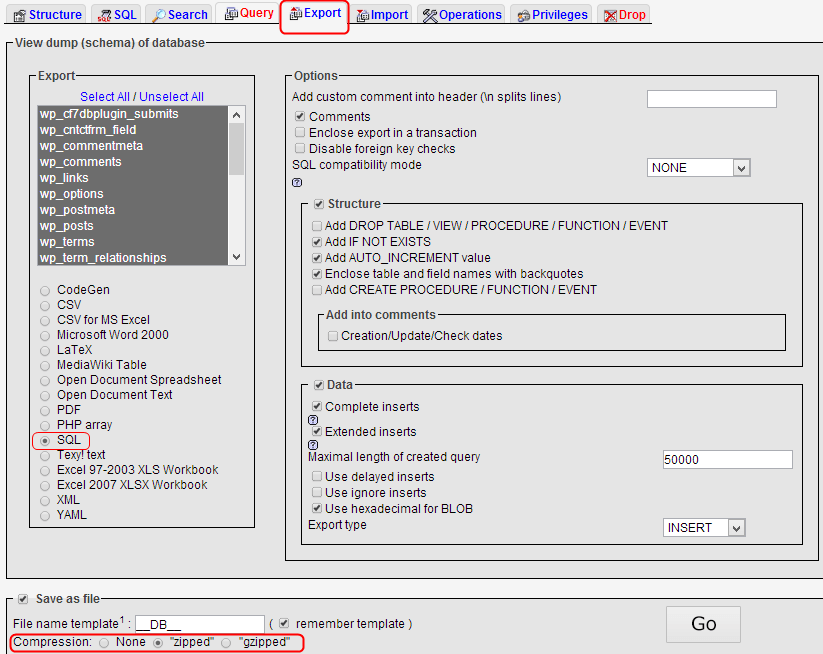 Backup using FTP
You need to have Filezilla software on your computer. It allows you to upload, download files within the site hosting server. It actually connects your site hosting server to your computer. Look into the steps below to setup backup of a WordPress website.
First off, connect to site server, in the Filezilla window enter your hostname, username & password. Click on QuickConnect.
If you want to connect to a specific site on the server. Go to Site Manager.
Make a folder on your computer to keep the backup files. Make sure it should be named as the name of your site followed by the date of backup.
Once you connect to the Filezilla, at Remote site section, go to your root directory and open the public_html folder. Find your WordPress site with the help of wp-admin, wp-content, wp-includes folder.
Once you find your required files,drag and drop them on the left side i.e. Local site section. Drop the files inside the destined backup folder on your computer.
Conclusion
It is said that prevention is better than cure. So, backup of your website is the ultimate solution, to overcome website data loss.