Build Smart Looking Professional WordPress Website With WoodPecker Theme
I would say- number 40 and would be the first business theme for the upcoming year 2014. Yes, we are going to launch a new business theme – Woodpecker, that will make your business websites more clean and optimized.
Woodpecker theme is a unique business WordPress theme. With it you can make a beautiful and a professional business website. It's features are amazing and simple to understand.
Watch this quick demo and understand the features of Woodpecker.

Show All Your Important Professional Stuff On Homepage
When visitors land on your website, their time-span to analyze your website is 5-10 seconds. And if you are unable to show key points of your business in those 5-10 seconds, you will suffer from a major loss in your business.
So, it's very important that you make a website which can easily engage your visitors and they get convinced to become your potential customers.
Woodpecker is being designed with the similar objective to give a convincing look to your business website. The theme comes with all the basic requirements that is a prior demand for every user. The theme has all the important features on home page that will explore your business among the audience. You can easily represent all your business services and get a good response.
Now, have a look to some of the amazing features of Woodpecker
Fullwidth Slider on Homepage
Slider is the most accurate way to showcase your business value very impressively. So, in the theme you can insert five slider images of optimal size of 1920px*654px. Besides, you can set the timer for images to display consecutively on websites.
Show your brand very efficiently on your visitor. As the slider is located on the top of the fold, it will grab your visitors attention instantly as soon as they land on your site.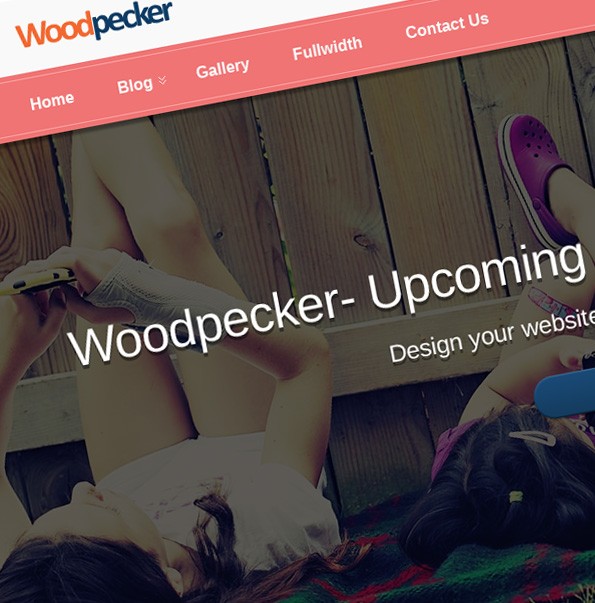 Centralized Column Feature Area
Theme contains three-column feature area.  It is very neat and distinctly organized. Here, you can describe your business products & services. Also, you can show images of optimal size 264*264.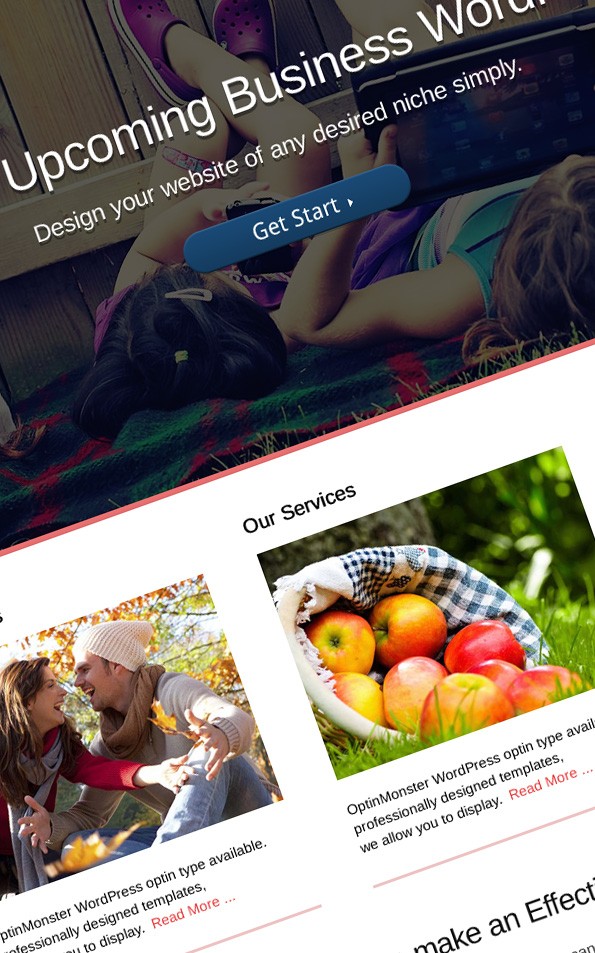 VideoBox
One of the simplest methods to engage your visitors on your website is by putting a descriptive video about your products and services. It will educate your visitors too.
Through Videobox, you can directly embed the videos on the home page. You can display two videos on the home page. But if you are going to display a single video, it will appear in fullwidth at the center of home page.
You can also insert an image as a thumbnail for the video. So an image will be appeared on home page for the video. And when someone clicks on that image, video will be opened in the pop-up bar.
Note: It's optional to put videos in the videobox. Instead of it, you can also put some interesting images. When someone clicks on those images, the images will be displayed in the pop-up bar.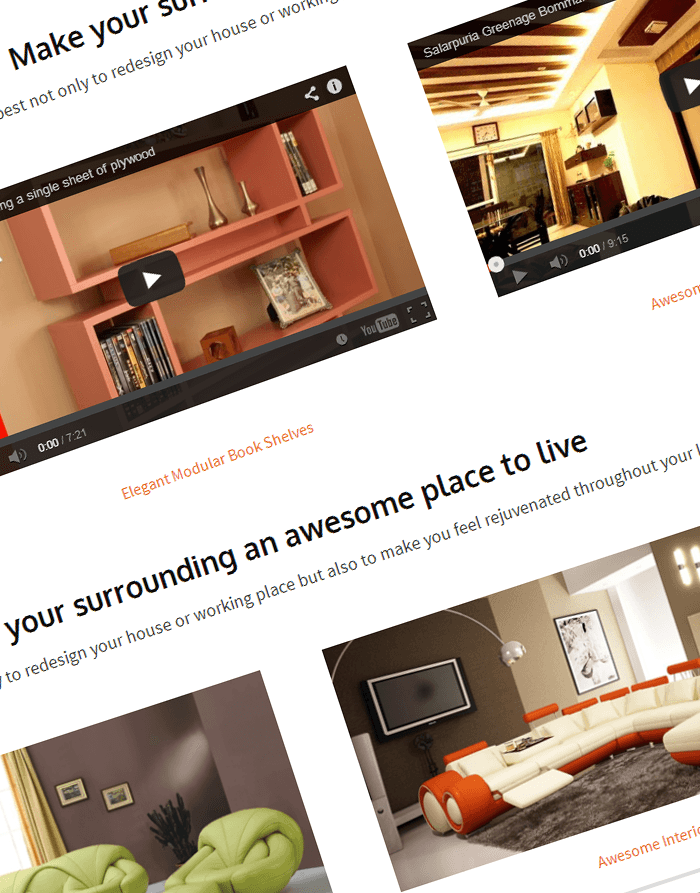 Show Gallery With Multiple Images
You can easily showcase your Gallery images. The images will come with some great transition effects and proper alignment that will showcase your services and attract the most of the visitors.
Template Header Background Image
To give a more interesting look to your site, you can give a template header image. This image is going to appear in the header section of each and every page and post of your website. Have a look below.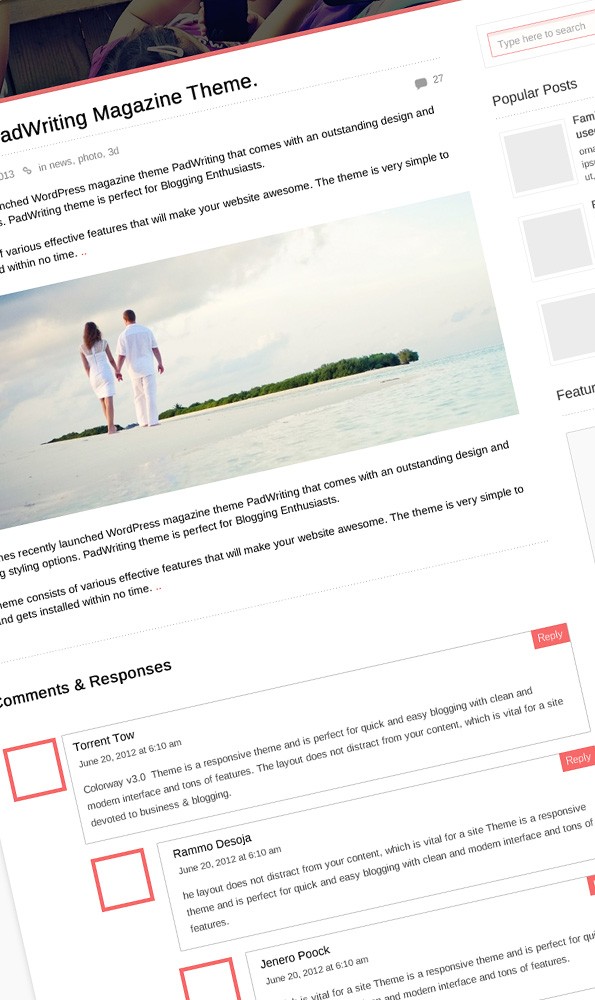 Optimal image size will be 1600px * 250px
Distinct Portfolio area in the Footer
There is a separate section, where you can give a short description about your organization and it's services.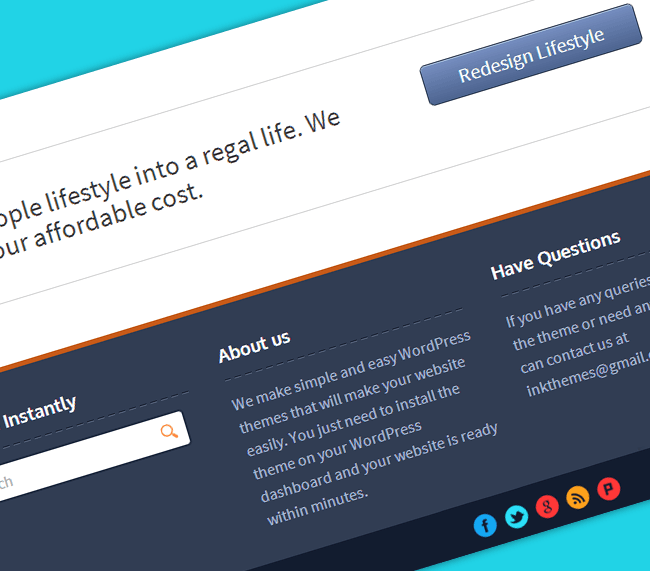 Features at a Glance
Built with boostrap 3.0 framework.
The theme is responsive. It is compatible with mobile, iPhone, iPad, tablets.
Fullwidth sliders at the top most part of the website.
Attractive three-feature column area.
Distinct area for giving punchline and punchline description.
Embed videos on home page. Optionally, images can be insert in place of videos.
Images can be hyperlinked with any video URL.
Enlarged portfolio area. Here you can give a short description of your company.
Various styling options. You can make websites in ten different colors.
Template header background image, to appear in the header area of each page and post.
Allow your readers to share your post through social sharing icons like Facebook, Google+, Twitter, LinkedIn.
Inbuilt page template includes Default template, Contact template, Fullwidth template, Blog template.
Widgetized footer area.
Customizable sidebar.
Easy to create a website.
Powerful admin panel.
Other than chrome, supportive with browsers like, IE(upto7), Mozilla, safari.
Conclusion- Clear Presentation, More Conversions
If you present your business in a good way in front of your visitors such that, your visitor will understand the objective of your business clearly then definitely you are going to get lump-sum conversions on your website.
Leverage your business site with Woodpecker theme. The theme is about to release within few days. Let me know your comments and thoughts about the theme.