Why WordPress ?
Now a days WordPress is not just used for the blogging, You can built a complete professional looking website over it. So why use WordPress,  Is it  just because of it's good looking interface or  is there something more than that. So today I am going to focus on why to use WordPress.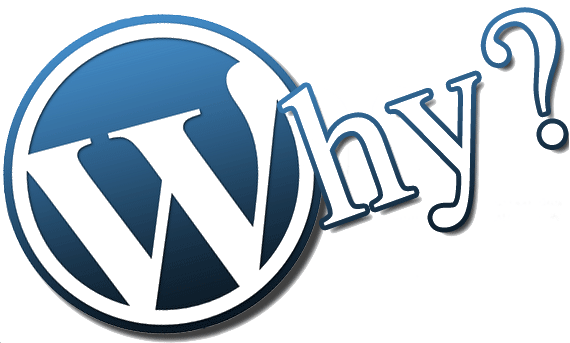 Problem 1 – Do you really think, You can grow your business, If you are highly dependent on any one?
If you are highly dependent on someone it's always harder to succeed. It isn't possible that you open a shop in the market and your business will start to flourish on its own, Your business require your full attention and updation as per market needs to grow.
So it can't be possible for you to bring thousands of regular visitors, If you don't update your websites with new and fresh content, which is good enough to pull users attention. If you are totally dependent on web designers and developers for your website then it will be hard for you to update your website frequently as per your needs.
Solution – Your website is your business and it require updates too and best if you can do it yourself.
It is really easy to use WordPress and you can design your website according to your needs. WordPress dashboard is really easy to manage your complete website. With the help of plugins you can add or delete new features on your website.
With this simple solution you never have to depend on any one else to manage and update your website because you can do every thing yourself with just few hours of learning.
 2. Do you really think, It's a good thing to start with scratch?
Your main aim is to grow your business and WordPress give you a platform where you can start making your website by your own.  Just install WordPress and start building your website. It is never so easy to make your website by yourself.
Use WordPress, It's simple.
It's Easy – No formal training required to start with WordPress. Even your grand ma can manage it .
Great Community – So you find yourself in trouble while using WordPress, There is a great community that will help you to manage your website.
Easy to use themes – If you feel you don't have the ability to make any decent website by your own, Go with easy to use WordPress Themes that will help your make your website looks elegant.
There are two type of theme available premium WordPress themes and free themes. These themes are really easy and help you to make your website quickly.
WordPress Plugin – Every website require special features according to your business requirement and here comes plugin. Just download a plugin and install it and your are ready, Now Work according to your requirements. Here is a link to WordPress plugin.
 Video Tutorial – There are great video tutorials available, So that you can easily manage your wordpress website. Here is the link for the WordPress Video Tutorial.
 3. Do you really think, I can create my business website with WordPress?
Yes surely you can create your website with WordPress. I personally recommend to use InkThemes for WordPress Themes for your business. As all the themes have good looking interface. and it is easy to use. You can create your website with just few clicks.