Steps To Add Your Rich Contact Information on WordPress
Easy steps to you about how to add rich contact on your WordPress  Built before discussing the procedure we must first understand its importance.
Rich contact Information can be a great help to show that your content is relevant to the user's search query. It can also increase the CTR (Click Through Rate) of your page in the search results, which further becomes  a great way to stand out against your competitors on your selected keywords.
Many of the local small businesses are behind the curve, so if you are one of the savvy small business owners, then make sure to implement this technique on your site which will be a profit proven technique for you and your site.
To implement this technique on your site you have option of two methods, among which one is to use plugin where as other is through hard coding. According to me to use plugin is very easier as compare to hard coding because a beginner of WordPress can easily implement a plugin in the site after understanding its procedure and steps, without having  sound knowledge about WordPress.
Now before proceeding to steps one must have a clear picture in mind about what exactly is rich contact information and how it appears. So for that below given image is used by me to easily clarify you about our topic.

This image shows that rich contact information means the complete information of the owner covering all the aspects like your company name, your local address, your descripotion etc. This gives a good impression to your readers and upcoming customers as they get a clear picture in mind about to whom they are discussing or dealing with? Search engines utilizes this data to provide additional information on the search results page.
Now to use this feature in your site you need to download "Rich Contact Widget Plugin" , now follow simple steps of installing and activating this plugin-
Upload the rich-contact-widget directory to the /wp-content/plugins/ directory
Activate the plugin through the 'Appearance' -> 'Plugins' menu in WordPress.
Now further go to Widgets submenu. You will be able to add the Rich Contact widget in one of the widget areas of your theme. Here start filling your contact information, and let this plugin take care of the required markup for rich snippets.
Additionally, you can display an image map of your location, and provide a download link for a vCard containing your contact data.But these are optional  for your website visitors, and can be deactivated in the widget configuration.
After implementing all these steps, search engine will be able to get your rich contact information from your site. You can check this on the link http://www.google.com/webmasters/tools/richsnippets

here enter the URL of your site that you want to preview and all the structured data extracted will be displayed as shown below-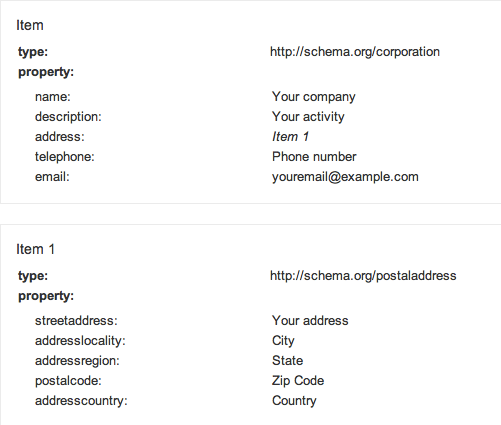 And now with you are done with your task, search engines will now be able to fetch rich information data from your website, and after a while it should display on the search results pages.
Your comments or any suggestions or questions are always welcome.