How To Market Your Google Plus Hangout On Air ?
You have already heard about the term "Hangout" multiple times and most of you are already using it too. But how about "Hangout on Air"? If it is a new term for you then this article will make you understand the difference between a Google+ "Hangout" and a "Hangout on Air"? Both the "Hangouts" and "Hangouts on Air" are video conferencing tools.
The main difference is that Hangouts are private and only known people who are invited within that circle can be engaged. On the other hand, Hangouts on Air are public and streamed live on YouTube, your Google+ profile and anywhere else you embed the code to conduct the hangouts.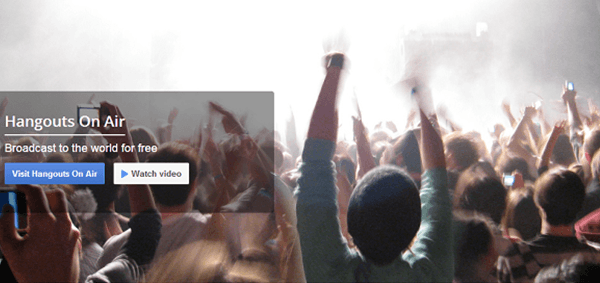 1. Promoting via your blog post:
Make use of your blog's potentials to drive traffic to your Hangouts. If your blog gets a good amount of traffic, it will be a great way to reach target audiences for your HoA.
2. Sharing with Google+ Circles & Communities:
You can extend your circles as much as you can because it is unlimited on Google Plus. It will help you to reach more and more people.
You can share relevant Hangouts with different circles to let them know about events of interest to them. Here, the best idea is to create a specific circle for those who attended the first few events once it is over.
Few old Hangouts and circles made would definitely help you to engage more audience. A proper notice about the Hangouts before you are going to conduct events would be acceptable by the audience as they can plan for it and can join.
Share your hangouts events to the communities you are connected with according to its relevance.

3. Participate in Hangout on Air Communities:
One of the most relevant option is to join the HoA communities. All these communities are created to specifically share Hangouts with others engaging thousands of people.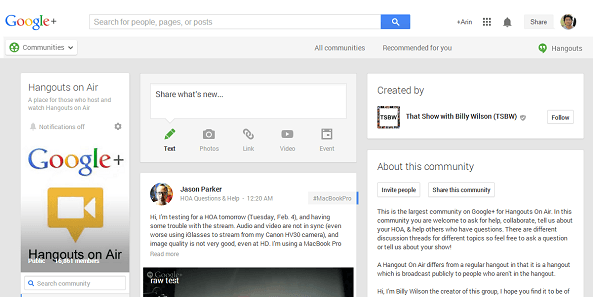 4. Ask your circle connections to share:
It is not always possible to market all of your own for your events. It is not always possible to market all your events on your own. Get help from others, who are connected to your circle. They can later on share to their circles as well. In this way your event will be marketed on different circles.
5. Emailing to people about the event:
Always send emails to your contact list about your upcoming hangouts events mentioning the topic.
6. Leverage other Social Networks:
a) Facebook Event: Marketing only on Google+ would not completely help you. You may leverage Facebook events for the hangouts and invite your friends on Facebook to join you at the event.
b) Twitter tweets: Post some eye catching tweets about the event, so that your followers can participate
c) LinkedIn Connections: You can send emails to LinkedIn connections to invite them for Google Hangouts on Air.
d) Pinterest Pins: Make use of this visually appealing social network which can promote Hangouts video. You can pin the event header, profile pics of the speakers and some interesting pics.
e) Eventbrite Followers: Earlier people used to come together through sites like Eventbrite where participants can be online and get to know about the events. Eventbrite is still having some followers who can be helpful to market your hangout.
f) Skype Groups: Professionals using Skype for business are more technology oriented. So the people who are in Skype group may be interested on Google Hangouts to see how it works.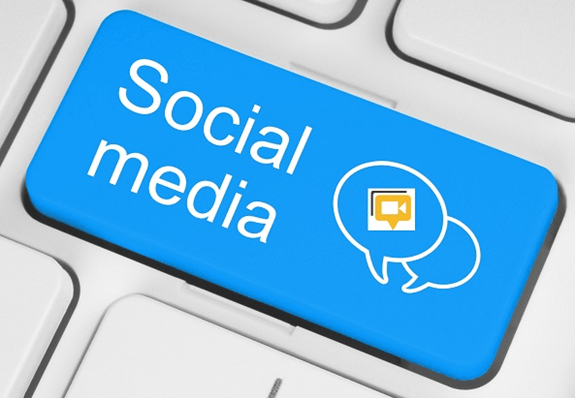 7. Share on Google+, Facebook groups:
Social networking groups are having good scopes to forward your event information as one group might contain thousands of people. So make use of the groups to promote your hangout.
8. Social Bookmarking Sites: StumbleUpon, Digg, Reddit etc:
Social bookmarking sites like Reddit, StumbleUpon, Digg can bring thousands of visits to your hangout event page quickly as you can get various interested people over here.
9. Ads on Google, Facebook, LinkedIn, StumbleUpon etc:
Needless to say that Google Ads do amazing. Put an advertisement on Google, Facebook, LinkedIn etc. where people will see the ads appearing on in the search result or side bars or beside post's contents.
10. Favor Exchange Trades:
"Do me a favor, I will do the same". You have to ask people from similar niches to share your event, and you will do the same for them in return. You can also check out sites like JustRetweet which is basically a paid sponsor and can help in promoting your hangout events.
11. Press Release:
Nowadays press releases are a very effective and known method for marketing your services and events. Some services on press release like PRWeb can distribute your press release to thousands of distribution sites across the web, which will in turn bring a lot audience for your event.
12. Promotion Through Hype My hangout:
Hype My hangout will be helpful to compress your Hangout into a little press kit which can be shared across the web later on. You can create a quick 12 second video for your hangouts on the site. Awesome tool it is.
13. Sharing presentations on Slideshare:
Sharing presentations on Slideshare is always helpful to give an insight on event details. It will definitely bring some HoA traffic for your upcoming event.
14. Quora Q&A :
Quora is one of the best platforms available for questions and answers session with huge number of user's engagement over the net. You can get the people in your niche and build up a following with specific people who have questions about your product and services or the upcoming event.
15. Podcasting:
In case you have a podcast, then start connecting your podcast users to your hangouts and events. You can make use of your hangouts as a podcast when you separate the audio from the video. Leverage this by spreading messages to your podcast listeners.
16. Spread through Squidoo lens:
Create your mini website page on Squidoo lens consisting of the contents which cover the specific topic.
17. Third Party Ads Like BuySellAds.com, BlogAds.com etc:
You can promote the event with third party ads like BuySellAds.com or BlogAds.com with your specific niche.
18. Infographic for an event:
I am a great fan of infograhic as one page or an image tells the whole topic. The infographic can contain your Hangout information along with other relevant content that could interest the audience, who will potentially join the hangout.
19. Concentrate more on +1, Likes & Retweets:
As long as you know your niche, you can go on Facebook, Google+ and Tweeter to find your ideal prospects. Then use search to find the target audience groups. These groups will help your hangouts to be promoted to other groups as well with Facebook likes, +1 and retweets. There might be some people who will be interested in your event and they may join.
20. Webinar attendance:
Creating webinar and giving free advice will be welcomed by everybody who would be interested in the topic which you are going to deliver. Make most people aware of the event and then arrange for a webinar which will bring thousands of visitors to your hangouts.
Check out the following video which will definitely give you an overall idea on how to go with Hangout on Air.
Conclusion
That's all. I have stated here the 20 most important strategies which can bring you more traffic for your Hangouts on Air events. You don't have to try all of them, but when you try a method, make sure that you are putting 100 percent effort on that.
Will you be able to create 'Hangouts on Air' event now?