Flubers a marketplace for WordPress Themes, WordPress Plugins and Logo
Flubers is a great new marketplace launched by InkThemes which includes WordPress themes, WordPress Plugins and Logos that can be useful while creating an effective website. Flubers is an exciting marketplace for buyers, sellers and marketers.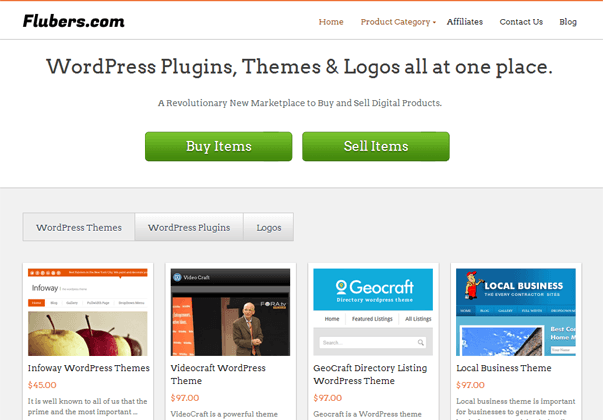 From Seller's Perspective
Flubers is a genuine and reliable marketplace for sellers. It includes all the useful guidelines, necessary instructions that a seller must follow while selling  products on the marketplace. Flubers is a dedicated marketplace from seller's point of view and its only objective is "To give more exposure to the products in front of the buyers".
Flubers makes things simple and easier for sellers. It does care about their valuable products and also provides a best suitable platform for the sellers to earn more and more income. A seller can go through all the desired specifications before uploading the product on the marketplace, just to make sure that the product fulfills all the requirements so that the product will not go in-vain. Check out Sellers Notes.
Once the product is uploaded and is approved by the review team it will come alive on the marketplace. Flubers makes all possible efforts in order to promote the products so that it will be sold out as soon as possible.
What for Marketers?
Flubers has lot more in its stock for marketers that is fully tested by Flubers team before releasing to marketplace, So you must be assured that you are promoting the best products to your customers. Flubers provide a beneficial deal for the marketers. It makes possible for a marketer to earn 30% of every purchased item that he promotes. The marketer just needs to create an account on Flubers. Once they registered themselves on the marketplace, they will be provided a referral link with a unique ID to refer new users on the Flubers. Whenever any user clicks on that referral link and purchase an item, the marketer will receive 30% of that purchased item. This is an interesting stuff for marketers that will allow them to earn extra income. That is the exciting feature of Flubers. Check out Affiliate Program for more information.
What for Buyers?
Flubers is a marketplace where buyers face no difficulty to buy products. It makes things simple for the buyers by allowing them to buy products directly from its marketplace. Yes you got that right! There is no need to register yourself first to buy an item from Flubers. Buyers can directly search their desired products and purchase them easily. They will be registered automatically once they paid for their respective product. Flubers assures a good quality and a tested product for buyers. You can go through Buyers Notes for more information.