Enhance Your WordPress Visual Editor With TinyMCE Plugin
This post is all about WordPress visual editor. WordPress editor can be used in better way with a number of other options to format your content. Many new bloggers get stuck with formatting their content the way they want while publishing any post or page.
It's not that WordPress default visual editor doesn't give you options to publish your content the way you want. You can also put your content on your page using default editor but then you will need to learn advance publishing. Luckily, there's a cool plugin named TinyMCE Advance to give you a better experience with publishing your post and pages.
To download this plugin Click Here.  Install it from your WordPress dashboard then simply activate it. Now go to "settings" => "TinyMCE Advanced".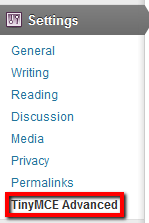 Click on "TinyMCE Advanced" and you will get a screen similar to this one:

Here you can see all the additional options/features TinyMCE plugin offers for visual editor. You can simply drag and drop these options to the fields given just above this panel. Those fields are not shown here in this picture because it's only the lower part of that screen. You are free to choose which options you need in your visual editor and which you don't. So after you finish the drag and drop process you can look for some advance options of TinyMCE. Here are there advance options that TinyMCE offers all three are self explanatory.
Once you are done your WordPress visual editor will look like this:
Yes it's completely changed now. You have more number of options to explore and use while posting any new post. This plgin adds 16 plugins to TinyMCE. You can add Date and Time, Context menu, IESpell, layer, smilies, search and replace, style, table, visual characters, xhtml extras, print, advance image, and advance HR etc.
One of the most exciting features of this plugin is that it automatically imports the CSS classes from the theme style sheet and adds them to drop down list. Even you can add your custom styles to the plugin. You can directly create and edit tables from your editor itself. Search and replace option directly in the editor saves your time.
Once you start using this plugin and all the options it offers you will feel how it makes your life easier by saving your time and the simplicity it provides.
Conclusion:
If you are a professional blogger then you already know the importance of presenting your content to user. Your content must be well organized and it whole post should be pleasant. This plugin gives some wonderful options to make it possible so I highly recommend this plugin for all WordPress sites.