Increase Your Credibility by Creating Google Plus Business Page and Becoming a Google Author
Years before Google launched Google Plus business pages, the concept was to create an online platform for businesses. If you have a local business, product or brand, company or any other thing that you want to promote online you can create a Google Plus business page and make the page popular among your audience by sharing it. Creating your Google plus page is a best way to make your business popular across social web.
How you can create your own business page?
Google has made it really a simple and straight forward process, just three steps and you will get your own business page. To start creating your business page click here. Once you visit the page you will learn the advantages you will get after creating your Google Plus business page. On the top right corner you will see an option "Create a Google+ Page". Click it and you will get a screen similar to this: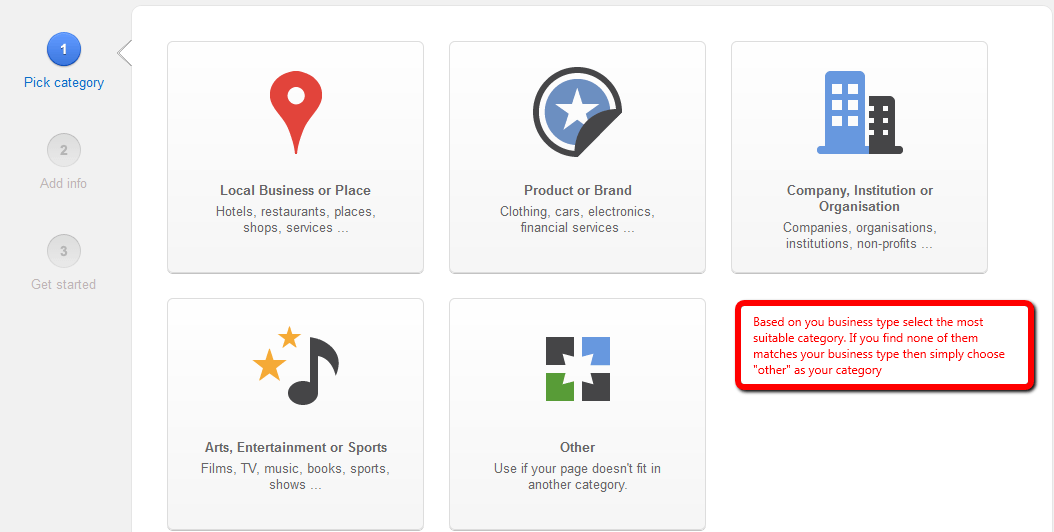 Just three simple steps and you are done, pick a category > Add Info > Get Started. Once you select a suitable category for a business you'll have to add information of your business: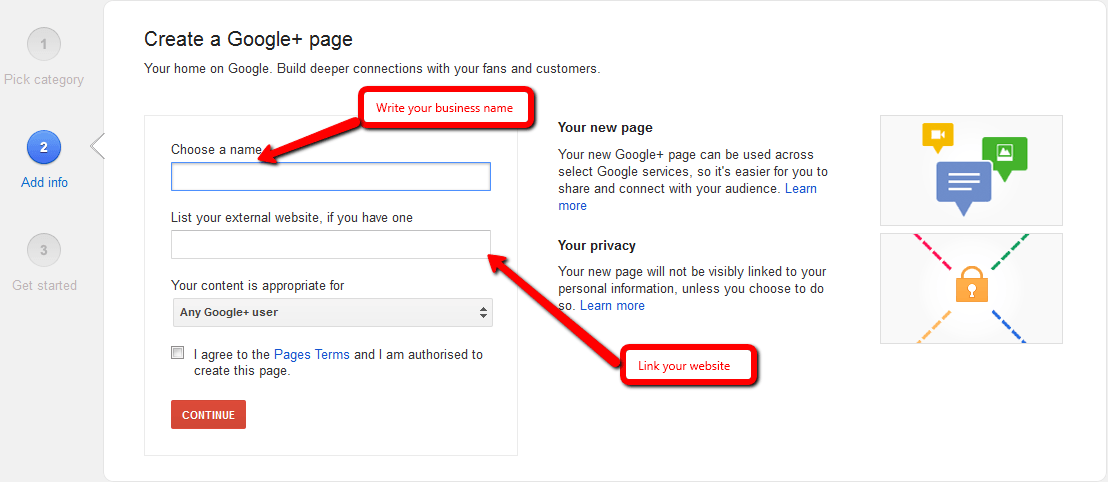 Now you have to upload logo of your business and add little description of your business in third step in order to get started with Google plus business page.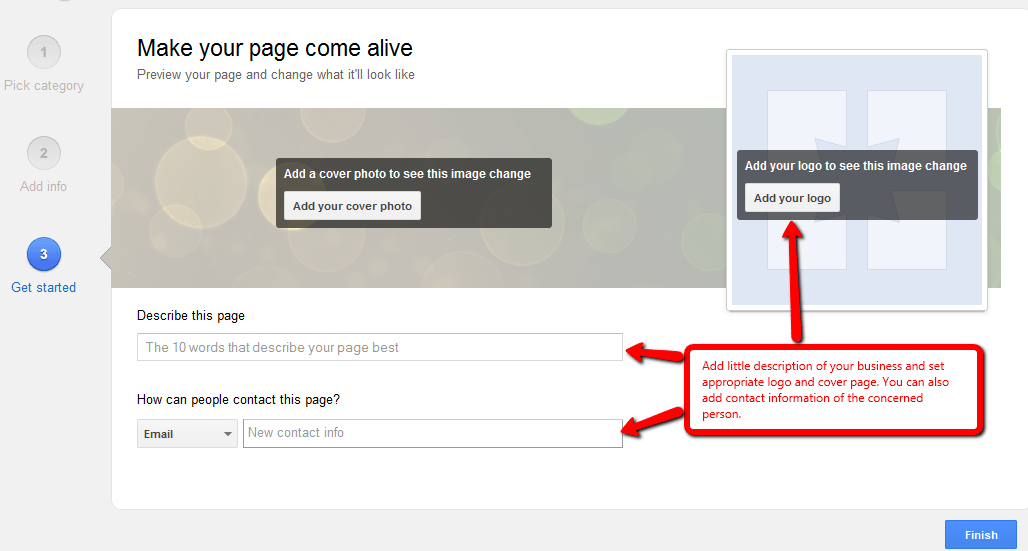 Now you have successfully created a Google Plus business page, it's time to sign up for Google Authorship. Yes you can easily become Google author and publish all your posts and pages in your website. Why do you need Google Authorship? In one sentence I would answer this question as "You would become more authentic to people worldwide".
Once you are verified Google author your all posts will be displayed separately with your image in Google search engine result pages. Below is a picture how my posts are displayed: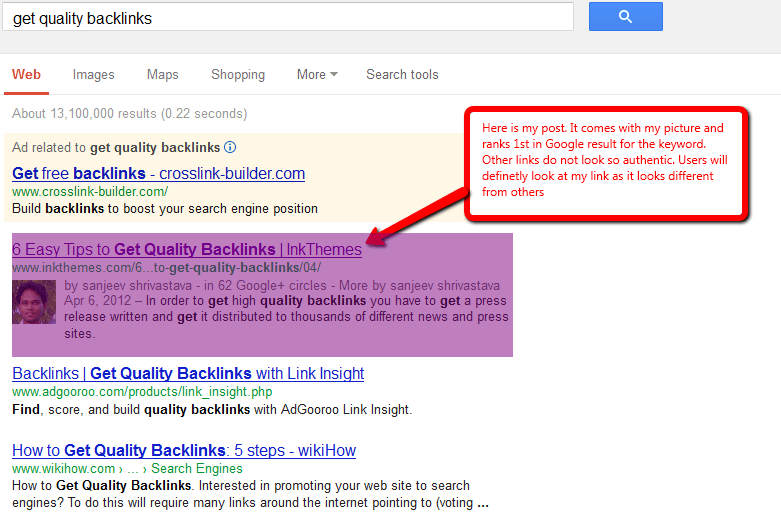 To sign up for Google Authorship visit this link https://plus.google.com/authorship. There are various tutorials to explain how to sign up for Google Authorship. If you get any problem during the sign up process then I would prefer this slide for you.
Once you successfully sign up for Google authorship, after 24 hours you can check if you are verified or not by visiting the tool http://www.google.com/webmasters/tools/richsnippets. Here enter the URL of the post you want to check and you will see the result yourself, it will look like this: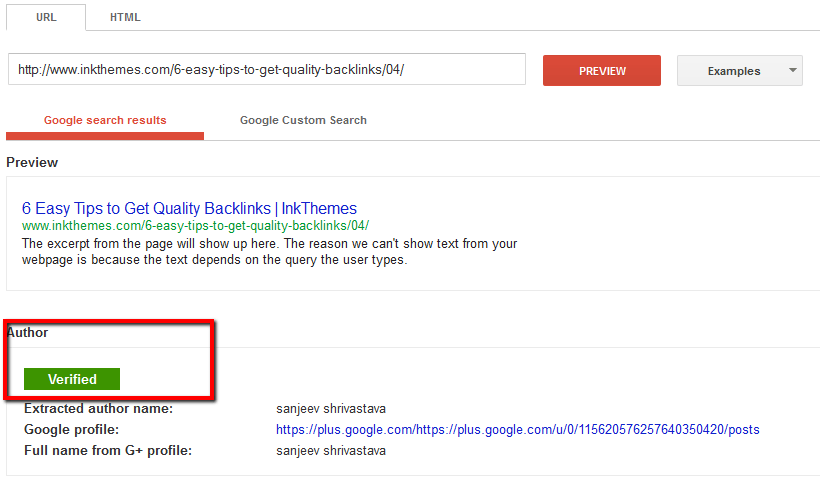 See it shows I am a verified author and hence it gives me some priority based on Author rank. Expanding your network and writing good content are two key points for any blogger but you can not ignore other things too. You will have to go with the flow and keep yourself updated.
Conclusion:
I highly recommend getting both things done ASAP. I also suggest you to create a community so that like minded people can join and share ideas. It really increases your credibility and lets you get recognized in a better and faster way. Share the post to help other bloggers and web publishers to take the advantage.
Last Updated on: November 19, 2014
Under: Blog