11 Website Analytics Tools That Examine Site Performance
Many a times it happens that you are not able to get where your website is lagging. You need to track your website capability to know the insightful information about the performance of your website. To know the weak points of your website, what can be the metrics you need to focus on, to overcome those negative points. You need to review and analyze your website on an on-going basis, to compare p...
Many a times it happens that you are not able to get where your website is lagging. You need to track your website capability to know the insightful information about the performance of your website. To know the weak points of your website, what can be the metrics you need to focus on, to overcome those negative points.
You need to review and analyze your website on an on-going basis, to compare past results of the website with the current, so that you can judge where your website is making a difference and you can invent the possibilities to improve it.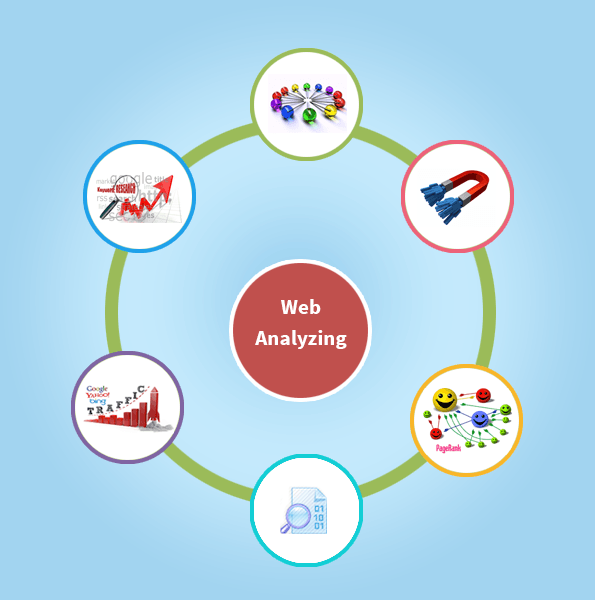 Here I have mentioned some of the website analytics tool that tells you, your website metrics related to traffic sources, page views, visit session, bounce rate, active time, repeat visitors and many more.
One thing I want to notify you is that, some tools are absolutely free to use while some some have both free and paid versions. Paid versions have more facility but for real time user experience you can use free versions.
It is one of the effective real-time audience tracking tool for your website. It is among the top five service that gives information on audience site visit frequency, traffic by app version, top countries and top devices for a given app. It gives a demographic data on the basis of gender, age, household, income, ethinicity.
Tracking method: Cookies via javascript
Price: Free
Pre-requisite: You need to make a account on the Quantcast official site.
Just take a overview of the summary of data analysis of the world's most popular official social site LinkedIn.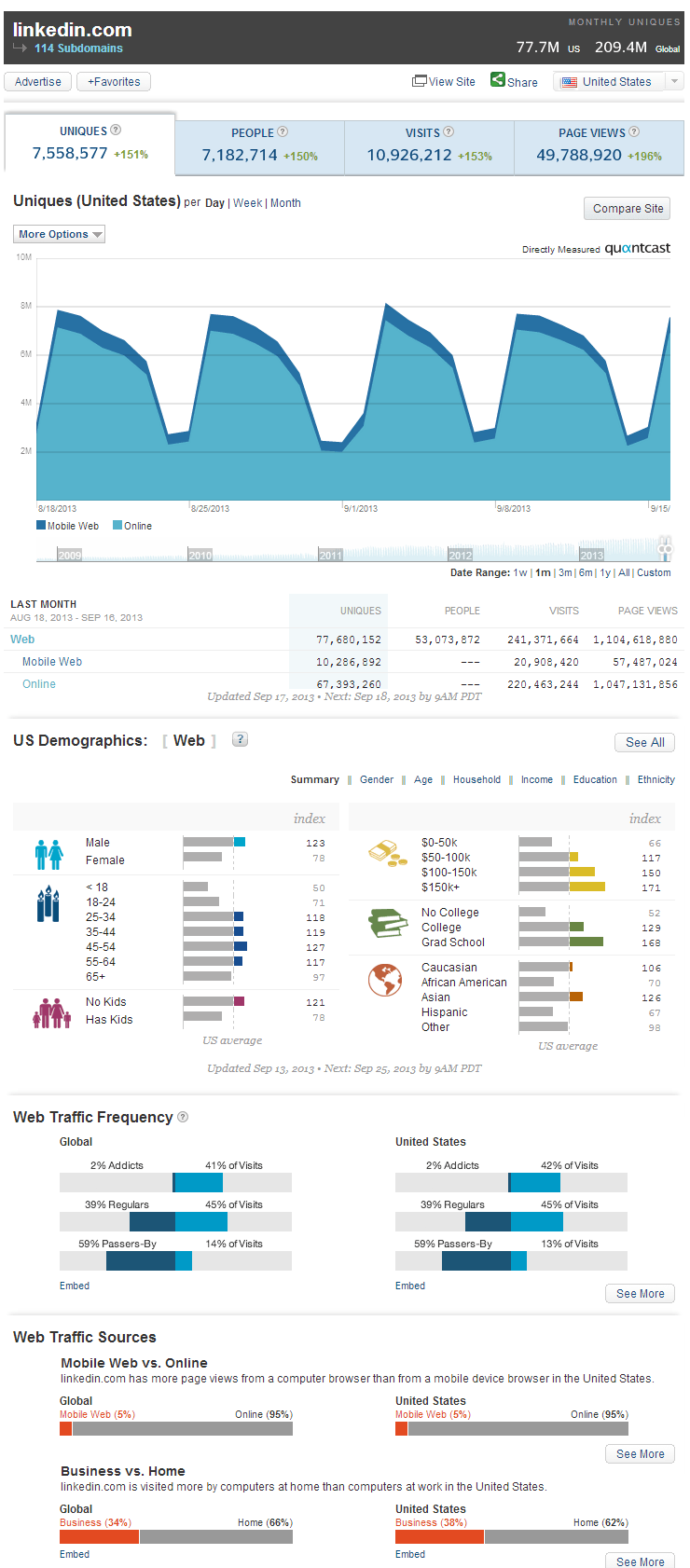 It's a site explorer and backlink checker service. It generates SEO Reports, data showing domain comparison for different sites, reffering domain metrics, subnet data, dofollow/nofollow backlinks, outbound/inbound links, new or lost inbound link, analyze phrases and terms most common in anchor text, titles of each page with it's stats etc.

You can make your account here.
Price
Free plan is available with 10 free trial and 3 seo report.
Paid plan ranges from $79/month to $499/month
This is among the most incredible toolkit I feel when I used it. It's very simple and provided with various sub tools to check the performance of various attributes.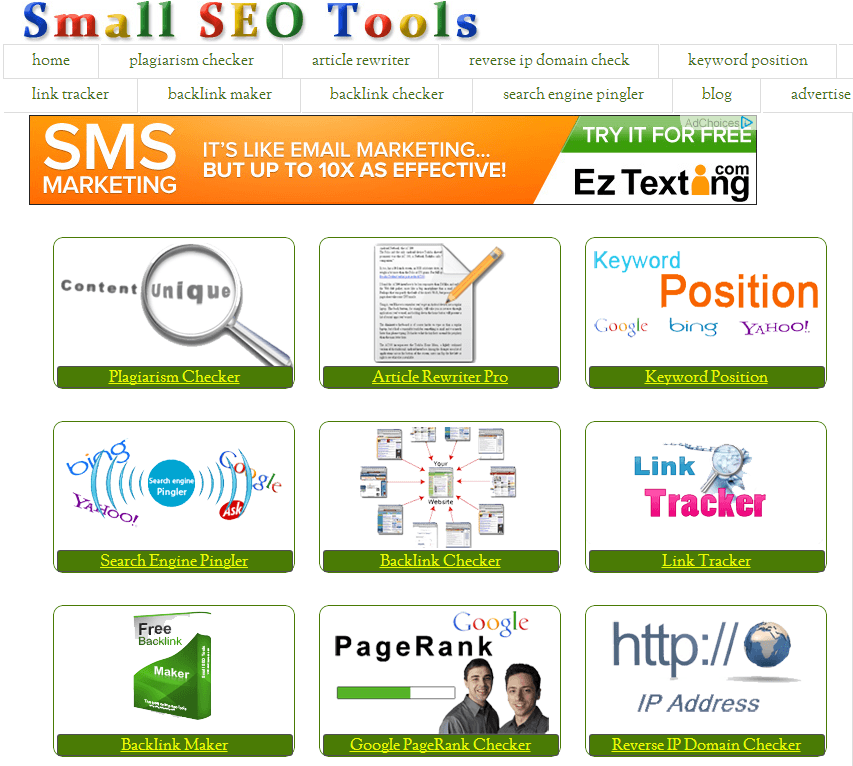 It includes sub tools such as:
Price: Free of cost
Download the AWstat from here.
AWStats, is a powerful web analyzer tool that actually analyzes the web/mail/FTP log file of your website hosted on a server. It gives information about search engine keywords to find your site, amount of visit duration, last visit, rush hour in particular days/week, GeoIP detection, OS&web browser used by the terminal where your site is search and many more. You can see detail analysis for one of the site here.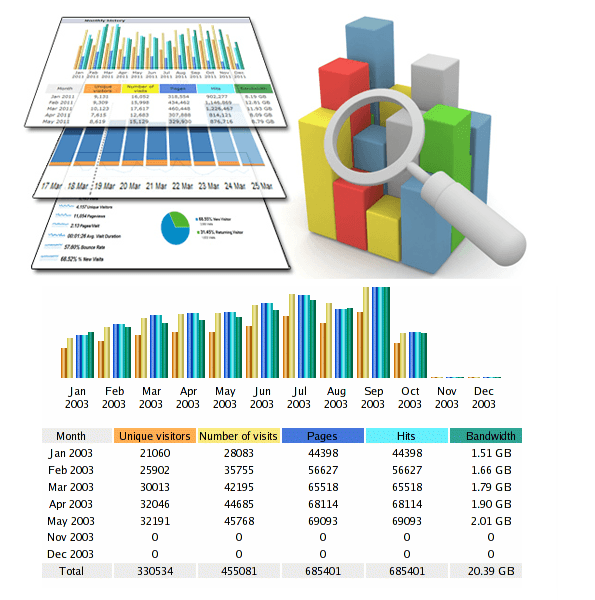 It will help you to reveal high performing keywords for your website. A blog from the Wordracker Finding Profitable Keyword Just Got Easier says finding keyword with high volume and low competition will be very profitable for the marketers as it will help to keep your site among the top page of search result.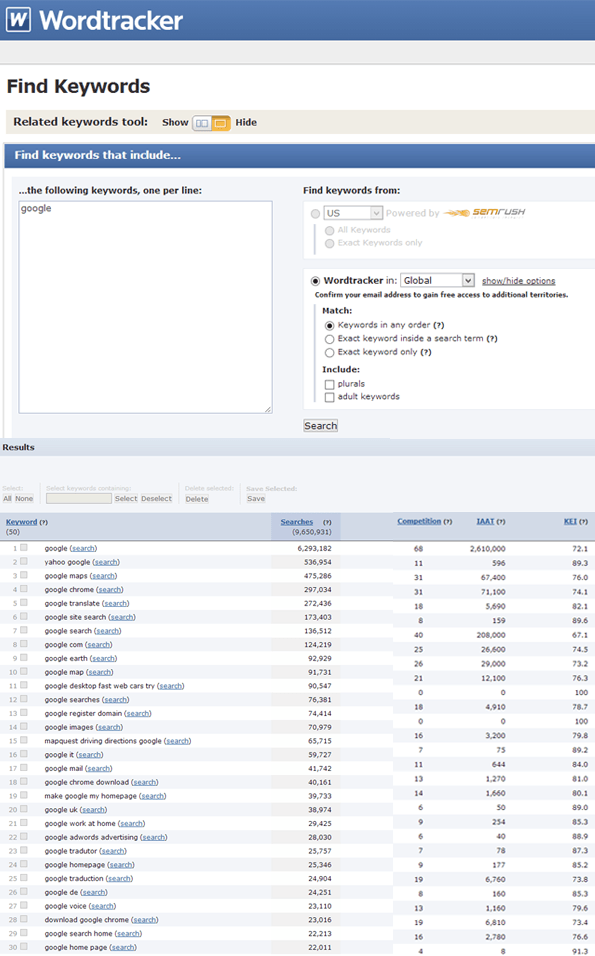 It helps to extract out profitable keywords with the help of  IAAT and KEI metrics.
IAAT stands for In Anchor And Title and KEI stands for Keyword Effectiveness Index.
IAAT shows the exact number of web pages containing the keyword within both their page title tag and the anchor text of at least one incoming link. This keyword metric will show you the most competitive keyword you need to beat to uplift your site.
KEI keyword metrics is more helpful to increase your return on investment. As keyword showing high search volume will have have high KEI than keyword showing low search volume data. This shows that prior keyword is more popular competitive for your business.
Price
Free plan: For a user experience, sign up to the link below and get an instant access to the service.
[[ https://freekeywords.wordtracker.com ]]
Paid plan: With the paid plan you get to access to more functionalities of Wordtracker.
Paid plan ranges from $69 & $449
Semrush is the most effective SEO website analytical tool. It will help you to find most beneficial keyword for your blog or website in order to get good rank on SERP result & to drive more traffic to your site with the help of keyword reports.
It is a best tool for SEO analysts and marketers to know the insights for website related to organic traffic competitors, related keywords, potential traffic buyers, ad text/keywords/history and many more.
It uses SERP data based on 90000+ keywords and 45 million domains to retrieve the information of your website. If your website obtained a rank among the top 20 pages of google search result, than only SEMRush will show its analytical data.
Paid plan ranges from  $79.95 to $149.95 
WooRank is also one of the popular website SEO tools. It helps you to optimize your website by analyzing the website data. You can know website insights related to Traffic Rank, Social traffic on your site, site's performance on mobile,availibility of URL redirects with or without WWW, XML site map, in-page Seo link, keyword cloud and consistency, form performance, number of indexed pages.

It helps to examine all parts of web pages especially their load time, trace performance of your website from multiple locations, analyzing load time of your pages etc. For a real time user experience without any charges you can use this site but if you want to get a regular email alerts notifying you about your website performance you can check on the following link.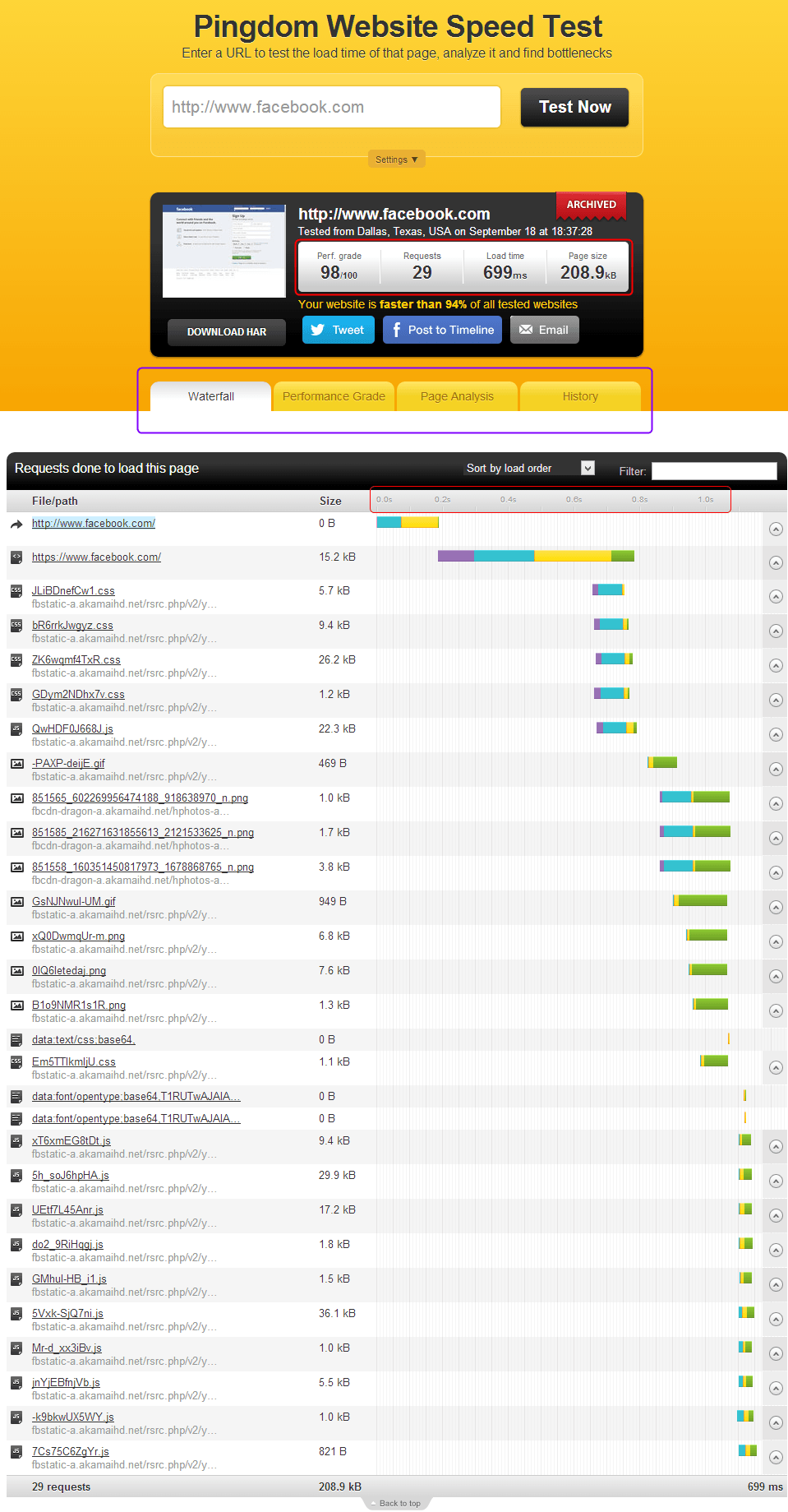 Paid plan ranges from $6.96/month to $99.50/month
It Gives detailed data about site visitors visit length, entry/exit session, metrics on the number of visitors per day/week, referral ranking data, referral visitors, recent visitors by map, location, entry, exit pages and many more metrics.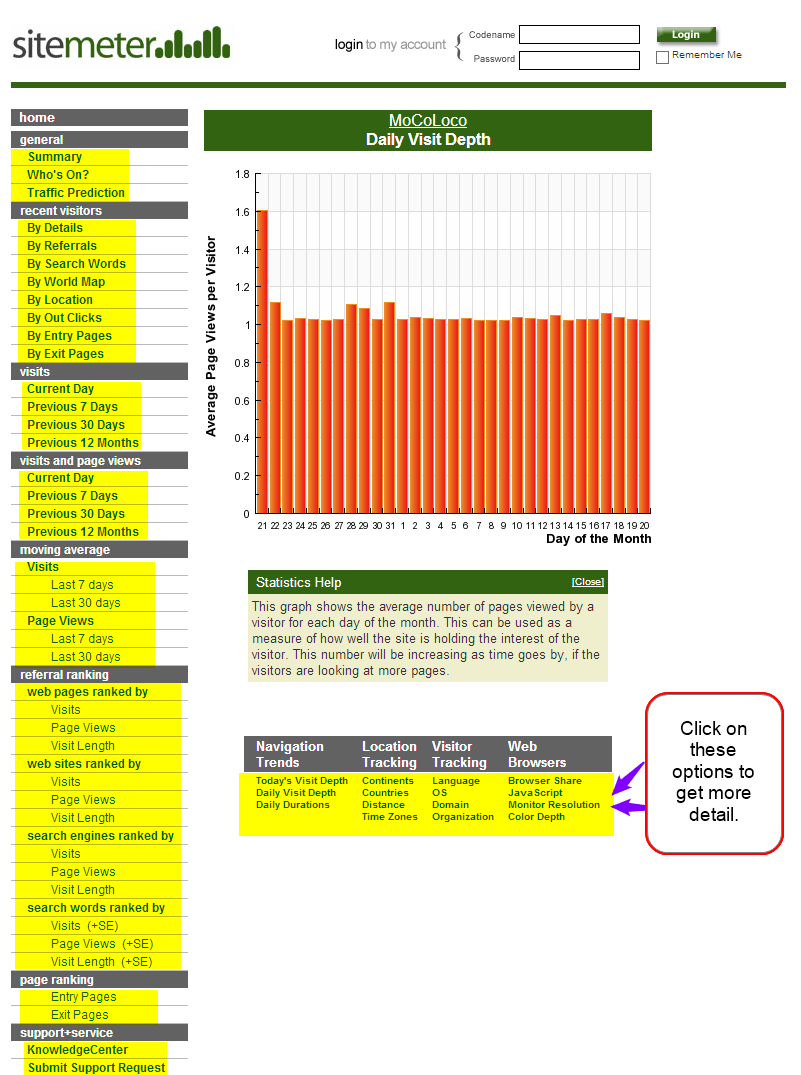 Watch out a real presentation on web analytics of one of the interior design website name MoCo Loco here.
Price Plan
Paid plan ranges from $6.95 to $199.95
Here is another website analysis tool to drive you on a real analysis track for your website. Know the popular pages, incoming traffic, keyword analysis, recent keyword activity, paid traffic, search engine wars, exit links. Here you will get weekly or monthly performance reports as prescribed by you on your email.
Price:Free of cost

Pre-requisite: You need to make an account on stats counter official site. Next add up your projects i.e URL of website you want to test and give your email id. You got all your reports on your email id.
[[ Stats Counter Account ]]
Majestic Seo claim itself to be the largest link intelligence database on the planet. Infact Wordtracker also communicates Majestic SEO to show its influential keyword tracking result. It shows result related to anchor text, referral domains, new/lost backlinks, external backlinks, popular pages.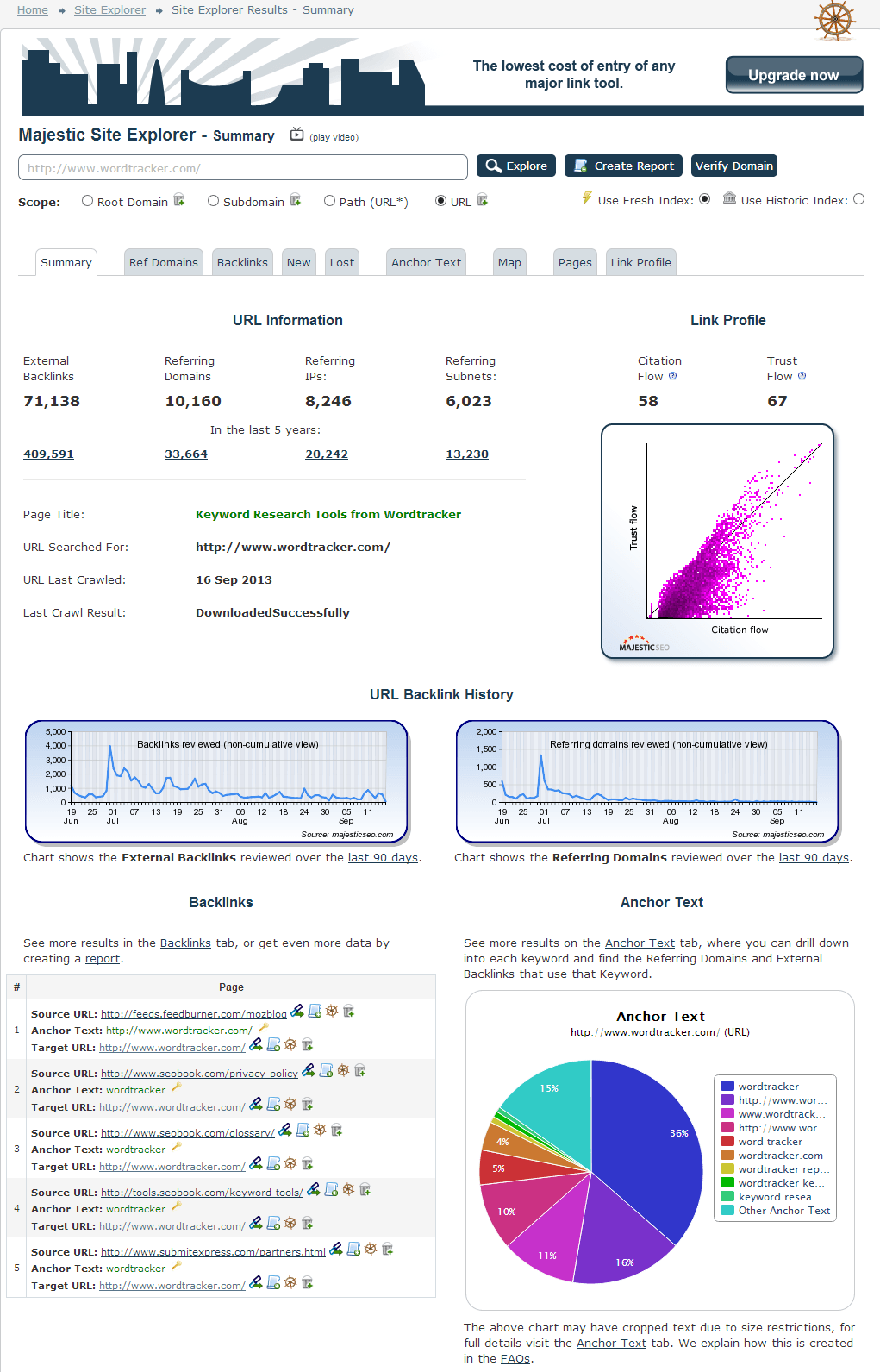 Price Plan
Free Plan: For a real user experience you can use this tool, you need to register on the link to avail all the graphical features clearly.
Paid Plan:
Paid plan ranges from £29.99 to £250.00
Link for Google chrome extension of Majestic SEO tool.
Above tools gives you a very happy user experience to analyze your website conduct efficiently. Now, I want all you to get aware about one of the very interesting tool which helps you to build forms for your website in a very easy manner and track it's performance on a daily/weekly/monthly basis. Here from, form performance I want to say how many users have visited on your form and from them how many of took the action to fill their information into the form.
FormGet is a powerful form building tool which enables you to create forms for your website, know form abondance rate by users, manage leads clutter free. It provides the customer conversion analysis environment in an effective manner.
Firstly, you will create form on FormGet dashboard very easily. It's that much of easy that any newbie or amateur can make forms without any coding skills.
You can easily locate the forms on your site with the help of iframe/javascript /tabbed codes.
Once the form is placed on your website, it's obvious that many people will visit it. Some will skip while others will take the action to fill their information into it. With the help of Clickthrough Rate metrics you will know the rate of users who have just visited the form to the users who fill the entries on it.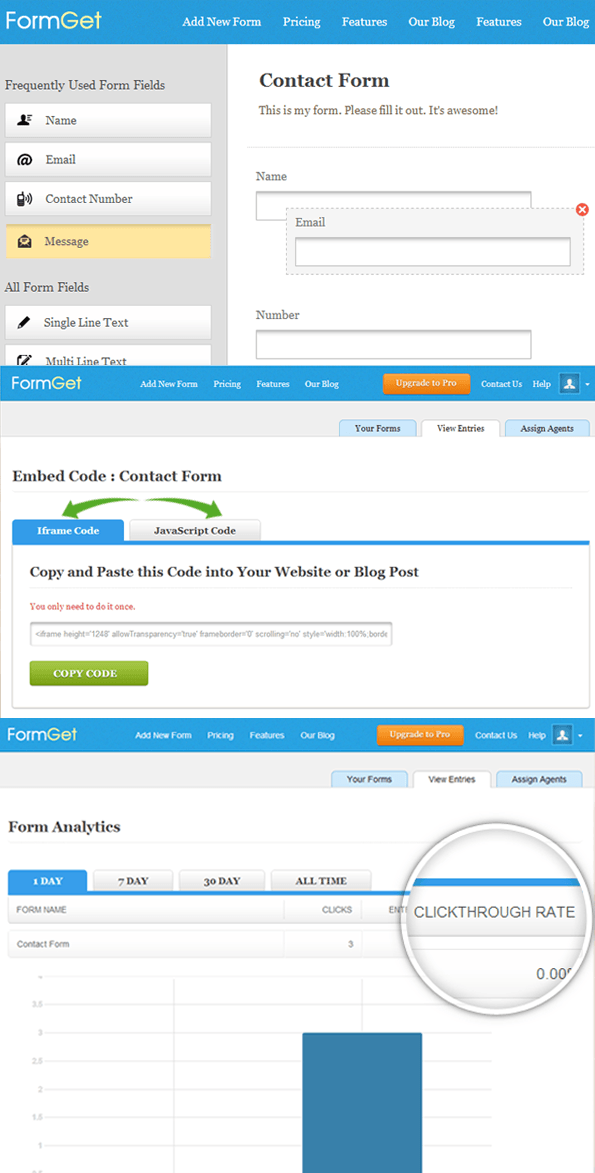 You can make few versions of your form, implement it on your site & do A/B testing. Get the Clickthrough Rate metrics of those forms, know which form is likeable by the user make it as permanent on your website. In a way, it helps you to optimize your site's forms.
Secondly, it is a very helpful tool for sales team of your organization. Here, you can assign different categories of queries to different agents. This means you can add multiple agents on your FormGet account and delegate task to them.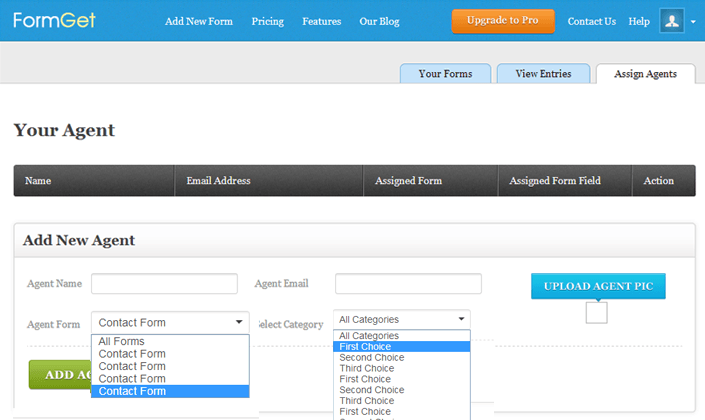 Besides, the incoming entries from your form will be neatly arranged on the FormGet enteries leaderboard. From here, agents can communicate with the user through instant messaging from the FormGet dashboard. User can see the agent's reply on their mail inbox and with it, they can communicate with the agent further if they need to do from their mail inbox itself.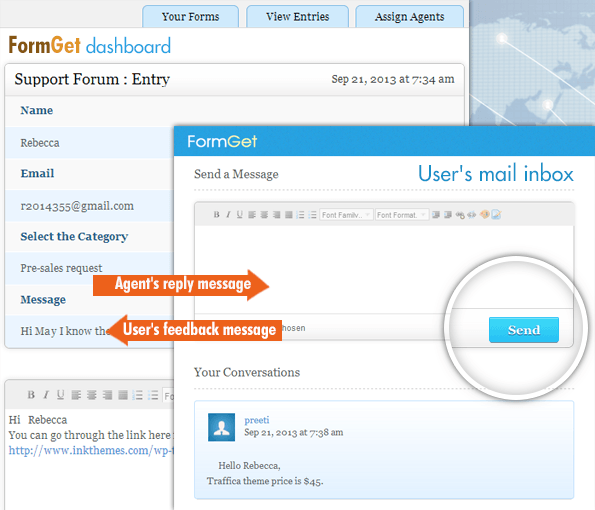 Once the agent reply to the new query that query will automatically shifted to the Replied Entries section. FormGet is the only platform that provides auto-filtration of replied and unreplied queries.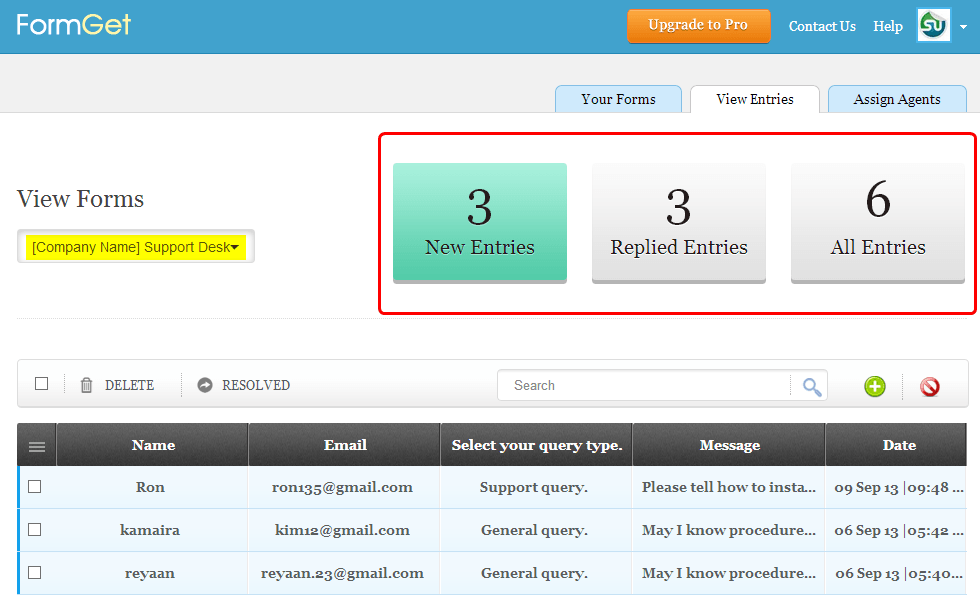 Price plan
Free plan: Unlimited forms with all features, 300 entries
Paid plan:
It ranges from $49.95/month to $44.95/month
Pre-requisite: You need to make an account on the FormGet site. Make an account here.
Conclusion
The above tools are very easy to use. They give surplus data to monitor your website. You can analyze them thoroughly, and can make smart decisions to optimize your site.